Cascais Property Real Estate: Area Guide | Goldcrest
Luxury yachts bobbing in the water, beautiful beaches welcoming you for a dip in the cool Atlantic sea, and a sun-dappled promenade – Cascais is the dream. Many celebrities have opted to call Cascais home. And with good reason. Cascais property real estate offers sought-after postcodes and may well be the perfect spot for you.
In this article, we'll provide you with everything that you'll need to know about Cascais property real estate. From introducing you to this sunny resort, to running over the different areas, to purchasing a property here. For an overview of everything that you will need to know before you buy, you can see our article here. 
Overview of Cascais
Why buy Cascais property real estate?
In the past years, Portugal has seen a rise in luxury properties – in Comporta, Troia, and Melides, to name a few. However, the most famous is Cascais, given its close proximity to the capital, Lisbon, just a short 30-minute drive along the coast.
The Portuguese Riviera has a history as a desirable location. Cascais, in particular, is a town of luxury. Many celebrities have properties here, such as the designer of Steve Jobs' yacht, Phillipe Starck, amongst many others. Indeed, in Portugal, many celebrities have called this country home or bought houses here.
Home to seven championship golf courses, if you are a keen golfer then you will be able to entertain yourself while meeting other expats. The beaches in Cascais provide your sun-tan fix. And why not enjoy the local delicacies in any of the surrounding fish and seafood restaurants? What's more, most of the seafood restaurants do not close down in the winter months, as they do in many other areas of the country.
Not just an attractive town for its lifestyle, the Cascais property real estate market also provides very solid investment opportunities. In the 3rd quarter of 2020, yields stood at 4.6%. This will likely increase following the COVID-19 pandemic.
Cascais has an attractive climate, with hot summers and mild winters. Neighboring Estoril and, a little further down the coast, Carcavelos, also offer delightful properties that are slightly closer to the bright lights of the capital. Ian Flemming famously visited Casino Estoril, finding inspiration for the James Bond Novels. If you were to drive through the coastline or drink a Martini in one of the riverside bars, you may indeed be transported back into your favorite spy film. 
What are the typical prices for Cascais property real estate?
The average price will vary depending on the location, house type, proximity to key services, and facilities. For example, if you opt to have a pool, this will incur additional costs. 
The average price for a house in Cascais municipality was 4,177€/m2 in 2020. However, the prices will vary depending on where you buy. Cascais and Estoril have higher price tags, while São Domingos de Rana offers very affordable and attractive properties. 
To provide you with an indication of house prices, and a flavor of the different areas to buy, below you can find a walkthrough of the viable locations for purchasing property in the Cascais municipality. 
Where to buy in Cascais?
Cascais and Estoril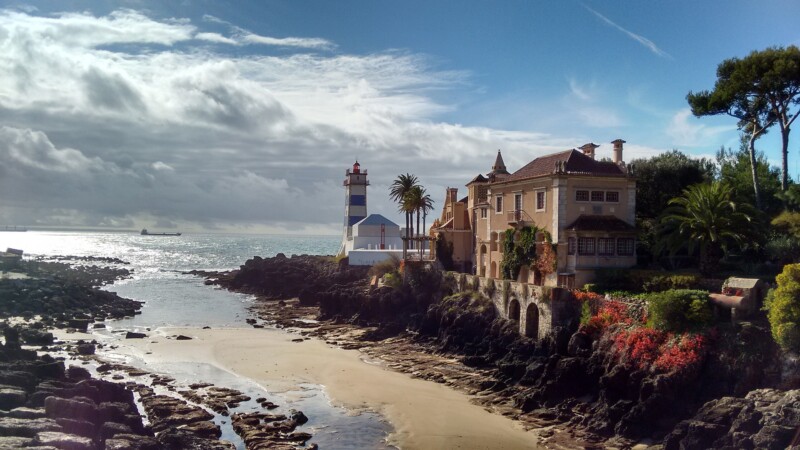 House prices in Cascais and Estoril in 2020 stood at 5,140€/m2, the highest for the Cascais area. However, here you will find true luxury. With modern apartments, swish villas, and a yacht marina, this is a desirable area to buy a house in Cascais. Cascais also has ample history, with palaces and mansions that remind you of a previous era. Walk up the coast and you can find the often windy Praia de Guincho where you can find keen surfers rushing to the sea. 
Cascais and Estoril offer the most luxury properties for prospective buyers. Outside Estoril center, you have many mansions with pools that are very close to the beach. Cascais and Estoril are arguably where the true luxury heart of Portugal is beating. 
For families, this is a very good area, as there are very good international schools close by.
For example, Park international school, St António international school, and St John's international school are all excellent choices. There is also very good housing available, with spacious homes and excellent services and amenities. 
Carcavelos and Parede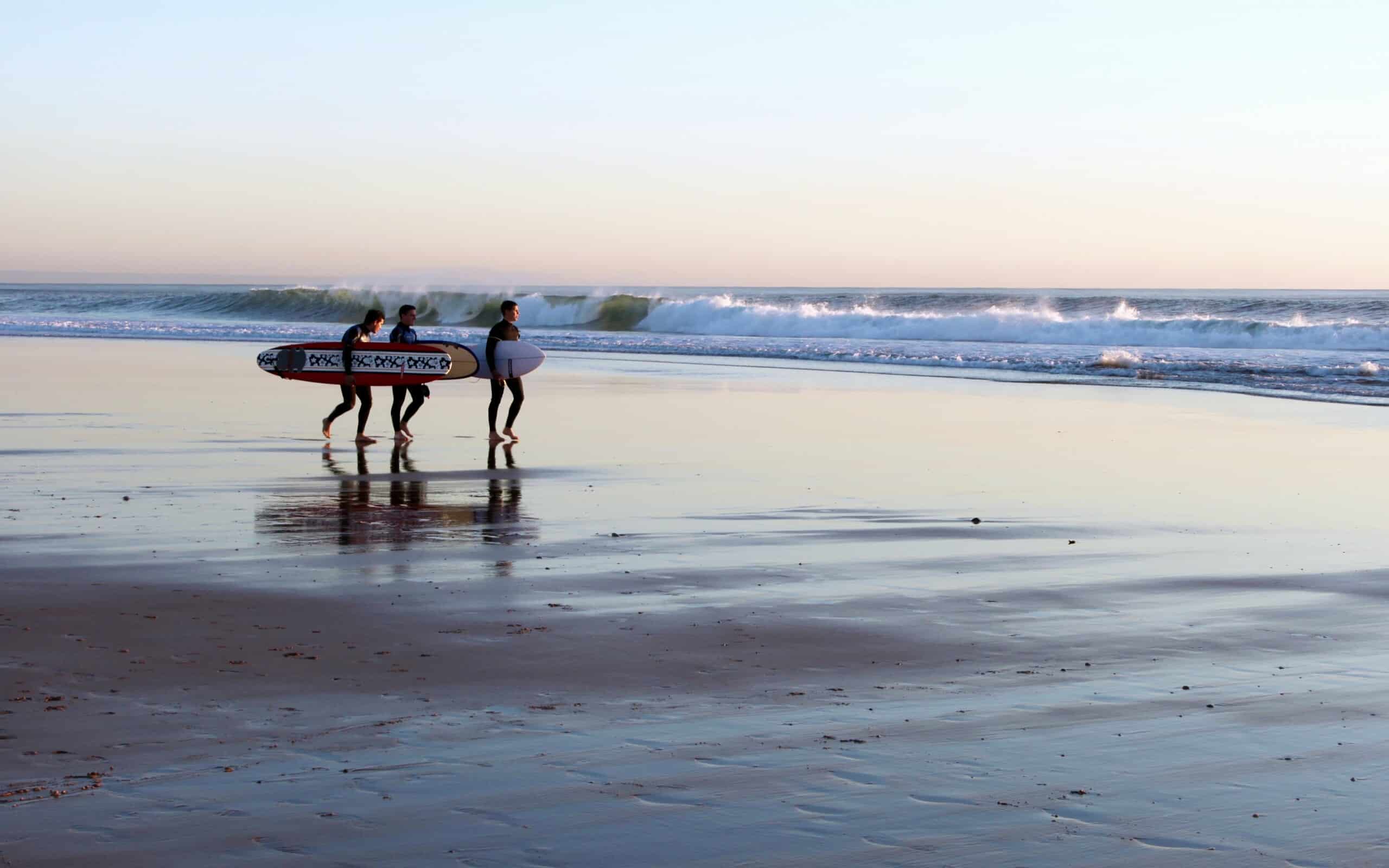 Surfers in Lisbon will probably know Carcavelos well. The beaches offer great waves to surf, but also allow for gentle relaxation by the beautiful beach. Perhaps these are the factors that give Carcavelos its laid-back vibe, where time doesn't really matter. 
Located the perfect distance between Lisbon and Cascais, Carcavelos and Parede are practical places to live. In Carcavelos, large, detached houses lead down to the beachfront. This is transformed in the summer months as locals and tourists alike flock in from the capital. However, when you move back from the beachfront, the tranquility of the area returns. 
Parede is home to the Avencas and Parede beaches. Above these, you have fine-dining restaurants and terrace bars on the waterfront promenade.
The average prices for Carcavelos and Parede are significantly cheaper than Cascais, with average prices falling at 3,591€/m2 in 2020. There are also very good international schools here, such as St Julian's school and St Dominic's international school. 
Alcabideche
Alcabideche is located to the north of Cascais and Estoril, with Sintra National Park to its north. Sandwiched between two popular areas, Alcabideche could be an intelligent area to purchase a property. House prices here are cheaper also, standing at 3,523 €/m2.
Sintra National Park offers beautiful palaces, Pena Palace, and the Castle of the Moors. What's more, this is a great area if you like cycling or hiking, and you are also very close to the beautiful, and less busy beaches in the area, such as Praia da Ursa and Praia da Adraga. Great golf courses are also close at hand, see Penha Longa Resort for your weekly golf fix. 
There are good international schools close by, such as IPS-International Preparatory School and St James' Primary School.
São Domingos de Rana
São Domingos de Rana is located behind Carcavelos and Parede and is the most affordable area to purchase property in Cascais municipality. Average house prices here in 2020 were 2,658 €/m2. This is a very old parish, with human habitation almost permanent since the paleolithic and the area associated with fertile soils and fresh spring waters. 
You are also not far from the sea, and as you are in a quieter area, you will not be so affected by the invading beach-goers in the summer months. 
A more affordable area than the other municipalities, you are also close to Lisbon, a 20-minute drive away.