Updated: February 8, 2023
Castles for Sale in Portugal: Your Ultimate Guide
Portugal, known for its warm temperatures year-round, is the proud home of 150 castles; a country that has a rich history that can still be seen today. Castles for sale in Portugal range from a medieval castle in Coimbra to old manor houses in the north of the country. 
These luxury properties for investment can often be cheaper than first expected. However, this depends greatly on the type and size of the castle. Are you looking for a more adventurous alternative to a luxury villa or a modern city apartment? If so, buying a castle could be a real possibility for you. 
In this article, we will provide you with practical information about castles for sale in Portugal. We will also provide a step-by-step guide to buying a castle in Portugal and considerations for investing in historical sites as part of the Portugal Golden Visa.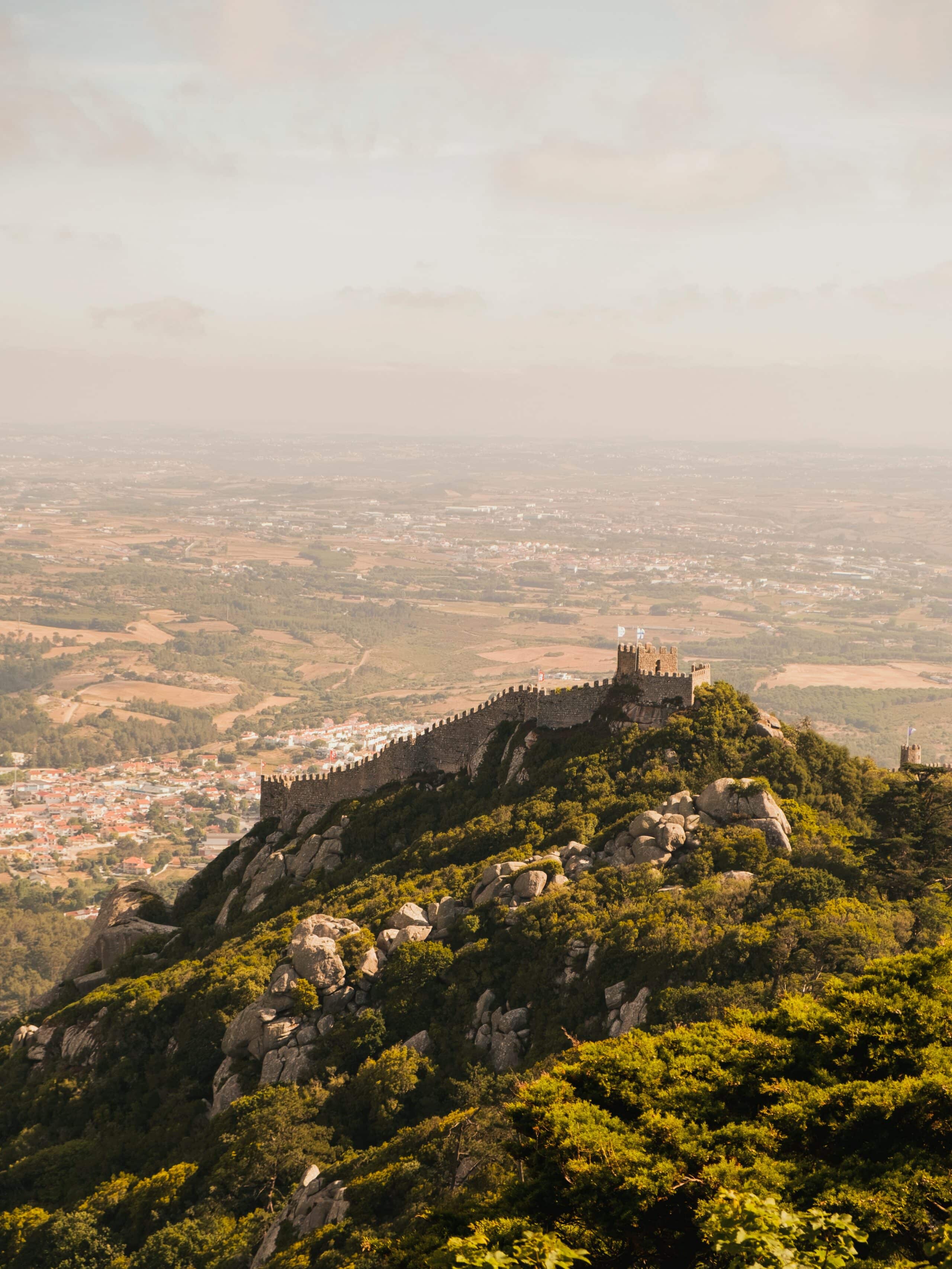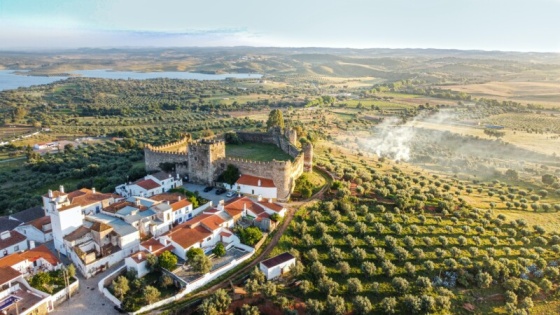 Why buy a castle?
The reasons to buy a castle in Portugal will depend on what you are looking for. Whether you are looking for an exciting alternative property type, or simply want to live in the castle and have the most unique home out there. You could also be buying a castle as an attractive investment. 
If you are looking for the Portugal Golden Visa residency-by-investment scheme, investing in the renovation and reconstruction of historic sites in Portugal will provide you with all the perks of the Portugal Golden Visa and an entryway to the rest of Europe. You'll find many different house types in Portugal, such as villas, farms, townhouses, vineyards,  beach houses, and apartments. With many property types in Portugal, castles are by far one of the most luxurious options on the real estate market. 
Overview of Castles in Portugal
As with elsewhere in Europe, castles provide a glimpse into the Medieval ages. Not only displaying impressive defense but also signifying status. 
The oldest castle in Portugal dates back to the eighth and ninth centuries – the Castle of the Moors (Castelo dos Mouros). This Moorish fortress lies in the middle of the forest in Sintra and stands atop a peak in the Sintra Hills. The castle offers a proud display of the rich depth of history in Portugal, as well as a magnificent view that extends from Sintra all the way to the ocean. Sintra is also home to The Pena Palace (Palácio Nacional da Pena) and the Quinta da Regaleira.  
Finding a castle for sale in Sintra, Portugal may be a challenge, but if you are interested in the area, it is best to speak with an experienced professional who can provide you with tailored advice on where to look to find castles for sale in the country. 
The history of Portugal is rich and vibrant. The castles are scattered across the country and were used for defense during the continuous wars of the Reconquista in the Iberian peninsula. Later, they were used in conflicts against León and Castilla, until they were progressively abandoned from the mid-16th century. After this, they experienced only limited conflicts in the 17th and 18th centuries and were then used for storage and livestock shelters.
The castles in Portugal are in very good shape compared to some of their European counterparts. This is because of their constant use. In the 1930s and 1940s, the most ruined castles underwent reconstruction, allowing Portugal to rescue its heritage and display its history across the country. 
Islamic influence
The 8th century saw the first castles built in the country (and perhaps even Europe) following the arrival of Berber and Arab Muslims to the Iberian Peninsula. These castles followed the designs of Roman forts found in Syria and the Levant and were known as Hsin. 
More castles in this design were built over the following centuries, coinciding with the Cordoba Caliphate, until the Hsin gradually evolved to match traditional medieval designs. Surviving Hsin castles are still found in many areas of Portugal. Examples of such include Sintra, Alcoutim, and Aljezur. 
During the 12th century, the Almohads brought new innovations to castle construction. Some of the best-preserved castles in the country are from this period and these Moorish designs can still be seen in the Cerca Velha (old wall) of Lisbon and in Évora, with the horseshoe gates. Some of the places in the country where you can find castles in this design are Faro, Silves, and Alandroal.
Early medieval castles
The area surrounding the Douro River was well-fortified during the ninth and tenth centuries. However,  because of their relatively basic constructions of wood and stone, few of these structures remain. Nonetheless, in a few areas, you can still see signs of this period, such as in Gestaçô, Penha Longa, and Baião.
From the beginning of the 10th century, medieval castles became more widespread in the north as feudal lords established control over the Moors and built more robust castles that can still be seen today, for example in the motte-and-bailey-design.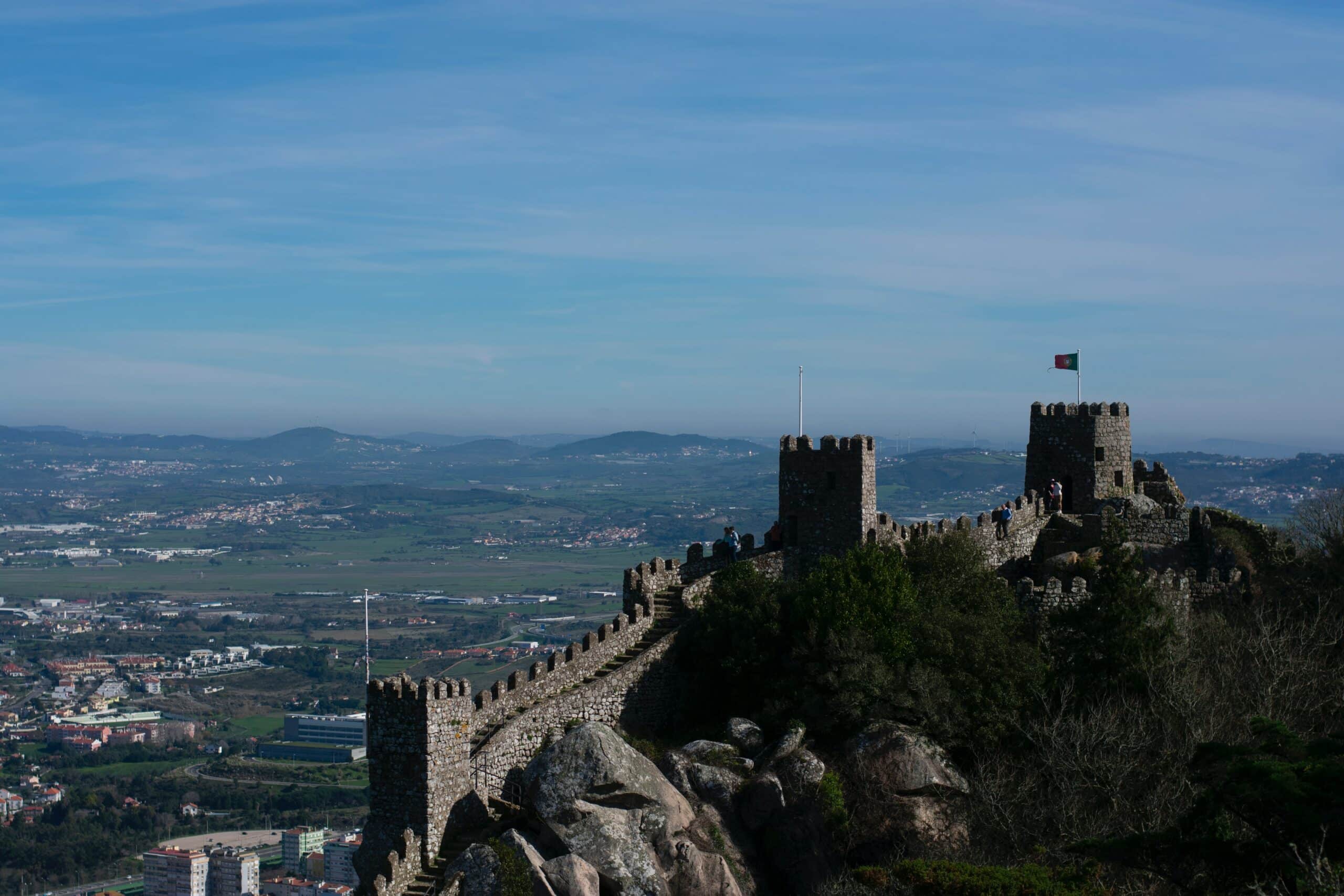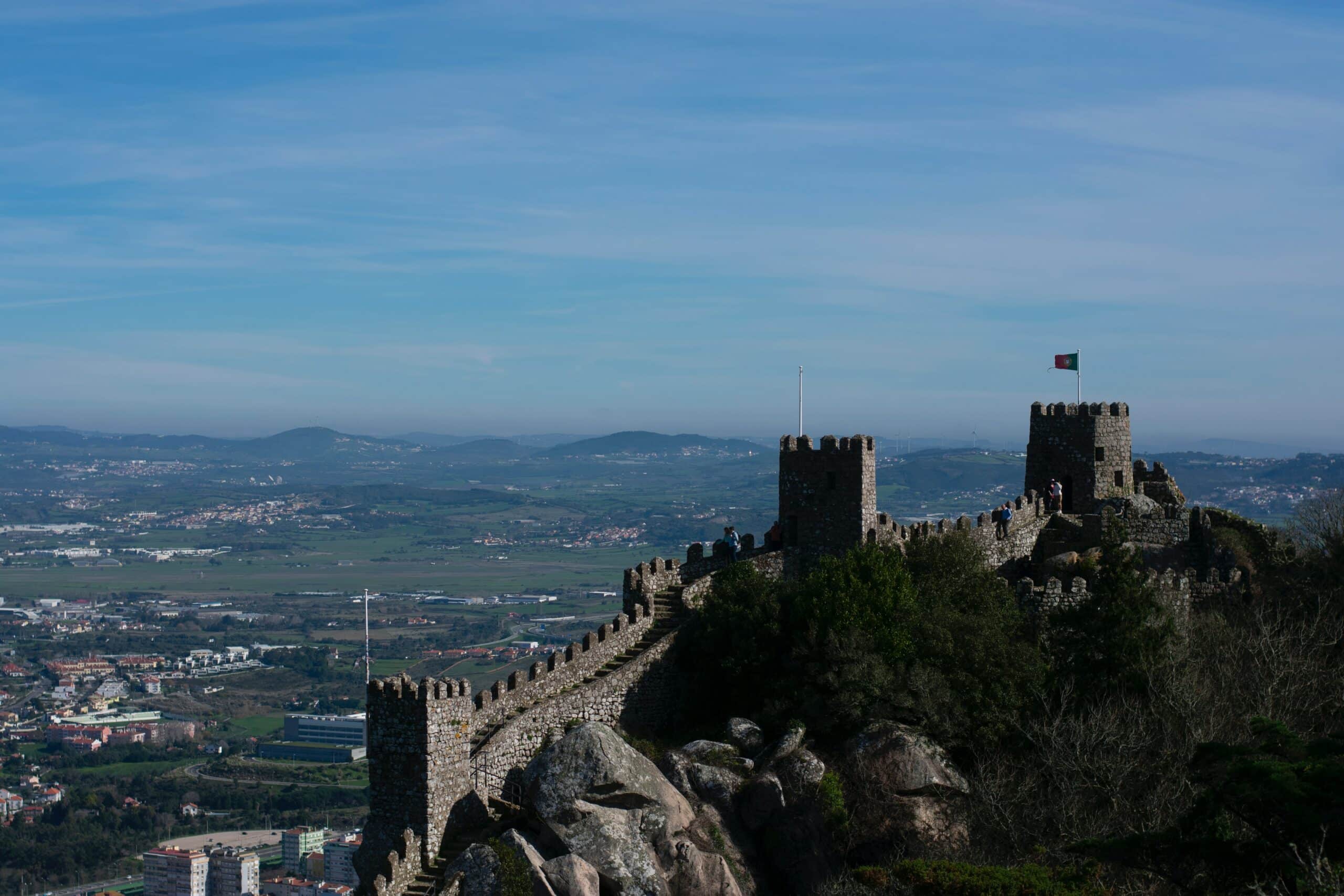 Gothic & Romanesque castles
The next few centuries saw a shift from early medieval castles to gothic and romanesque designs. As new methods of attack arrived, castles were built with strength in mind, more complex in design, and larger. The rise of romanesque castles ran alongside local and foreign military religious orders such as the Knights Temple. Designs increasingly matched the constructions being built in the holy land and these designs can be seen in Minho and Beira.
French influence can be seen in the castles from the 13th Century. This saw the arrival of the Gothic. Walls became even higher and thicker, with murder holes and other attributes. Examples can be seen in the capital, Lisbon, at the famous Castelo de São Jorge (Castle of Sao Jorge) and in Óbidos. You can also see the Gothic design in the north, in Guimarães and Bragança.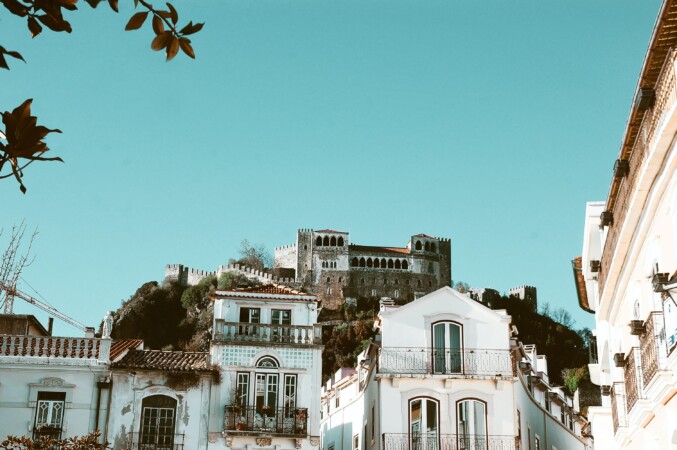 Practical Information on Castles for Sale in Portugal
In this part of our castles for sale in Portugal article, we'll provide you with key information on the cost of castles, rules for investing in buildings with heritage, and other factors to consider. We'll also provide you with some insights into the Portugal Golden Visa and how this could be a good option for you.
How much do castles for sale in Portugal cost?
The cost of castles for sale in Portugal is dependent on their size and history. Typically, the price will range from costing you 250,000 euros to 5 million euros, and often even more. It is therefore unlikely that you will find a castle for sale for under $100,000 in Portugal.
Yes, on the more affordable spectrum, cheap castles for sale in Portugal are still a major investment. It is therefore important to determine the size and type of castle you would like to purchase, as well as what you will use it for. This will help you find castles for sale in Portugal that fall within your budget and meet your needs.
As previously mentioned, investing in the renovation and reconstruction of historic sites is one investment route of the Portugal Golden Visa scheme. Castles will evidently fall inside this category, so if you are looking into the residency-through-investment scheme, it is well worth considering this as a viable option. 
Rules for investing in buildings with heritage
There are certain rules for investing in buildings with heritage in Portugal. A key difference is that there are likely many more stakeholders involved in the process, as you are putting your money into the historic fabric of the country. 
In Portugal, the DGPC (Direção Geral do Património Cultural or Directorate General for Cultural Heritage) is responsible for the protection of Cultural Heritage Areas and they list the historical properties in Portugal.
It is worth checking with them when purchasing a historic site to ensure that there are no specific rules for the historic property that you are interested in. There may also be restrictions regarding the renovation projects that you can make on the property. This will be to ensure that you do not go against their regulations for protecting historic sites  
Also, if you are buying or renovating historic properties, the Câmara (local chamber) may be able to help with the renovation process. They will need to approve any major changes or upgrades to the property. You will have to keep the facade of the property and there are technical rules to comply with. However, if you do so, you may be able to get subsidies. 
Factors to consider with castles for sale in Portugal
Your budget – how much are you willing to spend on your castle?

Which region of Portugal would you like your castle to be in?

Are you looking for a modern or an old castle? 

How much restoration work will the castle need?

What are the associated costs for maintenance?

If you are buying for an investment, what are the possible return on investment possibilities? Is the castle situated in a popular area for holidays?

What are the local rules for buying a castle? Your renovations may be restricted if they are not aligned with the heritage of the castle.
The Portugal Golden Visa
The Portugal Golden Visa scheme allows investors to invest in the renovation or reconstruction of historic sites. The minimum investment threshold starts from €250,000 for an arts donation.

The Portugal Golden Visa residency-by-investment is one of the most popular in the world, providing investors with a doorway to the rest of Europe. If opting for the Golden Visa pathway for the renovation or reconstruction of a historic site, make sure that the property fits the criteria and that you are eligible for the scheme (you must be a non-EU/EEA citizen).
Pre-registration:
If following the Portugal Golden Visa scheme, you will need to pre-register to be able to make the investment. You can do so at the SEF Portal. 
Your lawyer will be able to help you with the documents that you will need to invest in the Golden Visa scheme for the renovation or reconstruction of historic sites. 
Documents Required:
The following documents are required:
Passport or Identification Document

Evidence of entry and legal stay in Portugal

Evidence that the application is covered by the healthcare system

Criminal record from home country

Tax identification number from home country

Sworn statement showing that the applicant declares to comply with the minimum quantitative and time requirements (five years) for the investment activity period in Portugal

Application form filled in stating the authorization for consultation of the Portuguese criminal record system

Duly completed tax obligations (up to 45 days in advance) by the Tax and Customs Authority and Social Security. If not feasible, a declaration stating their non-existence

Payment receipt of the ARI application for analysis
The application will also need to show: 
Declaration of credit institution authorized in Portugal territory within the Bank of Portugal, to prove the capital transfer of the amount equal to or above

€

250,000

A declaration issued by the Strategy, Planning and Cultural Assessment Office

Extract from the register of companies, if the investment is made through a shareholder limited liability company.
Castles for Sale in Portugal: A Step-by-Step Guide
When you are buying a castle in Portugal, the same process will need to be followed as you would when purchasing any other property here. 
This step-by-step guide will provide you with all the information that you will need to find castles for sale in Portugal and how to invest in or buy the property.
Step 1: Find a good lawyer
When you are looking to buy a castle you will need to have an experienced lawyer on your side to help you navigate the process. It is worth scouting out a professional that has specific experience in dealing with historic properties. This is because the process may be more cumbersome as you are investing in sites of historic importance to Portugal. 
A good lawyer will be able to assist you with the legal aspects of buying a historic site, ensuring that you have all the documents that you need and practicalities and deadlines to be aware of in the process. 
Step 2: Find the right property
You will need to determine the castle that you would like to invest in or buy. As an independent buyers agent, Goldcrest is able to help you with refining your search and provide you with viable options related to your situation. 
Check with DGPC to make sure there are no problems with purchasing the castle and specific rules that you will need to follow in renovation projects. It is also probable that there are other stakeholders involved, so bear this in mind and ask relevant questions to determine what you can and cannot do with the property. Your lawyer will be able to help you with this. 
You will also need to check with your council (Câmara) regarding restoring the historic property. With any major changes and upgrades to the property, you will need to get their approval. 
Step 3: Do your due diligence
Visit the castle and make sure that everything is in order. This is a substantial investment so hire a surveyor and triple-check everything to ensure that everything is as it should be. Old properties often require considerable maintenance so bear this in mind when doing your due diligence checks. Also, after the purchase is made, there will likely be additional maintenance costs with historical properties. 
Step 4: Taxes and additional costs
You will need to be aware of the taxes that come with purchasing property in Portugal. Your lawyer will be able to help with this. Before you make a purchase, you will need a NIF (Tax Number) and it is also a good idea to have a Portuguese bank account, so there are no transfer costs. As with all property purchases in the country, the following taxes will need to be accounted for. 
At the time of purchase:
Imposto Municipal sobre Transmissões Onerosas de Imóveis

(IMT) (Municipal Tax on Onerous Transmissions of Real Estate)

Imposto de Selo

(Stamp Tax)
Ongoing Taxes:
Imposto Municipal sobre Imóveis

(IMI) (The Municipal Property Tax)

Notary Fees

Wealth Tax

Maintenance costs
Step 5: Purchase the property
The same process as with purchasing any property will be in place. You will need to sign the promissory contract and Escritura (Final Title Deed) at the Notary. There is an old formality in Portugal that you will need to take possession of the property. This means going to the property with your keys and entering your new home – or castle in this case. 
Following this, the final contract is then sent to the Land Registry, which will record you as the new legal owner.