Updated: November 21, 2023
We are extremely excited to announce the launch of the second edition of our property buying book, Your Expert Guide to Buying Property in Portugal. Bursting with new information, including investment opportunities to consider, a deeper dive into prospective locations, and current insights for 2023, all consolidated with the latest data, we will provide you with a comprehensive overview of how to snap up the property of your dreams in this stunning Mediterranean country.
Knowledge is power. With this firmly in mind, we wanted to offer clarity on buying property in Portugal, taking our extensive knowledge of the property market and relocation and creating a highly accessible guide to readers so that they can have all the important information at their fingertips.
Our Hotly Anticipated New Edition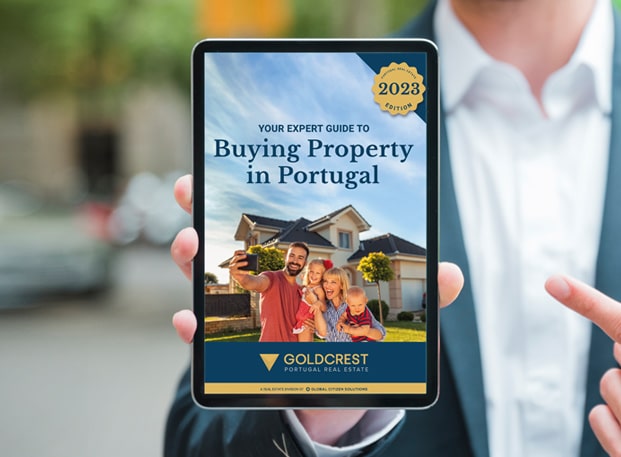 To provide you with some background, in 2021, we embarked on a journey to collect everything we know about buying property in Portugal into an easy-to-digest book. We wanted it to serve expats who are looking to buy property and move to Portugal, from providing an overview of the best places to consider buying property, practical information on how to get settled in Portugal, and the not-so-thrilling topic of how to navigate through the world of property taxes, plus so much more.
Following the success of the first edition, plus the fact that the real estate market is dynamic and ever-changing, we wanted to provide an up-to-date edition with the latest data and current insights. Alongside this, we have included a new chapter on investment opportunities in Portugal. Whether you are looking for land in the Algarve to build your dream home from scratch, long-term rentals in Porto, or want to invest in urban rehabilitation areas in Lisbon, we have you covered.
Some of the key areas we cover are: 
The latest on the Portuguese real estate market 
A rundown of the best locations to buy property 
An easy step-by-step guide on the buying process 
Real estate taxes and fees 
Financing your property 
Practicalities of moving to Portugal 
Investment opportunities in 2023 
Secure the Property of Your Dreams
We know that buying a house is no easy feat, particularly in a different country. We hope that with this book in hand (or on your screen), you can confidently navigate the house-buying process. Plus, with plenty of information packed into the pages on the practicalities of moving to Portugal, embracing a new culture, and shipping your items to the country, we hope that your move is as easy and hassle-free as possible!