Updated: October 30, 2023
In the words of Fernando Pessoa, 'The value of things is not in their duration, but in the intensity with which they occur.' No place embodies this sentiment more than the district of Graça in Lisbon. Brimming with history and modern energy, this neighborhood is a treasured spot for property seekers. 
Located on one of Lisbon's signature hills, Graça proudly neighbors revered locales like Alfama and Mouraria. With a range of properties, from affordable homes to luxury abodes, its real estate market is as diverse as it is intriguing. But perhaps its crowning glory is the spectacular view of the Tagus River against Lisbon's skyline. 
For more on what makes Graça's real estate market tick, our write-up delves into everything from price points to types of homes available. 
Why Graça?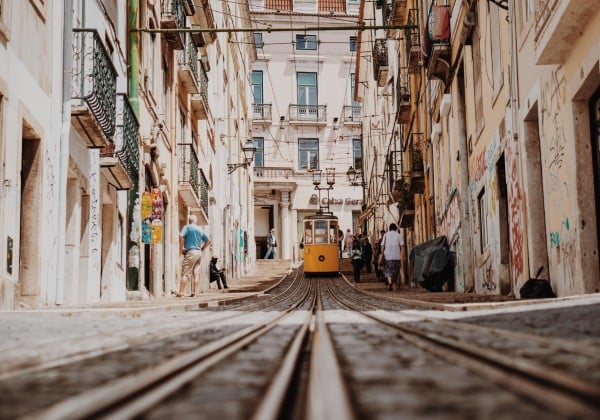 Graça is nestled atop one of Lisbon's highest hills, granting it the vantage points that have become some of its most iconic features. From places such as Miradouro da Graça and Miradouro da Senhora do Monte, sweeping views of the city unfurl beneath you. Such a strategic elevation has made this neighborhood historically significant. 
Flanking this vicinity is the parish of Santa Maria Maior. Both areas are integral to the old city's fabric and share deep historical and cultural ties. They've watched over the evolution of Lisbon together, bearing witness to its rich mosaic of events from ancient times to the present. 
A stone's throw away is the National Pantheon, or "Panteão Nacional." taking residence in the Church of Santa Engrácia. It's where several of Portugal's eminent personalities, from monarchs to artists and fado singers, are interred. Its dome is recognizable in Lisbon's skyline, and from its terrace, you get another perspective of the city. 
The Lisbon Airport, or Humberto Delgado Airport, is situated to the north of the city center. While not directly linked to the historical essence of Graça, its proximity (roughly 6-7 kilometers away) means that this neighborhood is easily accessible for travelers landing in or departing from Lisbon.  
As you delve deeper, it becomes clear why Graça should be at the top of your list, especially if you're considering real estate. Let's dive into the benefits of choosing this region for your property investment. 
Historical significance
This area is a gem in Lisbon with its rich history and culture. When you buy a property here, you're investing in something that has timeless appeal and is likely to appreciate over time. 
Tourist attraction
With stunning views and traditional charm, this neighborhood is conveniently close to key tourist attractions yet offers a quieter ambiance compared to places like Alfama. This balance of proximity to attractions without the overwhelming bustle makes it an attractive spot for investors.  
 Stable property market
The property market here, especially in the historic parts of Lisbon, has been steadily growing. It's a safe bet. 
Infrastructure developments
The city's been putting a lot of work into upgrading facilities, from public transport to local amenities. This, combined with the area's natural charm, makes it a great spot for property value growth. 
Diverse real estate choices
Whether it's a renovated flat in a historic building or a newer home, there's something for everyone here. 
Rental potential
Its popularity among tourists and locals alike means you can always rent out your place if you want, giving you a regular income. 
Real Estate Market in Graça: Property Prices, Types, and Investment Opportunities
Property prices
Graça's real estate market has changed markedly over the past year. Once a go-to for Lisbon families seeking affordability, this neighborhood, steeped in authentic Portuguese culture, is now undergoing a transformation. Despite the upward trend in prices, driven by heightened demand, investment opportunities remain. Properties in Graça, in Sao Vicente precisely, cost about €5,115 per square meter. 
Investment opportunities
When we talk about investing in Graca, the prospects are hard to ignore. The neighborhood's blend of age-old charisma with contemporary comforts has drawn many to call it home or pick it for their vacation stays. There's been a noticeable uptick in tourists flocking to the area, which means renting out properties can be quite lucrative. And with Graca slowly modernizing without losing its essence, property values are likely to climb. Given Lisbon's rising profile as a go-to European destination, planting financial roots in Graca looks promising. 
Rental yield
The rental yield in the same area is about 4.6 percent. 
Property types
Traditional apartments: These properties are often found in renovated historical buildings, offering a blend of old-world charm with modern amenities. 
Suitable for: Those who appreciate architectural heritage, individuals looking for a distinctive home base in Lisbon, or investors targeting short-term rentals given the area's tourist appeal.

 
Penthouses: These properties often offer panoramic views of Lisbon, including the Tagus River and iconic landmarks. 
Suitable for: Affluent buyers looking for luxury, those who want the best views of the city, and individuals seeking a premium residence.

 

Townhouses: Multi-story properties that can sometimes come with a small outdoor space or patio. 
Suitable for: Families wanting more space, those looking for a more residential feel without departing from the center, or investors looking to convert properties into multiple rental units.

 
New developments: Contemporary-styled apartments in newly constructed buildings. 
Suitable for: Buyers who prefer modern architecture and amenities, professionals seeking a turn-key solution, or investors aiming for properties with minimal maintenance.

 
Commercial spaces: They include storefronts or ground-level shops in mixed-use buildings. 
Suitable for: Entrepreneurs looking to establish a business in a bustling district and investors aiming for a steady rental income from businesses.

 
Restoration projects: Buildings that require a significant overhaul but offer potential for customization. 
Suitable for: Real estate developers, experienced renovators, or those looking for a unique project to turn a space into their dream home.

 
Villas: A villa is a large, often luxurious residence, typically located in suburban or rural areas. Historically, villas were Roman country houses. Today, they often resemble single-family homes, but they can be significantly larger and more opulent. Villas are commonly found in resort destinations and are sometimes available for rent for vacations or holidays. 
Suitable for: Villas are suitable for families seeking spacious living, retirees looking for peaceful retreats, vacationers wanting luxurious stays, high-net-worth individuals desiring opulence, and remote workers valuing serene environments.How to Buy Real Estate in Graça, Lisbon. 
Graça's Top Attractions
Graça offers more than just real estate opportunities. It's a neighborhood rich in history and charm. Here are some must-visit highlights: 
Miradouro da Graça: Offering an expansive panoramic view of Lisbon, this viewpoint provides breathtaking sights of the castle and the river. It's an ideal spot for photography or a leisurely break, complemented by a nearby café where visitors can savor a drink amidst the scenic backdrop. 
Miradouro da Senhora do Monte: A slightly quieter alternative, this viewpoint gifts visitors with a unique perspective of the city. It's a preferred spot for sunset enthusiasts and romantic moments. 
Igreja e Convento da Graça: Igreja e Convento da Graça is a historic site comprising both a church and a convent. Renowned for its intricate architecture, it's proof of the area's deep religious and artistic heritage. 
São Jorge Castle (Castelo de São Jorge): It is a historic fortress located on a hilltop in Lisbon, Portugal. It is situated in the Alfama district, which is adjacent to the Graça neighborhood in Lisbon. São Jorge Castle and Graça are quite close to each other and are often considered part of the same general area within the city. 
Vila Berta: A picturesque enclave, Vila Berta is known for its distinct architectural charm. Annually, it becomes a hub of festivities during the Santo António street party, showcasing the vibrant local culture. 
Feira da Ladra: This renowned flea market, held twice a week, is a treasure trove for antiques, hand-made crafts, and eclectic finds. From vintage items to unique souvenirs, it's a shopper's delight.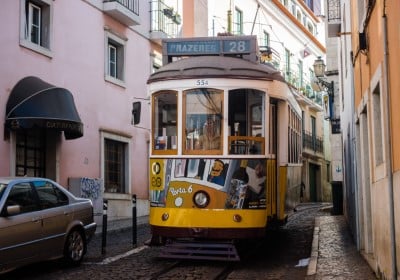 Lisbon Tram 28: This historic tram line meanders through several parts of the city, offering riders a nostalgic journey through Lisbon's rich history and varied landscapes. 
São Vicente de Fora Monastery: A majestic 17th-century structure, this monastery is adorned with striking azulejo tiles. Visitors can climb to its rooftop for another panoramic city view. 
Local eateries and bakeries: The neighborhood boasts a plethora of traditional Portuguese dining spots. Whether it's a classic pastry or a hearty meal, the culinary delights here are a testament to the region's rich gastronomy. 
Street art: As you traverse the streets, vibrant and thought-provoking street art pieces capture the essence of contemporary culture amidst historical surroundings. 
Fado music venues: Dive into the emotional depths of Fado, Portugal's iconic music genre. Several establishments in the vicinity host soulful performances, encapsulating the essence of Portuguese melancholy and passion.
How to Buy Real Estate in Graca
If you're considering buying properties in Lisbon, here's a step-by-step guide to help you navigate the process: 
Research and understand the market
Familiarize yourself with the current real estate trends in Graça, average property prices, and the types of properties available. 
You can start this process online by browsing listings and local real estate websites. 
Define your budget and goals
Determine how much you're willing to spend and whether you're buying the property for personal use, rental income, or long-term investment. 
Engage a local real estate agent
Having a knowledgeable local agent is invaluable. They can provide insights into the market, help you find properties that match your criteria, and guide you through the purchase process. 
Ensure the agent is registered with the Portuguese Association of Real Estate Professionals (APEMIP). 
Visit properties
If possible, travel to visit properties in person. This gives you a better feel for the area and the property's condition. 
Consider factors such as proximity to amenities, the condition of the potential for appreciation, and any renovation needs. 
Legal representation
Hire a local lawyer to assist with the legalities of real estate purchase. They can help review contracts, ensure they have no liens or debts, and guide you on tax implications. 
Financing
If you're not making a cash purchase, explore mortgage options in Portugal. Some Portuguese banks offer mortgages to foreigners, but terms and rates may differ. 
Due diligence
Ensure the is free of debts, liens, or legal issues. Your lawyer can help verify this by checking the Land Registry (Conservatória do Registo Predial).
Conclusion
Graça in Lisbon is a neighborhood rich in history, ideal for investors or those keen to immerse themselves in the local atmosphere. With its elevated areas offering breathtaking city vistas, it effortlessly combines traditional charm and contemporary amenities. 
You'll find everything from cozy to traditional apartments to those catering to all budgets. Even with prices going up, there are still some gems to be found. If you're thinking of buying, it's a good idea to get to know the market, chat with local experts, and be thorough in your search. 
Whether it's a personal residence, rental prospect, or a strategic investment, Graça gives you access to one in Lisbon's top picks in real estate. 
Frequently Asked Questions about Graça Real Estate Lisbon
What makes Graça a unique location for real estate investment in Lisbon?
Owning property on Lisbon's highest hill offers the most beautiful views. Additionally, it connects you to the city's heart and brings potential rental opportunities. 
Do I need a local real estate agent to buy property in Graça?
While it's possible to buy without an agent, having a knowledgeable local agent can provide invaluable insights into the market, aid in finding properties that match your criteria, and guide you through the intricacies of the purchase process in the Portuguese system. 
What is the potential for rental income in Graça?
Given its appeal to both tourists and locals, properties have a promising potential for rental income. Especially with its historic charm, viewpoints, and proximity to other tourist attractions, short-term rentals or vacation properties can offer a lucrative return on investment. 
How have property prices in Graça changed over the years?
Historically, it was a traditionally Portuguese area with many low-income families, which meant more affordable prices. However, in recent years, due to increasing demand and redevelopment, prices have been on the rise, although they still remain more affordable than some high-end areas in Lisbon.
Is Graça suitable for families, or is it more of a tourist hotspot?
This neighborhood strikes a perfect balance. Tourists can be found here for its vistas and historic allure, yet a robust local community thrives, making it ideal for families wanting a lively, genuine experience." 
How does Graca compare to other neighborhoods in Lisbon in terms of real estate investment potential?
Graça is a mix of old and new. Unlike more commercial locations like Baixa and Chiado, it has a real lived-in vibe, drawing those interested in culture and investment.