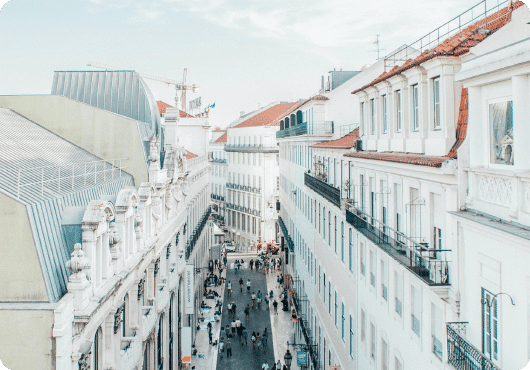 History meets modernity
From medieval alleys to the breathtaking lookout points over the shimmering Tagus river, Lisbon's neighborhoods have it all ― class, style, and culture.
Each neighborhood has a story to tell, filled with color and life. Most of our team members were born and bred in Portugal's hip capital. That's why we've handpicked our favorite places to live in Lisbon. Trust us, we're locals.
Top Lisbon neighborhood picks
Families looking for some peace and quiet typically go for the outskirts of Lisbon, including beach towns like Carcavelos and Cascais, while young entrepreneurs tend to settle down in Principe Real, Estrela, and Campo de Ourique.
If you appreciate authenticity, then the historic neighborhoods of Graça and Alfama are excellent choices. Here you can sip your coffee overlooking charming, colorful houses and the stunning Tagus river.
For a quiet area of central Lisbon, consider Parque das Nações. You'll find plenty of skyscrapers, green spaces, and the signature promenade walk along the river. Whatever you pick, Lisbon has a lot to offer for people leading different lifestyles.