A Hassle-free Way of Securing Property
As a local buyer's agent situated in Portugal, Goldcrest provides insightful real estate expertise and impartial advice. From sourcing to making the real estate transaction, we help clients identify outstanding investment opportunities and suitable properties in some of Portugal's finest locations. Whether you're a family looking to relocate or an investor identifying land for redevelopment, our team of experts can help you find the right property without the hassle or fuss.
Discover Portugal
Click on the map
Lisbon and Cascais
As the charming capital city of Portugal, Lisbon is rich in culture, scenery, and activities. With a thriving tourism industry and dynamic property market, Lisbon and Cascais are perfect places to set up a second home. Location perk: Major transportation hub to the rest of Europe.
Discover Portugal
Click on the map
Porto
As the second-largest city in Portugal, Porto's well known for its flourishing industrial sector and growing tourism sector. The majority of small companies are located here, with plenty of job opportunities. Location perk: 1.5-hour drive from the Spanish border.
Discover Portugal
Click on the map
Algarve
The Algarve is a culturally rich part of Portugal. The economy is based on tourism, fishing, and agriculture. Faro is a less touristy city, where you're likely to find peace with high real estate returns. Living costs are cheap here. Location perk: close to Parque Natural da Ria Formosa.
Discover Portugal
Click on the map
Center
The central area of Portugal is rich in heritage, culture, and food. Home to Portugal's oldest university (the University of Coimbra), it has some of the most inexpensive real estate opportunities. Location perk: halfway from Porto and Lisbon.
Discover Portugal
Click on the map
Alentejo
With a large agricultural sector, Alentejo is a peaceful territory with many family-owned businesses. Known for its food and wine, Alentejo is great to consider if you like quiet family life or want to retire. Location perk: Évora is a 1.5-hour drive from Lisbon.
How We Stand Out

Local agency for expat buyers community
Most of our clients are expat buyers and tenants. We are skilled at identifying opportunities and risk in the Portuguese real estate market.

Single point of contact
The entire purchasing process is managed by us — from research to sourcing and acquisition, we help you save time, money, and hassle

Tailored service
No two clients are alike — that's why we develop a personalized plan based on your specific goals

Connections
Almost half of all property sales in Portugal are off-market. Our extensive database of industry contacts ensures you have exclusive access to hundreds of vetted properties.

Market insight
Our inside knowledge of the Portuguese property market means we're good at locating quality properties in high-demand areas.

Transparency
Our agent fees are transparent and competitive, so you'll acquire the best property at the right price.
Your Next Steps to Securing Your Property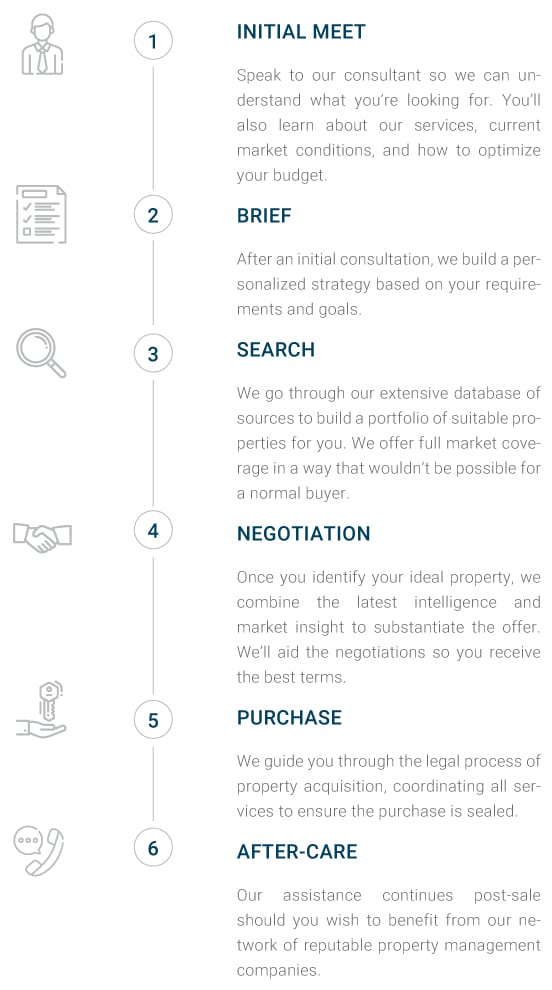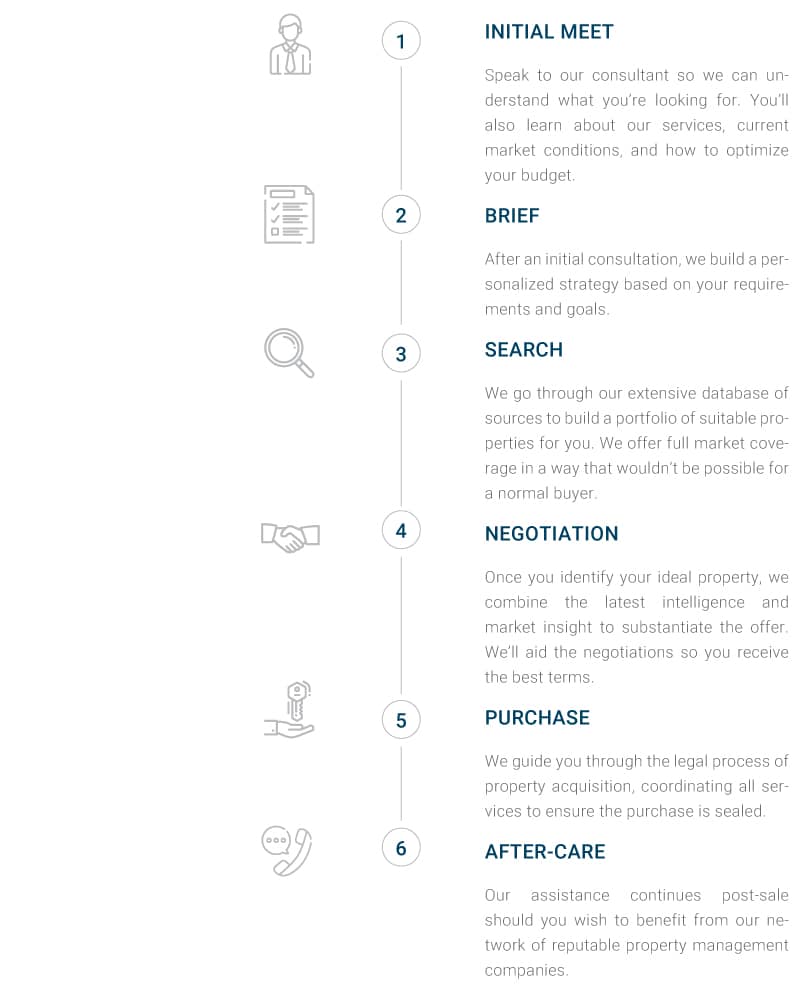 Why work with a buyer's agent?
If you are a first time home buyer in Portugal, hiring a Portugal buyer's agent, such as Goldcrest, is a wise decision. A buyer's agent can provide a hassle-free buying experience, assist you with your initial search for property, negotiate the best possible sales price on your behalf, ensure that you have the correct documents, and secure the best possible deal for you based on your needs so that you can become a property owner in the country. There is often a difference between the asking price and the transaction price. A buyer's agent can ensure that you walk away with the best price possible, inform you if you need to request planning permission and ensure that you have all the essential information at your fingertips to make an informed decision. In addition to this, a buyer's agent will have access to properties not listed elsewhere on the market, in addition to new listings.
A key difference between a real estate agent and a buyer's agent in Portugal is that a buyer's agent works solely on behalf of the buyer, providing a tailored service exclusive to their needs. Traditional real estate agents, on the other hand, work on behalf of the seller and will receive a higher commission for a higher sale. In this sense, they can be seen as more of a seller agent. While most real estate agents will have your best interest at heart, this is just something to bear in mind and a key reason why choosing a good buyer's agent can be a smart decision over other real estate professionals. 
Member of the AIPP
Goldcrest is proud to announce that we are a member of the AIPP (Association of International Property Professionals).  
Based in London since 2006, over 380 corporate members in 31 countries are part of the AIPP association, which delivers consumer education and protection, industry best practices, and business development.  
AIPP provides support in three key areas:  
International professional accreditation 
Sales promotion and client leads 
Knowledge, training, and community
This AIIP seeks to improve standards for buyers of foreign property. As a member of the AIPP, we are best positioned to help foreign buyers secure their dream home in Portugal. 
Frequently Asked Questions about Buyer's Agents in Portugal
What is a buyer's agent?
A buyer's agent is a licensed real estate professional who represents and works exclusively for homebuyers. They assist buyers in finding properties, negotiating offers, and guiding them through the home-buying process.
Why should I use a buyer's agent?
While buying property can be an extremely stressful and time-consuming process, working with a buyer's agent can take the hassle out of the entire process, giving you access to the best properties on the market and securing the best deal for you. They will have your best interests at heart as they provide a service tailored to your needs.
How is a buyer's agent different from a listing agent?
A buyer's agent will represent the interest of the buyer and is focused on finding suitable properties based on their needs and negotiating on their behalf for the best deal possible. On the other hand, a listing agent will represent the interests of the seller and work to sell properties on their behalf, representing them throughout the transaction.
Do I need to pay a buyer's agent?
For Goldcrest, the client pays an onboarding fee to the buyer's agent. This shows commitment from the client and offers dedication from the agent. Their commission is typically paid by the seller from the proceeds of the sale. However, there are instances where the property does not have a commission, so there may be additional compensation terms between engaging with a sale.
How does a buyer's agent help with the property search?
A buyer's agent will help you throughout the process, from sourcing relevant properties to property acquisition. This included negotiating the best possible price on your behalf and helping you navigate the buying process. 
Can a buyer's agent help with financing?
A buyer's agent is not a lender, but they can recommend reputable mortgage lenders and provide valuable assistance on the financing options that may be best suited to your needs. They will be able to guide you on the home-buying process and connect you with industry experts who can assist with your loan application.
Will a buyer's agent handle negotiations on my behalf?
Yes, a buyer's agent can negotiate on your behalf, and, given their experience with the real estate market, including assessing property values, current market trends, and comparable sales data, this can certainly play to your advantage. With a buyer's agent, such as Goldcrest, you can rest assured that you negotiate for the best price possible.
Can a buyer's agent recommend other professionals?
Many buyer's agents will have an extensive network that they can introduce you to, ensuring that the entire process runs smoothly. Goldcrest, for example, can connect you with a range of industry experts, including property surveyors, tax professionals, real estate lawyers, banks, residency specialists, architects, interior designers, Portuguese furniture brands, and mortgaging and financing consultants.
What if I am interested in a renovation project or in the new construction of a home?
Whether you are buying a new construction home or investing in a renovation project, it is useful to have a buyer's agent by your side. They can introduce you to a local Portuguese project manager that will assist with planning permission, construction plans, and warranties, ensuring that your interests are met throughout the process. 
Are there buyer's agents in Portugal?
Yes, if you are looking to buy real estate, although it is perhaps not as common as in other countries, you will find buyer's agents in Portugal, such as Goldcrest. As a real estate professional, we are dedicated to helping you in finding property based on your needs so you can discover your dream home. We also have access to properties that you will not find elsewhere on the market.
Do I need to use a buyer's agent?
While you do not need to use a buyer's agent, it can be a valuable investment to work with property experts when buying residential property in Portugal. Particularly if you are unfamiliar with the language and the Portuguese home buying process, working with an exclusive buyer agency will save you time and money, ensuring that the whole process of buying property in Portugal runs as smoothly as possible.
Why choose a buyer's agent over searching for properties myself?
Buyer's agents possess the knowledge and tools necessary to simplify the property buying process, thereby reducing the amount of time and energy you need to invest. They offer valuable market knowledge, assist you in navigating negotiations and the closing procedure, and help you make informed choices. By representing you, they provide an additional level of safeguarding and support for your buyer's interests.
News
Explore our articles for a range of insights into property news, market trends, and location overviews.