Updated: July 9, 2021
What makes beach properties near Porto so special? Porto is proving to be a new favorite destination not only for tourism but also for investment. Over the past few years, various regeneration works in different districts have taken place, turning Porto into a desirable city with cheap property for sale. Whether buying a beach property to live, visit, work, and/or invest in, here is our curated list of best beach properties near Porto.
Why buy beach properties near Porto?

Porto offers several benefits for investors interested in buying a beach property:
Security
Sun in abundance
History, heritage, and culture
Excellent health infrastructures
High-quality education and international schools
A great transport network
Gastronomy and leisure
Friendly population
Low cost of living.
On top of that, it has prime beachfront properties for sale, with fabulous views over the ocean at inviting prices.
Porto is now considered to be one of the most attractive locations to invest in Portugal:
Porto is a developed European city with an important position in Europe's economic, commercial, and tourism strategies;
Porto was named "Best European Destination" many times in several publications and it is known for cheap, high-quality, coastal property opportunities;
The Portuguese northern city is a foreign investment target, especially for technology and innovation projects;
Porto has an attractive tax benefits' package, favoring residents and "floating" population;
Porto has a dynamic economy and talent attraction and retention program;
In Porto, people are friendly, gastronomy is excellent and winery even better;
Porto's beachfront homes have very inviting prices and great conditions for expats;
Some of the world's best architects, Pritzker winners, work and live in Porto.
What are the best locations to buy beach properties near Porto?
In Porto, new projects are emerging and many continue to be in demand.
There is a more targeted demand for more expensive houses. Boavista, Foz, and Campo Alegre continue to stand out due to the dynamics of families alongside the interest of investors.
It is true that in the periphery an adjustment of new property prices is beginning to be noticeable, but near the beaches the new and used houses still maximize value, which translates into many beachfront homes for sale.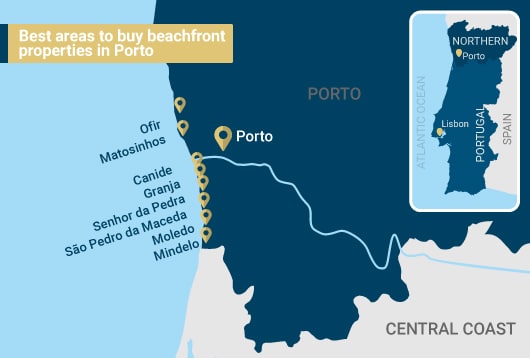 Best beachfront homes for sale locations near Porto

In the past three years, the number of homes sold to foreigners has gone from one in ten  to one in three, according to Engel & Völkers Porto. The benefits of living in southern Europe, in a mild climate, close to the ocean, with good food, and extensive social benefits, continue to attract interest. Some of the best cheap coastal properties in Portugal are located close to  the following beaches:
Matosinhos beach
It is one of the most outstanding beaches on Costa Verde. For around € 1,100,000 you can buy a beach property with around 300 sq.m. in Matosinhos beach.
One of the main tourist investments is underway in the municipality of Matosinhos, representing a bet of around 20 million euros by the Canadian group Mercan. With an area of more than seven thousand square meters, next to Parque da Cidade and a few minutes from the beach, the project includes a restaurant, a terrace, a gym, a parking lot, and 108 apartments, between T0 and T1.
The new Four Points by Sheraton Matosinhos, two minutes walk from Matosinhos beach and 10 minutes drive from the city of Porto and Francisco Sá Carneiro Airport will offer 108 T0 apartments and T1, restaurant, terrace, gym, and parking, all spread over an area of 7,265 meters.
Granja beach
The imposing houses, chalets, and old manor houses surrounded by vegetation are vestiges of other times when Praia da Granja was the summer destination of aristocrats and royalty. The place was also frequented by some of the most renowned Portuguese writers. For €1.848.000, a 1.125 sq.m villa with pool and golf amenities can be yours.
Canide Sul beach
The beach of Canide Sul, located in the municipality of Vila Nova de Gaia, is an urban beach, with sandy morphology. The bathing area is small in size, with a breakwater at its northern boundary. For €850.000 you can buy a new 400 sq.m. luxury villa with a pool close to the beach.
Senhor da Pedra beach
It was elected in 2015 as one of the most beautiful beaches in Europe by the European Best Destination, largely because of the chapel of Senhor da Pedra, its ex-libris. For €700.000 you can buy a 385 sq.m. mansion in the area.
São Pedro da Maceda beach
The route to Sao Pedro da Maceda beach deserves plenty of calm since it is done through the pine forest of the Perimeter Forest of the Dunes of Ovar. The beach is known for its waves, good surfing conditions, and the frequency of nudist bathers. For €700.000 you can buy a single house in solid granite slabs inserted in a plot of land with a total area of 1225 sq.m.
Ofir beach
Located south of the River Cávado and integrated into the Natural Park of the North Coast, the Ofir beach is surrounded by pine forests and dune vegetation crossed by walkways and a sidewalk that gives access to the extensive sand. For €450.000 you can purchase a 1900 sq.m. new property luxury villa in the pine forest of Ofir.
Moledo beach
Moledo beach has been a famous seaside resort since the beginning of the century. It is located in an area of great natural beauty and surrounded by Mata do Camarido. Moledo beach has good conditions for surfing and even windsurfing during the summer. For €765.000 it is possible to buy a 269sq.m. villa in the area.
In front of Moledo beach, there is a small rocky island accessible only by boat, the Forte da Ínsua, built in the 19th century.
Mindelo beach
Mindelo beach is the meeting point for many of Porto's residents during the summer. Located in Vila do Conde, half an hour from Porto, this beach is very safe and perfect for kids. For around € 650.000 you can buy a 480 sq.m. beachfront property in the area.
Is it a good idea to buy a beach property near Porto?

Everything that seems difficult to achieve in most medium-sized European cities is still possible in Porto. You can live in the city center and at the same time be close to the ocean and enjoy sea views in a safe and quiet environment.
It's also important to note that, in Porto:
Property prices are below average
High-quality design and materials are a priority
Investing in Porto's luxury real estate scene is profitable
Portugal offers tax incentives for newcomers, especially retirees
There are no restrictions on foreign property ownership in Portugal
Transaction costs are generally low
Where can I find beach properties to buy near Porto?
Some of the best websites to find beachfront real estate deals in Porto include Idealista, Sotheby's, Christie's, Engels&Volkers, Sapo Casas, and Imovirtual. However, since buying a beach property requires expertise, we suggest that you collaborate with a good independent buyers agency.
Beachfront homes for sale tips
Porto is not only a good place to invest, but also a good city to live, work, and enjoy a unique quality of life. Porto is often considered a top choice for investors and international companies looking to set up a base in Portugal and even Europe.
In Porto, new projects are emerging and continue to be in demand. As Lisbon becomes increasingly overcrowded, investors begin to look at Porto as an alternative, which offers good opportunities for informed investors.
Buyer's agent vs a realtor
A realtor works for the seller of the property as their client, so you would be better represented by using a buyer's agent who would remain neutral, making sure you get the best deal possible.
Buying a beach property near Porto to relocate
Porto is increasingly the destination of choice for relocating to Portugal. Proof of this is the relocation of promoters who are looking for an alternative to Lisbon and who, despite having started their investments in the capital, are currently more active in Porto.
With a rich culture and heritage and with a high quality of health services, international schools, and vibrant cultural life, Porto offers many benefits for expatriates. Porto is home to prestigious international schools, is open to foreign cultures, and known for its capacity to welcome, integrate, and make anyone feel at home.
Buying a beach property near Porto to invest
The Financial Times considered Porto the 3rd best city to invest in Southern Europe (2014-2015) and the 5th best medium-sized European city in FDI Strategy (2020-2021).
The World Economic Forum said that Portugal is the 34th best country among 141 economies in terms of Global Competitiveness (2019) and Portugal ranks 39th out of 190 world economies in the World Bank's Doing Business 2020 ranking.
Data from Confidencial Imobiliário indicate that around 10,900 dwellings are under licensing in the AMP, of which 5650 are in the municipality – an opportunity for investors who want to bet on the rental market.
Where to search for Porto homes for sale with a water view
Some of the best websites to find beachfront real estate deals in Porto include Idealista, Sotheby's, Christie's, Engels&Volkers, Sapo Casas, and Imovirtual.
However, since buying a beach property requires expertise, we suggest that you collaborate with an independent buyers agency.
Due diligence check
Once you have found your perfect beach property near Porto and your offer has been accepted, your first step is to inform your agent.
He will help you obtain all the necessary documentation for divulgence including checking the classification of the property at the land registry to ensure it has been correctly registered. He will also check the legal title to the property and carry out the searches to ensure that the land is registered both at the land registry and the tax office and that there are no liabilities registered or no restrictions on title.
Paperwork and contract
Your agent will send you a title report, setting out the legal characteristics of the property and once you have agreed with this you are in a position to exchange contracts and pay a 10% deposit.
Get in touch
If you have found your dream beach property near Porto, seek help from a specialized property investment firm such as Goldcrest. As an independent local's buyers agent, Goldcrest helps international families get sound property investments in their desired locations in Portugal.
Frequently asked questions about best beach properties near Porto
What are the best beach properties near Porto?
Throughout Porto's coastline, from the Foz (Douro River) to Espinho, you can find fantastic beachfront homes for sale, in premium locations such as Granja, Madalena, Valadares, Miramar, Francelos and many other areas that increasingly attract an international audience. Porto offers the opportunity to enjoy a unique lifestyle that successfully unites life by the sea and closeness to a big city.
Why invest in Porto homes for sale with a water view?
Porto is a European city that still has space. This translates into high quality of life, clean air, closeness to the sea and the river. Porto has many homes for sale with a water view at inviting prices. The bet in Portugal, and the North of the territory in this particular case, stems from the relatively low exposure that the country and the region have in the North American and Asian markets, even more considering the conditions and the framework of excellence that give it a high profitability potential.
What are the prime locations to purchase beach properties near Porto?
The neighborhoods of Cedofeita, Miragaia, Vitória, and Sé are popular with international buyers. Foz do Douro, the beach district next to Douro river is where most upper-class families live.