A 45-minute drive northwest of Lisbon, you will come across Ericeira. Ericeira Portugal real estate has really come into its own. The white houses, with their blue façades, the incredibly fresh seafood dishes, the staggering cliffs, and stunning beaches – all signal your arrival to this seaside town. Although a fair share of expats have discovered this gem on the western coast, the town retains its Portuguese habits. Indeed, the relaxed lifestyle makes Ericeira, in a way, still feel like a hidden secret.  
In this article, we'll first walk you through why you should consider Ericeira if you are looking to buy a property in Portugal or move to Portugal. Then, we'll guide you through practical information on Ericeira Portugal Real Estate. This will include property prices and types of properties available. Following this, we'll provide by a brief history of the seaside town and the way of life here.
For an overview of everything that you will need to know before you buy, you can see our article here. 
Why Ericeira?
While Ericeira is considered a surfers paradise, expats from all walks of life have come to call Ericeira home. With spacious properties, ocean views, and the very best of the natural world at your doorstep, stop to consider living in this very special corner of Portugal. 
 Perhaps the most appealing aspect of Ericeira is the calmness of the town. You can easily get to know the locals, seeing the same friendly faces around you, in the cute cafés or walking along the coast. 
 If you have visited Ericeira, you will be aware of the cute whitewashed houses with blue façades on cobbled streets. Here, locals here can be seen amicably talking with each other, heading to the local bakery, or stopping for a relaxed coffee, with views of the Atlantic.  
For surfers, Ericeira is paradise. With perfect waves and conditions, the waters are often filled with those testing their skill on the board, constantly chasing the perfect wave. 
The Silver Coast continues to increase in popularity, an advantage for investors. This includes attention focused on Ericeira. In fact, it's not possible to go to this seaside town and not fall in love with its relaxed pace of life, incredible seafood, and sweeping ocean views.  
Given the COVID-19 pandemic and the continued recovery, we have seen a transition towards more flexible working-from-home arrangements. Indeed, Ericeira proves to be the perfect location to fully embrace the work/life balance. There are several beautiful beaches, restaurants, and modern, fully-equipped properties to enjoy. 
Ericeira Portugal real estate
The real estate market in Ericeira has gained popularity in recent years, given the beautiful landscapes, incredible beaches, and outstanding properties. 
Ericeira Portugal real estate – property prices
 Ericeira is in the municipality of Mafra, where you can find the incredible National Palace of Mafra – well worth a visit if you are in the area. In the Mafra municipality, the average house price stood at €1,544/m2 in 2020. Indeed, this is significantly more affordable than other areas of the country, although prices have increased in recent years and look set to continue. Note that this is the average price, and you can find properties for sale either higher or lower than the asking price. 
Ericeira – a taste of luxury
There are many luxury properties in Ericeira, with waterfront views and an array of amenities and facilities. Prices range from €400,000 for an apartment with fabulous views of the sea, to close to €1,500,000 for a 7-bedroom villa with spectacular views of the Atlantic. Furthermore, Ericeira provides tranquility and calm to unwind completely – a hidden gem in one of the most sedate and beautiful parts of Portugal. 
Ericeira Portugal real estate- types of property
Apartments, villas, houses – you should be able to find the property that suits you in Ericeira. Many of the properties in Ericeira have ocean views.
A history of Ericeira
 Given the bountiful seafood and delicious fish that can be savored in Ericeira, it seems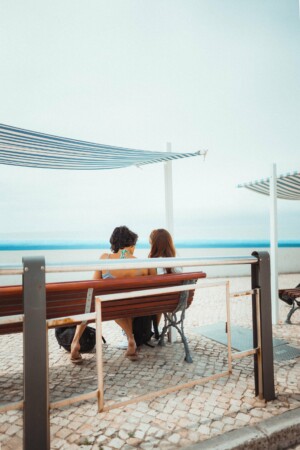 inevitable that the name "Ericeira" has seafood connotations – believed to have come from the word ouriceira, a derivative of ouriço which means "sea urchins" in Portuguese and given to the abundance of sea-urchins that lined the beach, it seems plausible. However, this is not actually the case. 
Recent studies have confirmed that the animal mentioned was not, in fact, ouriço but Ouriço-caixerio, meaning "hedgehog", which was associated with the Phoenicians goddess Astarte. Therefore, this highlights that the name dates back to the colonization of the Phoenicians. 
The history of Ericeira dates to about 1000 BC. The first charter in 1229 was the first reference to the fishermen of Ericeira, who remain of vital importance to Ericeira. 
In the 19th century, Ericeira experienced tremendous growth, as the business port of Extremadura. The city is perhaps most well-known, historically speaking, for when King Manuel II swiftly departed his palace in Mafra and sailed into exile. He voyaged under the protection of the British Navy. After this, the banished king settled in Twickenham in England, where he died in 1932.  
During the second world war, Ericeira was also a refuge for various nationalities who were seeking to flee the Nazi regime and persecution in their homelands.
The waters of Ericeira are said to have high iodine concentrations, which has been noted as having skin benefits. Perhaps this is why the Portuguese Royal Family frequented its waters. Also, the Bishop of Coimbra regularly bathed in its waters in 1803.
Lifestyle in Ericeira
The bustling seaside town of Ericeira is exactly what you would expect from a typical Portuguese town. You have local traditions, friendly neighbors, and delicious family-run restaurants. However, Ericeira also boasts some spectacular fine dining experiences, with a focus on seafood and fish dishes. The pastries in Ericeira, with a morning coffee, also goes down a treat when accompanied with the sparkling Atlantic Ocean.
For expats in Portugal, you will quickly come to find that Ericeira is a very easy place to live. If you are a digital nomad, looking to move to Portugal, you will find several trendy cafés to work from. Although renowned for its surfing, there are plenty of other watersport activities to try. However, if dry land is more to your liking then there are yoga, tennis, and cooking courses. 
Climate in Ericeira
In Ericeira, the summers are warm and dry, and you have a slight breeze from the Atlantic so it does not usually get stiflingly hot. Winters, however, can be cold and wet. The temperature typically ranges from 49°F (9°C) to 80°F (26°C).