Updated: November 9, 2023
Portugal is known for its mild climate, golden sand beaches, and big waves, so it makes sense that there is a great interest in surfing in Portugal. In this article, we'll look at ten of the best surf beaches in Portugal – what makes them so popular and why you should add them to your list of surf spots.
Portugal truly is one of the best places in the world to surf. The country's coastline stretches further than the eyes can see, offering different spots ideal for all levels of surfing experience.
If you're searching for the perfect waves this summer, consider one of these beautiful spots for surfing in Portugal.
10 Best Places to Surf in Portugal
Praia do Norte, Nazaré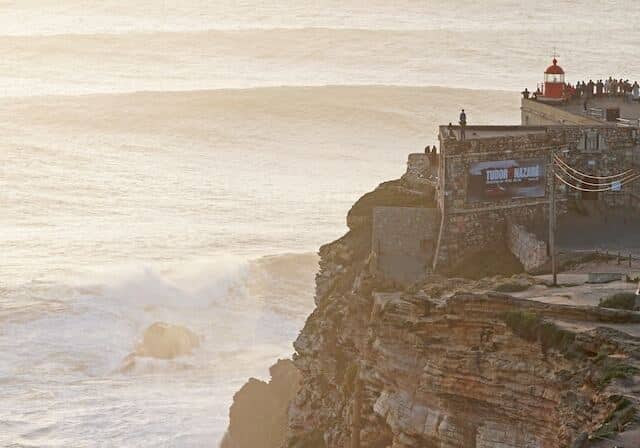 Praia do Norte in Nazaré is one of Portugal's most famous surfing beaches because of its enormous waves, and surfers from all over the world head to Nazaré to surf these fantastic waves.
They are created by an underwater canyon 5 kilometers deep and 230 kilometers long.
This beach is so widely known because of Garret McNamara's two world-record surfs that took place there. In 2011, McNamara broke a Guinness World Record by surfing a 23.8-meter wave in Praia do Norte.
Two years later, he broke this record by surfing a 30-meter wave along the Nazaré coast. In October of that same year, Carlos Burle rode a wave believed to have been even greater than McNamara's 30-meter one!
Once you've satisfied your desire to ride waves all day, head to the Miradouro do Suberco for breathtaking views of the Nazaré coastline. Why not enjoy a delicious seafood dish to replenish the energy you've used up surfing?
A mouthwatering option is a stew called caldeirada, made using fresh fish, bell peppers, tomatoes, and potatoes and served on warm toasted bread.
Head to our article on Nazaré Real Estate for an overview of the property market there.
Peniche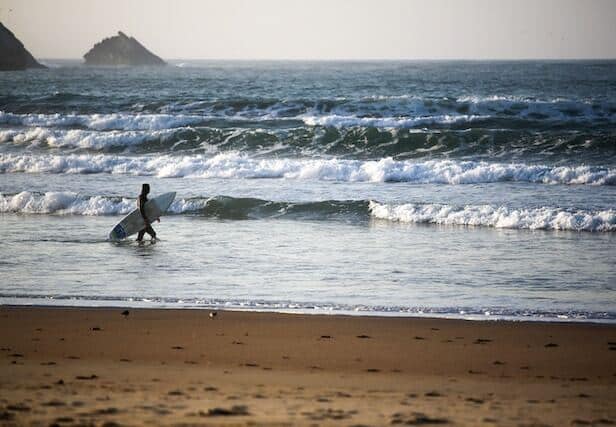 Peniche is one of the best towns for surfing in Portugal. Extremely popular among the international surf community, Peniche transformed Portugal into surfing's European capital.
Each year, Peniche sees thousands of surfers from across the globe flocking to its shores to compete in the ASP World Tour competitions.
Peniche is home to some amazing surf spots. The most popular surf spot for beginners is Catinho da Baia, but you're sure to find intermediate and advanced surfers there too. It's also considered one of the best surf spots in Portugal, offering various take-off points to choose from along its three-kilometer beach.
The waves closer to the shore are better for beginners as they are smaller. Further out to sea, the waves get bigger, ideal for a more experienced surfer and those looking for a challenge.
The Supertubos beach is the most popular location for avid surfers looking for powerful waves. The Rip Curl Pro Portugal is held at this beach and puts the world's best male and female surfers to the test.
Baleal Beach is another popular spot where the sea flows on both sides of the beach. Between this beach and Peniche, you'll find plenty of hostels and hotels to stay, as well as a variety of holiday apartments for rent.
If you are looking for real estate in Peniche, you'll find properties to be quite affordable.
Ericeira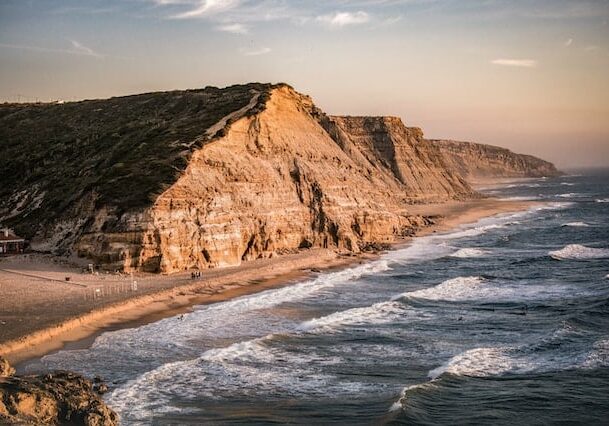 On Portugal's west coast is Ericeira, a picturesque fishermen's village in the north of Lisbon, Portugal's capital city. Unsurprisingly, you can't visit without trying the local fresh fish at one of the town's marisqueiras (seafood restaurants).
Benefiting from the winds of the Atlantic Ocean, popular surf destinations in Ericeira include S. Lourenço, Coxos, Pedra Branca, and Foz do Lizandro.
Surfers love this area, particularly during the off-season, when the beaches are quieter and less tourist-filled, and they can practice their surfing skills on the incredible waves.
Ericeira is also the only destination in Europe to receive the honor of being named an official World Surfing Reserve by the Save the Wave coalition. The coastline is a rich ecological area where over 1,000 marine species have been identified.
If you're looking for a change in scenery after taking advantage of the perfect condition to practice surfing, consider heading to the town of Mafra to enjoy some pastéis de nata (traditional Portuguese custard tarts), visit Sintra for an easy romantic getaway, or head nearer to Lisbon and join the bustling excitement of the city.
Espinho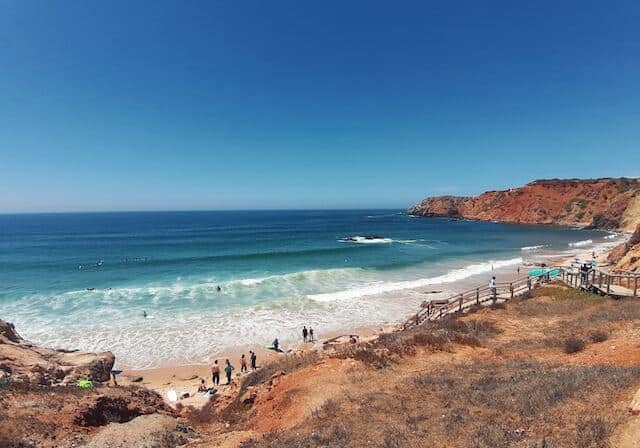 If you're looking to sizzle in the warm Portuguese sun, then Espinho is your place.
The rough waters here make it difficult for swimmers and divers, but surfers love the challenge posed by these impressive waves.
Watch from the salty waters of the seaside pool as the surfers fearlessly wade into the sea and take on gigantic waves, then head to Espinho's casino to unwind and enjoy your evening.
Praia de Carcavelos, Carcavelos

One of Lisbon's most popular and most frequented beaches is Praia de Carcavelos. Its proximity to the country's capital city means it is often crowded, so you must get there early to choose the perfect spot and enjoy the waves.
Carcavelos, with its beach breaker waves, is perfect for beginner surfers. The beach provides excellent facilities in the form of shower rooms, toilets, and volleyball and basketball courts.
You can take advantage of a range of bars and restaurants in the surrounding areas to satiate your hunger at a reasonable cost.
Arrifana, Costa Vicentina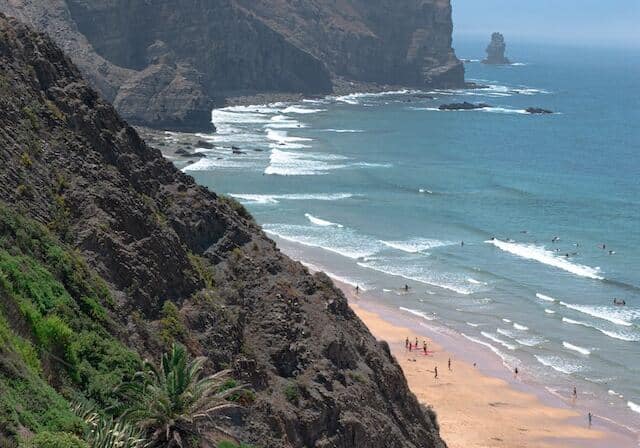 Well-known among surfers and bodyboarders, Arrifana is a stunning seaside location in the Costa Vicentina Natural Park.
Surrounded by cliffs, the waves here are turbulent and violent, excellent for seasoned surfers in search of a challenge.
When you're not surfing, take some time to explore the nearby fishing village or walk through the Natural Park and be awed by the breathtaking views of the ocean.
Praia do Cabedelo, Figueira da Foz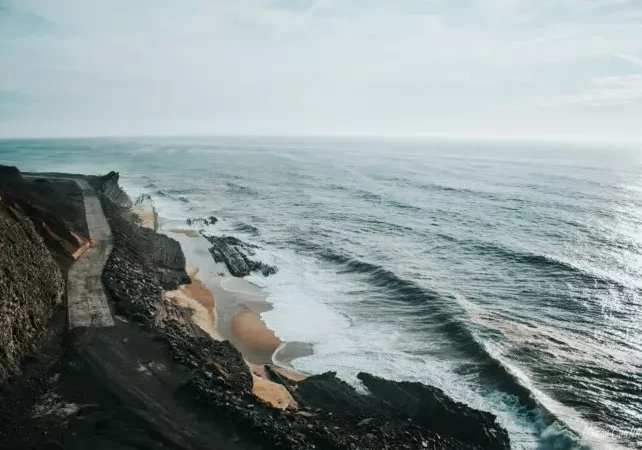 Sand dunes, interesting vegetation, wonderful views, and good facilities. If this sounds like the perfect surf spot for your family, you're right! Praia do Cabedelo is a family-friendly beach on Portugal's Silver Coast.
For those starting, or those wanting to refresh their skills, Surfing Figueira offers classes at Cabedelo Beach for surfers with all levels of experience.
You'll need sunscreen to protect you from the hot sun as, once you enter the ocean, you'll be busy enjoying the beach's jetty break waves.
Bringing an umbrella or windbreak to help shelter you from the wind might also be a good idea.
Praia do Amado, Costa Vicentina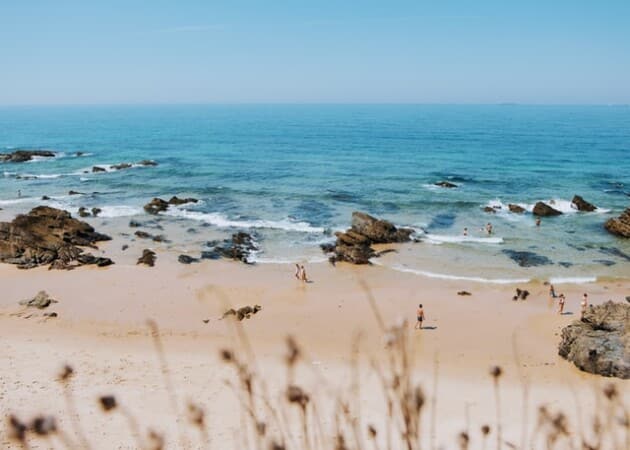 Praia do Amado is one of the best beaches for surfing in Portugal, thanks to three factors: Clear waters, steep beach breaker waves, and strong currents.
Surf lessons are also offered at Amado Surf Camp to help you improve your skills and learn new tricks.
Visitors will enjoy riding the waves, sunbathing, and swimming in this slice of paradise. The beach is easy to access, and the parking facilities are perfect for tourists with cars or caravans.
Sagres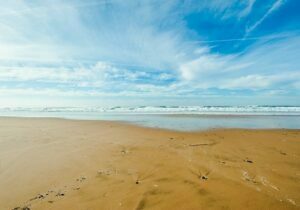 In Portugal's Algarve, you'll find Sagres, a fantastic place to enjoy surfing during spring, autumn, and winter. The waves are at their biggest from October to March. While it may be a lesser-known surfing spot in Portugal, Sagres is more than just a place for surfers. The area offers a variety of activities for everyone.
Face challenging waves while surfing, go on a diving adventure to observe the area's diverse sea life, or go on a whale- and dolphin-watching boat trip. You can even go on a tour to explore the magnificent caves and hidden beaches that make up the area's stunning coastline.
Paúl do Mar, Madeira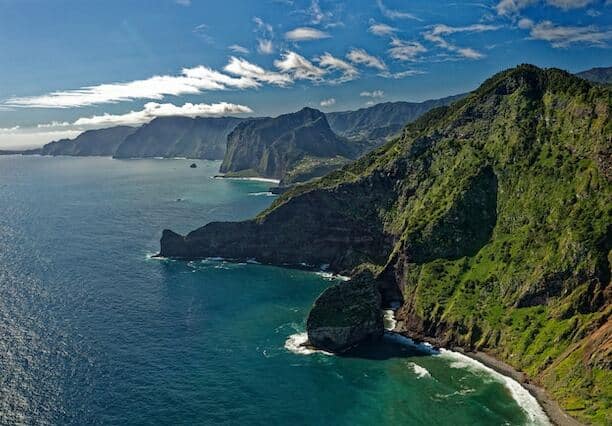 Avid surfers have likely come across Ribeira das Galinhas, a secluded Madeira beach that hosted the World Surfing Championship in 2001.
This beach paradise has fantastic waves and is surrounded by restaurants and bars that offer the chance to indulge in the local cuisine.
Enjoy bolo do caco, a wheat flour bread with garlic butter, or poncha, an alcoholic drink made with honey and lemon juice that will refresh you after a day of surfing in Portugal.
What is the best time of year for surfing Portugal?
The best time of year for surfing in Portugal will depend greatly on the type of waves you are searching for. Portugal's main surf season is winter, which runs from December through to February. This is because the winter season offers some of the biggest waves in Europe,  ranging in size from two meters to over four meters.
Less experienced surfers, such as beginner and intermediate levels, will find that the summer months are better for surfing in Portugal. During this time, June to August, the waves are smaller and easier to manage, providing the perfect conditions to practice and improve your skills.
If you're looking to surf, Portugal is definitely the place to find some of the best surfing beaches. There's a perfect surfing spot for everyone, from beginners and intermediate surfers to more advanced surfers. And if you're looking to practice or improve your skills, Portugal's array of surf schools and surf camps are there to help you become the surfer you want to be.
Portugal offers a vast array of diverse surf spots that cater to every skill level. Whether you're an amateur looking to ride gentle waves or a seasoned pro hunting for the next big challenge, Portugal has got you covered. Places like Ericeira and the Algarve are home to some of the best surfing in Portugal, offering a mix of beach breaks and reef breaks that appeal to a broad spectrum of surfers.
Why surf in Portugal? 
Consistent surf
One of Portugal's standout features is its consistent surf. Throughout the year, the country's coastline offers reliable waves, ensuring that your surf trip, be it in August or December, will be rewarding. From the gentle waves suitable for beginners to the giant waves in Nazaré that have set world record waves, Portugal promises a surfing experience like no other.
Ideal for learning
For those new to the sport, surfing in Portugal for beginners is a dream come true. Numerous surf camps and surf lessons provide the ideal environment to hone surfing skills. The beach break settings, especially, offer the perfect backdrop for learners to gain confidence and expertise.
Challenge for the pros
Advanced surfers and big wave surfers will find Portugal a haven, particularly in places like Nazaré. Known for its huge waves, Nazaré waves, and the legendary 100 foot wave, it's a magnet for those seeking the thrill of riding the biggest wave.
Camps and lodges
Portugal offers a variety of surf camps and lodges tailored for every surfer's need. Whether you're an intermediate surfer looking to step up your game or someone just starting out, you can find a surf camp or surf lodge that matches your requirements.
World-renowned locations
Places like Nazaré, Ericeira, and Porto have become iconic destinations for surfers globally. Their reputation is built on the high-quality waves and the unforgettable experiences they offer.
Seasonal variety
Whether you're looking to surf the big waves of Nazaré in winter or the mellow waves of the Algarve in summer, Portugal's diverse coastline ensures that there's always a spot to match the season.
Cultural experience
Beyond the waves, a surf trip to Portugal offers rich cultural experiences. From the coastal towns to the local cuisine, surfing in Portugal is as much about the waves as it is about soaking in the vibrant Portuguese culture.
Goldcrest: Who We Are and How We Can Help You
If you're interested in making Portugal more than a holiday destination by purchasing real estate, contact Goldcrest, a local buyer's agent situated in Portugal. We provide insightful real estate expertise and strategic advice. From sourcing to property acquisition, we help clients identify outstanding investment opportunities in some of Portugal's finest locations.
Whether you're a family looking to relocate or invest in land for redevelopment, our team of experts can help you find the right property without the hassle or fuss. Contact us to get the ball rolling on your Portuguese real estate investment.
You may find the following articles helpful:
Frequently Asked Questions about Surfing in Portugal
Does Portugal have good surfing?
Portugal is a popular destination for surfers as it has many beaches that offer great conditions for surfing. The best time for surfing in Portugal depends on your skill level. Summer is the best time for beginners, while the winter months provide bigger waves to challenge seasoned surfers.
Where is the best place for surfing in Portugal?
Portugal has many popular surf spots that offer excellent surfing opportunities. Some of the most popular beaches for surfing in Portugal include Ericeira, Praia do Norte, and Arrifana. The best place for you to surf in Portugal will depend on your individual level of experience.
What is the best surfing beach in Portugal?
There are many excellent beaches for surfing in Portugal. The top ten surf spots include Praia do Norte (Nazaré), Peniche, Ericeira, Espinho, Praia de Carcavelos (Carcavelos), Arrifana (Costa Vicentina), Praia do Cabedelo (Figueira da Foz), Praia do Amado (Costa Vicentina), Sagres, Paúl do Mar (Madeira).
Can beginners surf in Portugal?
Yes, beginners can surf in Portugal. Catinho da Baia, near Lisbon, is one of the most popular surf spots for beginners. Praia de Carcavelos in Carcavelos is another great beach for beginner surfers to improve their skills in the beach breaker waves. The best time for beginners to go surfing in Portugal is during summer, as the waves are smaller and more manageable.
There are also several surf schools and surf camps in Portugal where beginners can take classes and improve their surfing skills.
What makes the small fishing village of Santa Cruz a unique destination for surfers?
Santa Cruz, once a quaint small fishing village, has risen in the ranks to become one of Portugal's best-kept surfing secrets. The town boasts a long stretch of coastline where surfers can often find empty waves, thanks to the lesser foot traffic compared to more crowded spots. With the Atlantic swells consistently rolling in, Santa Cruz is renowned for some of the best waves in Central Portugal, offering both great waves for seasoned surfers and small waves perfect for beginners. The vibe here is relaxed, and the long history of surfing runs deep, adding to the charm of catching your first wave in this idyllic setting.
Where can I find the best wave in Central Portugal, and what conditions contribute to its perfection?
Central Portugal is blessed with numerous surfing spots, but if you're on the hunt for the best wave, you'll want to visit the beaches where the Atlantic swells meet offshore winds to create excellent waves. These conditions are ideal for surfing, often resulting in well-formed and powerful waves that make for an unforgettable surfing experience. Areas around Peniche and Nazaré are particularly famous for such conditions, offering both amazing spots for pros and inviting stretches where less experienced surfers can enjoy good waves with less intensity.
Besides the waves, what other attractions does Portugal offer to surfers visiting its coastal areas?
Portugal is not just about great surf spots. After a day riding the Atlantic swells, surfers can indulge in the local culture by enjoying delicious food, exploring the small fishing villages with their long history, and relaxing in the warm water of the many beautiful beaches. The country is known for its rich history, warm hospitality, and vibrant coastal towns where you can experience the relaxed surf culture to the fullest.
Can beginners find suitable places to surf in Portugal, and what should they expect at these spots?
Portugal has a variety of spots that offer small waves and good waves perfect for those just starting out. With its friendly surfing spots, newcomers can expect warm water, professional surf schools, and a supportive environment. Spots like Santa Cruz and the more sheltered beaches around Central Portugal provide the ideal settings for catching your first wave. Plus, the local surf community is welcoming, making it easy to find guidance and improve your skills while enjoying some of Portugal's delicious food and picturesque scenery.