Updated: March 20, 2023
Lisbon and the surrounding Lisbon Coast at the Atlantic Ocean are home to some of the best golf courses in Europe. The region boasts an exceptional climate for golf, with sunny weather all year round and a temperate climate that makes playing golf a pleasure any time of the year. Golfers of all levels will find courses to suit their skill level, from championship courses to more relaxed and accessible ones, perfect for a golf holiday and golf travel.
Some of the most famous golf courses and country clubs in Lisbon and its surrounding area include the Oitavos Dunes Golf Course, the Quinta do Peru Golf,Tróia Golf, and the Quinta da Marinha Golf Course. Each course has its unique charm and character, with breathtaking views, natural terrain, the Atlantic breeze, and challenging holes that will entertain even the most seasoned golfers. 
Many of those courses are part of the Portuguese Open and have been featured in Golf World Magazine.
Whether you're a beginner or a pro and want to go on a golfing holiday or have a short golf break, Lisbon and the Lisbon Coast offer an exceptional golfing experience that you won't want to miss. The article below gives an overview of Lisbon's most iconic and exceptional courses any golf lover will want to explore.
Quinta da Marinha
Tucked away in the Sintra-Cascais Natural Park and located next to Guincho beach, this iconic golf course has 18 holes across 5,870 meters of beautiful greenery and nature, challenging even the most experienced golfers. 
It's one of the most popular courses in Lisbon and prides itself on every hole being different and the fact that players will have to use every golf club in their golf bag. What's more, Quinta da Marinha has stunning views across the Atlantic Ocean, and some of those iconic spots have been photographed, featured in Golf Magazine, and used to promote golf in Portugal.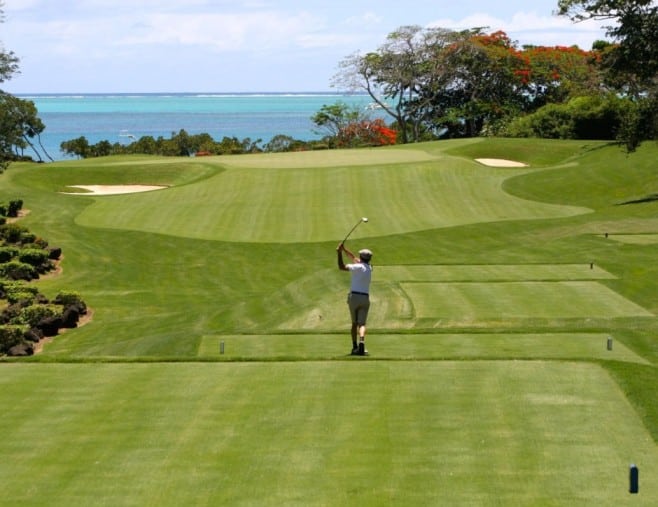 Oitavos
This golf course, amongst the Oitavos dunes, is situated in Quinta da Marinha, at the center of the Sintra-Cascais Natural Park, boasting a stunning natural setting. Oitavos is focused on preserving the local flora and fauna, and its beautiful Oitavos dunes are a bonus when playing golf. Like Quinta da Marinha golf course, it has 18 holes at par 71.
It is recognized as a Certified Signature Sanctuary – Gold, a sustainability certification, the second such course in the world, and the first in Europe, making it among the top golf courses on the continent.
Penha Longa
This Atlantic Championship course, designed by renowned architect Robert Trent Jones, Jr., Penha Longa is a 27-hole course and offers an immersive golf experience that ranks in the top 30 courses in continental Europe and the top ten in Portugal. Penha Longa resort is set amidst the beautiful landscapes of Sintra and offers challenging drives for even the most
Penha Longa also hosts the Portuguese Open and includes two circuits, the Atlantic Championship and Monastery, each offering a distinct experience.
Estoril Golf Club
Estoril Golf Club has a 5,900-meter course with 18 holes at par 69 and is one of Portugal's internationally renowned courses. Many big names in the golfing world have played here and continue to do so, and the club has hosted several national and international championships.
Beloura
The Beloura golf course and golf resort is one of Lisbon's newer golf course additions and is located within a 60-hectare plot of land that spans 5,900 meters and has 18 holes at par 72. Beloura is also part of a residential development, offering attractive real estate investment prospects nearby. Numerous lakes on the course add an entertaining and challenging dimension to the game of golf.
Belas Club de Campos
This beautifully designed golf course spreads over 6,128 meters and offers golf players 18 holes at par 72. From Belas Club de Campos, which is located in the middle of a forest park, you can see the Sintra hills no matter where you stand. This golf course and country club is set over two different sections, one amidst untouched wild nature and the other surrounded by a small residential area.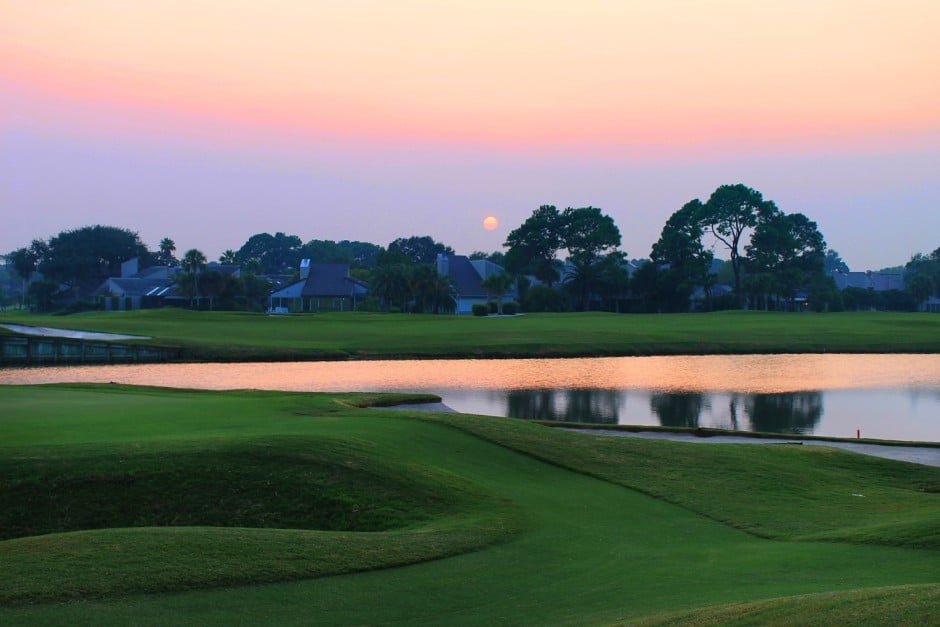 Lisbon Sports Club
Lisbon Sports Club, a typical parkland course, is said to be the birthplace of golf in Lisbon. Located just 15 km from Lisbon, Lisbon Sports Club is a world-famous golfing club with 18 holes spread over 5,233 meters at par 69. Adding to its charm and beauty is a stream that runs along its length, which creates natural obstacles and adds additional elements of challenge to a game of golf.
Aroeira 1
The Aroeira 1 Course combines the beauty of natural surroundings with championship-level terrain. Situated in a 345-hectare area near Caparica Beach, this golf resort features 18 holes divided into two sections, each with a par of 36, offering golfers an excellent playing experience.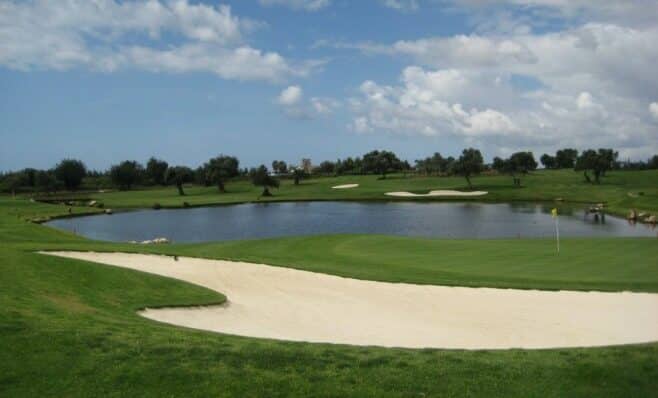 Quinta do Peru Golf
As the latest addition to Lisbon's golf resorts Quinta do Peru Golf was created for amateur golf players but soon became known for its challenging drives that attracted some of the best international golf professionals. This course has 18 holes which get more difficult as you go on. 
Golf World Magazine voted Quinta do Pero Golf as one of the top 100 courses and has the breathtaking Arrabida mountains as its backdrop.
Tróia Golf
Located on 36 hectares, the Tróia Golf 6,317-meter-long course is considered the most challenging in Portugal. It has breathtaking views of the Atlantic Ocean and is a true haven for golf lovers. It has 18 holes at par 72, and some of the most experienced golfers have found Tróia Golf difficult to master.
Montado
Situated near Setúbal, a popular international tourist destination, the Montado Golf Course is characterized by towering oak and pine trees and spreads over 6,366 meters. The 18-hole, 72-par course presents golfers with some challenges, and its last hole is located on an island. It's a perfect destination for a golf holiday and frequent golf travel.
The above courses are popular amongst amateurs and professionals alike and have attracted some of the best golfers in the world. Their proximity to Lisbon makes them an attractive asset to the area. Visitors, locals, and expats flock to use them or experience their beautiful locations and natural surroundings, some of which offer the most exceptional views. 
Whether you want a golf holiday or are planning your next golf break with some of the best holes in Europe amongst perfectly manicured greens, a parkland course, a country club, or a spa, Lisbon's golfing courses have it all.
In addition, visitors can enjoy golf travel combined with a city break in Lisbon, stunning coastal views of the Portuguese coastline, and relax in one of Lisbon's beach resorts. Those who prefer a shorter course will find the Paço do Lumiar golf course in the center of Lisbon a great alternative. It is a unique nine hole course and an excellent place to play a challenging round in a shorter space of time.
Lisbon is, therefore, a popular destination for golf lovers and those who wish to incorporate the sport into their daily lives. If this is important to you, then our two articles, An Expert Guide to Buying Lisbon Real Estate and Portugal Real Estate Investment, can offer further insight into expat life in Portugal near some of its best golf courses.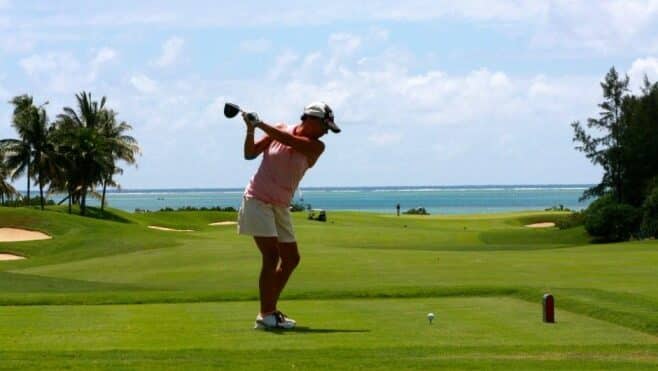 Frequently Asked Questions about the Lisbon Coast's Great Golf Courses
Where is the best area for golf in Portugal?
Portugal has a lot of great golf resorts throughout the country, but you will find some of the best in the area around Lisbon. A little further afield from Lisbon, you'll also find Oitavos Dunes in Cascais, West Cliffs Golf Course, and Praia d'el Rey Golf. The Silver Coast also has some fantastic Golf Courses, such as Royal Obidos Golf (with Royal Obidos Spa), which was designed by the legendary Seve Ballesteros.
Is Portugal good for golfing?
Portugal is an excellent country for golf lovers and those who want to take it up as a hobby. It has some of the best golf courses in Europe, and some consider that it has some of the best golf resorts in the world.
When is the golf season in Portugal?
The golf season in Portugal typically runs from September to May, as the weather during these months is cooler and more pleasant for playing golf. However, some courses may remain open year-round, depending on the region and climate. It's always best to check with individual courses for their specific season and operating hours.
Where are the most golf courses in Portugal?
The Algarve region in southern Portugal is home to the most golf resorts in the country, with over 40 courses spread along its coastline. The Lisbon region is also a popular destination for golfers, with numerous courses located within easy reach of the city. Other regions with excellent golf courses include Porto and the Madeira islands.