Updated: November 21, 2023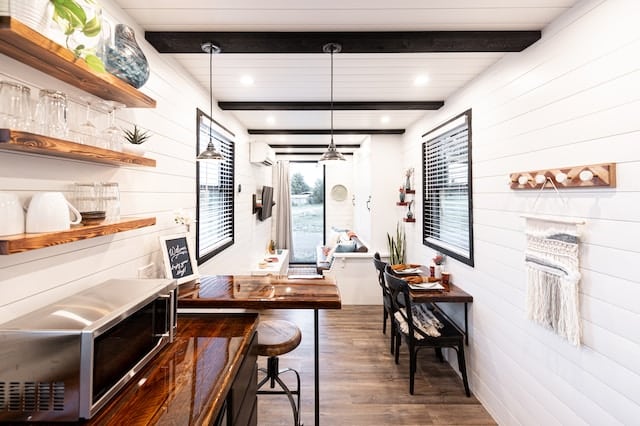 Prefab homes in Portugal are becoming more and more popular. While traditional buildings are built on-site, prefab homes – short for prefabricated homes – are constructed in a factory environment and then transported as complete homes to the project site.
Prefabricated houses, in many ways, are revitalizing the construction industry and shaping the future of buildings. They are becoming increasingly popular across the world. Sometimes referred to as mobile homes, they can be built at a lower cost compared to traditional homes, can be built faster, are an adaptable property, and, as a general rule, can be carefully controlled. This has made their popularity increase on a global scale – and in Portugal, prefab houses are becoming an increasingly sought-after option for buyers.
In this article, we'll guide you through a brief history of prefabricated homes and their advantages before focusing on Portugal. We will also provide you with information on the environmental and sustainability benefits of opting for prefab homes and some key considerations to bear in mind.
History of Prefabricated Housing
While it may sound quite modern to build a home and then move it, the concept of prefab homes was first mentioned as far back as the twelfth century. In more modern terms, however, the concept has really come to fruition in the USA, where companies such as Sears Catalog Homes began offering mail-order homes from 1902 to 1910, with ongoing research taking place in the 1930s and 1960s. By 1958, approximately 10 percent of new houses in the USA were prefabricated. Fast forward to 2023, and a whopping 2.2 million Americans now live in prefabricated and modular houses.
This trend of buying prefab properties or modular homes has been gaining traction in Portugal, where affordability and a shorter construction time are major attractions. Additionally, the house still offers good living conditions and the ability, to a certain extent, to put your own touch on the finished home. Yes, this type of housing is making a great impact in the Portuguese market, such as with companies like Portugal Karmod. For example, Karmod offers quality prefab houses across the world that can be customized to the buyer.
Advantages of Prefab Homes
Some of the main advantages of prefab houses include: 

Cost efficincy

Energy efficiency

Quality control

Faster construction

Sustainability
Cost efficiency: Reduced labor costs as prefab homes are built in controlled factories, therefore cutting labor expenses. Alongside this, materials can be saved.
Energy efficiency: Efficient design can reduce energy inefficiency, both during the building stages and in the finished product. This reduces the overall carbon footprint of the home.
Quality control: Factories can ensure high-quality building of modular houses, plus indoor work minimizes weather delays.
Faster construction: Modular houses are generally much quicker to assemble than traditional houses.
Sustainability: Modular homes can be constructed with sustainability and energy-saving mechanisms firmly in place.
Prefab Homes Portugal: Prices, Models, and Characteristics
In this section, we'll delve into the prices, models, and characteristics of prefab and modular homes in Portugal, so you're more clued up on whether this could be a viable option for you.
Prices
The price for prefab homes or modular homes will vary depending on the size, the model, how many bedrooms and bathrooms the home will have, additional features, and which construction company you choose to work with. For a 150m² three or four-bedroom house with two bathrooms, expect to pay between €155,800 to €193,930 for the turnkey package.
Models
Models of prefab houses and modular homes in Portugal range in architectural style, although most tend to have a modern look to them. Many also have minimalist designs, with various layouts and aesthetic feels, providing buyers with a fair selection of properties depending on their preferences. You can also find luxury models and cabins available.
Characteristics
A prefab house in Portugal will usually be built with energy efficiency in mind. For example, many will feature excellent insulation and efficient heating and cooling systems. Additionally, these prefab homes in Portugal often incorporate sustainable materials and building practices, reducing their environmental impact. You can also customize the home, in many cases, to reflect your personal tastes and preferences.
Sustainability and Eco-Friendly Features
Prefabricated houses in Portugal are at the forefront of sustainability and eco-friendly building practices, offering a range of features that align with reducing environmental impact and improved energy efficiency.
Sustainable materials
If you buy a prefab home in Portugal, you'll find that they are constructed using sustainable materials. These materials often include responsibly sourced timber, recycled and recyclable materials, and low-impact building components. The use of sustainable materials not only reduces the ecological footprint of the construction but also ensures the longevity and durability of the home.
Energy efficient
Energy efficiency is an important consideration in prefab home design projects. These homes are equipped with cutting-edge insulation, ventilation systems, and energy-efficient appliances. As a result, they require less energy for heating, cooling, and overall operation, leading to lower utility bills – saving you money in the long term – and reduced greenhouse gas emissions. You may also be able to opt for solar-powered buildings.
Environmental impact
Prefabricated houses and modular homes in Portugal are designed to reduce their environmental impact. The controlled factory building process minimizes waste and the efficient use of materials results in a smaller carbon footprint.
Prefabricated and Modular Houses: Challenges and Considerations
Here are some considerations that you should take into account if you are considering opting for a prefabricated home in Portugal.
Selecting land
The first step before you consider a prefab house is to find land for sale where your new home will be situated. It's recommended that the manufacturer visit the site to evaluate the location, land conditions, sun and wind orientation, and other factors. The manufacturer, at this stage, may quote land preparation costs that are not included in the initial price. You will also need to adhere to consult the Municipal Master Plan (PDM), as they are the body responsible for qualifying the land, for example, whether it is urban or rural, etc.).
Alongside this, you will need to adhere to legal considerations. For example, the land should not be in an environmentally protected area, given the construction limits here, which often make it impossible to buy land with the intention to build on it. It is worth working with a Portugal real estate lawyer to assist you with the legal aspects of the buy.
Building the prefab home
While the building of prefabricated houses is generally more affordable, modular houses will need a construction license, which will add to the costs, alongside the land acquisition and building costs.
Also, securing financing for a modular home can be slightly more tricky, as there are usually higher interest rates and shorter repayment terms compared to conventional buildings.
Licensing
1. You will need to ensure that you have property licensing before you go ahead with the construction. This involves requesting prior information from the Municipal Council where the house will be built to guarantee the project can go ahead. You will need to present architectural plans to the City Council of the municipality where the house will be constructed before any assembly or building work begins.
2. Once approved, the technical projects will need to be presented – such as sewage, electrical supply, and gas installation – so that the City Council can consult the entities responsible before issuing a building permit.
3.  Once the building permit is issued, the building work can be carried out. A contractor will need to be responsible for the work and the site book.
4. When the construction is finished, a use license must be requested from the City Council's urban planning services. This will be issued after it has been confirmed that the work complies with the approved projects. This will be done through an inspection of the property.
Taxes
As with traditionally built properties, you will need to consider the taxes that you will need to pay for prefabricated and modular homes, which will fall either at the time of purchase or on an annual basis. You can consult our article here for more information: Property Taxes in Portugal in 2023.
Prefab Homes Portugal: Key Locations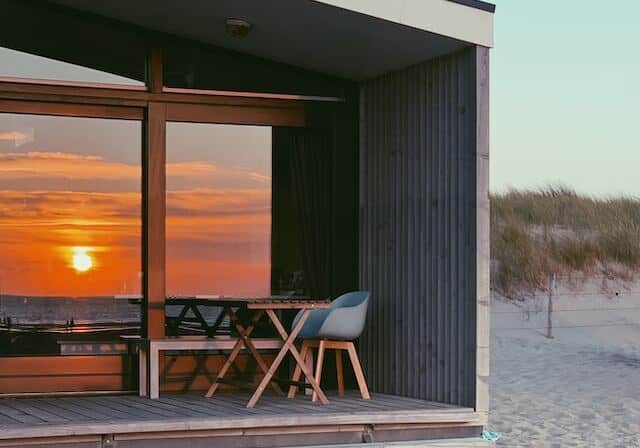 Some of the key locations where expats choose to buy in Portugal are:
Lisbon
Porto
Cascais
Algarve
Silver Coast
From modern apartments to luxury villas in Portugal, each location will offer buyers something different. For example, if you look for homes for sale in Lisbon, living here will provide you with a cosmopolitan living experience where there is always something to get involved in. Porto, the historic second biggest city in Portugal, offers a more relaxed pace of life, with some of the best food in the country, while the Algarve and the Silver Coast are top locations for those that are looking to live close to the sea, enjoying sandy beaches and sweeping views of the Atlantic. Lagos in the Algarve, for example, has become one of the most sought-after areas, with houses for sale in Lagos providing all types of real estate with spectacular sea views.
If you are looking to live in the countryside, you will find countryside homes for sale and mountain homes for sale in Portugal, highlighting the diverse range of real estate available in Portugal.
You may prefer to invest in commercial spaces, in which case you will find that Lisbon, Porto, and the Algarve are also good options. As Portugal is a hub for tourists and expats from all walks of life, investing in commercial spaces can be a lucrative venture.
If you are looking to discover a lovely property in Portugal with a private pool, you may want to take a look at our article: Cheap Houses with Pool: Affordable Property in Portugal.
Prefab Homes Portugal: Why opt for a prefab home?
Prefab housing can ensure top-quality materials are used while embracing sustainability best practices, such as increasing building energy efficiency. Alongside this, you'll also find that this type of housing is more affordable than the traditional way of building properties, and, to a certain extent you can still customize the house to fit your preference. However, determining whether this housing solution is the right choice for you will depend on your specific needs and requirements.
Working with a Buyer's Agent to Buy Property in Portugal
A buyer's agent can prove to be a godsend in the buying process. While real estate agents work for the seller and will receive a higher commission for a higher sale, a buyer's agent works solely on behalf of the buyer, providing access to listings that you will not find elsewhere, ensuring the negotiation stages run smoothly, and assisting you throughout the buying process.
Why work with Goldcrest?
Goldcrest is a local buyer's agent based in Lisbon, Porto, and the Algarve that provides insightful real estate expertise and strategic advice. From sourcing to property acquisition, we offer a tailor-made service for our clients, assisting them in identifying outstanding investment opportunities in some of Portugal's finest locations, from relocation to investment projects. You can read more here: Why Work With Goldcrest to Buy Property in Portugal?
Frequently Asked Questions about Prefab Houses in Portugal
What are prefab homes in Portugal?
Prefabricated houses in Portugal are houses built using prefabricated construction techniques, unlike traditional homes. These homes are constructed off-site and then completed homes are transported to the desired location for assembly, hence they can be referred to as mobile homes. They can vary in size and style, offering a quicker and more cost-effective alternative to construction methods used for traditional homes.
How much do prefab homes in Portugal cost?
The cost of prefab and modular homes in Portugal can vary widely depending on size, design, and materials. Generally, prefabricated properties are cheaper than traditional homes. Customization and additional features will boost the final price. You will need to find suitable land before getting started on the buying process.
Are prefab homes in Portugal customizable?
Yes, prefab homes in Portugal are often customizable. Buyers can typically choose from various floor plans, layouts, finishes, and additional features to tailor the home to their preferences and needs. This flexibility allows for a degree of personalization while still benefiting from the efficiency of prefab construction.