Updated: August 17, 2023
Despite its many exciting opportunities, western Europe's secret gem, Porto, is often overlooked. Porto is not just a buzzing and eclectic hub for its locals and tourists but also boasts an international community of expats, both existing and new. Unsurprisingly, it is considered one of the best cities to live and work in.
In this guide, we will provide a detailed overview of living in Porto based on the experiences of expats who have started a new life here and fallen in love with the city.
Where is Porto?
Porto is located in the northwest of Portugal, on the Douro River and the Atlantic Ocean. It is the second-largest city in Portugal and the largest in the northern region. It has excellent international links, situated close (less than a one-and-a-half-hour drive, depending on the location in Spain) to the Spanish border and with its international airport providing easy access to cities across Europe and beyond. 
Top Reasons for Living in Porto
Reasons for living in Porto are plentiful, from its excellent location and beautiful neighborhoods to a vibrant and lively community of both locals and expats. In the following section, we cover the most important points that make living in Porto exceptional and special.
Outstanding business location
Despite the impact of the COVID-19 pandemic and the current recession, Porto's labor market has experienced significant growth in recent years. As the economy continues to expand, there are abundant job opportunities available for expats. 
Porto is also an attractive location for businesses that take advantage of Porto's strategic location and dynamic environment. It also benefits from a skilled workforce, excellent infrastructure, and business-friendly policies. 
Safe and tolerant
Porto is generally considered a safe and tolerant place. The crime rate is relatively low, and the city is known for its friendly and welcoming atmosphere. Porto is also known for being an inclusive and diverse city with a strong sense of community and a culture of tolerance.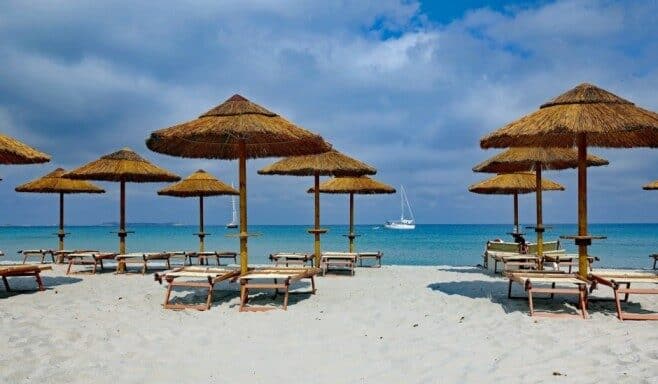 Beautiful beaches
Porto has several beautiful beaches that are popular among locals and tourists. Some of the most well-known beaches in the area include Praia de Matosinhos, Praia da Luz, Praia do Carneiro, and Praia dos Ingleses. These beaches offer a variety of activities and attractions, such as surfing, sunbathing, and beachside restaurants and bars.
Tax benefits
Affordability is one of the many reasons why foreigners opt to relocate to Portugal. As an expat, you also may be eligible for exclusive and advantageous tax breaks through Portugal's non-habitual tax regime (NHR tax regime). 
The NHR tax regime provides tax exceptions to selected professions, and if your income is from outside Portugal, you are exempted from paying tax here. Our article on the Portugal NHR Program gives you further information on the Portugal NHR tax regime, as well as Double Taxation Agreements (DTAs).
Best Neighborhoods in Porto
Porto's neighborhoods are as versatile and eclectic as its inhabitants, and you're sure to find your perfect new home amongst them.
Ribeira, Miragaia, and Baixa
For those seeking to reside in a UNESCO World Heritage-approved historic neighborhood, Ribeira is the ideal location. Situated near the Douro River, its vibrant cultural and gastronomic scene, along with its cobbled streets and colorful houses, make it a coveted spot for both locals and expats.
To get a feel for the city, the Miragaia neighborhood is an excellent option, while the downtown area, Baixa, is home to most of Porto's major landmarks. Buying property in this area has many advantages, such as access to some of the best restaurants and shops in the city.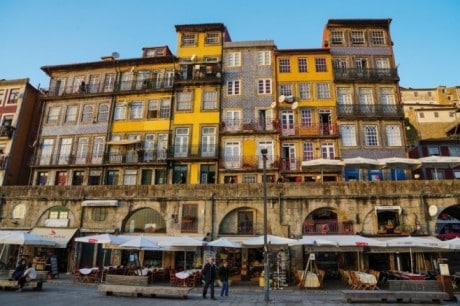 Cedofeita and Boavista
Cedofeita is the artistic and trendy neighborhood in Porto, known for its innovative bars, unique shops, and hip cafés. Cedofeita is also home to many art galleries showcasing the works of talented artists. 
Weekend lovers will rejoice in wandering around Mercado de Portobelo, which is a great place to spend a Saturday discovering handcrafted arts and gifts. Additionally, you can find the oldest church in Porto, São Martinho de Cedofeita, and the beautiful Crystal Palace Gardens in this area.
Boavista, on the other hand, is a modern neighborhood known for its lively restaurants and rooftop bars, as well as Porto's longest avenue, Avenida da Boavista. This area is less touristy and has many green spaces, including botanical gardens. You can also find a concert hall and visit a synagogue in this exciting quarter.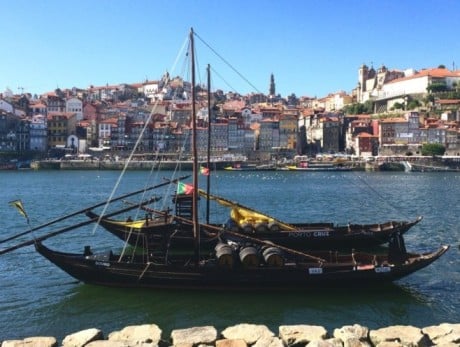 Foz do Douro
Not only does this prosperous municipality in Porto have some of the best beaches, including Praia da Luz, but it also features exceptional architecture and top-notch restaurants serving both traditional and international cuisine.
It is also popular amongst homeowners who want to enjoy seaside views from their homes. Such views can also be enjoyed from its long promenade, which offers a stunning ocean view. The greatest selling point of Foz do Douro is that you have the best of both worlds on your doorstep, with easy access to both beaches and the city.
Foz do Douro is also popular amongst families because of its proximity to international and public schools. To learn more about the Best Neighborhoods in Porto for Families, read our exclusive guide.
Bonfim and Campanhã
Bonfim and Campanhã have undergone significant transformation in recent years, shedding their reputation as less affluent neighborhoods and emerging as two of the most sought-after areas in Porto. Generous public investments have rejuvenated the neighborhoods and contributed to their newfound popularity.
In addition, Campanhã has excellent transport links as it is home to one of Porto's essential connection points: Campanhã train station. The historic 19th-century station building is the heart of Porto's railway and metro transport system, making it a great place for locals and commuters to get around both within Porto and to visit other cities.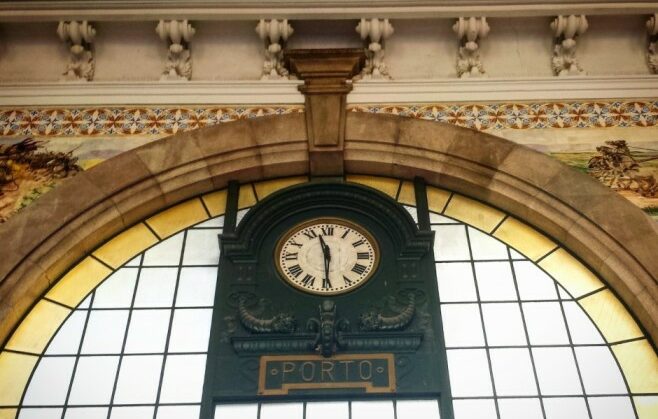 Vila Nova de Gaia
Living in Vila Nova de Gaia, across the river from Porto, offers the advantage of breathtaking views of the city. The neighborhood is renowned for its wine cellars, and it takes you back to the 17th century when port wine production first began. It also has a lively food scene and tranquil, sprawling beaches. 
This neighborhood, often referred to simply as Gaia by locals, is becoming increasingly popular among those discovering the charms of this unique part of Portugal. Gaia is also a great place to invest in and buy property because of its affordability and excellent services and amenities. 
Vila do Conde
Vila do Conde is a great option for those seeking to live outside the city in the greater Porto area. Rated as one of the top areas in the region, this charming seaside town offers a traditional setting and easy access to the city for a vibrant urban experience and a more tranquil lifestyle.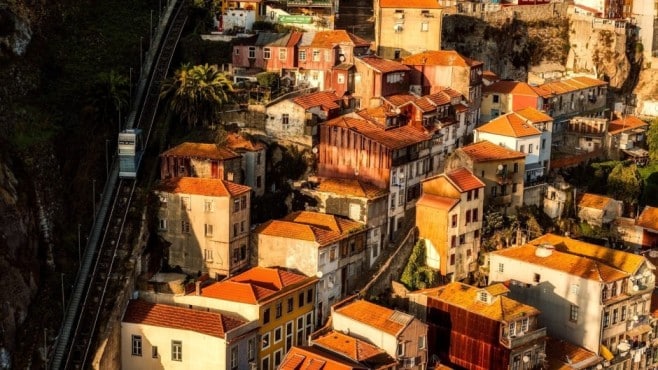 Buying or Renting a House in Porto as a Foreigner
Porto may not be in Portugal's capital, but it is still much more affordable than many other cities in western Europe. This extends to renting or buying, too, and you'll be able to find a place that meets your needs without paying a premium price. 
Whether you're planning to rent or want to buy property, we'd recommend that you do some research. The advice below gives an overview of the rental and property market in Porto.
Buying a home in Porto
Despite Porto's emergence as a thriving center for investment and job prospects, house prices are still relatively inexpensive compared to other European cities, including Lisbon. If you're unsure about which city is best for you, consult our guide on Should I Buy Property in Porto or Lisbon?
Generally speaking, buying property in Portugal is straightforward if you follow the processes and do your research. For more detailed information on purchasing property in Porto, please refer to our extensive guide on Where to Buy Property in Porto.
Renting a house in Porto
Renting in Porto is a good option if you want to explore the city and get to know the neighborhoods before committing to buying real estate. The rental market in Porto is full of options for every budget: You'll find anything from studio apartments and one-bedroom apartments to three-bedroom apartments, as well as townhouses and bigger real estate.
It's sometimes easier to come by short-term rentals, as some landlords prefer to rent their places to tourists for maximum profit. To find a place to rent in Porto, a good starting point are websites such as Casa Sapo, Nestpick, or Imovirtual, but you might also want to check out local Facebook groups. The latter is a good option if you want to avoid higher prices. 
How to Live in Porto as a Foreign Citizen: Residence Permits and Visas
Porto is the new home to many expats from diverse backgrounds and nationalities. The specific documents and agency assistance required for relocation vary depending on your country of origin. The overview below will give you an insight into what is required for each individual case.
Living in Porto as an EU citizen
European citizens can take advantage of the freedom to travel, reside and work in any European Union (EU) member state without needing a visa. However, if you plan to stay beyond three months, you must obtain a residence card by applying to a local town hall, which is generally an easy process. 
In addition to a residence card, you will need to demonstrate proof of health insurance, obtain a national tax identification number (NIF), and provide evidence of financial independence, indicating that you are not dependent on the Portuguese government for income.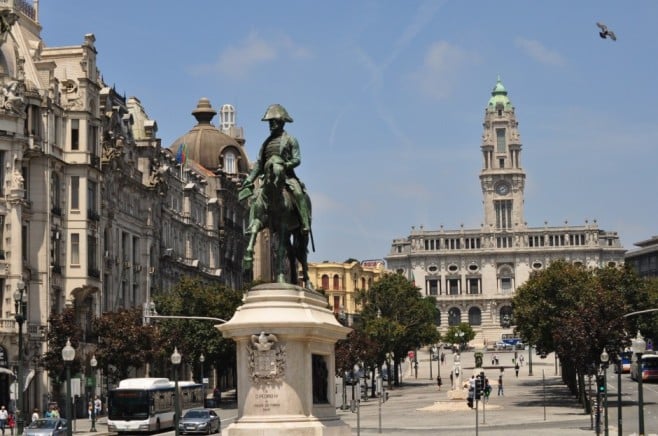 Living in Porto as a non-EU citizen
Non-EU citizens should anticipate additional bureaucratic hurdles and administrative procedures before obtaining a Portuguese residence card. Although the process may seem complex and time-consuming, help is at hand. Global Citizen Solutions, our residency and citizenship division, has a team of specialists who can assist non-EU citizens in fulfilling their dream of living in Portugal.
Living in Porto with the Portugal Golden Visa
Portugal's Golden Visa program offers promising prospects for qualified candidates and is regarded as one of the most sought-after residency-by-investment initiatives on the global market. The following investment alternatives are available:
Residential real estate investment in a designated interior area of €500,000 or  €350,000 if investing in a rehabilitation project

Commercial real estate investment anywhere in the country of €500,000 or €350,000 if investing in a rehabilitation project 

Investment funds or a capital transfer (from €500,000)

An investment of €250,000 in support of the arts or reconstruction of national heritage

A contribution to scientific research (from €500,000)
With the Portugal Golden Visa, eligible candidates can stay in the country for up to five years. For further information about the Portugal Golden Visa, read our up-to-date article: Portugal Golden Visa: Your Ultimate Guide 2023.
Living in Porto with the D7 Visa
Not everyone can deposit a large sum to invest in property or business, but there are other options available for those who want to live in Portugal but don't have the financial buffer. Portugal's D7 Visa is a great alternative for non-EU, non-EEA, and non-Swiss citizens, as long as they have a sustainable income to support themselves in Portugal. 
The income source does not necessarily have to be from an ongoing job; it can be passive income like a pension or passive income sources. The D7 Visa can also be an ideal choice for remote workers, provided they can demonstrate a minimum monthly income of €760.
Our comprehensive guide and article on Portugal's D7 Visa provides additional information about this option, including the involvement of dependents and appealing tax advantages.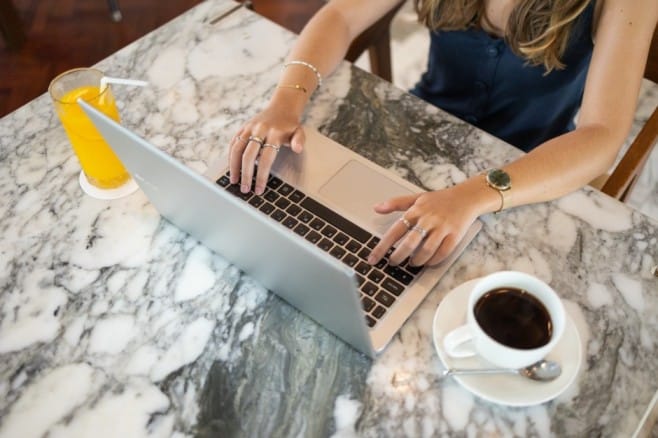 Living in Porto with the Digital Nomad Portugal Visa
Portugal has become a highly desirable destination for digital nomads thanks to its favorable climate, laid-back lifestyle, and welcoming locals. Furthermore, the country's significant investment in its infrastructure, such as high-speed internet in most areas, provides all the necessary resources for digital nomads to work remotely in the country easily.
The Digital Nomad Portugal Visa is still relatively new. It only came into effect in October 2022 but is fast becoming a popular option for remote workers. With the visa, digital nomads can live anywhere in Portugal for up to a year, provided they can demonstrate a monthly income of €2,800. Living in Porto has become an attractive options for many expats moving to Portugal.
For more detailed information on this topic, please consult our Portugal for Digital Nomads Guide. 
Cost of Living in Porto
Portugal offers more affordable living and working conditions compared to other European countries, with Porto having a lower cost of living compared to Lisbon. However, the actual amount required for monthly expenses depends on individual spending habits and circumstances.
Accommodation
Living in a city is usually expensive, but Portugal's second-largest city offers good value for money regarding most things, including accommodation. As mentioned above, it's important to plan and do some research and decide whether renting or buying is the best option for you. 
For comparison, the rent of a one-bedroom apartment in Porto's center is around €808 per month, and outside the center, around €631. A three-bedroom apartment in the center is around €1,430 per month, and outside of Porto's center, around €962 per month.
The price of real estate also varies depending on location, but you can expect to pay around €3272/ ㎡ in the city center and €2102/ ㎡ outside the center.
The above costs are estimated from Numbeo as of February 2023.
Food
Numbeo reports that living in Porto is more than 36 percent cheaper than living in London, UK, including food costs, which can be a significant part of a monthly budget. Daily necessities are available at a low cost; the table below gives an overview of the average costs of grocery essentials:
| Item | Cost |
| --- | --- |
| Milk (1 liter) | €0.83 |
| Bread (500 g) | €1.21 |
| Rice (1 kg) | €1.14 |
| Eggs (12) | €2.29 |
| Local Cheese (1 kg) | €8.93 |
| Chicken (1 kg) | €5.98 |
| Apples (1 kg) | €1.82 |
| Bananas (1 kg) | €1.29 |
| Potatoes (1 kg) | €1.24 |
| Tomatoes (1 kg) | €1.75 |
| Water (1.5 liters) | €0.55 |
The above costs are estimated from Numbeo as of February 2023.
Eating out
Exploring Porto's excellent restaurant scene should be on everyone's agenda, and luckily meals out are affordable and a wonderful way to sample Portugal's varied and fresh cuisine. 
An inexpensive meal out costs around €9.50 per person, and if you want to try something fancier, then a three-course meal at a mid-range venue will cost around €40 for two people.
With lots of cafes and coffee houses on the scene, you can get your caffeine fix without breaking the bank. A regular cappuccino costs ca €1.63, and a regular Coca-Cola or Pepsi costs around €1.48.
The above costs are estimated from Numbeo as of February 2023.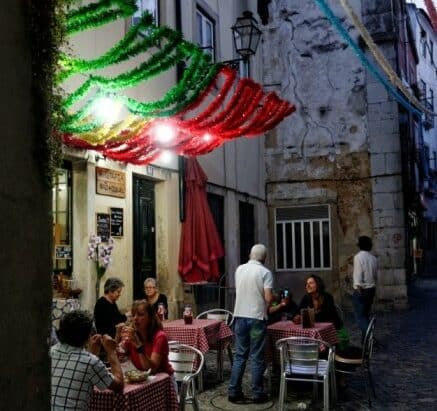 Transportation
Porto benefits from a comprehensive transport system that is reliable and affordable. Although you can reach most places in the center on foot, other transport options are also available.
Porto's budget-friendly transportation options include the metro, trams, and buses, while the Funicular dos Guindais offers a unique perspective of the city, although it is a little more expensive. Single metro tickets cost €1.50, but with the Porto Card or Andante Tour Card, you can enjoy unlimited metro rides for around €40 per month. 
Taxis are an affordable option, especially for precise locations, with airport transfers starting at around €25. Additionally, taxi, Uber, and Bolt drivers are knowledgeable about Porto and can provide helpful tips on navigating the city.
Schools
Families considering a move to Porto may wonder about their children's education, but there are numerous good options for all ages. The Oporto British School, located in Foz do Douro, was founded in 1894 and is a popular choice with English-speaking expats. CLIP Oporto International School also offers an English curriculum, but other language options are also available.
For French speakers, the Lycée Francais International Porto offers the French curriculum for children of all ages and, for German speakers, the Deutsche Schule zu Porto provides education from kindergarten through to grammar school. These options are subject to an annual fee and can be quite costly.
As a legal resident of Portugal, you have the right to send your children to public schools free of charge; this may be the best option if your children are very young and the initial language barrier won't be an issue. Be prepared to invest some time in filling out a lot of paperwork during the enrollment process, and to learn more, consult our guide on Porto Neighborhoods Close to International Schools.
Shopping
Those who love shopping won't be disappointed in what's on offer in Porto. The city has an excellent range of shops, from high-end boutiques to affordable street markets. The main shopping area is the pedestrianized Rua de Santa Catarina, which has a mix of local and international stores. 
Additionally, the shopping center, Via Catarina, is a popular destination for fashion enthusiasts, and the Mercado do Bolhão offers fresh produce and local specialties. For those looking for something unique, the traditional shops in the historic Ribeira district are worth exploring.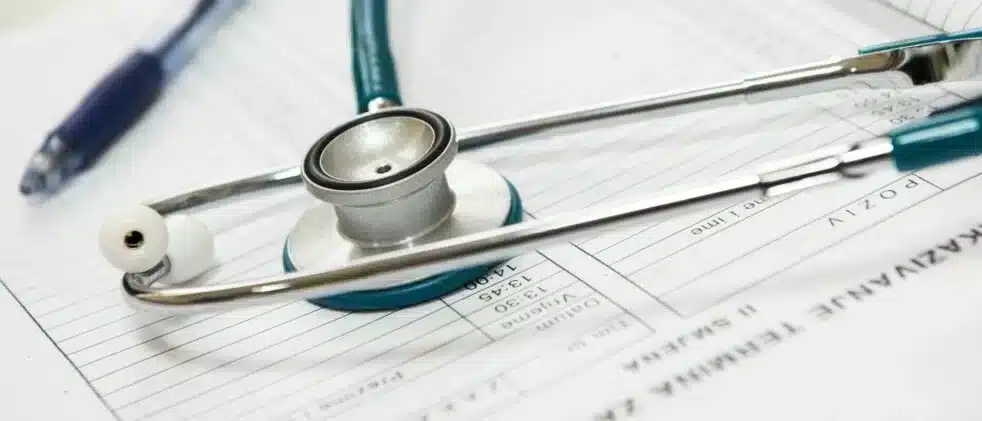 Healthcare
Portugal's healthcare is often praised as being one of the best in the world. Its public health service (serviço nacional de saúde) is similar to the NHS in the UK and is free or low-cost for citizens and legal residents. Waiting times can sometimes be longer, so some expats opt for private health care. 
Portugal's private healthcare may be more expensive than the public health service, but it's still comparatively cheaper than in many other European countries. The advantage of private healthcare is that it's faster, so the perfect solution whilst applying for Portuguese residency. Choosing private to public healthcare also means you have all the benefits and access to some excellent private hospitals.
Language
The main language spoken in Porto is obviously Portuguese. However, being a popular city on the international scene, many people also speak English and Spanish. There are also some minority languages spoken by immigrant communities. 
Although you can get by with English, it is always recommended to learn some Portuguese to make the expat experience as authentic as possible and to build new connections with locals.
Weather in Porto
As Porto is located in the northwestern part of Portugal's peninsula, its summers are warm without being too hot, and its winters can be cold and wet, although temperatures rarely fall below 1 degree C (33.8 degrees F). 
Generally, Porto's hottest month is August, and its coldest is January, so make sure you have suitable clothing for all seasons. Whether you'll rent or buy property, make sure there is central heating for the winter, and the place is well-insulated. However, good weather is generally part of living in this beautiful city.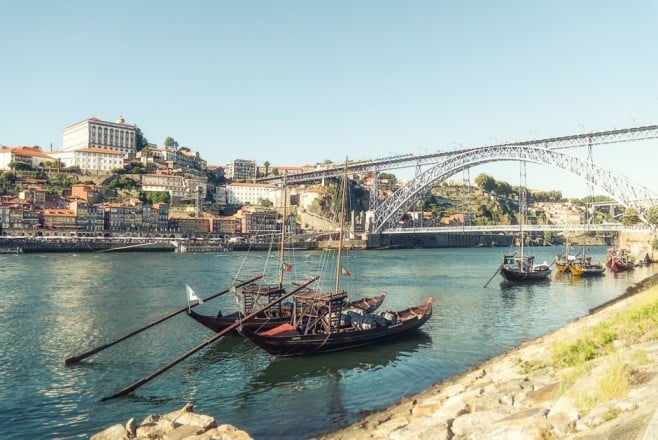 Festivals and Attractions
Like most cities, Porto has a variety of festivals and attractions on offer all year round. No matter your interests and budget, you'll never be short of things to see and do. Porto culture is eclectic and makes living in Porto and its city center an adventure. For a more detailed list of the best things to do when living in Porto, read our Top Tips Guide to Living in Porto.
Every place has pros and cons, and this northern city is no different. Whether it's the right city for you to live in depends on your preferences and needs. 
Advantages
Arguably, the list of advantages to living in Porto is longer than the list of drawbacks, proving that Porto is a fabulous place for everyone:
Open, friendly community and welcoming city

Affordable cost of living

Great transport links, reliable public transport, and an international airport

A great city center with lots to do

Close to some fantastic beaches

Spectacular architecture and historic buildings

Semi-Mediterranean climate

Great restaurant scene and many art galleries

Fantastic national health service

A selection of exceptional international schools

The home of the famous Port wine
Drawbacks
The list of drawbacks may not be deal breakers, but it's good to know about them before you make the move to northern Portugal:
Lots of paperwork and bureaucracy 

Colder winter months

Many tourists during peak season
The Bottom Line on Living in Porto, Portugal
Through a variety of visa options, you can now experience the best that Porto has to offer, regardless of your background of financial situation. This beautiful city is a safe and friendly place and gives many expats what they look for but can't find in other European cities: A laid-back but high-quality way of life, plenty of employment opportunities, some of the best neighborhoods, lots of enjoyable leisure activities, fresh and delicious food, including Port wine, and welcoming locals.
Whether you're an American expat or come from any other place outside the EU or EEA, reach out to us, and we will help you make your dream of living in Porto a reality.
Frequently Asked Questions about Living in Porto 
Is Porto good for expats?
Porto is an excellent city for expats, and it's often overlooked in favor of other cities, such as Lisbon. Portugal's second-largest city has got plenty to offer, be it low cost of living, high quality of life, and lots of job opportunities and things to do.
Is living in Porto expensive?
Porto has not been immune to the cost of living crisis, but compared to many other European cities, it is an affordable place to live a great quality of life.