With expats from all walks of life coming to call Portugal home, it is not difficult to see just why the country is so popular. With beautiful beaches, stunning landscapes, and historic cities, it is easy to get lost in Portugal. However, when moving to any country there are many practical aspects to consider. One of the most important is healthcare, and you will be pleased to know that Portugal healthcare is very good, and is increasingly tailored to expats in Portugal. 
In this article, we'll provide you with everything that you will need to know about healthcare in Portugal. We will split this into public and private healthcare sections, followed by your eligibility to access healthcare here and finally some practical information that you should be aware of. 
Portugal healthcare: Public options
The national health service in Portugal is called the Serviço Nacional de Saúde (SNS) and is publicly financed. Basic national healthcare is administered through local and regional health centers and hospitals, with all healthcare included in this except dentistry. If you are a resident of Portugal, then you do not have to worry as you'll have complete access to the SNS. For children under 18 and people over 60, healthcare under the SNS is completely free. 
As a resident of the country, you'll be treated in the same way as a Portuguese citizen would. Public healthcare is generally free, but bear in mind that there is a patient contribution that you will need to pay and that the price of this will vary. For example, general practitioner consultations will cost you less than a consultation at the Accident & Emergency, and X-rays, scans, and other tests will require an added fee.
Portugal healthcare: Private options
Private healthcare options in Portugal are steadily becoming both more readily available, and more popular, and there are now many private healthcare facilities up and down the country. 
Public-private partnerships have significantly improved healthcare over the past years. This includes creating new hospitals, producing long-term care networks, and reorganizing primary care, amongst other improvements. 
How good is Portugal's healthcare?
The Euro Health Consumer Index in 2018 ranked the Portuguese healthcare system as the 13th best in Europe. In this, Portugal's healthcare ranks above the UK. The system also ranked highest in terms of accessibility, patients' rights, and waiting times, in addition to overall health outcomes. 
If you are moving to Portugal to enjoy your retirement, you will be happy to know that the Integrated Medical Emergency System offers very rapid response times, something to put your mind to rest. 
Are you entitled to Portuguese healthcare?
The SNS is similar to healthcare systems in other countries, providing local health and hospital services. Healthcare for visitors is very similar to healthcare for residents. The main difference between the Portuguese health system and other healthcare systems is that each person who uses the SNS will have to pay a small charge for consultations and tests. 
Here we'll run over emergency healthcare in Portugal and your entitlement to Portuguese healthcare as a non-habitual tax resident, and as an EU citizen or non-EU citizen. 
As an expat in Portugal with a residence permit,  you should be registered at the health center (Centro de Saúde) and must hold a User's Card. This is obtained from the health center by presenting proof of residence. If you are from a Non-EU country, you will also need to provide a social security number. 
Emergency healthcare in Portugal
Emergency care in Portugal is free, without coverage through reciprocity, NHS, or private healthcare. Other services are charged at full price, however, and sometimes need to be paid at the time of access. Don't worry, you will receive hospital care if needed, although you will be charged if you are not covered by the SNS, unless you have private insurance or a reciprocal agreement. 
Healthcare for non-habitual residents in Portugal
The non-habitual tax regime is increasingly popular in Portugal – this is essentially a scheme by which foreigners can receive attractive tax benefits. You can read more about it here. 
The type of healthcare for non-habitual residents in Portugal depends on their specific circumstances. Professionals who are contributing to the social security system will be able to use the SNS service, while those who are not should consider private healthcare as an option. 
Healthcare for EU residents in Portugal
Visiting EU citizens in Portugal need not worry as healthcare in Portugal for them is covered under reciprocal agreements. EU citizens will simply need to bring their European Health Insurance Card (EHIC) to the hospital with them and present it to the hospital or doctor to secure government-funded care. 
EU residents will also have many private health clinics across the country to consider. These are relatively inexpensive – as a ballpoint, you can expect to pay approximately €40 for an appointment with a general practitioner. 
Healthcare for long-term non-EU residents in Portugal
If you live and work in Portugal and are not covered by reciprocal agreements with your home country then there are two options on the table. You can pay into the social security system or you should consider a private healthcare plan. 
Portugal healthcare: Practical information
Firstly, it is good to know almost all of the doctors in both public and private healthcare facilities in Portugal speak English. Alongside this, foreigners are catered for well in Portugal, with many professionals extremely understanding of any language barriers. Indeed, there are many tourists, retirees, and expats that move to Portugal, so it is unsurprising that the Portuguese are well adept at catering to the needs of foreigners. 
You should easily be able to find pharmacies in Portugal, just look out for the big green cross on the shopfronts. Many medicines, including over-the-counter medication, are subsidized if obtained with a prescription, making them fairly cost-effective. 
Moving to Portugal – all you need to know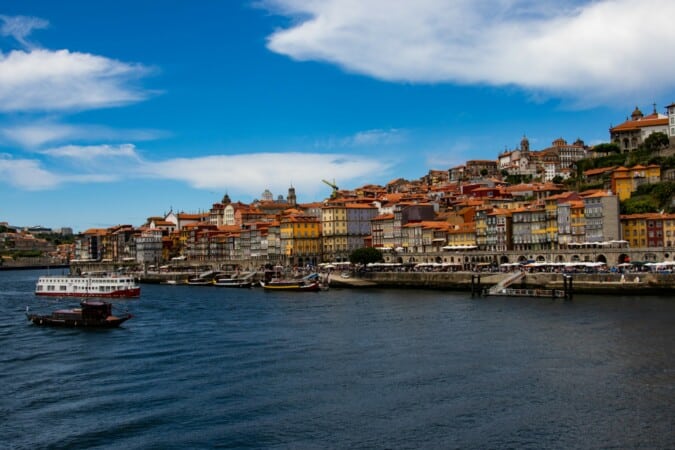 If you are looking to move to Portugal, there are several things that you will need to consider, and healthcare is just one of them. If you are looking to buy property in Portugal, then we have you covered. Our new book, Your Expert Guide to Buying Property in Portugal has all you need to know about the process of buying, with six easy-to-digest steps. In the book, we also cover what it is like to be an expat in Portugal, information on taxes and legal fees, the most desirable locations to buy, and a section on moving to Portugal, amongst many other things that you should be aware of. You can buy the book here.
If you are unsure of which location is most suitable for you or how to buy property in Portugal, you can book a call with a Goldcrest advisor who will be able to provide expert advice tailored to your needs. You can book a call here.