Updated: November 13, 2023
Consisting of nine volcanic islands, the Azores is an archipelago and an autonomous region of Portugal. The Azores is home to beautiful natural landscapes, stunning wildlife, fishing villages, vineyards, vast tea plantations, and more. 
Over the past few years, real estate in the Azores has become quite attractive as the islands offer expats numerous activities to enjoy a relaxed lifestyle against a stunning natural backdrop. 
An English-speaking realtor in Portugal can save you time and hassle in your search for property in the country. This article will help you discover how to find a real estate agent in the Azores and purchase your dream home seamlessly.
Why should you invest in Azores real estate?
Although most expats prefer the more famous parts of Portugal like Lisbon, Porto, and the Algarve for real estate investments, the nine islands that make up the Azores also offer attractive real estate investment opportunities that people often overlook.

Here are a few reasons why you should invest in the Azores:
The islands in the Azores are unique and provide breathtaking views across the archipelago. In addition to this, the islands are famous for their greenery and volcanic beaches, making them attractive tourist spots.

Through Portugal's Golden Visa Program, you can earn residency in the country in return for a real estate investment. Since January 2022, foreign investors can no longer make real estate investments in popular areas like Porto, Lisbon, and the Algarve. The Azores, on the other hand, are still eligible under the current Portugal Golden Visa program.

The Golden Visa program has the advantage that you can apply for Portuguese citizenship after five years of holding your investment. Armed with a Portuguese passport, you'll have unrestricted access to the European Union and Schengen Area. 
Please note: The Portugal Golden Visa real estate investment option is coming to an end. If you are interested in applying for this investment pathway of the program, you should begin your application now. You can read more in our article: Portugal is Ending its Golden Visa Program. 
The strategic location, tax-friendly policies, and relatively lower cost of living make the Azores islands a great place to live, work, and invest in property.

With a residence permit card from Portugal, you can travel visa-free across the Schengen Area. Should you gain Portuguese citizenship and a Portuguese passport, you will be granted visa-free access to around 174 countries worldwide, including the European Union, the United Kingdom, Japan, Hong Kong, and Singapore.
Since schools in Portugal are open to all residents, you can enroll your children in schools in the country. While there are not as many schools in the Azores as on the mainland, the Manuel De Arriaga School in the Azores is one of the oldest in the region and one of the best in Portugal.
So, where should you consider buying real estate in the Azores? São Miguel is the region's most significant island with a booming real estate market. If you are planning to move to the Azores, you should consider this island. São Miguel is the largest island and is where the capital, Ponta Delgada, is situated. However, there are many options from Pico Island to Terceira, depending on your preferences.
Santa Maria, one of the islands in the Eastern Azores, is also a good location to consider buying property. The central group of islands, Terceira, Graciosa, São Jorge, and Faial, are also beautiful, providing buyers with sublime nature and outstanding views.
An overview of the different islands can be found in our article: Azores Real Estate: An Overview.
Azores Real Estate Market
The real estate market in the Azores is developing steadily. Be it luxurious villas, charming beach-facing apartments, or townhouses, Azores properties provide buyers with an array of options. Below, you can see the average asking price for properties in the Azores.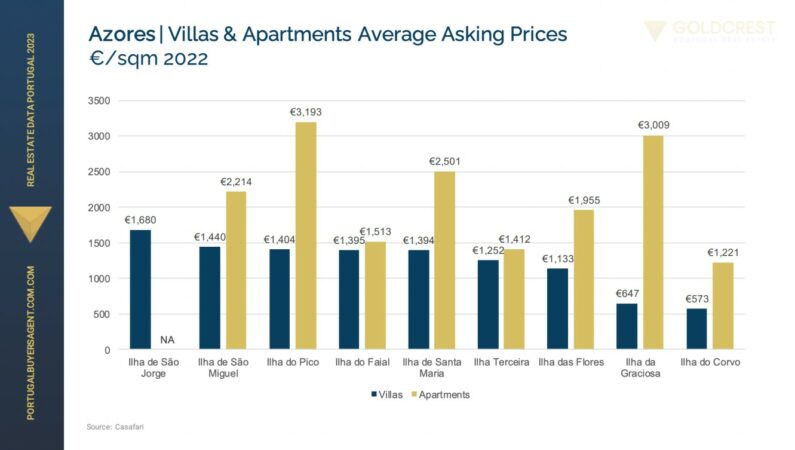 Real Estate Agents in the Azores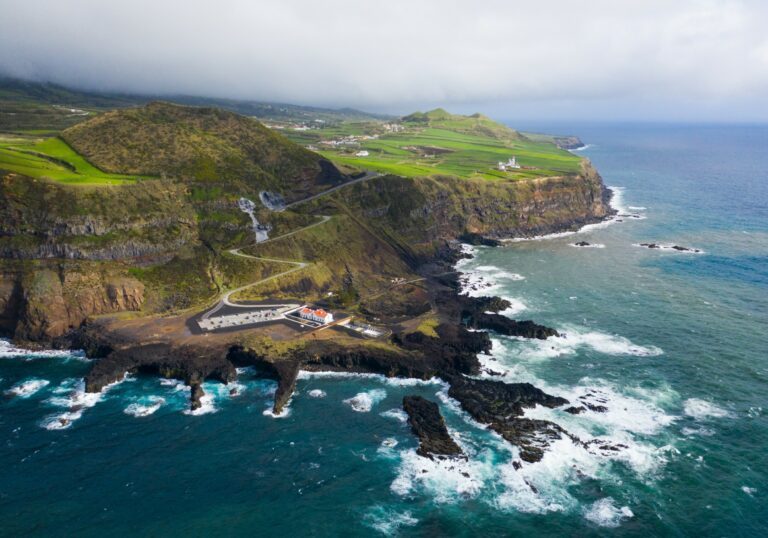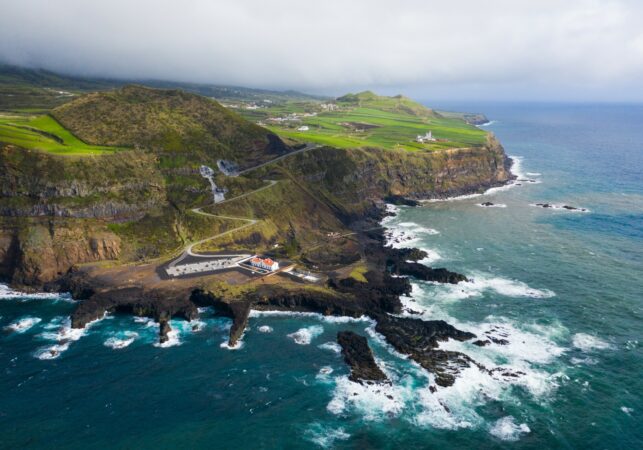 Portugal attracts expats and investors from all walks of life to its shores. But, with the recent changes in the Portugal Golden Visa guidelines, foreign investors are taking a keen interest in real estate investments in the interior parts of the country, like the Azores. As we mentioned previously, if you are interested in applying for the real estate pathway under the Golden Visa program, you should consider applying as soon as possible before this investment pathway ceases to exist.  
More than simply being a profitable investment, placing your money in real estate in the Azores opens up an array of opportunities for expats. For instance, you can apply for the Non-Habitual Residence (NHR) scheme that offers multiple tax benefits to international investors for a period of up to ten years.
An experienced real estate company can help you find the right property deal and expedite the process. Whether working with property sellers or assisting you with due diligence checks, a real estate agent can help you streamline everything to close your real estate investment without any hiccups. Before working with a real estate company, ensure that they can provide you with a quality service tailored to your needs, that they have experience working with expats, and that they are a licensed real estate company. 
Why do you need a real estate agent in the Azores?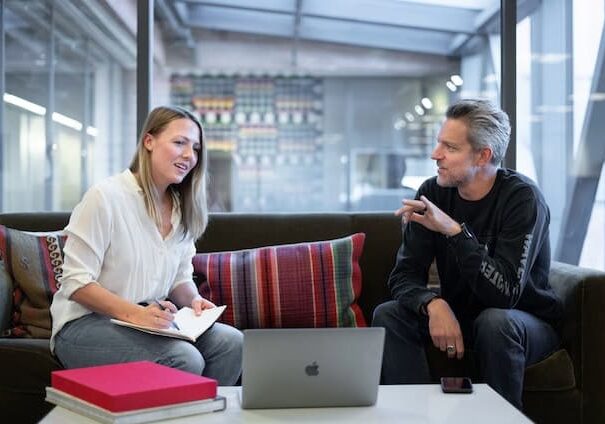 Purchasing real estate in any region of Portugal comes with its own set of benefits. However,  the entire process can be pretty cumbersome, especially if you are not living in the area. Hiring a real estate agent is highly recommended if you are looking to buy or sell property in the Azores. They will provide you with a quality service and will have access to more properties than you would have access to if buying on your own. Plus, their extensive experience of the market will no doubt come in handy. Although a good real estate agent does come at a cost, the quality of work, productivity, and time efficiency make it essential, in the long run, in simplifying the property purchase process so that you can secure your dream home with as little stress and hassle as possible. 
Experienced real estate agents will have access to an extensive database, thus making it easier to have a more thorough real estate market overview. 
And suppose you are planning to rent out your real estate property after purchasing it. In this case, you should consider working with a property management company that will be able to assist you on this front.
Should I work with a buyer's agent or a real estate agent?

While conventional real estate agents exclusively serve the seller, a buyer's agent is an autonomous real estate professional dedicated to advocating for the buyer's needs and preferences. Simply put, a real estate agent will get a higher commission for a higher sale, and this conflict of interest can be an issue for buyers. A buyer's agent, on the other hand, will provide a service tailored completely to the buyer, ensuring they get their dream property or real estate investment at the best possible price.
Goldcrest: How can we help you?
At Goldcrest, we can help you find the perfect real estate investment in some of the most desirable locations in Portugal. Our expert team will help you go through all the processes and legalities and seamlessly close the investment procedure.
We make sure that your real estate investment is legitimate and profitable. Our team is here to offer you the best quality of service so that your property buying and selling experience is as hassle-free as possible. 
Our experienced team has worked with clients worldwide and built an extensive real estate database to provide you with the best investment opportunities. Our consistent endeavors and commitment to our work have helped us establish a large network in the real estate market. For example, we can introduce you to property management services, builders, architects, designers, and landscape gardeners. 
Contact us to buy your dream property in Portugal. And, if you are wondering whether investing in the Portuguese real estate market is for you, feel free to consult our article: Portugal Investment Property: Is it worth it?
Alongside the Azores, Madeira, the second autonomous Portuguese island, is a true gem, with its cosmopolitan capital, Funchal, sweeping ocean views, and excellent climate. The real estate sector in Madeira has also moved from strength to strength in recent years.
If you would like some more info on Madeira, check out our article: Madeira Real Estate: An Overview.
Frequently Asked Questions about Finding a Real Estate Agent in the Azores
How do you find a real estate agent in the Azores?
You can get in touch with a real estate agent in Portugal in many ways. For instance, you can search online, shortlist a few options, and then contact them. You can also find your real estate agent through a real estate website or simply through word of mouth. While having a real estate agent on your side is useful, bear in mind that in Portugal, they will work on behalf of the seller and get a higher commission for a higher sale. With a buyer's agent, on the other hand, there is no conflict of interest, as they will work solely on behalf of the buyer. 
Is real estate expensive in the Azores?
Compared to Portugal's more popular cities and regions, like Lisbon, Porto, and the Algarve, real estate in the Azores is very affordable. 
Where should I buy property on the Azores?
São Miguel, Pico Island, and Santa Maria are all good options. São Miguel is where the capital, Ponta Delgada, is located. Ponta Delgada has the most luxury property available, so if you are looking for an exclusive home, this may be the place to opt for. Other islands such as Faial and Graciosa are also stunning. The archipelago has many jaw-dropping locations and the best place for you to buy property on the Azores will completely depend on your preferences. You will find that the real estate sector in the Azores is not quite as developed as in other parts of Portugal. You may, however, be able to find the perfect property at an excellent price, as you'll find property in the Azores at affordable rates.