Updated: August 31, 2023
Portugal has long been a retirement hotspot. With so many advantages of retiring in Portugal, it doesn't take long to figure out why – sun, sea, and beautiful landscapes, friendly locals, a vibrant culture, historic cities, and a killer food scene. Portugal certainly catches the eye. 
Indeed, Goldcrest is here to guide you through the buying process of property in Portugal, to discover the perfect location for you, and help you to find your dream home. With years of experience, our aim is to make the process as hassle-free as possible so that, before you know it, you will be perched on your sun-drenched balcony, or perhaps by the pool, with a cold glass of vinho verde (green wine) in hand. Book a call to kickstart the process and speak with a Goldcrest advisor. 
In this article, we'll cover the aspects of what makes Portugal a paradise to retire to. Following this, we'll provide you with some of the most desirable locations to look for a property and run over practicalities that you should know, such as healthcare in Portugal.
Considering retiring in Portugal?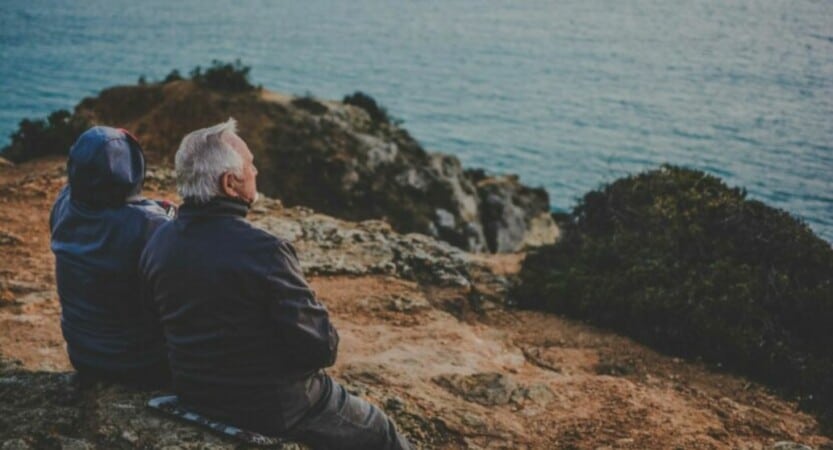 There are many reasons to choose Portugal as the country for you to retire in. Portugal ranks as the sixth safest country in the world in the 2022 Global Peace Index, trailing Iceland, New Zealand, Ireland, Denmark, and Austria. With a stable socio-economic and political environment, you should be at ease in the country. The Portuguese are amongst the friendliest people in the world, according to an Expat Insider Survey conducted by InterNations.
Healthcare in Portugal is also very good, with 225 hospitals in the country. With English now widely spoken in healthcare facilities, the National Health Service has improved by leaps and bounds over the last few years with modern, well-equipped units.
Alongside good healthcare, the Non-Habitual Residence (NHR) tax scheme provides another practical benefit of moving to Portugal. If structured correctly, you will be able to live with significant tax benefits for ten years. For retirees, this is a godsend as retirees are able to live off their pension income and dividends from investments. 
With an average of over 300 sunny days a year, even the winters can feel like Spring (consider also Madeira, where you are living in eternal summer), and you should always have your sunglasses close at hand. This makes it easy to stay active, and with many desirable locations to choose from, you will be spoilt for choice. The delicious wines and top cuisine are the cherries on top. Indeed, it is not difficult to see why Portugal regularly tops the charts when it comes to the best European countries to retire to. 
Retiring in Portugal: Most Desirable Locations
There are many beautiful locations in Portugal. Each will have its own traditions, cultures, foods, and individual quirks. Finding the perfect location for you is one of the first things that you should consider when buying in Portugal. There are many expats in Portugal – particularly in Lisbon, Porto, and the Algarve, so you should be able to find a good community of English speakers to be part of if you so desire.
Are you after glorious sun-filled days spent relaxing on the beach? Or is a quiet, historic town more to your liking, where you can roam the quaint cobbled streets? Or would you rather fill your days in a renovated farmhouse in the depths of the Portuguese countryside, with rolling hills visible through your windows? Portugal has some remarkable regions, and it is about asking yourself what exactly am I looking for? 
Here, we provide some of the most desirable locations. However, with countless potential areas to consider, you can always get in touch with us to speak with an experienced Goldcrest advisor to determine the best location for you. 
The Algarve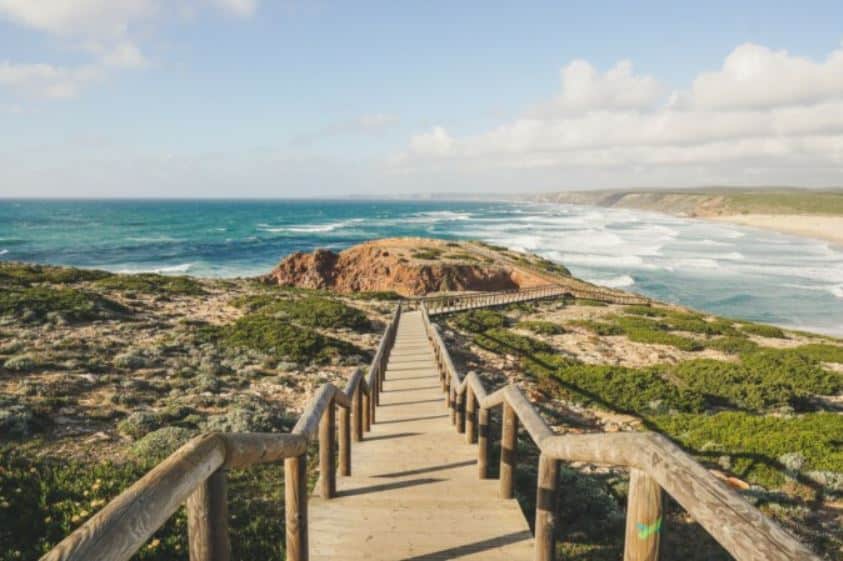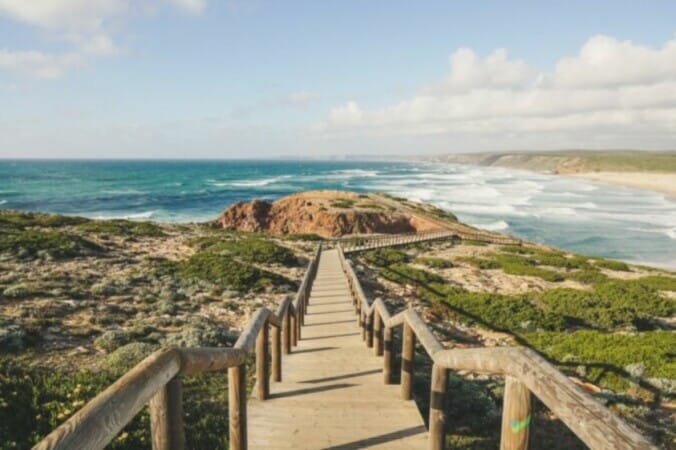 The Algarve was ranked as the best country to live in or have a second home post-COVID-19 by Forbes. Indeed, the incredible coastline, pristine beaches, and quaint white-washed towns are truly special. 
The Algarve is diverse in itself. If you are looking for luxury properties, consider the central Algarve, where the likes of Vilamoura and Portimão will provide buyers with incredible properties with waterfront views. 
Those looking to stay active and lovers of nature and watersports should set their sights on Lagos in the west, whereas those looking for peace and tranquility in the most "authentic" part of southern Portugal should consider Tavira, a picturesque, quaint, history-filled haven. 
An overview of the various regions in the Algarve, including the price ranges, can be found in our article on Algarve, Portugal, real estate.
Lisbon and Cascais
It would feel incomplete to provide a rundown of the most desirable locations in Portugal and not mention the magical capital city, Lisbon. The city of the seven hills has a rich history, beautiful architecture, and some of the best cuisine in the country. Simply head to Praça do Comércio and marvel at the stunning views – the vast river with boats bobbing along and the San Francisco-styled Ponte 25 de Abril bridge in the distance.
While Lisbon is unquestionably special, it is the capital. While there is always something going on, some new restaurant to try, and it is easy to find your favorite local haunts, it can be busy and may not be the best option if you are looking to relax in a quieter spot – for this consider Tavira in the Algarve, the Silver Coast, the Alentejo, or the north, which remains relatively undiscovered. 
Not far from Lisbon, you have Cascais. A short 30-minute drive by car, this little seaside town has everything you could want, including luxury restaurants, beaches, and a permanent holiday vibe. If you are looking to retire and would like to be close to the capital and the airport, then Cascais could be the perfect place for you. For more information, check out our Cascais Real Estate Guide. 
Porto
For history lovers, Porto is a welcome option. Less busy (and cheaper) than Lisbon, Porto boasts an incredible cuisine charming cobbled streets, and the Douro River is simply fabulous, with the wine houses on the opposite side of the river. 
You have many places where you will find beautiful properties to retire to if you would like to live outside the city. Take Vila Nova de Gaia, on the opposite side, where you can fully appreciate the views of Porto and where you have spectacular beaches, up-and-coming restaurants, and some peace and quiet. 
Elsewhere, just 20-minutes away from Porto by the coast, you have Foz do Douro. This is a coastal neighborhood where the River Douro meets the Atlantic Ocean. The area has a long promenade where you can go for long walks and breathe in the tang of salt in the air. The properties here are spacious, and many have sweeping views of the ocean. Foz do Douro is an excellent location if you want the perks of city life but also the benefits of the ocean. 
The North
Elsewhere in the North of Portugal, there are other, quieter areas that can provide you with a relaxed lifestyle in a quaint, historic city. The towns of Braga, Guimaraes, and Ponte de Lima each have their own unique traditions and cultures. If you are looking for a country house, the surrounding countryside is relatively undiscovered. You should be able to find a lovely villa or renovated farm at a very affordable price – indeed, the north of Portugal is where you will find some of the most wallet-friendly properties.
The Silver Coast
While the Algarve is a favorite with retirees, if you are looking for something quieter, less-tourist heavy, and perhaps where you will find a better sense of the true "authentic" Portugal, then consider the Silver Coast. While Nazaré and Ericeira may be better suited to surfers, Peniche would make a pleasant place to retire, a picturesque town where life has not seemed to change for decades and where the friendly locals bring a sense of community to the town.
Coimbra, close by, would also be a great location if you are looking for a historic city to live in. As a university town, there are several cutting-edge restaurants, bringing a relaxed atmosphere to the city. 
The Silver Coast is an excellent location to be an expat in Portugal. You can see our article on the Silver Coast for options to buy real estate in the region. 
The Alentejo
Considered the "breadbasket" of Portugal, the Alentejo is where most of the produce is grown in Portugal and where fabulous Alentejo wines come to life. This region is where the Portuguese tend to go on holiday instead of heading to the tourist-heavy Algarve. Here, you can get to the very heart of Portugal and should be able to find a renovated farm or even a vineyard for sale if you would like to put your lifelong ambition to become a wine producer to the test. 
For those looking to move to Portugal for tranquility, sunshine, and some of the best food and wine that you will ever taste, the Alentejo is the spot for you. 
Madeira
The autonomous island of Madeira has killer views from almost any location on the island. Funchal, the cosmopolitan capital, may surprise you. Its luxury restaurants, sleek shopping amenities, and five-star hotels may seem out of place on a small island. Indeed, with a steady flow of tourists all year round and increasing numbers of foreign investments, Madeira has all the amenities that you could possibly need. 
Madeira real estate is really coming into its own. With breathtaking landscapes, top-quality food, and many activities to live an active life, Madeira comes highly recommended as a retirement destination. There are also many expats here, so you should be able to easily blend into the community. You can delve more into Madeira in our article Madeira Real Estate: An Overview. 
Practical Information about Retiring in Portugal
Moving to another country can be a hassle, and there are several things that you will need to consider. Here is some practical information about retiring in Portugal – in essence, a few things that are good to know about settling here. 
Retirement laws and retirement tax in Portugal
Portugal's retirement laws went through some important modifications in 2019 as the Portuguese government aimed to make the country more attractive to foreigners. The choice was made following the non-habitual taxpayer (NHR) system, which enables foreign residents moving to Portugal to take advantage of a lower fixed-income tax rate. NHR status is available to anyone who has not been a Portuguese tax resident for the previous five years. NHR applicants must complete certain requirements to be accepted into the program.
Portugal requires all taxpayers to report and pay tax on their international income. If you spend more than 183 days in Portugal during the tax year, you are regarded as a tax resident and, therefore, must file an annual tax return stating your income.
Any international income earned by an NHR resident is exempt from taxation in Portugal for ten years, including salaries, investment returns, business revenues, capital gains, rental income, and pensions. During this time, they are also exempt from wealth tax. Any income earned in Portugal will be subject to a flat tax of 20 percent. Portugal has double taxation treaties and agreements with every EU member and many non-EU nations. Double taxation agreements ensure that you will not be subject to having to pay taxes in two jurisdictions.
Pensions, moving retirement funds, and social security contributions to Portugal
The retirement age in Portugal is 66 years and four months for both men and women if they have paid into social security for at least 15 years while working in Portugal. They are eligible to qualify for a public pension based on their retirement contributions, and private corporate pensions are also common.
Donations can be easily transferred from any EU country where an EU citizen works. Donations received will be applied toward Portugal's state pension. For non-EU citizens, it is recommended to inquire about the possibility of a transfer to Portugal with the National Pension Service in the country of work. A few non-EU nations and Portugal have formed cooperative tax and social security arrangements.
Those who live in Portugal are all subject to income tax, and therefore, pension payments received from other countries may be subject to tax in Portugal. However, by employing offshore pension plans or non-residential status (NHR), these taxes can be totally or mostly avoided.
Retiring in Portugal: Healthcare
The National Health Service (Serviço Nacional de Saúde) (SNS) in Portugal is excellent. They have been implementing personalized care programs for patients. If you are a resident of Portugal, you will have access to the national health service and will need only to pay minimum healthcare costs for treatment. Note that for X-rays, scans, and other tests, you will need to pay an additional fee. Private healthcare is also an option and is becoming increasingly popular with expats in Portugal.
If you are retiring to Portugal, rest assured that the Integrated Medical Emergency System offers very quick response times.
The national healthcare system provides fundamental health, accident, and disease needs. Portugal has high-quality healthcare: the country is ranked 25th in the Health Care Index 2023, published by Numbeo, indicating that its healthcare system is among the greatest in the world. Both public and private hospitals are contemporary and well-equipped, and many medical professionals in both institutions speak English. Instead, facilities may be limited to small health centers in rural and suburban areas.
In Portuguese pharmacies, prescription drugs can be given out right away. With a few exceptions, the price of many generic medications ranges from 10 percent to 25 percent less than what they would be in the United States.
Having private health insurance in Portugal allows you to schedule an appointment, receive a consultation in less than 30 minutes, and speak with a specialist if you would like to. Additionally, all medical, dental, and pharmaceutical services are significantly less expensive in this country than in the United States.
You can read more about healthcare in Portugal to get everything that you will need to know about healthcare in Portugal, including private insurance and the public health service. 
Our residency and citizenship division, Global Citizen Solutions, has also created a comprehensive healthcare guide that covers all the bases to provide a complete overview of the healthcare system in Portugal.
EU citizens
Retirees from the European Union in Portugal have access to free medical care through the SNS. The SNS, which requires Form S1, formerly known as Form E121, provides free medical care to EU retirees in Portugal. The pension center in the retiree's native country issues this form.
Portugal considers the SNS's delivery of healthcare to be wholly satisfactory. Nevertheless, some retired EU nationals also choose extra private health insurance.
Non-EU citizens / US citizens
The right to free medical treatment is available to pensioners in Portugal who are not EU nationals, as well as retirees from the United States once they become residents. Following this, they receive paid medical services for the first five years of their residence.
In Portugal, proof of health insurance is required before applying for residency. You can change from an international plan to a private Portuguese health insurance plan after you relocate here. In general, they are less expensive than their US counterparts.
Private health insurance requirements and cost
In Portugal, private health insurance is typically relatively affordable. Depending on your age and the scope of your coverage, this could cost between €20 and €50 ($22-55) every month. Accordingly, the cost of a basic plan ranges from €400 ($440) a year to €1,000 ($1,100) annually for a more comprehensive package. On the opposite end of the price range, prices might increase by several hundred euros each month. Most health insurance providers, including Médis, Tranquilidade, and Millennium Bank Medicaid/Multicare, will not provide coverage for people who are older than 55 years old. All people under the age of 75 can get health insurance through Medis. Additionally, if you already have a policy, it won't be canceled.
Travel in Portugal
While traveling by car is probably the easiest way to get around the country, Portugal has excellent transport links from the north to the south that are both efficient and cheap – both trains, buses, and the metro are each convenient to use – just excuse the times when the buses are running slightly late. There are also three international airports on Continental Portugal – in Lisbon, Porto, and Faro – making it easy to make foreign trips. 
Non-Habitual Residence (NHR) scheme
The NHR scheme allows individuals to live with significant tax benefits for up to ten years. In order to qualify, applicants must:
Have the right to reside in Portugal

Not having been a Portuguese tax resident in the five years prior to taking up residence in Portugal
Note that to maintain residency in Portugal, the individual must have a place of abode in Portugal on 31 December of that year. The property needs to be intended to be used as a habitual home.
Inheritance implications for retirees in Portugal
Portugal does not impose an inheritance tax on real estate. However, there is a 10 percent flat-rate stamp fee. Unless otherwise specified, spouses, descendants, and parents are not subject to this payment. The process of inheritance also involves a little administrative cost.
Any succession process must follow the rules of the nation where the deceased person resided, according to the Portuguese Civic Code. US inheritance law will be in effect if you retire from the US to Portugal. If the other spouses are Portugal permanent residents, Portuguese law may yet be applicable if both spouses are foreign nationals. By mentioning it in the will, this can be prevented. Make sure you create a thorough will that has been approved by a lawyer. Having separate wills in Portugal and the place of origin may be even better for retirees from the US, UK, Australia, and Canada.
Housing and cost of living
Portugal is thought of as being generally inexpensive. Despite rising costs during the last five years, Numbeo estimates that Portugal's consumer prices are around 38 percent cheaper than that of the United States. However, the country is still inexpensive in comparison to other Western European nations.
The cost of living depends greatly on lifestyle choices. You should be able to live comfortably with an estimated €1,300-€1,500 (US$1,500-1,700) per month in smaller towns. In larger towns and cities, this will increase to around €1,700 ($2,200), and in Lisbon, prices may be even higher than this, as the capital has its own price range. Groceries, eating out, utilities, and health care generally come at an affordable cost in Portugal.
If you upgrade your lifestyle by owning a car, this will also increase the costs. 
You should set away at least three months' worth of living expenses as insurance if you retire on a pension or income that is not in euros, such as dollars or pounds. You will be protected from unforeseen fluctuations in the exchange rate of the euro to your currency.
Retirement property and cost of real estate in Portugal
Your home's price is determined by its location, style, and proportions. A home in Lisbon will undoubtedly cost more than a home in a suburban or rural region, whether you rent or buy it. Portugal's real estate costs are, however, less expensive than the norm in Europe. That is why many foreigners choose to own real estate in Portugal instead of renting, which is generally the case. 
If you decide to spend a part of the year in Portugal and rent out your home while you are away, you may possibly earn a good return on your investment. The tourist scene is still booming and short-term rentals are highly sought after in hot spot locations.
Buying a property in Lisbon or Algarve
In a nation like Portugal, buying your real estate is a good decision. Although real estate costs have increased across much of the nation over the last five years, they remain very low when compared to the rest of Europe. Property in a major city will often cost more. By purchasing Portuguese real estate, you can reduce your long-term foreign currency risk by removing housing expenses from your monthly retirement budget.
The average asking price for a property in Lisbon city was €6,233 per square meter in 2022. The price will obviously depend on the neighborhood in which you buy. There is a lot of variety for quite a small capital, primarily based on age, type, location, size, and facilities. When moving from Lisbon to the suburbs, this price decreases considerably. The average asking price for a property in the Lisbon Metropolitan Area was €4,250 per square meter in 2022, indicating that it is much more affordable to buy outside the city itself. 
In the Algarve, prices will range from €1,211 to €4,465 per square meter, depending on the location. Once more, it depends on your preferences for your home.
Check out our article: Cheap Houses with Pool: Affordable Property in Portugal.
Renting a property in Lisbon or Algarve
The top end is a luxurious apartment in a desirable neighborhood, while the lower end is a comfortable location. The following would be the typical property rents in Lisbon and the Algarve:
Rental apartment in Lisbon: From €850, for a one-bedroom apartment outside the city center to €2,350 per month for a three-bedroom apartment in the city center. 

Rental apartment in the Algarve: From €850 for a one-bedroom apartment outside the city center to around €2,200 per month for a three-bedroom apartment in the city center. 
NIF and Portuguese bank account
When moving to the country you will need to have a NIF number in Portugal (Portuguese Tax Identification Number) that is required to make any financial transactions in the country. It is also highly recommended to open a Portuguese bank account to reduce international transfer costs.
You can read our article on Banking in Portugal for more information.
To get ahead of the game, you can secure your NIF and open a bank account from the comfort of your own home before moving to Portugal, using services such as GetNIFPortugal, making the move that bit easier.
Retiring in Portugal – lifestyle
It is very easy to move to Portugal and live an active lifestyle. With the Portuguese climate – 300 days of sunny days per year, mild temperatures in the winter months, and even the winter sun encouraging you to go outside – you can easily live a very active lifestyle. 
There are many watersport activities that you can try. For those who prefer to keep their feet on dry land, the golf courses in Portugal are some of the finest in the world. Activities range from yoga to cooking classes and everything in between. 
The cuisine of Portugal is also generally very healthy, despite the Portuguese sweet tooth and love of pastries – try the famous pastel de nata or bola de berlim and you should see why. The cuisine has a strong focus on fresh fish, salads, and fruits. Indeed, it is very easy to keep up a healthy and active lifestyle. 
Retiring in Portugal pros and cons
Some advantages and disadvantages of retiring in Portugal are:
Some of the benefits of retiring in Portugal are:
Outstanding climate
Largely welcoming country with a high command of the English language
Sixth safest country in the 2022 Global Peace Index
Favorable tax benefits under the Non-Habitual Residence (NHR) program
Portugal is one of the most affordable European countries, and you can enjoy an affordable cost of living, from groceries to going to the cinema
Excellent public healthcare services, with private insurance very affordable for exapts
Beautiful landscapes, beaches, and the ability to live an active lifestyle due to the favorable climate
Some of the cons of retiring in Portugal are:
Understanding tax implications and the process of how to pay taxes
Bureaucracy can be slow
It can be cold in the winter due to poor insulation of some houses
Adapting to a new culture
Another pro is that you can apply for Portuguese citizenship and permanent residency after five years of holding a temporary residence permit. Portuguese citizens have visa-free to 172 countries, plus the ability to live and work in EU countries. While gaining Portuguese citizenship is likely not such an advantage for retirees, the possibility to move more easily is an added bonus. Alongside being an EU citizen, Portuguese citizens will also have the right to vote in elections in Portugal.
Frequently asked questions about retiring in Portugal:
Is Portugal a good country to retire to?
Yes, Portugal is a good country to retire to. There are many different residency visa options on the table, including the Portugal Golden Visa and D7 Visa (Passive Income Visa or Portugal Retirement Visa) for non-EU citizens.
You have beautiful landscapes, beaches and cities, and rich, historic culture. The non-habitual residence (NHR) scheme, high-quality healthcare, and strong infrastructure are other reasons to consider retiring in Portugal.
Where are the best places for retirees in Portugal?
Retiring in Portugal, the perfect location will mainly depend on what you are looking for. Some of the best places to retire in Portugal are:
Lisbon

The Algarve

Porto and Northern Portugal

Madeira
Note that prices in major cities, such as Lisbon and Porto, will be higher than in smaller towns and villages.
Is it easy to move to Portugal?
It is relatively easy to move to Portugal, one of the most affordable European countries. However, as with moving to any country, it is important to know the steps that you will need to take when buying. 
To retire abroad to Portugal, you will need to apply for Portuguese residency and secure a valid residence permit. From the Portugal Golden Visa to the D7 Visa (Passive Income Visa), there are different options on the table to get a residence permit. With the D7 Visa, it is possible that you can live off your pension income or retirement savings, while with the Golden Visa, you need to make a minimum investment into the country – with a variety of options on the table.
You will need to provide a valid passport and proof of income and submit a criminal background check. After five years, you can apply for permanent residency and even citizenship.
How much money do you need to retire in Portugal?
On a monthly salary of $1,400 or less, you can retire in a small city in Portugal. The amount of your Social Security payout may be sufficient to pay all of your living expenses for certain people.
Portugal is one of the most affordable European countries. Groceries, eating out, utilities, and health care generally come at an affordable cost. Note that prices in major cities, such as Lisbon and Porto, will be higher than in smaller towns and villages.
Is Portugal a good place to retire?
Portugal is a stunning location in Europe that is also reasonably priced for retirees. If you're planning to retire overseas, the country provides the best of both worlds. Because of this, it has emerged as one of the most well-liked expat and retirement destinations worldwide.
From the Portugal Golden Visa to the D7 Visa (Passive Income Visa), there are different options on the table for non-EU citizens to secure a residence permit, making the country relatively easy to move to. 
What is the retirement age in Portugal?
The Portugal retirement age is 66 years and four months. This is slightly above the average of other European countries. The EU average is 64.3 years for men and 63.5 years for women.
How can you retire to Portugal from the USA?
To retire to Portugal as a US citizen, you will need to apply for residency. There are many different options to consider, but a popular option is the D7 Visa, also known as the Portugal Retirement Visa or Passive Income Visa. The Portugal Golden Visa is another option, whereby you will need to make a minimum investment into Portugal. Regardless of the pathway and the documents you will need to present for the specific residence permit, you will need to provide a valid passport, proof of income, health insurance, and criminal background.
What is a downside of retiring to Portugal?
Some drawbacks of choosing Portugal for retirement include slow bureaucratic processes, adapting to a new culture, and understanding taxes. We also recommend that you make sure your house is well insulated as winters can get cold.
Can you retire in Portugal tax-free?
Although complete tax exemption for retirees is not feasible in Portugal, the Non-Habitual Residence (NHR) program offers attractive tax advantages to expats. With proper financial planning, it's possible to notably lessen your tax obligations, including reducing the amount of tax you need to pay on your retirement pension.
What is the process of retirement in Portugal for EU citizens?
European Union (EU) citizens will be able to move to Portugal relatively easily. They will be able to establish residence in the country. After three months, they will need to secure a registration certificate at the local council.
What is the process of retiring in Portugal from the UK?
While you can buy a property with no restrictions, for a UK citizen to live in Portugal for more than three months (within a six-month period), they will need to secure a residence permit. This can be through the D7 Visa, Portugal Golden Visa, or other residency permit options. The D7 Visa is a popular option for retirees to secure a residence permit. The D7 Visa is also referred to as the Portugal Retirement Visa or the Passive Income Visa.