Updated: February 23, 2023
Nestled in the foothills of the dramatic Serra da Arrábida, completely surrounded by beautiful nature, lies the beach town of Sesimbra. A short 40 minutes from Lisbon, Sesimbra continues to increase in popularity, providing buyers with a relaxed and nature-filled lifestyle. Sesimbra Portugal real estate is also favored by expats looking to settle down, whether with a famliy or to retire. There is also a blossoming luxury market in Sesimbra – so if you are looking for beautiful waterfront properties in Portugal and cannot quite decide on the perfect spot, Sesimbra may be the answer. 
In this article, we'll provide you with all the information that you'll need about Sesimbra, including a current update on the real estate market, what it is really like to live in this perpetually brilliant part of Portugal, and information on the Sesimbra lifestyle that is necessary to know when considering buying a property here. 
If you are looking to move to Portugal and would like expert advice then you can book a call with a Goldcrest advisor. We know that buying a property and moving to a new country can be stressful, so we provide tailor-made advice for you to help make your  move to Portugal as hassle-free as possible. 
Why Sesimbra?
The original name of Sesimbra was Cempsibriga, coined by the Celts and meaning the high place (briga) of the Celtic tribe of Cempsi. Indeed, Sesimbra has many high points to fully admire the surrounding landscapes and the town itself is very picturesque.
With the sparkling Atlantic Ocean spread out before you, a glass of cold vinho verde (Portuguese green wine) in hand, and a slight sea breeze passing by, the question is why wouldn't you choose to live in Sesimbra? The red-hued roofs of the town itself are delightful in their own right and the relaxed pace of life transcends over the town. 
Sesimbra is one of the most picturesque beach resorts in the country, beloved by expats and locals alike – renowned for its incredible restaurants, sandy beaches, and historic flourishes. 
Owning a property here would be to embark on an adventure where you are in permanent vacation mode. However, if you are just looking for a summer retreat, you can rent your property while you are away – the beauty of Sesimbra means that there are always people flocking to this gem of a town.
Sesimbra Portugal Real Estate
There are many different property types in Sesimbra to consider, including apartments, villas, mansions, and beach houses. The average asking price for a property in Sesimbra was €8,000/m² in the city center and €2,400/m² outside the city center in 2022, according to Numbeo. 
The town of Setúbal close by has the third highest number of expats in Portugal, after Lisbon and Faro, so many expats look to this part of the country to buy property – unsurprising due to the beauty of the region. Therefore, property prices here are likely to increase in the near future due to increased demand.
Sesimbra Portugal real estate – luxury properties
Because Sesimbra is just a short drive away from Lisbon, the town is becoming increasingly popular with homebuyers and investors. Luxury waterfront properties can be found here, with a private swimming pool, security, and a personal gym. 
If you`re looking for examples of Sesimbra property for sale, in Costa Azul there is a great 186 m² detached luxury house with three bedrooms and parking for €750,000. Another example is a 384 m² six-bedroom detached house, valued at €1,375,000. You can also find a 460 m² five-bedroom beach house for sale in Sesimbra valued at €850,000. 
If you're looking for cheaper property, you can consider a 134 m² four-bedroom flat in Cova da Piedade for €239,000, or a 184 m² three-bedroom apartment for €450,000.

If you are looking to buy a luxury property, then why not broaden your search slightly? To the south of Sesimbra, you have Tróia, Comporta, and Melides, each of which offers high-end exclusive properties. You can read more about each of these desirable spots, and Setúbal, in our Setúbal Real Estate Overview. 
A Little Bit About Sesimbra
Sesimbra has many interesting historic points of interest. The ruins of the Moorish castle, captured from the Moors during the Portuguese Reconquista in 1165 by king Afonso Henriques, with the assistance of Frank Crusaders, can be found on a mountaintop here. From its battlements, you can see spectacular views of Sesimbra, the harbor, and the incredible countryside that the area has to offer. 
Close to the Moorish castle, you can see the white façade of the Nossa Senhora do Castelo church. The church stands on the spot where King Sancho built a Romanesque chapel at the beginning of the 13th Century and which resulted in the creation of the parish of Nossa Senhora do Castelo de Sesimbra. The current church was built in 1721. However, when a new church was constructed, this church was neglected and fell into ruins. Between 1965 and 2001, the church was restored – inlaid with azulejos (Portuguese tiles) and with a 17th-century pulpit made from pink local marble installed. Indeed the church is a must-see if you visit Sesimbra today. 
Also, in Sesimbra, there are two forts that date back to the 17th century – the Fortress of Saint James of Sesimbra and the Fort of São Teodósio da Ponta do Cavalo. The Fortress of Saint James of Sesimbra in the town center is particularly interesting, providing a museum that offers a unique insight into Sesimbra's fishing history. 
During the Age of Discoveries, from the 15th to 18th centuries, Sesimbra became an important port. King Manuel I lived here for a time and, in the 17th century, the fort Fortaleza de Santiago was constructed on the beach, as part of the country's coastal defense. The same fort was later used in the 18th century by Portuguese kings as a peaceful seaside retreat.
Lifestyle in Sesimbra
The crown jewel of Sesimbra is the Serra da Arrábida Natural Park, which offers incredible hiking trails, spectacular ocean views, and incomparable natural beauty. As the beautiful landscapes surrounding your home beckon, you will be continually enticed to leave your home and explore the surrounding area. 
The seafood in the Setúbal Peninsula is simple, yet delicious, and amongst the very best in the country. The seafood and fish traditions have culminated in the creation of scrumptious dishes, and you will find many family-run Portuguese restaurants with exceptional food. However, you will also come across fine dining restaurants, particularly in Tróia and Comporta, where you have top-notch luxurious restaurants.
You will be able to live a very relaxed lifestyle in Sesimbra. Although the area is not known for its surf, there are many watersport activities, such as kayaking, that you can enjoy. The beaches are also amongst the best in Europe to unwind, swim, and simply soak up the sunshine.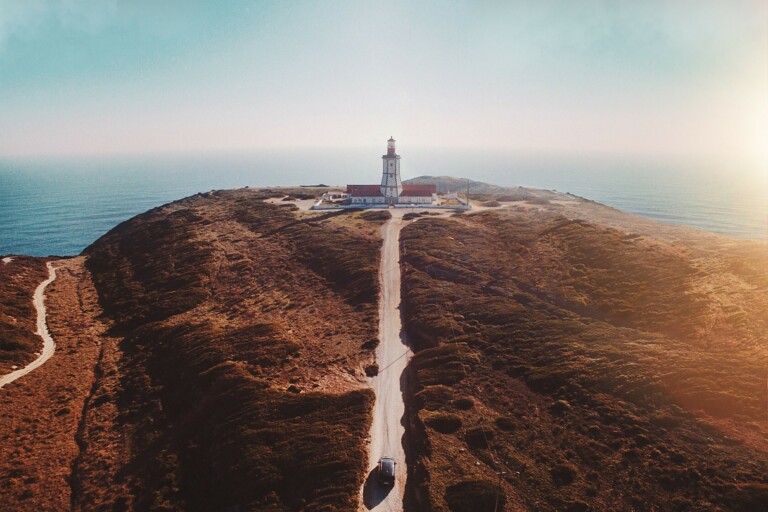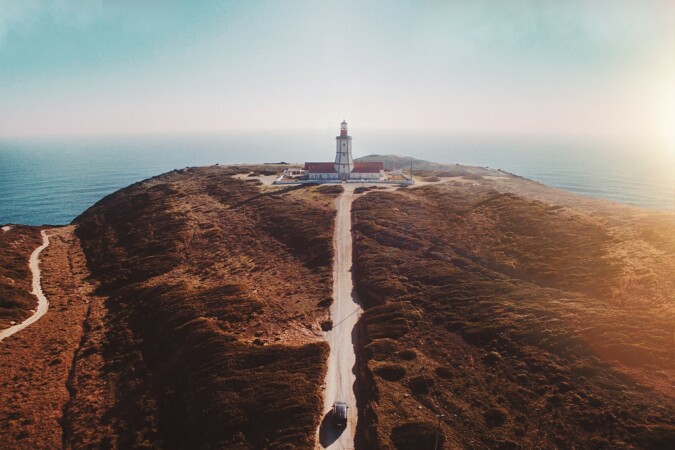 The Climate in Sesimbra
The summers in Sesimbra are warm and dry and the winters can be cold, windy, and wet. Over the year, temperatures typically range from 47 degrees F (8 degrees C) to 80 degrees F (27 degrees C).
Frequently Asked Questions About Sesimbra Portugal Real Estate
1. How much is Sesimbra Portugal real estate?
The average price per m² for property in the center of Sesimbra is €8,000, while in the city`s outskirts you can expect to pay €2,400/m², according to Numbeo.
2. Is Sesimbra a good place for expats in Portugal to live?
Sesimbra is one of the most beautiful places in the country and living in this part of Portugal would be nothing less than an absolute pleasure. Close to Setúbal, which has the third-highest number of expats in the country, you will be able to meet fellow expats in Portugal easily.
If you are interested in the Portuguese Golden Visa and in residency-by-investment in Portugal, Goldcrest's residency and citizenship division, Global Citizen Solutions, will be more than happy to help you. You can get in touch by contacting us.
3. Is Sesimbra Portugal real estate a good investment?
Yes, it is. A favorite with both locals and expats, Sesimbra is a very popular place, with relatively affordable properties – making it a desirable investment location. The gorgeous coastline, friendly people, and exceptional climate make this location a wonderful place to move to.
4. What is the average price for a luxury home in Sesimbra, Portugal?
In 2022, the average asking price for a luxury property in Sesimbra is €3,898/m². Note that this is the average asking price and the transaction price can be either above or below this amount.
5. What is the most expensive property for sale in Sesimbra, Portugal?
Here are examples of the most expensive properties to buy in Sesimbra:
A 300 m²

 

seven-bedroom house on the ground floor with parking that costs

€2,200,000.

A 385

m²

detached house with

six bedrooms, two floors anns parking in Verdizela that costs €1,999,000.