Updated: October 16, 2023
Setúbal Portugal real estate provides homebuyers and investors with properties in an increasingly popular region of Portugal.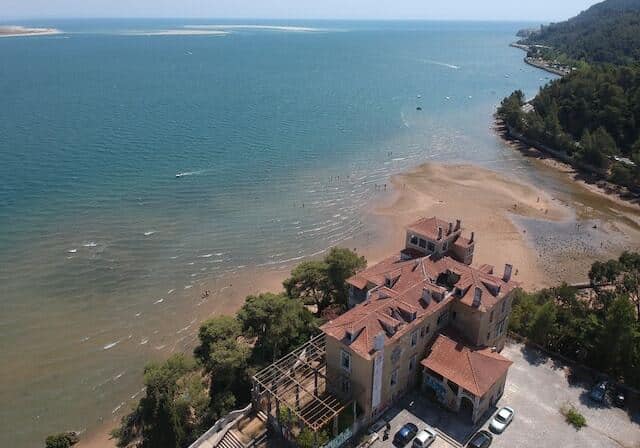 Less than an hour's drive south of Lisbon, you will come across Setúbal— a thriving historic town that is at the heart of the country's rich sardine industry. Its charming alleyways, vibrant markets, and tree-lined boulevards welcome visitors and expats in Portugal with open arms. Consider Setúbal Portugal real estate as this region hosts some of the most beautiful beaches in Europe, with crystal clear waters and spectacular sweeping views of the glimmering Atlantic — you will be hard-pressed to find a more stunning region if you try.
Expats in Portugal have come to appreciate Setúbal, and you will be able to find a range of properties, many at reasonable prices. In this article, we'll introduce you to Setúbal and real estate in the region before delving into some other regions close by that could provide you with the perfect abode. After this, we'll run over some practical information about the region.
For an overview of everything that you will need to know before you buy, you can see our article: Portugal Real Estate: Everything You Should Know Before You Buy.
An Introduction to Setúbal
Setúbal is a bustling working port and major fishing center, boasting a rich history and seafaring heritage. While Setúbal's raw character as an industrial town may not be to everyone's taste, there is no disputing the stunning region in which the town is located.
From the sublime hills of Serra de Arrábida to the Tróia Peninsula, you can find a taste of exclusive luxury here. You will be able to find many waterfront properties with breathtaking views.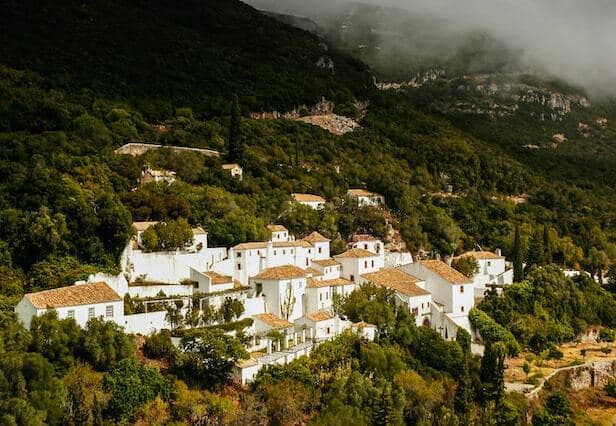 Setúbal has a unique history. Take the Fortress of São Filipe de Setúbal, built on the orders of Phillip II of Spain (Philip I of Portugal), who personally oversaw the layering of the cornerstone of the new fortification in 1582. The fort once guarded the Sado Estuary and provides wonderful views over the region.
The historic center of Setúbal has narrow streets and large plazas, such as Praça de Bocage and Mosteiro de Jesus, a fine example of late Gothic (Manueline architecture) in Portugal.
Elsewhere, the Mercado do Livramento is the best-covered market in Portugal, selling fish straight from the sea, plus fresh fruit and vegetables and locally made handicrafts and foodstuffs. Head here to see the "authentic" side of  Portugal, a good mix of chaos and liveliness.
Indeed, Setúbal is a city that you can easily get caught up in. With nature surrounding you, it is very easy to live an active lifestyle, and with fresh fish, fruits, and vegetables, you will enjoy a healthy diet.
Setúbal Portugal Real Estate
Close to Lisbon, Setúbal Portugal real estate is an excellent option if you are considering being close to the bright lights of Lisbon while also being next to the staggeringly beautiful Serra da Arrábida Natural Park and the many beautiful beaches hugging the coastline. Crystal clear waters will beckon you to the beaches throughout the year. The region looks set to increase in popularity in the coming years, making it a good investment. 
Other locations in Portugal with stunning natural and national parks can be found in our article: National Parks in Portugal.
Setúbal Portugal real estate: Types of properties
With villas, apartments, and beach houses, there are many different types of properties to suit your lifestyle. Whether you are looking for a luxury villa with a swimming pool, a modern apartment, or a townhouse, you should be able to find it here. 
You will also find modern Setúbal, Portugal apartments for rent, which you can use as your base while you spend time looking for your dream home in the area.
Setúbal Portugal real estate: Property prices
Setúbal real estate in Portugal is generally affordable. The average asking price for property in Setúbal in 2022 was €2,563 per square meter for a villa €2,019 for an apartment.
In Sesimbra, nearby, the average asking price stood at €4,170 for a villa and €3,904 for an apartment in 2022. In general, the asking price for a mid-range property in Sesimbra will set you back €2,232 per square meter, while a high-range property will cost around €4,339. Close by, real estate in Tróia, Comporta, and Melides is more high-end and will be more expensive.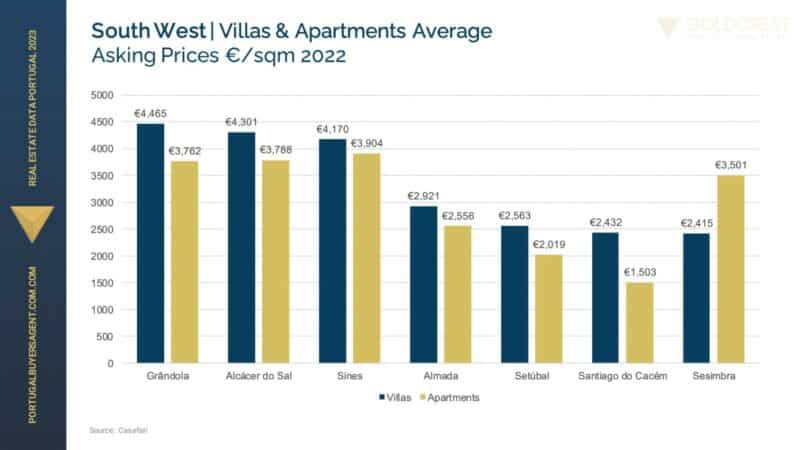 If you are looking for cheap property for sale in Setúbal, Portugal, you may find some nice properties a little further away from the city center. If you were to land for sale in Setúbal, Portugal, this can also be a cost-effective way to secure a property in Portugal, whereby you can create your dream home from scratch. You can find out more in our article: Land for Sale in Portugal: Your Definitive Guide.
Setúbal luxury real estate
If you are looking for more exclusive properties, you will be pleased to know that in Setúbal and in the South West, you can find beautiful luxury properties. Many have incredible views of the ocean, private swimming pools, gyms, and security. 
In Troia, you may even be able to find a penthouse for sale. What could be more luxurious than delighting in the glow of the sunset with a glass of rich Douro red wine in hand, all from the quiet calm of your top-floor apartment? See our article, A City Penthouse in Portugal: Top Areas, for more information on the best areas to consider if you are looking for a penthouse. 
Note that Portugal's real estate market is generally much more affordable than in other countries in Europe. Even luxury properties, although more expensive, will still be relatively affordable in comparison to their counterparts in other countries. Properties that come with additional features, such as a private gym, swimming pool, or additional security, will be more expensive. 
Setúbal Portugal Real Estate: Where to Buy
Setúbal is a very good option, but there are also other beautiful areas close by that offer the buyer a little variety – for example, those looking for more exclusive properties should look to Tróia, Comporta, and Melides. Here, we have run over some desirable areas in the region. 
Setúbal
Although we have already introduced Setúbal, here is a little more information on this historic town, situated on the northern bank of the Sado River estuary. There is a dolphin colony that draws attraction from tourists, who hope to catch a glimpse. Across the river, you will find a true taste of luxury in the form of the Troia Peninsula, with luxury hotels, fine dining restaurants, and beautiful beaches.
Setúbal was of vital importance to the fishing industry in Portugal in the 20th Century, particularly in processing and exporting sardines. The sardine factories no longer work, but the existing maritime ports keep the city intricately linked to the ocean. Nowadays, tourism is a key part of the economy. There are excellent top-rated hotels and resorts where expats and tourists alike can enjoy relaxing in peace.
Sesimbra
Sesimbra is a beach town close to Setúbal that lies in the foothills of Serra da Arrábida. Completely surrounded by natural beauty, you are well-positioned if you enjoy being in nature. Experiencing the unspoiled nature of the Serra da Arrábida Natural Park firsthand is the only way to fully appreciate the beauty of the region. You are also only forty minutes from Lisbon, so you're easily able to enjoy the delights of the capital. Owning a beach house in Sesimbra is a very good investment and is popular with both expats and locals. 
You can find out more about Sesimbra in our article: Sesimbra Portugal Real Estate: An Overview.
Tróia
The Tróia peninsula is one of the most impressive in mainland Portugal, with eighteen beautiful kilometers of breathtaking sandy beaches with crystal clear waters that open up onto the vast Atlantic Ocean. Tróia is the perfect second home destination for those who are looking for luxury residences that are in the heart of nature. 
Tróia is close to Carvalhal Beach, which is an increasingly popular holiday spot for the wealthy. With exceptional dining experiences, a casino, and nature on your doorstep, Tróia is a top location for those looking for an exclusive postcode in Portugal.
Comporta
Surrounded by sand dunes and pine trees, Comporta is a special place. The Atlantic is a stone's throw away and the rice paddies add an Asian influence to the surroundings. Simplicity is probably the best word to describe Comporta, and those looking for a place to unwind totally in a luxury villa can relax with a smile on their face. 
If you would like to learn more about this exclusive part of Portugal, you can check out our article: Comporta Portugal Real Estate.
Melides
Close by Comporta, the unique lagoon of Melides is increasing in popularity. Home to unspoiled nature, the local charm still permeates through here, and the traditional way of life still passes by. A villa here would be an excellent investment option. 
You can discover more in our article: Melides Portugal: Living the Ultimate Dream in Europe.
Lifestyle in Setúbal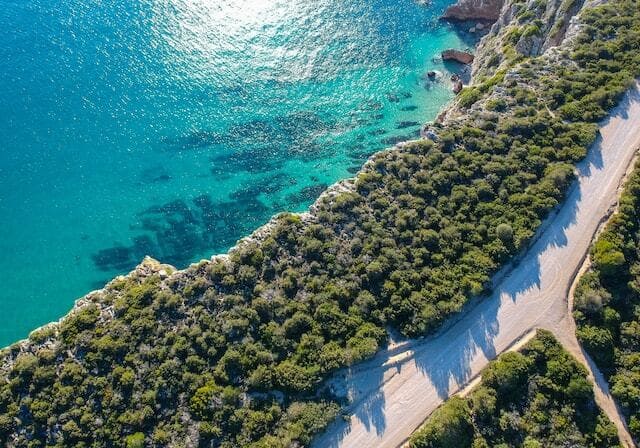 Although most places in Portugal allow you to live an active lifestyle – not least because of the abundance of sunny days – Setúbal will probably tempt you out of the house even on the coldest winter day. At the Sado Estuary, you'll be able to dolphin and bird watch, making the region perfect for nature lovers. The Serra da Arrábida Natural Park offers some amazing hiking trails, sweeping ocean views, and picturesque beaches where you can unwind, relax, or swim if you so desire. Although the water can be cold, it is particularly refreshing in the summer months.
Avenida Luísa Todi, the main avenue in Setúbal, has many bars, restaurants, and green spaces where you can read a book, enjoy a café, or simply sit and watch the world pass by. Praça de Bocage, the main square, is located in the beating heart of the city and is also an excellent spot to relax and unwind. To the east of the city lies Albarquel Urban Park – easy to access from the city, with a beach and fabulous views of the river. For your dose of nature that is close at hand, this is a good option if you do not want to venture further afield.
History lovers will also find much to admire in Setúbal. The Monastery of Jesus, with its unique tiles, served as a monastery of Poor Clare nuns and was one of the first buildings in the Manueline style (the Portuguese late Gothic) and dates as far back as the 1490s. Elsewhere, the Fortress of São Filipe de Setúbal provides excellent views of the river. Setúbal is a great option for expats looking to move to Portugal.
Cuisine in Setúbal
Portuguese food is very good, and Setúbal is no exception. Particularly if you are a fan of seafood and fish dishes, then you have arrived at a good place. Try choco frito – a fried cuttlefish dish that originated in Setúbal. While all the fish dishes will be sublime, the sardines are particularly famous. Alongside the top fish dishes, you also have fresh fruit and salad, local cheeses, and the classic wine Moscatel de Setúbal, an award-winning fortified dessert.
Climate in Setúbal
Setúbal has a typical Mediterranean climate. The summers are hot and dry, with temperatures ranging from 81 and 86 Degrees F (27 and 30  Degrees C) during the day and 59 and 63  Degrees F (15 to 17 Degrees C) at night.
Winter temperatures range from 59 and 63 Degrees F (15 and 17 Degrees C) in the day and 41–46  Degrees F (5–8  Degrees C) at night. In the summer months, the geographical location of Setúbal provides a breeze from the Atlantic.
Goldcrest: How We Can Help You
Goldcrest is a buyer's agent that is based in Lisbon. We provide expert, impartial advice on real estate investments and how to buy property in Portugal. From scouting out the perfect property through to property acquisition, we have you covered throughout the process.
If you are looking to purchase property in Portugal, don't hesitate to get in touch. Our team of skilled experts is available to solve all your real estate doubts, helping you with the property search and offering insightful expertise and strategic advice.
Why choose Goldcrest?
Local knowledge: With offices located across Portugal, our presence nationwide allows us to assist you personally across the country.
Independent service: As an independent buying agent, we do not represent any development or project. Our service is entirely tailored toward each individual client, providing you with everything you need to secure the perfect property at the best possible price. As an impartial advisor on the market, we work solely on behalf of our client and provide a service tailored to your needs and requirements.
Streamlined process: Our real estate agents speak English and Portuguese, and our service is completely focused on providing you with a hassle-free buying experience, saving you time.
Experienced team: Our expert real estate team has a vast local knowledge of the Portuguese property market. We have cutting-edge technology and metasearch tools at your disposal to provide full market coverage, ensuring the best investment choices and negotiated prices.
Network of partners: Lawyers, property management services, builders, architects, designers, and landscape gardeners, again saving you time and hassle by providing you with trusted experts in their field of work.
Member of the AIPP (Association of International Property Professionals), delivering company best practices and upholding professional values.
Frequently Asked Questions about Setubal Portugal Real Estate
Is Setubal Portugal real estate a good investment?
Yes, Setubal Portugal real estate is a very good investment. Also, Sesimbra, Tróia, Comporta, and Melides each provide solid property options, whether you are looking for a holiday home or a luxury abode. 
Is Setúbal a good place to move to Portugal for expats?
Moving to Portugal, expats will be able to enjoy one of the most beautiful regions in the country. There are many expats living here – Setúbal has the highest number of expats after Lisbon and Faro – so you should be able to get to know fellow expats easily.
What is the average price for a home in Setubal Municipality, Portugal?
The average asking price for property in Setúbal in 2022 was €2,563 per square meter for a villa €2,019 for an apartment. 
Properties that come with additional features, such as a private gym, swimming pool, or additional security, will also cost more.
What property types can I find in Setúbal?
From luxury homes with a private swimming pool to modern apartments and old townhouses, you'll find several property types in Setúbal. If you are looking for your dream home in Portugal and you want to enjoy some of the most spectacular views in the country, plus beautiful beaches with crystal clear waters, then this wonderful part of Portugal may be just the ticket.
How can I find property for sale in Setúbal?
There is no Zillow Portugal where you can easily find "property for sale Setúbal." This is because the real estate market in Portugal is fragmented, and there are many different online portals that you can use, such as Idealista.
The first place to start is to conduct a simple online search for "properties for sale Setúbal." You can apply more filters to narrow down your search selection. Many online real estate platforms offer more filters, such as property size, price, and additional features, such as if you would like a swimming pool or balcony. The more filters you add, the more specific the results will be. Following this, you should have a good overview of the property market.
After this, we recommend working with an experienced real estate professional who will be able to help you with the property search and purchase. A buyer's agent, such as Goldcrest, works solely on behalf of the client and will work with you from scouting out your dream home that matches your exact requirements through to acquisition and aftercare.
What is the best online platform to find real estate in Setúbal?
While there is no one online portal to search for "property for sale Setúbal," there are numerous online portals available, with Idealista being one of the options to assist you in your property search.
Online platforms allow you to conduct searches to get to grips with the market, and you can filter on location, type of property, and additional facilities. For example, you will be able to filter by "apartments for sale Setúbal with a swimming pool."
Following this, we recommend working with real estate professionals who will be able to assist you with your buy and will have access to more properties. A buyer's agent works solely on behalf of the buyer and will ensure you get the best property at the best price.