Updated: March 29, 2023
The beautiful palaces of Sintra are like stepping into a fairytale. With the postcard-picture village, the ocean not far away, and glorious beaches secretly tucked away, you are very well placed. Sintra real estate in Portugal is where you will find sought-after properties, waterfront homes, and a touch of pure elegance, a little out of the city. Investors will be happy to know that Sintra has high yields. With this in mind, Sintra is the perfect place to have a home or invest in the property market. 
Just a short distance northeast of Lisbon, you will come across Sintra. The tuk-tuks in the summer herald the arrival of the tourists that are there to see Pena Palace and the Castle of the Moors. Sintra really is a gem of Portugal – you will only need one brief visit to be convinced. 
If you are looking to live in Portugal, Sintra is a charming option. In this article, we'll provide you with an overview of Sintra Portugal real estate. Following this, we'll run over the history of Sintra and why the region is utterly unique before providing you with some practical information that will be useful to you. 
Our article here provides you with everything that you will need to know about buying property in Portugal. Alongside this, our guide to finding a property in Portugal can be found here.
Overview of Sintra Portugal 
Sintra is considered one of the most romantic places in Portugal, with colorful palaces, extravagant properties, and an ageless charm. Sintra receives a lot of acclaim, but very much lives up to the hype. Full of tradition and with a rich history, Sintra was the home of the Portuguese nobility and is the area where everyone strived to live. 
Sintra has retained this quality, with it being still one of the most sought-after corners of Portugal. Celebrity royalty, such as Madonna, have flocked to Sintra to snap up grand properties, emphasizing that this corner of Portugal remains one of the most sought-after locations. 
Situated in the National Park of Sintra and Cascais, with steep hills and ancient trees, Sintra is located amongst stunning landscapes. The dramatic coastline provides some of the quietest and most picturesque beaches – Praia Grande and Praia das Maçãs spring to mind. UNESCO expanded the World Heritage categories in 1992, creating a "cultural landscape criteria ", in which Sintra was included in 1995.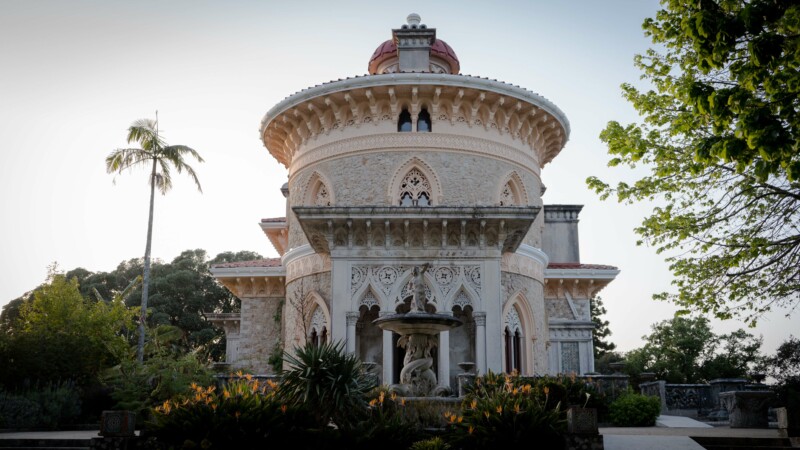 Sintra Portugal real estate – what you should know
Sintra Portugal real estate – house prices
The average transaction price for a house in Sintra was €1,539/m2 in the fourth quarter of 2020. If you are looking for luxury properties you should expect to pay more. Additional facilities, such as security, a private pool and a gym, will also increase the costs. 
However, bear in mind that property in Portugal is generally more affordable than in other countries in Europe. Therefore, property buyers should be able to find some stunning properties at a reasonable price.
Sintra Portugal real estate – rental yields
Rental yields in Sintra offer investors strong returns on investment. In the third trimester of 2020, yields stood at 6.5%. This is a strong incentive for investors to turn their heads towards Sintra Portugal real estate. Yields here have been relatively stable for the past five years, remaining between 6.0% and 7.5%. 
Sintra Portugal real estate – types of properties
Sintra provides the buyer with a range of choices in terms of properties. In and around Sintra, you have a range of property types to invest in and diversify your investment portfolio. You'll be able to find affordable townhouses in Sintra, luxury villas with historic flourishes, and contemporary properties with spectacular views of the Atlantic.
You may even be able to find a palace that is on the market. Our article here provides you with everything that you will need to know about securing a palace in Portugal. 
History of Sintra
Nearly all periods in Portuguese history have been overseen by Sintra, from the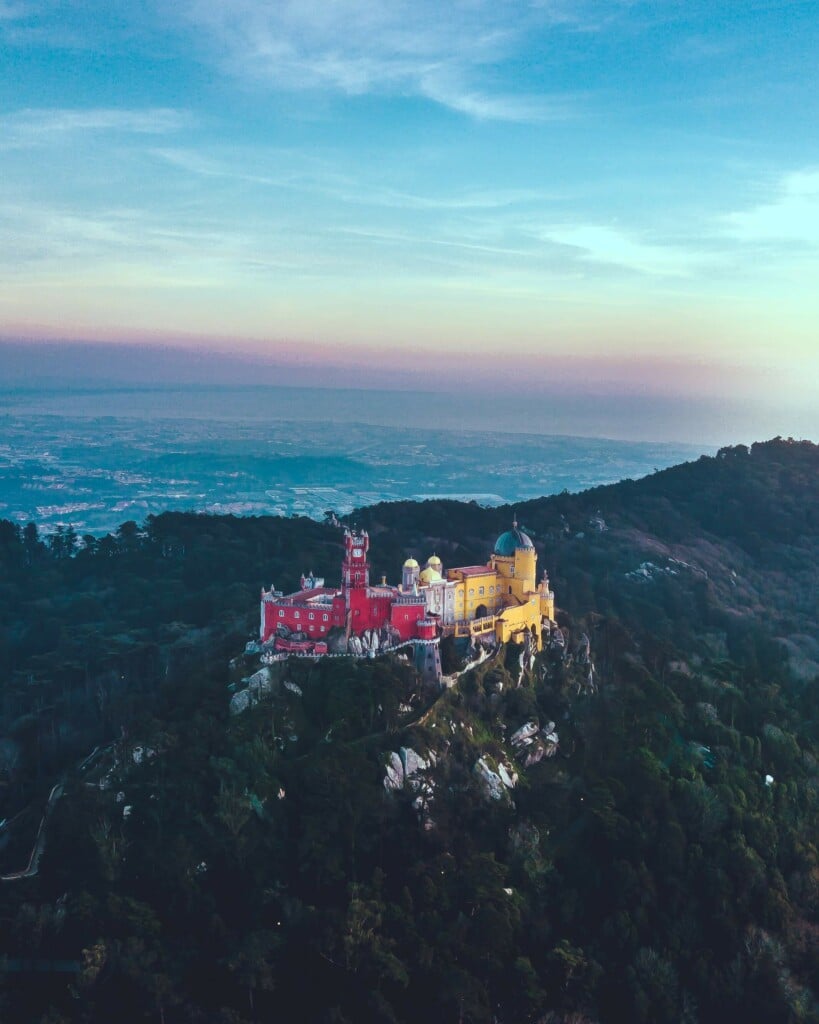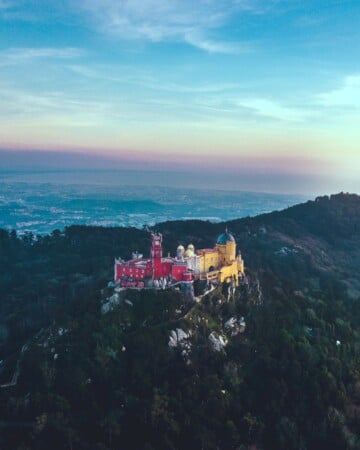 Palaeolithic to the Bronze and Iron Ages, to the Roman and Moorish occupations, and finally to the foundation of Portugal in 1154. Indeed, Sintra managed somehow to escape the 1755 Lisbon earthquake and experienced its own golden age from the late 18th century to the end of the 19th century.
Towards the end of the 18th century, the romantic movement and the allure of the Portuguese aristocracy culminated in the grand palaces of Sintra. For example, the poet William Beckford came in the summer of 1787 and marveled at the beauty of the landscapes. The neo-Gothic mansion was built between 1791 and 1793. Also, Princess Carlota Joaquina bought the Ramalhão Estate and Palace at the beginning of the 19th century. As such, beautiful palaces were constructed over the years, including an oriental-style pavilion. 
The development of the landscape of Sintra peaked during the reign of D. Fernando II (18-36-1885). He was regarded by some as an artist king and he fully established Romanticism to the landscape – transforming Pena Convent into the colorful Pena Palace that is there today. The king also took care to restore the forests of the mountains, with thousands of trees planted – indigenous oaks, Mexican cypresses, Australian acacias, stone pines, amongst other species. 
The Sintra mountains, therefore, became a unique and unusual cultural landscape, with exotic trees intertwining with indigenous trees. During the second half of the 19th century, Sintra became a favorite amongst artistic circles. The excitement of the region has continued up until the present, where Sintra decisively maintains its position as a centerpiece of beauty, romanticism, and escapism. 
Check out our article: Mountain Houses for Sale in Portugal.
Living in Sintra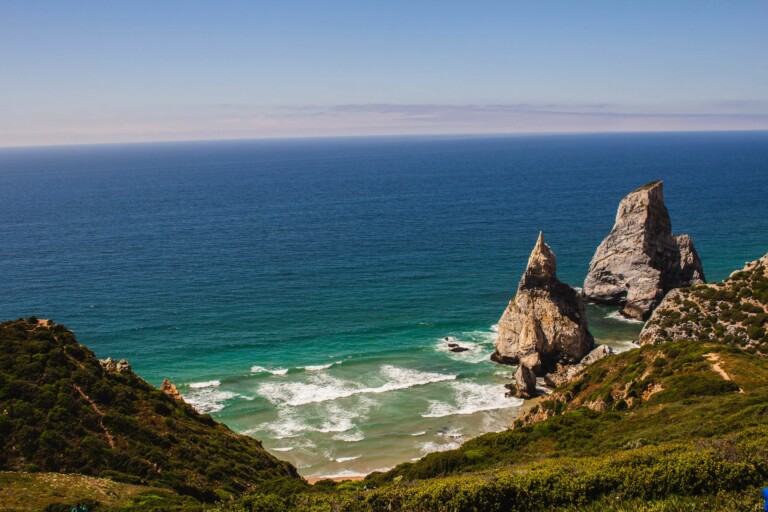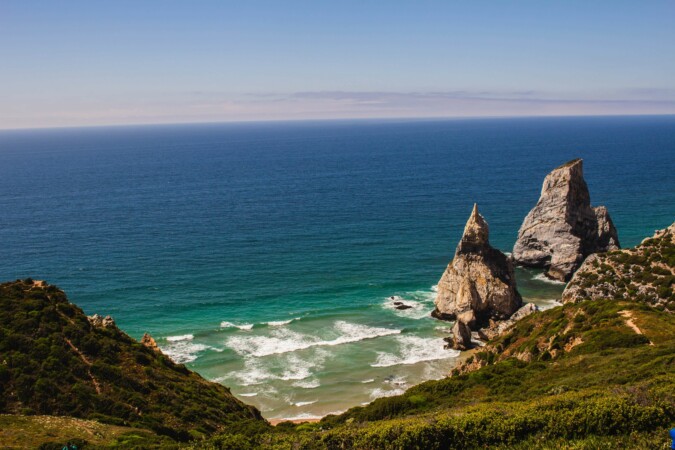 If a quiet, relaxed refuge next to beautiful forests and the Atlantic coastline interests you, then Sintra could be the ideal place for you if you are looking to live in Portugal. With a rich, cultural heritage, the town is close enough to Lisbon to enjoy the perks of the capital, while retaining its quaint calm. 
You also have many local delicacies and traditional Portuguese foods. Take the Travesseiro de Sintra pastry (Travesseiro translates as pillows due to their shape), which will have you coming back for more. One of these, taken with a freshly brewed cafe, perhaps while staring out to the glimmering Atlantic, is simply the perfect beginning to any morning. 
There are many activities available – from yoga to hiking, and with many top golf courses in the region. Cascais is on your doorstep if you are looking to spend some time in the sunny resort. Here you have luxury restaurants and a fine dining scene. Living in Portugal is a pleasure, and Sintra is definitely one of the most luxurious, and well-positioned, areas. 
Climate in Sintra
The climate in Sintra can be a little unusual as it has its own ecosystem. For example, it can be very sunny and warm in Lisbon, and cold in Sintra, and vice versa. The mountainous landscape likely has a role to play in this. 
Despite this, the climate here is mild, with a temperate and usually warm climate. The winter months see the most rain, with little rain falling in the summer. As with everywhere in the country, the climate is one of the reasons why expats move to Portugal.
Travel in Sintra
Sintra is a short 30-minute drive from Lisbon. Cascais is also nearby. You have many incredible locations along with the coast that you will be able to explore from Sintra. 
Frequently asked questions about Sintra:
1. Is Sintra Portugal real estate a good investment?
Yes, Sintra is a very good investment, with yields standing at 6.5% in 2020. 
2. Is Sintra Portugal a good place for families?
Yes, Sintra is a very good location for families. If you are looking to live in Portugal, Sintra is a very good option. Children will be able to enjoy an active life, with natural landscapes and beaches close at hand. Also, there are very good international schools close at hand. These include Prime International School, Carlucci American School, and TASIS Portugal International School. There are also very good international schools in Cascais and Lisbon. 
3. What are the average house prices in Sintra?
The average transaction price for a house in Sintra in the fourth quarter of 2020 was €1,539/m2. Note that luxury property will invariably cost more.