Updated: November 21, 2023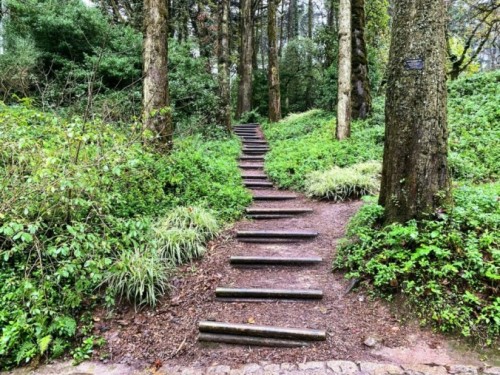 Sintra is a stunning town nestled in the foothills of Portugal's Sintra Mountains in the Lisbon region. Known as the Mountain of the Moon in pre-modern times, Sintra is today a charming town where you can discover elegant villas, whimsical castles, and the ruins of a tenth-century Moorish castle. If you are looking for luxury homes for sale in Sintra, Portugal, you'll find a beautiful mix of historic architecture and natural scenery in this fantastic tourist destination.
Types of Homes for Sale in Sintra, Portugal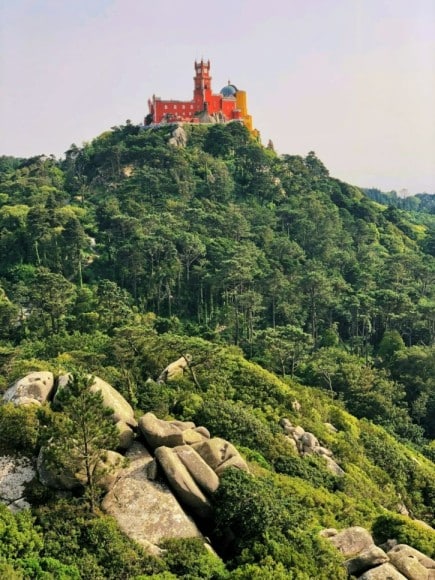 In Sintra, you'll find many sought-after properties, waterfront homes, villas, and even castles! As one of the most romantic places in Portugal, a home in Sintra can offer you a life full of color, extravagance, and Portuguese charm. 
Many celebrities have bought real estate in this picturesque town which was once the home of the Portuguese nobility. The town is located in the Sintra-Cascais Natural Park, making it easy to maintain a life of activity within the beautiful natural landscape. You will also have access to some magnificent beaches, including Praia Grande and Praia das Maçãs.
From Sintra, cities like Lisbon, Cascais, and Ericeira are easy day trips. These nearby areas can be reached using bus or train and offer some of the country's most beautiful and entertaining experiences. Easy access to Lisbon airport also means travel lovers can visit places like Saint Martin or Saint Lucia.
So, let's take a look at the type of real estate available in this captivating area that was made a UNESCO World Heritage site in 1995.
Castles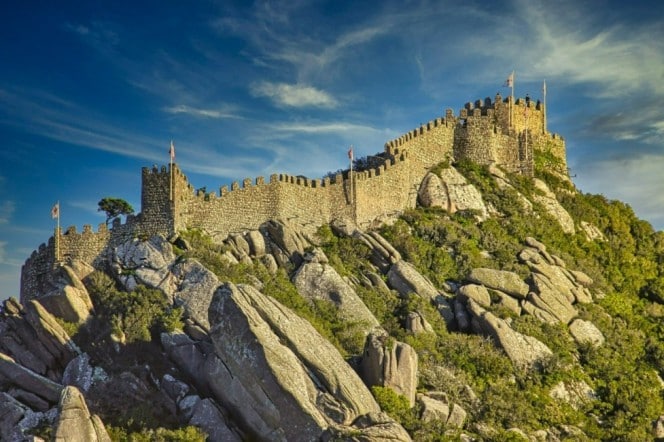 Portugal has a rich history that can be explored through its 150 castles, including a medieval castle in Coimbra and the country's oldest castle, Castelo dos Mouros (Castle of the Moors) in Sintra. 
If you're looking for an adventurous alternative to a luxury villa or modern apartment in the city, a castle might be the perfect investment for you. These luxury homes can often be found for a more affordable cost than you might expect, but this will depend on the size of the castle and its location. It's best to speak to a real estate agent or buyer's agent to determine the best area in Portugal to purchase a castle.
Palaces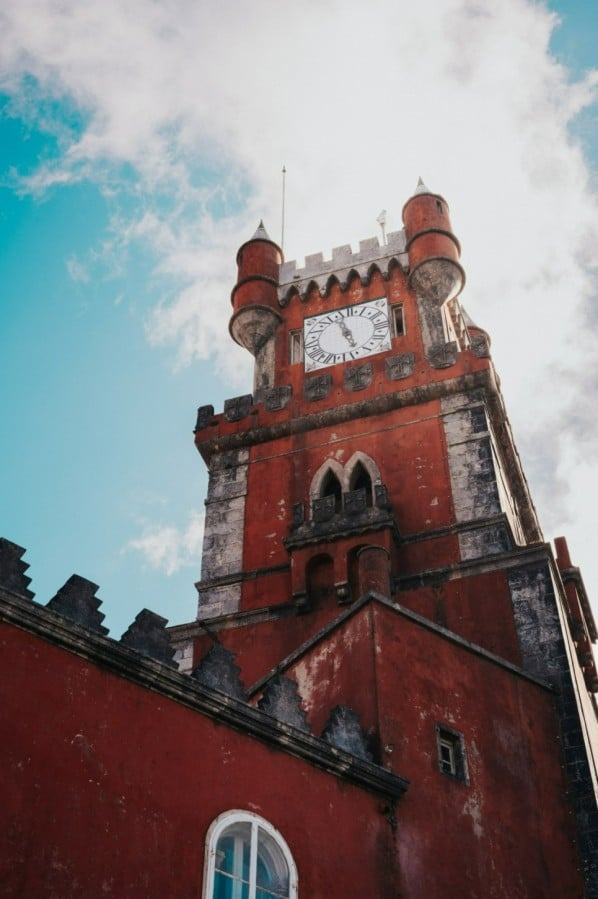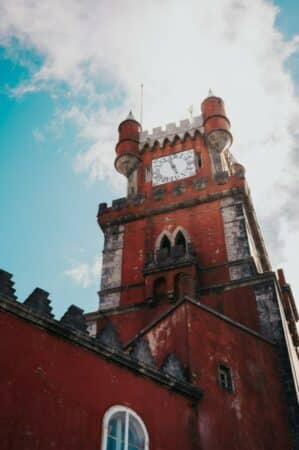 If you're in search of an elegant lifestyle, a palace in Portugal may be the perfect type of property for you. Explore the country's rich history and live in a truly unique home that symbolizes the wealth and power of former families. As with castles, speaking to a real estate agent or buyer's agent is the best way to find palaces available for purchase in Sintra, Portugal.
These luxury homes are significant purchases, so you may want to arrange one or two open houses or private viewings to view these properties before making a big financial commitment. It may also be possible to arrange virtual open houses, depending on the seller of the property, if you do not reside in Portugal.
You can learn more about Portugal's castles in our article: Best Areas to Find a Palace for Sale in Portugal.
Houses and apartments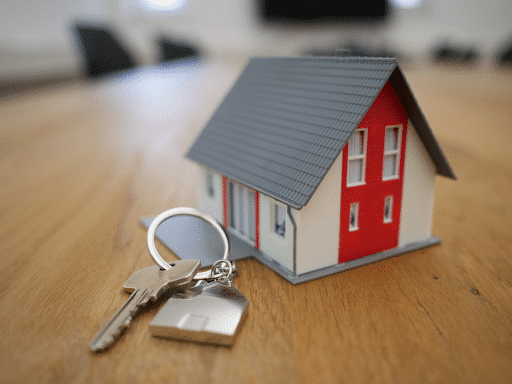 When it comes to houses and apartments, Portugal has an array of options to choose from. Whether you're searching for a traditional-style house, a townhouse, or a modern apartment, you're sure to find something that suits your needs.
Of course, the cost will depend on the property type. In Sintra, it is possible to find property for sale for as little as €30,000 for a 56-square-meter one-bedroom apartment to €13,800,000 for a 1,246-square-meter property on Sintra real estate listings.
Villas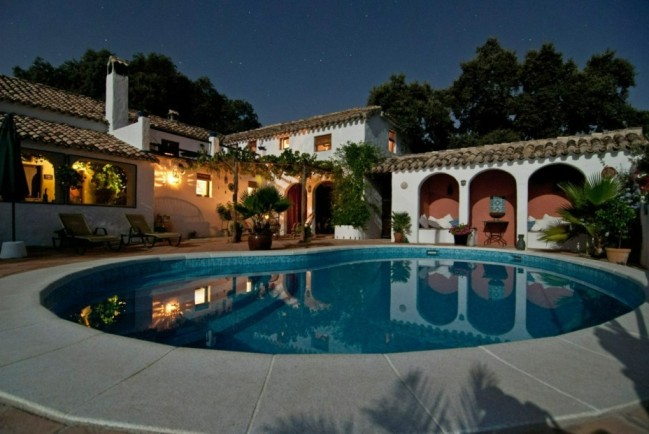 Villas are a great property type for families, as they come with a good amount of space, or even as a holiday home. Depending on your personal preference, you can find luxury villas, modern villas, or cheap villas in Sintra.
You can read more in our article: Sintra Portugal Real Estate: An Overview.
To understand what is available, you can view real estate listings on various property websites. You can also employ a realtor or buyer's agent to assist you throughout your journey to find your dream home. They will have access to new listings and will provide up-to-date information that is guaranteed accurate.
You can determine which company is suitable for you by looking for reviews from former clients that have deemed reliable the services provided by them. You can also ask about their prior sale experience with cases similar to yours, as well as their experience assisting foreign buyers.
Goldcrest: Who We Are and How We Can Help You
Goldcrest is a buyer's agent based in Lisbon. We provide expert impartial advice on real estate investments and how to buy property in Portugal. From scouting out the perfect property through to property acquisition, we have you covered.
If you are looking to purchase property in Sintra, Portugal, don't hesitate to get in touch. Our team of skilled experts is available to solve all your real estate doubts, offering insightful expertise and strategic advice. We are focused on securing the best deal for your dream home.
Frequently Asked Questions about Homes for Sale in Sintra, Portugal
1. What is the largest home for sale in Sintra, Portugal?
According to information provided by online luxury marketplaces, the largest home for sale in Sintra, Portugal, is a 158,828 square meter piece of land. The listing price is €2,316,150.
2. What is the most expensive property for sale in Sintra, Portugal?
According to online luxury marketplaces, the most expensive property for sale in Sintra, Portugal, is a 1,260-square-meter house with a listing price of €7,411,680.