Updated: March 1, 2023
Vilamoura, Portugal, has established itself as a chic, fashionable, and popular location to live in Portugal. Indeed, even the rich and famous have staked their claim in this bustling resort in the Algarve region, where the sun beckons, the beaches invite you to enjoy yet another day in paradise, and there is always some activity to get involved with, should you so desire.
In this article, we'll dive into what makes Vilamoura such a desirable area in Portugal before running over some practical information you may not be aware of.
Why Choose Vilamoura Portugal
Vilamoura is located in the central Algarve in the Loulé municipality. It is well known in Portugal for its six golf courses, casino, and Vilamoura marina. Lined with restaurants, cafes, and miles of walking and biking trails to choose from, you are well covered. There's also the nearby Praia da Marina (Marina beach).
This is without mentioning the two excellent sandy beaches — Praia de Vilamoura in the east and Praia da Falésia to the west. It is not difficult to see why Vilamoura is so popular with expats. Those who like to shop in style will also be happy with the wide range of options — from authentic, local craft stores to the most prestigious international brands.
For those who come alive in the evenings, there are many night clubs, bars, and excellent restaurants. The best DJs also choose Vilamoura, and the Vilamoura casino offers a thrill for those that are looking for an adrenaline rush.
There is also a multitude of activities to choose from, which we'll run over later in the article – from water sports like scuba diving to yoga and live music, there is something for every taste. 
Alongside these factors, arguably the most important is the climate of Vilamoura. Perfect, sunny days and high temperatures await, even in the winter months. Indeed, it is not difficult to see why Vilamoura has fast become a favorite with expats.
Vilamoura Portugal Real Estate
Vilamoura is renowned as a haven for expats, with some of the most luxurious properties in Portugal. 
However, what is the current state of the real estate market here? And what property types can you find here? In this section, we'll uncover the real estate secrets of Vilamoura.
Vilamoura Portugal real estate: What are my options?
From villas and sleek apartments to beach houses and large houses, you can find many property types in Vilamoura, Portugal. You may even find a penthouse – see our article here on where to find a penthouse for sale in Portugal.
Vilamoura Portugal real estate: property prices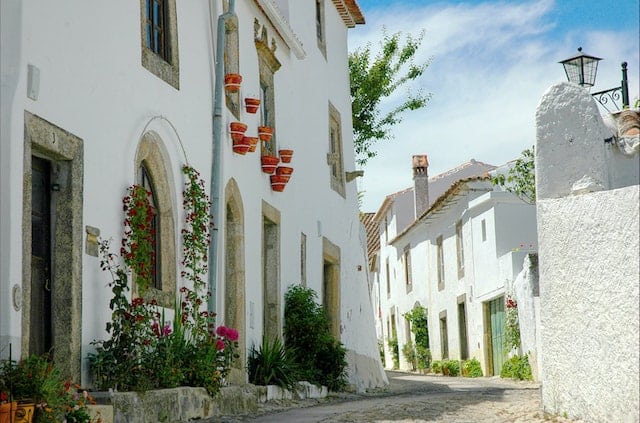 Vilamoura lies in the Loulé municipality, which is the most expensive municipality for real estate in the Algarve. According to Numbeo, as of February 2023, the average rent for a three-bedroom apartment in the city center is €2,580.27. In October 2022, the average asking price for a villa was €5,300 per square meter. Note that this is the average asking price, not the transaction price. The transaction price can be either higher or lower, and with good negotiation skills, you may be able to bring the price down. 
You can find many options if you're interested in Vilamoura, Portugal, real estate. If you were to look on Idealista in 2023, for example, you would find options such as a one-bedroom and 123 square meter apartment for an average price of €264,999 to a six-bedroom 666 square meter villa for €2,420,000.
Vilamoura is known for its luxury properties. Indeed, for both lifestyle buyers and investors, there are ample opportunities. Bear in mind that luxury properties in Portugal are generally very good value for money. Indeed, you can find exceptional properties here that are significantly cheaper than their equivalents in other western European countries.
Vilamoura Portugal – current state of the market
The popularity of Vilamoura amongst tourists expats means that the resort is an excellent location to invest in or live in. Property prices are continuing to increase, in addition to Portuguese real estate being very secure, plus having performed very well during the COVID-19 pandemic. Following the pandemic, foreign interest has remained strong.
Cost of Living in Vilamoura
Can those on a tight budget live here? Since many Portuguese people reside here and make an average monthly income of between €850 and €1,200, you can afford it too. Here is an example of an average monthly budget for a couple living in the Algarve:
| Item | Cost in Euros |
| --- | --- |
| Rent for two-bedroom, furnished apartment | €943.98 |
| Utilities (gas and electric) varies greatly | €132.16 |
| Water | €41.53 |
| Internet, cable, mobile phones | €94.40 |
| Maid (three hours, twice per month) | €51.92 |
| Groceries | €471.99 |
| Transportation, gas, diesel | €94.40 |
| Dining out and entertainment | €94.40 |
| Total | €1924.77 |
On average, a couple could live off a monthly budget of between €1,250 to €1,800. Keep in mind that the price varies according to your budget, whether you're living alone or with someone, and whether you live a more modest or luxurious lifestyle. 
Health insurance is another expense that can vary substantially depending on factors including age, pre-existing diseases, and the extent of the policy. Frequent eating out and extensive use of the air conditioner or heater add to a budget because Portugal has quite a high electricity cost.
Lifestyle in Vilamoura
For people living in Vilamoura, Portugal, there is always something to do. There are many watersport activities that you can try. Or why not take part in yoga classes, where you can get to meet fellow expats. There are also cooking classes and gourmet shops where you can learn about the tricks of the Portuguese kitchen. For those that simply want to relax on the stunning beaches, there is always this option.
In Vilamoura, Portugal, golf courses are of world-class quality, so avid golfers will have everything they need. Vilamoura boasts six golf courses, all of which host pro golf tournaments throughout the year. There is also an Equestrian Centre that hosts horse show jumping competitions.
With over 300 days of sunshine every year, the Algarve boasts one of the best climates in the world. It is very easy to live an active life. You could use one of the many well-maintained trails to walk, run, or cycle, or head to the ocean to swim, surf, or even try paragliding. 
The cuisine is generally very healthy – think fresh seafood, vegetables, and hand-picked fruits. You'll definitely want to pair the excellent food available with some of Portugal's top-quality wine. Portugal has one of the best winemaking climates and practices in the world, thanks to the country's microclimates, soils, and winemaking traditions. After a long day of activity, you might want to slow down and enjoy the sunset with a plate of local produce and a glass of delicious Portuguese wine.
Vilamoura itself provides buyers with an exquisite taste of real luxury – a grand casino, a large marina, and many outstanding properties to choose from, whichever type of property you are after. Indeed, the rich and famous come to call Vilamoura home, and there are several reasons why Vilamoura is one of the most sought-after parts of Portugal. 
Aside from this, in Vilamoura, you will have outstanding fine-dining experiences. This resort is a place where you can forget about time passing by and just embrace each day as it comes. 
If you're looking for something more budget-friendly, Vilamoura does not disappoint. Choose from a variety of different cuisines, including American fast food, Chinese, Indian, Italian, Swedish, and Thai food. You'll even find options for different dietary requirements.
Things to Do in Vilamoura
Vilamoura has a lot of things to do, and those who reside here year-round can benefit from much from it. Additionally, some of these tourist destinations offer locals discount pricing of up to 50 percent off during the fall months after the majority of visitors have left.
Vilamoura offers a variety of dining options for every price range, from gourmet dining to family-friendly meals. Restaurants along the marina can be expensive, but if you head a few streets away from the tourist streets, the costs are much lower. If you're looking for some typical Portuguese food like grilled sardines or bacalhau, a salted cod dish, visit one of the many cafes around. If you do not like seafood, try the hot, African-inspired piri piri chicken instead. If you want some plant-based foods, just ask for them in cafes and restaurants, and they will likely offer you a few options. After dinner, some places may provide guests with a complimentary liqueur or cocktail.
Want more activities in Vilamoura, Portugal? Things to do in this area include enjoying your day on the water by going to the Vilamoura marina, renting a jet ski or kayak, going on an adrenaline-pumping speed boat experience, or feeling the sea spray on your face as you take a relaxing boat trip. You can even catch your own dinner by renting a boat for a half or full day of deep-sea fishing. Join a tour to see the well-known Benagil caves and possibly see some dolphins. Learn how to bodyboard, surf, or parasail for an exciting time at sea.
The cities of Albufeira, Silves, Alte, and Loulé are close to Vilamoura and are overflowing with Portuguese culture and charm.
Albufeira
Albufeira is the biggest and most vibrant city in the central Algarve. Here, you can walk around the charming old town's tiled streets and countless family-friendly cafes. The marina in Albufeira boasts a lively yet peaceful atmosphere where you can enjoy a romantic dinner for two at a reasonable price. If you want to party, go to The Strip, which is filled with cafes, bars, and nightclubs where you can dance the evening away.
Silves
From the ninth through the twelfth centuries, this city served as the Algarve's moor capital and a stronghold. As a reminder of the past, the massive red brick castle towers over the city. Today it is a thriving city of whitewashed homes set on a hillside and encircled by the old wall that served as the castle's defense. In Silves, many enjoy a stroll through the city in search of coffee and pastries.
Alte
Visit the town of Alte, which some people believe to be the most Algarvian town out there, and travel back in time. The village, which dates to Roman times, is a rainbow of brightly painted homes. Alte's main attractions are two springs where locals used to meet to wash their clothes in the clear, fresh water. Today, the well-known springs provide a refreshing retreat from the summer heat, or you can have a beverage at a cafe beside the river.
Loulé
The bustling market town with Arabic influences in the town's center, sells daily food, fish, and handicrafts. On Saturday mornings, locals visit the gypsy market selling a wide range of goods. A visit to the town's castle is a must for anybody visiting this classic Portuguese town.
The Climate in Vilamoura
Vilamoura has a warm temperature climate, typical of the Mediterranean. The rain falls mostly in the winter, with little rain during the summer months. The hottest month is in July, with an average temperature of 24 degrees C (75 degrees F), and the coldest is January, with an average temperature of 12 degrees C (54 degrees F).
Frequently Asked Questions about Vilamoura, Portugal:
1. Is Vilamoura, Portugal, a good place to live?
Yes, for lifestyle buyers, Vilamoura is excellent. With many golf courses, watersport activities, and beaches, there is always something to do. The fine-dining scene is excellent, and the marina and casino are both popular attractions.
2. Is Vilamoura, Portugal, real estate affordable?
While the properties in Vilamoura in the Loulé municipality are the most expensive in the Algarve, compared to other Western European countries, the luxury properties are often very good value for money. 
In 2022/2023, the average asking price for an apartment is €4,700 per square meter, and for a villa, the average asking price is €5,300 per square meter.
3. What is the weather like in Vilamoura, Portugal?
In Vilamoura, Portugal, the weather is typically sunny and temperate, with more than 300 days of sunshine each year. It is possible to enjoy the outdoors even in the depths of winter. July is the hottest month, with an average temperature of 24 degrees C (75 degrees F), and January is the coldest month, with an average temperature of 12 degrees C (54 degrees F).
4. Is Vilamoura, Portugal, expensive?
Even though Vilamoura is pricey by Portuguese standards, the cost of living is greatly affected by the people's lifestyle. Budget-conscious people might opt to look for cheaper property outside of town, select smaller homes, or avoid eating out frequently.
5. Is Vilamoura worth visiting?
Vilamoura lies at the heart of the Algarve and is a great destination if you're seeking something entertaining to do. You'll never get bored with Vilamoura's gorgeous beach areas, fantastic shopping, and traditional markets. You can also choose from waterparks, varied activities, and fascinating day trips to places like the historic city of Faro and the town of Loulé.
Faro International Airport makes it easy to fit a weekend abroad into your international trips.
6. What is Vilamoura known for?
Vilamoura is one of the most well-known and largest single European tourist complexes since it has six golf courses, including the renowned Old Course, a lawn bowling club with two grass greens, a tennis center, a sports club, a shooting club, five and four-star hotels, vacation rentals, self-catering villas, nightclubs, an international casino featuring dinnertime shows which also hosts the PokerStars Solverde Poker Season, a top-notch riding school, and plenty of other attractions.
The Vilamoura marina is the main hub of entertainment, with many opting to go on boat trips, shop international brands, and enjoy the many dining options all within walking distance.
7. Is Vilamoura a party place?
Yes, it is. Vilamoura is well-known for its nightlife.
8. Is Vilamoura safe?
Yes, Vilamoura is safe. Some helpful tips for you are to not visit the beach after sunset and be sensible with your belongings like you would anywhere else in the world.
9. What to see in Vilamoura?
There is plenty to see when you visit Vilamoura, including:
Vilamoura Marina

Museu de Cerro da Vila

Casino Vilamoura

Aquashow Park

Albufeira Nightlife – The Strip, Kadoc and Kiss

Igreja de São