Updated: March 27, 2023
Of the many wonderful European countries to choose from, Portugal's sunny southern coastline is a favorite holiday destination for many. In terms of real estate investment, Algarve, Portugal, is a tourist hotspot known for its sunny weather, beautiful beaches, clear ocean water, and mouthwatering food. For buyers looking to make a property investment in Portugal, the Algarve has fast become one of the most popular locations. Keep reading to find out why.
Is Algarve real estate a good investment?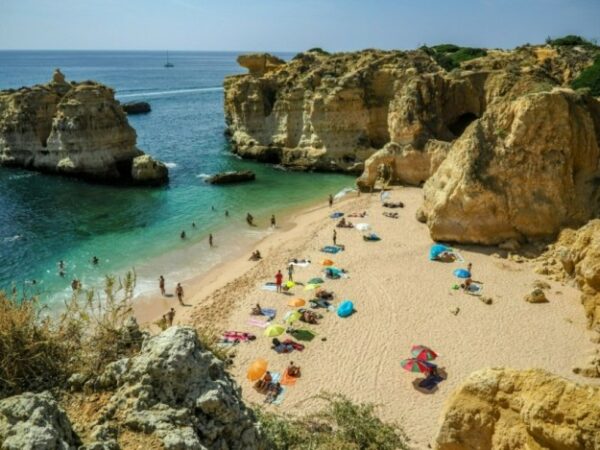 Portugal real estate is a fantastic investment, whether you're looking to live there yourself or rent it out to generate rental income. The Algarve is arguably Portugal's most well-known region for many good reasons. The area welcomes thousands of new residents each year, all looking to enjoy the seemingly endless sunshine and natural beauty. The Algarve's tourist trade is booming, and many investors are eager to take advantage of this opportunity to buy a holiday home in a new country or generate a profitable income.
The Algarve property market offers a range of areas to choose from, whether you're looking for somewhere family-friendly, a buzzing nightlife, areas with luxury accommodations, or more affordable locations. The Algarve has something for everyone, from properties on a golf course and a luxury multi-bedroom villa with a swimming pool to houses with a sea view and a one- or two-bedroom apartment with a terrace.
Visit our article for your ultimate guide to Living in the Algarve.
Check out our article to learn more: Rent Apartment in Lagos.
Is the Algarve a good place to buy property?
With advantages like golden beaches, retirement in the sun, and an attractive real estate sector, the Algarve region is an excellent place to buy Portuguese property. The region benefits from hot summers and mild winters, with over 300 days of sunshine each year. 
The Algarve has a fantastic selection of beaches and a dramatic coastline characterized by limestone rock formations, arches, and caves. Popular beaches in the Algarve include Praia da Marinha near Carvoeiro, Quinta do Lago near Faro, and Praia da Rocha in Portimão.
The Algarve's lifestyle and culture benefit from this good weather. Maintaining an active lifestyle with the many outdoor activities available is easy. If hiking, surfing, sailing, and cycling are not for you, there are several golf courses in the region. The Algarve also has a lively culture, with historical, music, and food festivals scheduled throughout the year.  
The Algarve also boasts a significant expat community, notably from the UK, Italy, and France. Many retirees are choosing to make the Algarve their home and not only because of its beauty and tranquil pace. Portugal's tax law offers a number of excellent tax advantages that favor pensioners. 
To learn more about Portugal's Non-Habitual Tax Regime, visit our article here.
Where to invest in the Algarve?
When looking to make a property investment in the Algarve, it is helpful to have an idea of where to start looking based on your unique requirements. Property prices in the Algarve region, one of Portugal's sunniest regions, vary based on the area. The entire region offers a variety of areas to purchase an investment property. A few good choices include: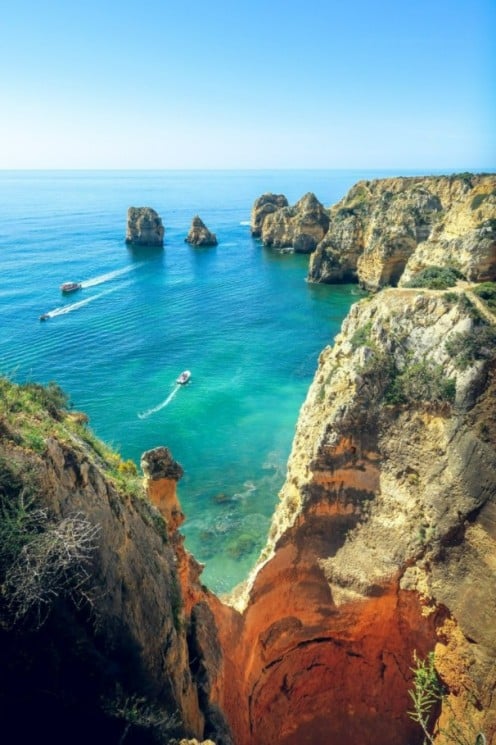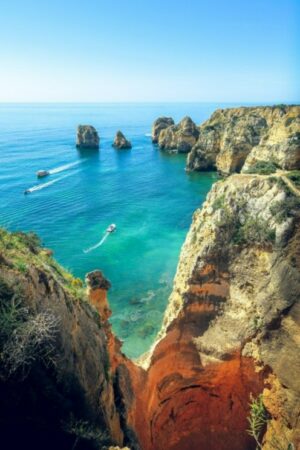 Albufeira
The large expat community in Albufeira makes it easier for foreigners to adapt to their new homes. The area has some excellent international schools and a wide selection of restaurants. On average, property here is slightly cheaper than in many other parts of the Algarve.
The purchase price per square meter of an apartment here will cost €2,300 in the city center.
Lagos
Lagos has a rich history and culture and incredible nightlife. Popular with surfers, Lagos is home to some fantastic beaches.
Property investments here will cost €3,337.93 per square meter for an apartment in the city center.
Portimão
One of the most visited towns in the Algarve, Portimão is popular for sailing and watersports. With a booming cultural scene, lively nightlife, and an array of dining options, you'll never be bored in Portimão.
Real estate investors can expect to pay €2,005.20 per square meter for an apartment in the city center.
Loulé
Loulé offers a different pace to the Algarve's coastal municipalities. With its relaxed atmosphere, this picturesque and historic town attracts visitors eager to attend its traditional markets and view its quaint architecture. If you're looking for a quieter life complimented by the Algarve's vibrant beauty, Loulé is the place for you.
Vilamoura
This upmarket resort town calls to those in search of luxury. With an excellent selection of golf courses, fine dining, and chic bars, Vilamoura is the perfect place to enjoy leisurely meals paired with fine wine in a modern seaside town.
Tavira
Tavira is another area offering a more laid-back atmosphere. The cobbled streets here are lined with small white houses, and the architecture provides a glimpse into the city's rich history. Here you'll find an international school and many dining options.
Buying property here will cost €6,458.35 per square meter for a city center apartment.
Carvoeiro
A popular place for hikers and summer tourists, Carvoeiro sits right in the middle of a stunning stretch of coastline. This area is family-friendly, offering the opportunity for exciting day trips to surrounding areas and cheaper investment options.
A property search of the Algarve will yield results guaranteed to cater to a variety of needs. The Portuguese government has implemented a number of programs to encourage investment in the country and its real estate market, such as the Portugal Golden Visa program. Portugal's Golden Visa is a popular choice for property investors and offers the opportunity for a great rental yield. If you're looking to make a real estate investment, Algarve, Portugal, is a fantastic choice.
Visit our article to learn more about Portugal's Golden Visa Program.
Goldcrest: Who We Are and How We Can Help You
Have you found your dream home in the Algarve? Contact Goldcrest, a buyer's agent based in Portugal. We provide expert impartial advice on real estate investments and how to purchase property in Portugal. From scouting the right property to property acquisition, we have you covered.
If you want to purchase property in Portugal, don't hesitate to get in touch. Our team of skilled experts is available to solve all your real estate doubts, offering insightful expertise and strategic advice. We are focused on securing the best deal for you.
To learn more about how property tax works in Portugal, visit our article on Property Taxes in Portugal.