Updated: September 19, 2023
What else can be said about the beautiful Algarve? We are certain you've heard about the constant blue skies and sun-dappled waves, the pristine beaches, and the outrageous ocean views, and how this much-loved region of Portugal is a favorite with tourists, retirees, and expats from all walks of life. The delectable cuisine, the stunning land formations, the quaint villages – the list goes on. And when it comes to the property market in the Algarve, you'll find a dynamic and varied market with strong returns on investment. In this article, Real Estate Investment Algarve: What You Should Know, we'll provide you with a thorough rundown on the topic.  
Why consider the Algarve?  
The Algarve started attracting tourists in the 1960s and has become one of the most popular spots for holidaymakers in Europe. As a result of this – and expats, particularly retirees, seeking to relocate to the Algarve – investing in the Algarve can be a lucrative venture. Indeed, over the past few years, foreign investment in the Algarve has been on the rise.
The Algarve property market offers a range of areas to choose from, whether you're looking for somewhere family-friendly, a buzzing nightlife, areas with luxury accommodations, or more affordable locations.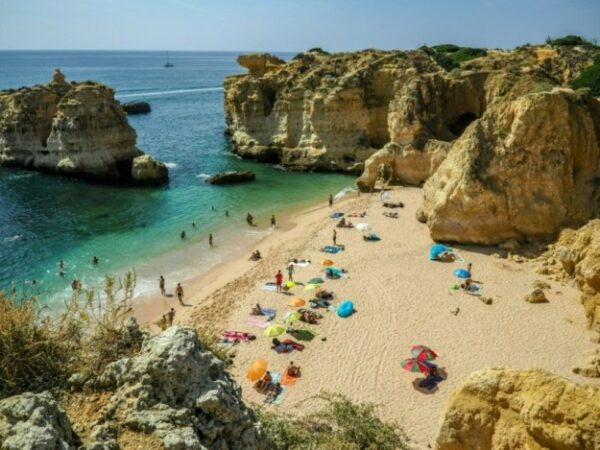 Algarve's Real Estate Market   
We've already mentioned why so many tourists visit the Algarve and why so many expats have come to call the region home. Factor in an excellent healthcare system, the advantageous Non-Habitual Residence (NHR) scheme, and the high quality of life, and it's easy to see why. Foreigners also have no restrictions placed on them when it comes to buying property, which is not the case in many other countries.   
Property prices will vary depending on the region. As a rule of thumb, the further north you venture, the more affordable the property prices. The Alentejo region boarding the Algarve to the north is another excellent region to consider if you are looking for spacious properties or countryside homes at very reasonable prices by Western European standards.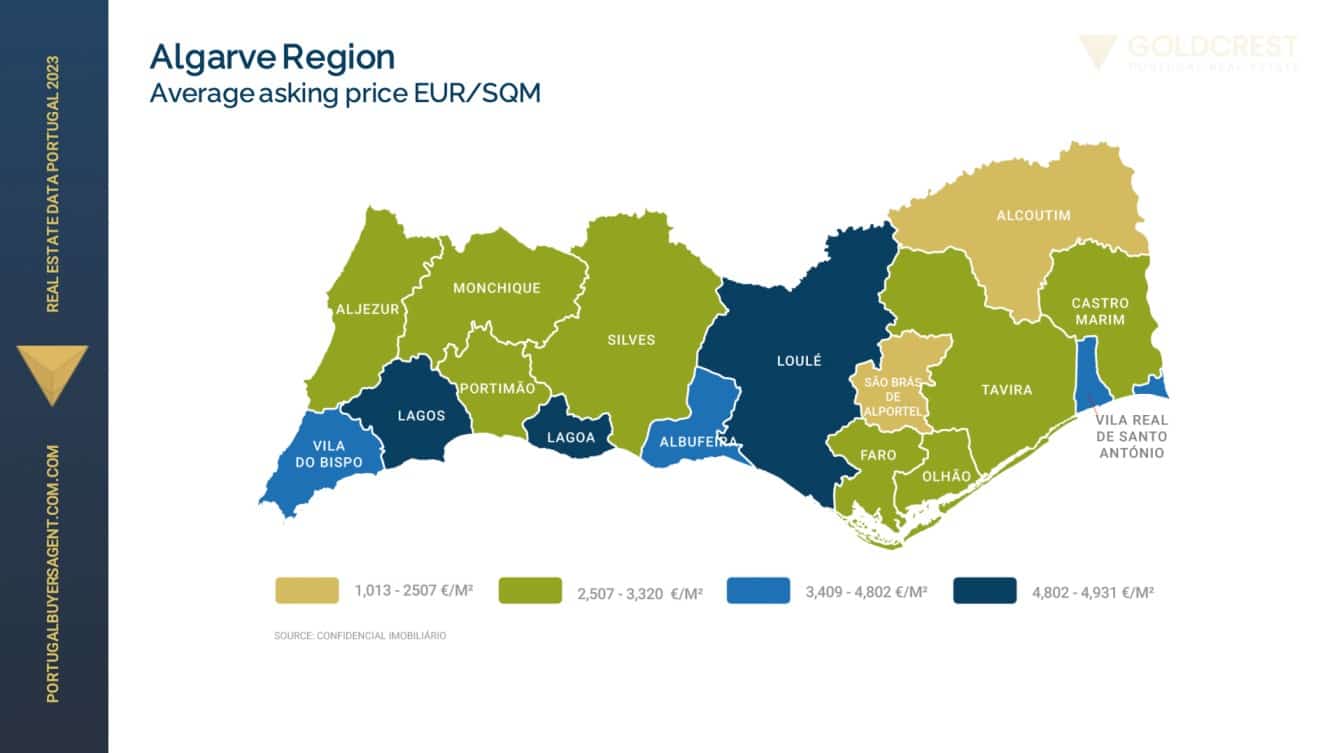 History of Algarve's real estate market 
Out of all the European counties, Portugal has one of the most vibrant real estate markets, and Southern Portugal is one of the most sought-after regions. House prices in Portugal as a whole have been increasing, with a steeper rise over the past six years. And when it comes to the Algarve, which has historically been one of the most popular areas in the country, it's no surprise that the region has experienced high growth rates recently. Indeed, the Algarve has experienced around an 88 percent growth rate in prices, with the average price jumping from €1,950 to €3,660 between 2017 and 2022. However, compared to other waterfront properties in Europe, you will find prices, generally, to be quite reasonable. Note that the purchase price can be lower than the asking price, something to bear in mind when scouting out the average price for properties in Portugal (this can go the other way, with the purchase price being more than the asking price, but this is not so common). 
Is the Algarve a good place to buy property? 
With advantages like golden beaches, retirement in the one of the sunniest regions in Europe, and an attractive real estate sector, the Algarve region in Southern Portugal is an excellent place to buy Portuguese property. The region benefits from hot summers and mild winters, with over 300 days of sunshine each year.
The Algarve has a fantastic selection of beaches and a dramatic coastline characterized by limestone rock formations, arches, and caves. Popular beaches in the Algarve include Praia da Marinha near Carvoeiro, Quinta do Lago near Faro, and Praia da Rocha in Portimão. 
The Algarve's lifestyle and culture benefit from this good weather. Maintaining an active lifestyle with the many outdoor activities available is easy. If hiking, surfing, sailing, and cycling are not for you, there are several golf courses in the region. The Algarve also has a lively culture, with historical, music, and food festivals scheduled throughout the year.   
The Algarve also boasts a significant expat community, notably from the UK, France, Germany, the Netherlands, and Sweden, but increasingly Americans are also relocating here. 
Property investment potential
If you are looking into buying property as an investment opportunity, it can be a very lucrative venture through income from a rental investment, given the popularity of the Algarve.
Rental yields in the Algarve range from 3.56 percent to 5.03 percent, and with the multitude of tourists heading to the region, you should be able to make serious money on high rental yields here. 
You can check out our article, Buy-to-Let, for information on how to buy a property with the intention of renting it out.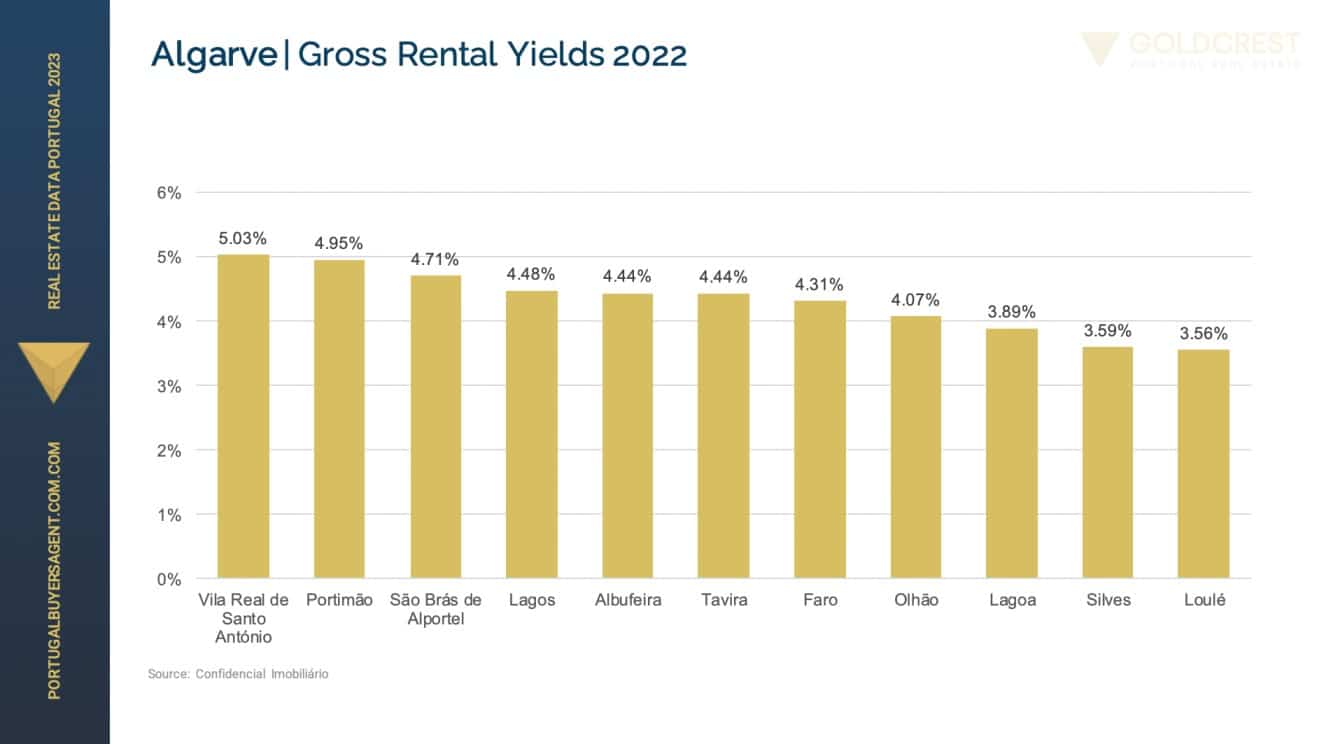 Types of Properties in the Algarve
In the Algarve, you can find both residential and commercial properties for investment. Here, we will provide you with more information on some of the most common types of each. 
Residential properties
For residential properties, you'll discover an array of options, from modern apartments to luxurious properties with excellent natural light and waterfront views. If you are seeking to buy and then rent out the property for some part of the year, then there is also the possibility to secure a nice rental income, given the popularity of the Algarve. Some of the most common types are as follows:
 Apartments
There are several options available for modern apartments with pools and views of the Atlantic Ocean, as well as smaller properties in historic towns and cities.
Villas
Up and down the Algarve region, you'll find beautiful villas for sale, perfect for retirees or if you are moving to Portugal with family.
Country homes
Particularly as you move north, you'll find many country homes for sale. If you are looking for something a little different, such as a vineyard or farm for sale in the Algarve, you'll also have many options.
Luxury properties
Whether it's a luxurious apartment or spacious villa with a private swimming pool, there could be no better area in Portugal to find luxury properties than the Algarve. Many celebrities have come to call this region home.
Commercial properties
For those interested in commercial property investment, some of the most popular opportunities include:
Offices
Investing in offices provides stable rental income and the potential for long-term capital appreciation.
Retail Spaces
Investing in retail spaces offers a steady rental income from established businesses and potential growth in prime locations.  
Tourism real estate
Given the flourishing tourism sector in the Algarve, there are several options available for investing in tourism real estate and securing a good source of rental income. From hotel projects to serviced apartments, there are various property investment opportunities to explore. 
Land for sale in the Algarve 
If you are considering buying land in the Algarve, you will be able to create your dream home from scratch. Construction costs typically fall between €2,000 to 2,500 per square meter, while the price of land is usually much lower, with prices in the interior parts of the Algarve going for as little as €100 to €300 per square meter. When buying land for sale in the Algarve, be aware that the project will take some time, so if you want to move into the property soon, perhaps this option is not the best for you.  
Is now a good time to buy property in the Algarve?  
Yes, investing in the Algarve remains a profitable investment, despite the sharp increase in prices. Given the popularity of the region, there is the potential for high yields – depending on where you buy – and strong returns on investment in the long term.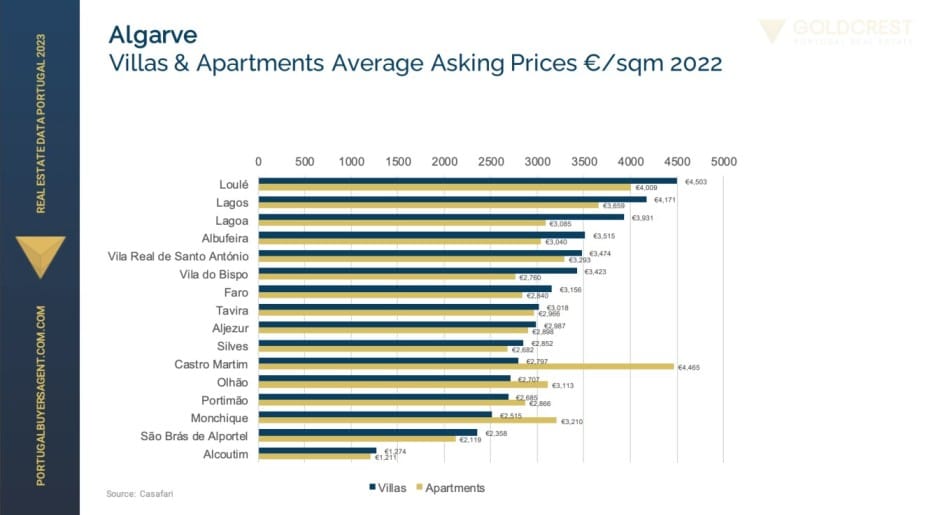 Where to invest in the Algarve?
When looking to make a property investment in the Algarve, it is helpful to have an idea of where to start looking based on your unique requirements. Property prices in the Algarve region vary based on the area. 
While the entire region is beautiful in its own way, a few good choices include: 
Albufeira

: Albufeira has a thriving tourism industry, with beautiful beaches, vibrant nightlife, and various entertainment options, which makes it an attractive investment opportunity in the hospitality sector and real estate market. The large expat community in Albufeira makes it easier for foreigners to feel at home, and families will find excellent education opportunities nearby. 

 

Lagos

: Lagos has a rich history and culture and is popular with water

sports enthusiasts. Its ever-increasing popularity as a vacation destination creates opportunities for property investments in hotels, holiday rentals, and property development, catering to both local and international visitors.

 

Portimão

: Once a sleepy fishing village, Portimão is now one of the Algarve's most beloved areas, particularly popular amongst sailing and water

sports. With a booming cultural scene, lively nightlife, and an array of dining options, you'll never be bored in Portimão. Additionally, its beach resorts and lively atmosphere make it a suitable area for investing in tourism-related ventures, such as hotels, restaurants, and leisure facilities.

 

Loulé

: Loulé provides a breath of fresh air for buyers, with tree-lined open spaces and charming narrow streets. This is a more relaxed part of the Algarve, away from the hustle and bustle of more popular resort towns. You'll find stunning properties on the market and are also just a short distance from Faro, and the Faro Airport, perfect for international travelers.

 

Faro

: Faro serves as the gateway to the Algarve and is home to the region's international airport. With its rich history and proximity to popular tourist destinations, Faro presents opportunities for real estate development, commercial ventures, and tourism-related services.

 

Sagres

: In the Western Algarve, Sagres' rugged coastline and surf-friendly beaches offer a unique appeal to tourists seeking a more laid-back experience. The area's potential lies in eco-friendly accommodations, surf schools, and outdoor adventure activities. This part of the Algarve still qualifies for the

Golden Visa program

, attracting foreign investors interested in the scheme. Note that the residential real estate route to the Golden Visa Portugal is

coming to an end

; if

you are interested in applying for this investment option of the Portugal Golden Visa, you should get the ball rolling now.

 

Vilamoura

: This upmarket resort town calls to those in search of luxury. If you are looking for a world-class golf course, fine dining, and chic bars, Vilamoura is the perfect place. You have access to some of the best golf courses in the world and you can enjoy leisurely meals paired with fine wine in a modern seaside town. The strong demand for upscale properties, coupled with its reputation as a luxury travel destination, makes it an excellent investment option for real estate developers and hospitality businesses.

 

Tavira

: Tavira, in the Eastern Algarve, offers a more laid-back atmosphere. The cobbled streets here are lined with small white houses, and the architecture provides a glimpse into the city's rich history. Here you'll find an international school and many dining options.

 

Carvoeiro

: A popular place for hikers and summer tourists, Carvoeiro is located right in the middle of a stunning stretch of coastline. This area is family-friendly, offering the opportunity for exciting day trips to surrounding areas and cheaper investment options.

 
How to choose which part of the Algarve is for you 
Choosing the right part of the Algarve for you depends on your specific needs and preferences. If you're seeking investment opportunities, consider the region's property market. If moving with a family, look for areas with good schools and family-friendly amenities. Retirees may prefer peaceful, scenic locations with access to healthcare facilities. 
Key Considerations when Buying Property in the Algarve
Legal considerations 
Understanding the legal implications of buying property is crucial when buying property. We recommend working with an experienced lawyer who will be able to guide you through the process. 
It can also be beneficial to work with a property surveyor, who will be able to ensure that there are no problems with the interior or exterior of the property.  
Financial considerations
There are many banks that offer mortgages for foreigners in Portugal, and you will want to spend some time determining which one suits your needs. The mortgage process itself can also take longer than expected, so it is best to get the ball rolling as soon as possible.   
Key steps in the buying process 
The buying process in Portugal can be broken down into the following five steps.   
Step 1. Decide whether you'd like to take out a mortgage to finance your property. 

 

Step 2 – Find the perfect property 

 

Step 3. Negotiation 

 

Step 4: Promissory Contract (CPCV) 

 

Step 5:  Sign the

Escritura

(Final Deed) 

 
Real Estate Investment Algarve:
Risks and Challenges 
Understanding the Portuguese market
When investing in the Portuguese property market, one of the main challenges is getting a good grasp of how it works. You will need to conduct thorough research on property prices, demand and supply, local regulations, and market trends. To make it easier, seek advice from experts who know the ins and outs of the market.
Due diligence
Doing your homework is essential. This means carefully checking all the legal aspects of the property, such as title deeds, permits, and any potential issues that might come up. To avoid trouble, it's wise to hire a real estate lawyer who can guide you through the legal complexities. Also, make sure the seller is trustworthy and financially stable to avoid disputes down the road. 
Market volatility and economic influences 
Like any real estate market, the Portuguese one is affected by market ups and downs and economic factors. Before diving in, be sure to consider the potential return on investment and how things like inflation rates might impact your investment. The Portuguese real estate market responded well to the COVID-19 pandemic, indicating that the market is quite resilient to external pressures.  
Goldcrest: Who We Are and How We Can Help You 
Goldcrest is a buyer's agent that is based in Lisbon and the Algarve. We provide expert, impartial advice on real estate investments and how to buy property in Portugal. From scouting out the perfect property through to property acquisition, we have you covered throughout the process.  
If you are looking to purchase property in Portugal, don't hesitate to get in touch. Our team of skilled experts is available to solve all your real estate doubts, offering insightful expertise and strategic advice.   
The following article may also be of interest to you:
Why choose Goldcrest? 
Local knowledge:

With offices located across Portugal, our presence nationwide allows us to assist you personally across the country. 

 

Independent service:

As an independent buying agent, we do not represent any development or project. Our service is entirely tailored toward each individual client, providing you with everything you need to secure the perfect property at the best possible price. As an impartial advisor on the market, we work solely on behalf of our client and provide a service tailored to your needs and requirements.  

 

Streamlined process:

Our real estate agents speak English and Portuguese, and our service is completely focused on providing you with a hassle-free buying experience, saving you time.  

 

Experienced team:

Our expert real estate team has a vast local knowledge of the Portuguese property market. We have cutting-edge technology and metasearch tools at your disposal to provide full market coverage, ensuring the best investment choices and negotiated prices. 

 

Network of partners:

Lawyers, property management services, builders, architects, designers, and landscape gardeners, again saving you time and hassle by providing you with trusted experts in their field of work.  

 
Frequently Asked Questions about Real Estate Investment in the Algarve
Is buying property in the Algarve a good investment?
Buying property in the Algarve can be a good investment due to its popular tourist attractions and stable real estate market. You will find many different types of property in the region, whether you are looking for a modern apartment, a spacious villa to move to with family, or an investment opportunity. 
Out of all the southern European countries, Portugal offers a relaxed atmosphere, which can be seen firsthand in the sublime Algarve region.
Where do most expats live in the Algarve?  
In the Algarve, most expats live in Albufeira, Alvor, Faro, Ferragudo, Lagos, Tavira, and Vilamoura. These towns are also popular tourist destinations and can become very busy during the high season, making them some of the best areas to invest in.  
Where is the cheapest place to buy property in the Algarve? 
Alcoutim, in the Eastern Algarve, is the cheapest place to buy property in the Algarve.  
Is it a good time to buy property in the Algarve?
Portugal is a safe and stable country, ranked sixth in the 2022 Global Peace Index, well known for its abundance of natural beauty. With the potential for high rates of return on investment and many different property types, now is a good time to buy property in the Algarve. While Portugal property prices are on the rise, the market has proved to be resilient and stable in recent years.  
What types of real estate properties are available for investment in the Algarve?
The Algarve offers a variety of real estate properties for investment, including villas, apartments, townhouses, and plots of land for development. 
What are the key areas in the Algarve for real estate investment?
Key areas for real estate investment in the Algarve include Albufeira, Lagos, Vilamoura, Portimão, and Faro, due to their popularity among tourists and expats. 
How does the property buying process work in the Algarve?
The property buying process in the Algarve typically involves finding a property, making an offer, signing a Promissory Contract, and completing the final deed at a notary. It's essential to work with a reputable real estate expert and a lawyer for a smooth transaction. 
How does the Portugal Golden Visa program impact real estate investment in the Algarve?
The changes that rolled out in January 2022 make many areas of the Algarve ineligible for Portugal's Golden Visa residency by investment scheme when it comes to residential property. However, some areas, such as Sagres remain eligible.
If you are interested in applying for the real estate pathway of the Golden Visa, we recommend that you benign your application soon due to upcoming modifications to the program, which will rule out real estate investments as an investment option. You can read more in our article: Portugal is Ending Its Golden Visa Program.  
What are the legal considerations when investing in real estate in the Algarve?
Important legal considerations include verifying property ownership, examining planning permissions, and understanding local regulations. Engaging a competent lawyer is crucial to navigating these aspects.
What are the risks and challenges involved in real estate investment in the Algarve?
Potential risks include economic downturns, fluctuating demand, and changing tourism patterns. As the Algarve is one of the most popular tourist locations in Europe, it is highly unlikely that tourist numbers will fall. Additionally, navigating language barriers and legal complexities can pose challenges. You will also need to make sure you are aware of the property tax implications of buying property in Portugal. 
How is the resale market for properties in the Algarve? Can I expect a good return on my investment?
While returns depend on factors like location, property condition, and market conditions, a well-chosen property in the Algarve can yield a good return on investment. 
What are the tax implications of real estate investment in the Algarve for international investors?
Real estate investors in the Algarve are subject to taxes such as Property Transfer Tax, Stamp Duty, and Capital Gains Tax. Property tax rates and exemptions can vary based on factors like residency status and property usage. It is important to understand your property tax obligations when buying property in Portugal. 
How is the real estate market in the Algarve affected by economic fluctuations?
Like any market, the Algarve real estate sector can be impacted by economic fluctuations. During downturns, property prices may dip, but the region's strong appeal to tourists often helps maintain stability. The market has proved resilient in the recent past, such as with the COVID-19 pandemic not having a significant effect on the real estate market in the Algarve.  
Are there sustainable or green real estate investment opportunities in the Algarve?
Yes, the Algarve offers sustainable and green real estate options, including eco-friendly developments and investment properties with energy-efficient features. Sustainable practices are becoming more popular in the region's real estate sector. 
Is property expensive in the Algarve?
How expensive the Algarve property market is will depend on where you buy. For example, in Lagos and Loulé, you will find more expensive and luxury properties, whilst in Alcoutim, in the Eastern Algarve, you will find very reasonable prices. 
Are there any restrictions for foreigners investing in Algarve properties?
No, foreigners will face no restrictions when buying property in the Algarve. They will, however, have to secure a valid residence permit should they want to live in Portugal.