Updated: October 25, 2023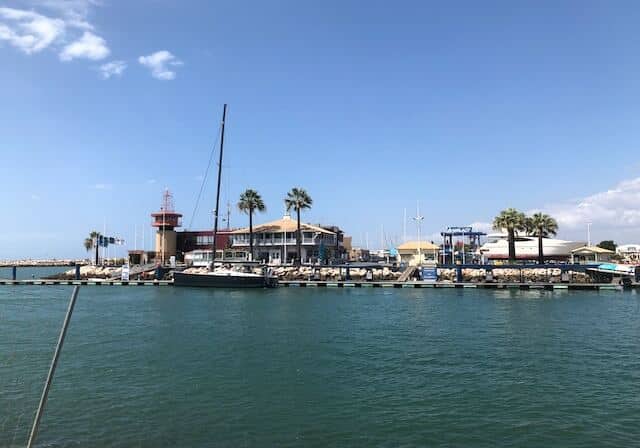 Steeped in maritime tradition, Portugal's legacy as a seafaring nation dating back to the Age of Discovery. Esteemed navigators and explorers like Vasco da Gama and Ferdinand Magellan set sail from its shores. 
Their adventures transformed Portugal into an important maritime hub, influencing global trade, culture, and geopolitics. Over time, the country's ports and marinas became bustling centers of commerce, innovation, and cultural exchange. 
In the contemporary era, while the age of great explorers has long passed, Portugal's maritime spirit remains very much alive. The nation's yacht marinas represent modern symbols of luxury, leisure, and connectivity. 
For anyone contemplating the idea of docking their vessel in Europe, Portugal's marinas offer a blend of rich history, a strategic location, and state-of-the-art amenities.  
In the following article, we will delve into the top marina destinations in the country, explore the compelling reasons to invest in Portuguese yachting, and highlight the unique experiences that await seafaring enthusiasts along its coasts. 
Discovering Portugal's Yacht Harbors: Key Attractions and Highlights
Portugal's yacht harbors boast a diverse range of features. Here's an overview of the most notable ones. 
The best yacht marinas
From the bustling Douro Marina to the tranquil spots on the Estoril Coast, Portugal boasts some of the best marinas in Europe. These yacht harbors cater to both seasoned sailors and those seeking a leisurely time at sea. 
City centers versus deserted beaches
While some prefer the convenience of docking near a city center, others are in search of deserted beaches that promise serenity. Portugal offers both, ensuring every yachter finds their dream location. 
The Algarve 
The Algarve region isn't just famous for its sun-kissed beaches but also its splendid marinas. From water sports to exclusive clubs, there's never a dull moment here. 
Close proximity to Spain
Given its location, it's easy to transition from Portugal marina to the vibrant marinas of Spain, allowing yachters to experience the best of both worlds. 
Unique attractions
Beyond traditional yachting experiences, places like Praia da Vitória offer unique cultural and scenic experiences that provide true Portuguese serenity. 
Why invest in a yacht in Portugal?

With stunning coastlines and premier marinas, Portugal is a yachter's dream. Here are the reasons to invest. 
Exceptional climate and scenic beauty
If you are considering luxury real estate in Lisbon or the Algarve, why not think about a yacht? In Portugal, the year-round sunshine lends itself to cruising the coastline on a boat. 
With something for everyone, be it watersports, a glass of champagne or exploring remote beaches – buying a yacht in Portugal is sure to keep the whole family happy. 
Affordable mooring with high standards
Mooring costs in Portugal are not among the astronomically priced ports of Europe, such as Capri, Portofino, Cannes, and Ibiza but have high standards and natural beauty to compare. 
Advanced marina facilities
Portuguese marinas offer comprehensive services, including boat servicing, refueling, and provisions. Places like Cascais Harbor even feature a helipad. Additionally, these marinas are social hubs with excellent restaurants and bars, perfect for a special dinner or an evening out. 
Strategic geographic location
Situated strategically in Europe, Portugal's extensive Atlantic Ocean coastline provides direct access to several popular cruising destinations, including the Mediterranean and the Canary Islands. 
Attractive tax regime
The Non-Habitual Resident (NHR) tax program in Portugal offers new residents considerable tax benefits, including exemptions and reduced rates. Additionally, competitive VAT rates on yacht leasing make acquisitions and operations more cost-effective. 
Rich cultural and maritime heritage
Portugal's history is steeped in maritime tradition, offering yacht owners the chance to explore historic ports, museums, and maritime festivals, celebrating the nation's rich heritage. 
Eclectic cruising choices
Yacht owners in Portugal can enjoy a variety of cruising grounds, from the scenic north to the sunny beaches of the south. 
Potential for revenue through tourism and chartering
Portugal's growing popularity as a tourist destination, along with a booming charter industry, presents yacht owners with the opportunity to charter their vessels for additional income. 
Economic and political stability
As a member of the European Union and Eurozone, Portugal offers a stable environment for investment, with a steady economy, a secure political climate, and robust legal protections for property and investment. 
Renowned Marinas in Portugal

From the iconic Parque das Nações Marina to the serene Marina de Cascais, here's a closer look at what makes each marina stand out. 
Parque das Nações Marina
Located in the heart of the Lisbon region, the Parque das Nações Marina is a blend of modern facilities and natural beauty. Just a stone's throw from the city center, it's a hub for both leisure and business. 
Marina de Cascais
The Marina de Cascais, or Cascais Marina as it's fondly known, lies on the beautiful Estoril Coast. It's a haven for those keen on water sports and offers panoramic views of the ocean. 
The main basin has birthing for yachts up to 25 meters long. In the outer basin, Cascais Marina has a Super Yacht Quay, too, exclusively reserved for yachts measuring over 36 meters. 
The pontoon is only available by prior reservation. 
The bay at Cascais has stunning beaches and top restaurants nearby, so docking here will not disappoint. The main services of the marina include hull cleaning, dry docking, and a jet ski package. 
Douro Marina
Douro Marina is not just about docking your yacht. It's about experiencing the rich culture of the Douro region, tasting its world-renowned wines, and enjoying its vibrant nightlife. 
Figueira da Foz
Less talked about but equally mesmerizing is Figueira da Foz. Its marina, set against the backdrop of the city's historic landmarks, promises an experience like no other. 
Marina of Vilamoura
The largest marina in Portugal and voted the best on numerous occasions, Vilamoura is the top pick for many people looking to purchase and moor a yacht in Portugal. 
Vilamoura itself is a great place for leisure too. 
There are excellent golf courses, equestrian facilities, and plenty of both water and land-based sports. For luxury real estate in the Algarve, Vilamoura is a top pick in Portugal. 
Marina of Albufeira
As one of the smaller marinas in Portugal, Albufeira's harbor has a somewhat modest offering. 
Albufeira itself is known for its buzzing nightlife and is strategically located, making it easy to explore the Algarve region. 
If you are looking to buy a smaller yacht or a motorboat, then this marina might be a good, cost-efficient option for you. 
Marina of Lagos
The marina of Lagos, located at the bay of Lagos, has a great mix of beautiful beaches nearby and great facilities. Shopping, eating out, and sleeping at the Marina Club Hotel are all popular things to do at Lagos Marina. 
The marina has birthing capacities for yachts up to 30 meters long. There is also a farmer's market on Saturdays across the birthing bridge. Lagos is home to some of Portugal's luxury real estate, too. 
Marina of Portimão
Portimão Marina is in the Faro district and is surrounded by some of Portugal's most beautiful beaches. 
The marina itself has a birthing capacity for yachts of up to 50 meters long and is the safest harbor in Portugal. 
There are good options for hotels, restaurants, and bars nearby as well as the opportunity for scuba diving, sky diving, and off-road motorbike tours. 
Marina of Olhão
A small marina for boats up to 15 meters in size. 
The marina itself is well-shielded and close to the quaint town center where great restaurants and markets can be found. 
The nearby hotel Real Marina offers a day pass for visitors to use the spa. 
Preparing for Your Voyage
Before you set sail to the beautiful marinas of Portugal, here's a guide to ensuring your journey is smooth and memorable. 
Choosing the right season: when to visit
While Portugal is a year-round destination, understanding the climate and the peak yacht seasons can help you plan better. 
Safety first: Navigating Portugal's waters
Whether you're close to the Estoril Coast or exploring the deeper waters near Spain, it's essential to know the dos and don'ts of navigating these waters. 
Local etiquette: Mingle with the Locals
From the Lisbon region to the Algarve, understanding local customs and traditions will enrich your yachting experience. 
Embracing water sports
You can do other things besides leisurely boat rides in Portugal's marinas. Embrace water sports and discover a world of adrenaline and fun. 
Making
the most of
your stay
From spa facilities to gourmet dining, Portugal's yacht harbors offer a world of luxury. It's all about finding the right fit for your needs. 
Get in touch
Goldcrest are property experts and can assist you to find luxury real estate near a yacht mooring. We have deep expertise in the Portuguese real estate market and will always act diligently on your behalf to negotiate the best possible deal for you.
Conclusion
As the golden sun sets over the horizon, reflecting its warm hues on the waters of Portugal's pristine marinas, one can't help but be enchanted by the allure of this maritime paradise.  
Whether you're a seasoned sailor or someone considering a new investment, Portugal's yacht marinas offer compelling reasons to make it your preferred destination. Nevertheless, if you're considering the purchase of a yacht, seeking the expertise of a service agent is essential for smooth navigation through the process. 
Buyer's agents, like Goldcrest, provide specialized knowledge, ensuring seamless transactions and catering to the unique requirements of yacht ownership, offering a distinct advantage. 
Frequently Asked Questions about Yacht Marinas in Portugal
What are the top yacht marinas in Portugal?
Some of the most renowned yacht marinas in Portugal include Marina de Vilamoura, Marina de Lagos, Marina de Albufeira, Doca de Belém in Lisbon, and Porto de Recreio de Oeiras. 
These marinas offer top-notch facilities, security, and services for yacht owners and are strategically located for easy access to popular cruising grounds. 
Are there any specific regulations or documentation required to berth a yacht in Portuguese marinas?
Yes, yacht owners need to provide valid documentation, including the yacht's registration, proof of insurance, and, if applicable, a VAT (Value Added Tax) paid certificate. 
Additionally, the captain or owner must have a valid sailing license or equivalent competency certificate recognized by the Portuguese authorities. 
Do marinas in Portugal offer maintenance and repair services?
Many are equipped with state-of-the-art facilities and offer a range of services, including maintenance, repair, and refit services. 
It's always a good idea to check with the specific marina in advance to understand the full range of services they provide and to make necessary bookings. 
How are berthing fees determined in Portuguese marinas?
Berthing fees in Portuguese marinas vary based on several factors, including the marina's location, the size and type of the vessel, duration of stay, and the season. 
Some marinas offer discounts for longer stays or for off-season berthing. It's recommended to contact the marina directly or visit their website for detailed pricing information. 
Can I charter a yacht from marinas in Portugal, and do I need a special license?
Yes, many marinas in Portugal have charter companies operating within their premises, offering a variety of yachts for charter. 
If you wish to charter and skipper the yacht yourself, you'll need a valid sailing license or an equivalent competency certificate recognized by the Portuguese authorities. 
Alternatively, many charter companies offer yachts with a crew, eliminating the need for personal licensing.