Updated: September 11, 2023
Known as the 'Venice of Portugal', Aveiro is spectacular. The canals flow through the city, with colorful Moliceiro boats gliding through their waters, the mouthwatering bakeries beckon and the relaxed pace of life is cause for anybody to want to stay in this charming town. Aveiro Portugal real estate is not as popular as in some other locations. However, owning a property in this historic town is a very smart investment. 
In this article, we'll delve into why Aveiro could be the perfect place in Portugal for you to find your dream home. Following this, we'll run over property prices and investment opportunities, before focusing on the history of the city and the current lifestyle in Aveiro – especially in relation to what you can expect from living in this charming city. 
When buying real estate in Portugal, it is important to have a trusted advisor and real estate professional to help you navigate the tricky real estate market. Goldcrest has insider knowledge of the buying process, working with the client from sourcing to acquisition, to help them find the perfect property.
You can book a call here to speak with a Goldcrest advisor for more information. We focus solely on the buyer, working with you to provide you with a service completely tailored to your needs.
What makes Aveiro so special?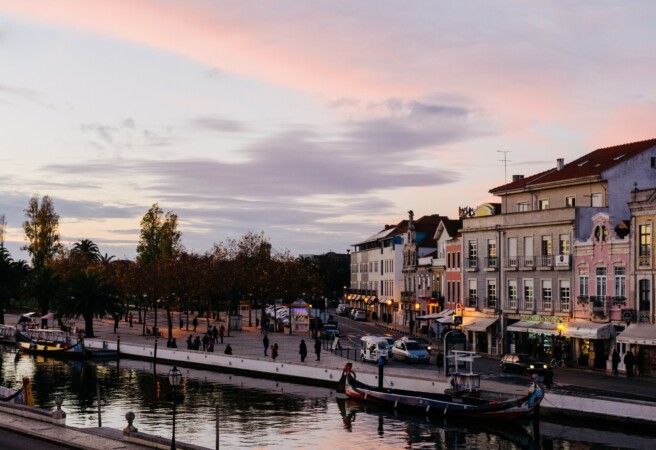 Picture a Portuguese Venice, without the ever-present crowds, and you are halfway to Aveiro. Aveiro is Portugal's hidden gem, with winding canals, spectacular food, and the Atlantic Ocean at your doorstep. 
For history lovers, Aveiro is a special place. The Cathedral of Aveiro, built in the Portuguese baroque style, was founded in 1423 and is the beautiful centerpiece of the city. The humble exterior is contrasted with the artistic interior. The Igreja da Misericórdia, close at hand, is plastered with exquisite blue and white azulejos (tiles) that will make you fully appreciate the Portuguese love of tiles – ever-present across the country.
The streets themselves are also captivating. With cobblestone roads, the typical Portuguese red roofs, and quaint balconies overspilling with colorful flowers, you are surrounded by fabulous architecture – both historical and modern architecture, making a pleasant contrast. With Art-Nouveau architecture, there is a majestic feel to the city, with decadent buildings scattered, seemingly at random, across the city. Stop to admire this style on the main Doutor Lourenço Peixinho street. 
Indeed, Aveiro is a very special city. Unique in many ways given its location – its proximity to the ocean, closeness to the historic and picturesque cities of Porto and Coimbra, and its own individual flair. Many people have visited Portugal and been enthralled by the beauty of Lisbon, Porto, Braga, and the like, but Aveiro stands out to them as one of the most captivating cities. 
Aveiro Portugal Real Estate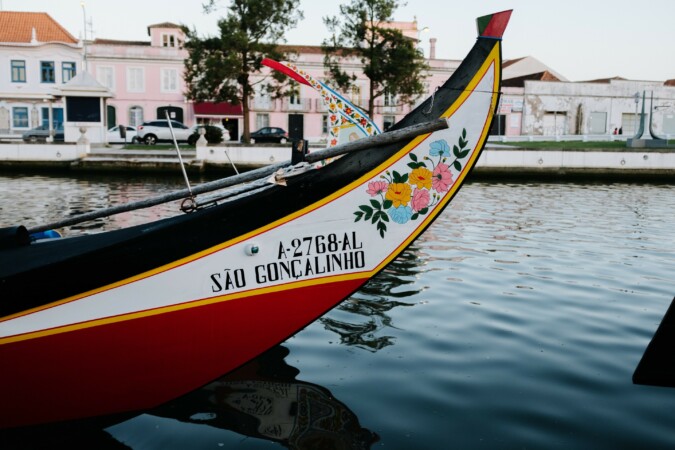 Aveiro Portugal real estate is very attractive for homebuyers and investors. In 2020, the average asking price for a villa in Aveiro was €946 per m2. Note that this is the average asking price and, therefore, prices can be above or below this amount. 
Indeed, this is one of the most affordable parts of the country. In the area, you should also be able to find luxury properties. If the property has additional facilities, such as a swimming pool, private gym, or security, this will boost the price. 
Likewise, the size of the property will also make the property more expensive. Nonetheless, compared to luxury properties in other European cities, Aveiro may well be one of the most affordable. This is because prices in Portugal are generally more wallet-friendly when compared with neighboring European countries. 
Prices of Aveiro luxury homes will vary completely depending on your search criteria. However, when it comes to property and accommodation in Aveiro, Portugal, you will have many types of real estate to consider, from country homes to villas, with acres of private land and modern apartments with spectacular views of the city from your balcony.
Regarding rentals in Aveiro, you will find that there are several options to consider. Renting property is a good idea if you are still unsure of the neighborhood that you would like to live in. You will be able to rent a place while searching for the perfect place in the city for you. The more properties you visit in person will make it easier to determine what you are looking for in a property, and what the city has to offer. 
If you want to live a little out of the city, you'll also find more properties, including country homes, vineyards, and farms for sale in the Aveiro district. The countryside in this part of the country is exceptionally beautiful and is quite unexplored, meaning that you can live a truly authentic, quiet life here, perfect for retirees. You'll also find Aveiro luxury homes outside of the city itself, where you will find more spacious properties. 
If city life is for you, however, consider the city of Santa Maria da Feira. Santa Maria da Feira is a beautiful, calm city that could make the ideal home. Another city to consider is Oliveira de Azeméis, which is northeast of the Aveiro district, and which provides a truly local feel. 
The first step is to determine the property type, the size of the property, and the amenities that you want your property to have. After you have honed in your search, and you know the property type that you are looking for, you can filter this search on online real estate websites. 
When searching for properties for sale in the Aveiro district, it is worth setting up a property alert on the real estate websites that you are checking out, such as Idealista. Setting up a property alert will help to ensure that you do not miss houses that could be a perfect match for you. Email alerts straight to your inbox are an easy way to keep track of new listings. 
History of Aveiro
Human settlements in the region of Aveiro date back to the great dolmens of prehistory. Aveiro derives from the Celtic word "aber", meaning "river mouth", due to the geography of the region. Aveiro was important for the production of salt and commercial trade, from the Romans through to the Middle Ages.
From the 11th century, Aveiro became popular with Portuguese royalty. King João requested the construction of fortification walls and in 1435 King Duarte granted the privilege of providing a duty-free fair, the Feira de Março (March Fair), that still lives on today. Around the same time, Princess St. Joana lived in the city, entering the convent of Jesus and spending her life there. During her lifetime, her presence made Aveiro better regarded and instigated developments at the time. 
By the 15th century, Aveiro had a great wall surrounding its historic center, with a strong community and a growing population. However, climatic conditions, such as a storm in the winter of 1575 and the subsequent closing of the thriving metal and tile trade, had an adverse effect on the town. The river's instability over the 16th and 17th centuries resulted in additional problems and dealt considerable blows to the economy, causing people to emigrate from the city. 
Moving forward to the 19th century, the people of Aveiro were active during the Liberal Wars or Portuguese Civil Wars. It was José Estêvão Coelho de Magalhães, a parliament member, who resolved many of the issues relating to access that were prevalent in the city at the time. He is also responsible for improving the transport links, especially the railway line that runs from Porto down to Lisbon. The opening of the artificial canals, now so easy on the eye, marked the beginning of Aveiro's growth and the ability of the town to expand economically. On a national level, the fair housing act came into force in 2019. The new housing act guarantees that housing should be seen as a human right and includes protections against housing discrimination.
Aveiro Portugal Real Estate: Lifestyle in Aveiro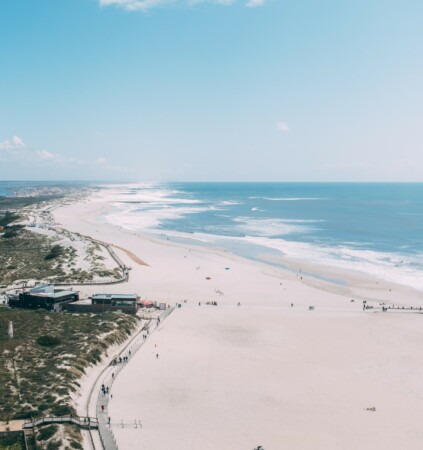 You have the sea, you have the canals, but you also have the peaceful gardens to while away time. Aveiro is a city where you have nature all around you. The largest green space is Jardim do Rosso, at the end of the main Doutor Lourenço Peixinho street. Enjoy the views of the canals and breathe in the sea breeze. Another favorite is Parque de Santa Joana, with shady trees where you can relax and watch the people pass by. 
It is very easy to live an active life in Aveiro. While the weather can get a little colder than in the south of the country, you should be able to enjoy the great outdoors for most of the year. For keen golfers, there are top golf courses nearby. You can also try surfing and other water sports, with the waves rolling in from the Atlantic. 
Portuguese cuisine is vibrant, exciting, and fresh, with a focus on fine ingredients. In Aveiro, there are several brilliant family-owned tascas (typical Portuguese eateries). Those looking for something a little more special will be pleased to know that there are also several fine dining options in Aveiro and also in Porto, a short drive away. This includes a few Michelin-starred restaurants. 
You have the open-air Forum modern shopping mall, with over 70 stores, a large selection of food choices, and a cinema. Indeed, there are many different ways to fill your time, whatever your interests. 
The surrounding countryside provides peace, tranquility, and incredible landscapes. Enjoying a rich Douro wine from the comfort of your country home, and with views stretching into the distance, life must feel pretty complete.
Climate in Aveiro
With a Mediterranean climate, daily averages in the summer months are around 24 degrees C (75 degrees F). While the winters are generally mild, at an average of 14 degrees C (57 degrees F), the temperature can drop below 10 degrees C (50 degrees F) in colder spells. 
Further Information:
Goldcrest is a buyer's agent that works solely on behalf of you as a buyer. Our team works diligently on behalf of our clients to make sure that the correct steps have been taken, providing a high-quality service that safeguards you from poor property investments. We have access to new listings that you will not find elsewhere. 
For the past decade, we've been building our inside knowledge of the local property real estate market and establishing extensive connections across the country, enabling access to an exclusive range of properties new listings, and investment routes. You can get in touch with us by email, phone, or text message. Let's discuss your need to help you find your ideal property. 
The following articles may be of interest to you: 
Our new E-Book, Your Expert Guide to Buying Property in Portugal also provides you with everything that you will need – including an easy six-step rundown to buying a property in Portugal.
Frequently Asked Questions About Aveiro Portugal Real Estate:
1. Is Aveiro Portugal real estate a good investment?
Yes, buying real estate in the Aveiro district is a good investment, with very good properties for sale available at an affordable price. 
2. Is Aveiro a good place to retire to?
Aveiro offers a relaxed way of life. For retirees, Portugal has significant tax benefits – the NHR scheme – and Aveiro provides retirees with a top cuisine, very good healthcare, and many activities to stay active.
3. Is it easy for a foreigner to buy a property in Portugal?
Yes, it is relatively easy to buy property in Portugal and there are no restrictions for a foreigner to buy property here. As with buying a property in any county, the process can be arduous at times, which is why it is recommended to have a buyer's agent, such as Goldcrest, that can assist you with the process. The first step is to determine the property type that you are after, and the amenities that you would like to have.
4. What is the cost of living in Aveiro, Portugal?
The average monthly cost for a family of four in Aveiro is €1,819, without rent. For a single person, the estimated monthly cost is €520, without rent. Consumer prices in Aveiro are almost 54 percent lower than in Washington, DC.
5. Is Aveiro a good place to retire?
Aveiro is the ideal spot to retire to, located in the central region of Portugal, close to the Silver Coast and Porto. With a lovely town center, plenty of attractions, excellent healthcare, and English-speaking locals, Aveiro could be the location to enjoy your well-earned retirement and find your dream home.