Updated: November 13, 2023
Navigating the property landscape can be a challenging endeavor, especially when you're looking at a destination as sought-after as the Costa de Prata or Silver Coast in Portugal.
Whether you're an investor, a retiree, or simply seeking a change of scenery, the expertise of a real estate agent in Silver Coast can be invaluable.
In this comprehensive guide, we delve into the crucial role played by a real estate agent in facilitating the buying the perfect property along this stunning stretch of the Atlantic Ocean.
Property Types on the Silver Coast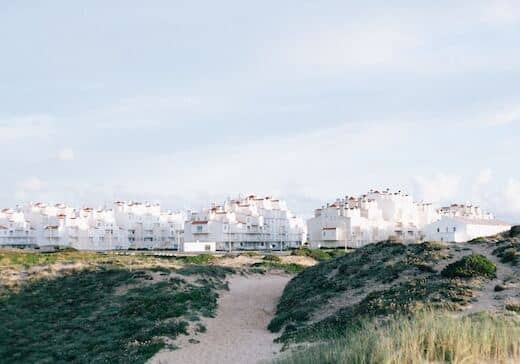 The Silver Coast of Portugal, or 'Costa de Prata' as it's known locally, is a real estate gem celebrated for its sublime Atlantic coastline, rich cultural fabric, and serene way of life. As its charm becomes increasingly recognized, the Silver Coast has become a top destination for those looking to purchase property or invest in the region.
With every sun-drenched beach kissed by Atlantic breezes and every inch of its lush, green landscapes, the Silver Coast presents a spectrum of beauty and tranquility, echoed through its varied property options.
Whether you're drawn to a waterfront home where the Atlantic is a constant presence or a city dwelling for modern convenience, the Silver Coast's portfolio of properties accommodates every lifestyle, promising the perfect Portuguese haven for all.
Villas 
Villas are synonymous with luxury and privacy, often featuring expansive outdoor spaces perfect for enjoying the region's mild climate. Prime villa locations can be found in areas like the Obidos lagoon and Nazaré, where the blend of natural beauty and historical charm provides an idyllic setting. 
Apartments 
These offer modern living and convenience, ideal for those who wish to be closer to the hustle and bustle of city life. Towns such as Caldas da Rainha and Peniche are popular for their vibrant community feel and proximity to the beach.
Townhouses 
They present a balance between the seclusion of villas and the convenience of apartments, offering multiple levels of living space. Townhouses prevalent in traditional towns like Alcobaça and Foz do Arelho, where the local knowledge of a seasoned real estate agent is key to finding the right fit.
Resorts 
If you're searching for a dream home amidst immersive coastal scenery or a practical residence with easy access to local amenities, resorts are the way to go. Resorts in Silver Coast Portugal are the epitome of leisure and comfort, often complete with amenities such as pools, spas, and golf courses. Areas like Bombarral and São Martinho do Porto are renowned for resort properties that cater to both short-term getaways and long-term stays, all within reach of the stunning coastal scenery that defines the Silver Coast's real estate.
Why do you need a real estate agent when buying property on the Silver Coast?
The journey to securing your dream property on the Silver Coast is filled with nuance, from understanding local regulations to navigating cultural differences. Here's why enlisting a real estate agent is crucial:
Language barrier
Even though many in the Silver Coast's major cities and tourist areas speak English, the property market can be intricate, with legal documents often in Portuguese. An English-speaking realtor in Portugal can bridge this gap, ensuring clear communication and understanding throughout the buying process.
Market insights
The Silver Coast's mild climate and beautiful beaches attract a myriad of property styles in each prime location. A local agent provides invaluable insights into the market, highlighting selected properties that match your desires and investment criteria, which you might not discover on your own.
Property transactions
Managing property transactions in a foreign country can be daunting. A real estate agent with a strong grasp of both the local area and the administrative processes can streamline the sales process, avoiding common pitfalls that can delay or derail it.
Connecting with real estate lawyers
An integral part of the property-buying process is securing a real estate lawyer to ensure all legalities are meticulously managed. Your real estate agent can provide referrals to reputable legal experts, making the transaction smoother and protecting your legal interests.
How to Find a Real Estate Agent on the Silver Coast
Finding the right real estate agent in the Silver Coast region requires attention to a few key aspects that ensure a smooth and supportive property buying experience.
Availability and support
In the competitive Silver Coast real estate market, where desirable properties are swiftly snapped up due to high demand, it is essential to have an agent who is both responsive and supportive. Look for an agent known for their availability; someone who can offer prompt assistance can make all the difference in securing a property at the right price. Their readiness to act swiftly and provide the necessary support as opportunities arise is a valuable asset in navigating this dynamic market.
Online presence
An agent's online presence can be a window into their professional world. Check for an up-to-date website and active social media profiles, which can offer insights into their engagement with the Silver Coast market.
Licensing and accreditation
Ensure that any real estate agent you consider is properly licensed and accredited. This confirms that they meet the professional standards required to operate in the Silver Coast region.
Experience with expats
Given the area's popularity with foreign buyers, find an agent with proven experience assisting expats. Their expertise can be vital in navigating cross-cultural transactions.
Transparent pricing
A reliable agent will be upfront about their fees. Look for clear, transparent pricing to avoid any unexpected costs during your property search on the Silver Coast.
While working with a real estate agency is a common route, considering a buyer's agent such as Goldcrest might be in your best interest if you're looking for dedicated support. If the distinction between the two is unclear, don't worry—the next section will clarify their differences to help you make an informed decision.
The Difference between Real Estate Agents and Buyer's Agents

Here are some of the key differences between a buyer's agent and a real estate agent:
While a real estate agent works on behalf of the seller and will get a higher commission, a buyer's agent works solely on behalf of the buyer, ensuring that there is no conflict of interest and that your best interests are met.
A buyer's agent will assist in the process, from scouting out properties that meet their exact requirements to assistance with negotiation and aftercare.
A buyer's agent will have access to exclusive listings you will not find elsewhere on the market.
Goldcrest: How We Can Help You
Goldcrest is a buyer's agent that is based in Lisbon. We provide expert, impartial advice on real estate investments and how to buy property in Portugal. From scouting out the perfect property through to property acquisition, we have you covered throughout the process.
If you are looking to purchase property in Portugal, don't hesitate to get in touch. Our team of skilled experts is available to solve all your real estate doubts, helping you with the property search and offering insightful expertise and strategic advice.
Why choose Goldcrest?
Local knowledge: With offices located across Portugal, our presence nationwide allows us to assist you personally across the country.
Independent service: As an independent buying agent, we do not represent any development or project. Our service is entirely tailored toward each individual client, providing you with everything you need to secure the perfect property at the best possible price. As an impartial advisor on the market, we work solely on behalf of our client and provide a service tailored to your needs and requirements.
Streamlined process: Our real estate agents speak English and Portuguese, and our service is completely focused on providing you with a hassle-free buying experience, saving you time.
Experienced team: Our expert real estate team has a vast local knowledge of the Portuguese property market. We have cutting-edge technology and metasearch tools at your disposal to provide full market coverage, ensuring the best investment choices and negotiated prices.
Network of partners: Lawyers, property management services, builders, architects, designers, and landscape gardeners, again saving you time and hassle by providing you with trusted experts in their field of work.
Member of the AIPP (Association of International Property Professionals), delivering company best practices and upholding professional values.
Frequently Asked Questions About Real Estate Agents in Silver Coast
How do I find a real estate agent on the Silver Coast?
To find a real estate agent in the Silver Coast, start by searching online for agents with strong reviews, ask for referrals from locals or expats, and check for membership in reputable Portuguese real estate associations. It's also wise to seek agents with a strong presence and a good portfolio of properties in the area.
Is real estate expensive on the Silver Coast?
Real estate prices in the Silver Coast can vary widely depending on the exact location, property type, and proximity to popular attractions. In Obidos, the average price per square meter is around €2,450. In comparison, Nazare's average is lower at €1,809, and Peniche's is even more affordable at €1,652.
What services can I expect from a real estate agent in the Silver Coast?
A real estate agent in the Silver Coast will provide services including property search, market analysis, negotiation with sellers, assistance with legal and procedural documentation, and guidance through the purchasing process.
How does a buyer's agent add value to my property search in the Silver Coast?
A buyer's agent adds value by offering tailored property searches, negotiating deals in your favor, providing exclusive market insights, and ensuring your interests are represented without conflict, especially in negotiations and closing deals.