Updated: September 26, 2023
Braga is a historic city located in the northwestern region of Portugal. It is the third-largest city in Portugal and is often referred to as the "Rome of Portugal" due to its numerous churches and religious sites. Braga is known for its rich history, which dates back to the Roman Empire. 
It's a popular destination for expats due to its affordable cost of living, high-quality healthcare system, and mild climate. It also has an excellent public transportation system, making it easy to get around. The city also has a lively cultural scene, with many festivals and events throughout the year, as well as lots of inexpensive restaurants.
Braga is home to a fantastic university with three campuses, making it a hub for education and research. What's more, the city is surrounded by beautiful countryside and is close to the coast, making it an ideal location for those who enjoy outdoor activities.
In this guide, we give an overview of Braga's cost of living as an expat with lots of information on estimated monthly costs and what you can expect in this beautiful city.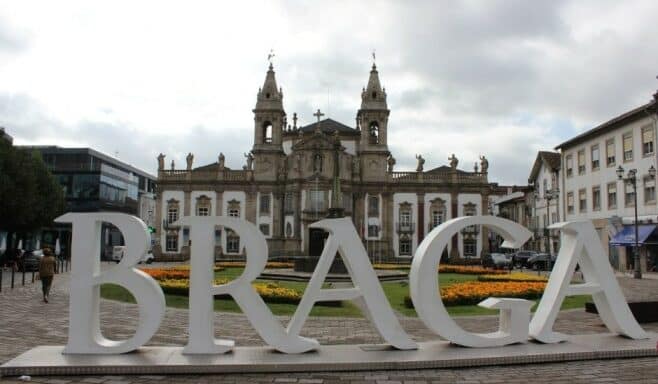 What is the cost of living in Braga?
Braga is known for its affordable cost of living, especially when compared with other European cities. The cost of housing is relatively low, with many options available for both renting and buying. Food and drinks are also reasonably priced, with many local markets and restaurants offering traditional Portuguese produce and cuisine at affordable prices.
Other consumer prices and monthly fees for goods and services are either comparable or lower than in nearby cities. 
Public transportation costs are also relatively low, with a good network of buses and trains connecting the city to other parts of Portugal, and a monthly pass for local transport is a good investment. Healthcare is also affordable, with a high standard of medical care available to residents and expats who have chosen private healthcare.
Is Braga an affordable city?
Braga is considered an affordable city to live in compared to other European cities. What's more, the cost of living in Braga is lower than in Portugal's major cities, such as Lisbon and Porto, while still offering a high standard of living.
Of course, monthly costs of living vary from household to household. It depends on the number of people, your personal expectations, lifestyle habits, and requirements. Generally speaking, however, it is possible to live a comfortable life on an average salary than in other major cities.
Cost of Living in Braga: Property
Buying a property in Braga
The process of buying property in Braga, Portugal, is generally a secure and straightforward process, similar to that in other regions of the country. Both locals and foreigners are subject to the same regulations, ensuring a fair and transparent process. 
However, since the process involves a considerable amount of paperwork, it is advisable to seek assistance from experts such as legal professionals who can provide guidance in your native language, as well as trustworthy buyers' agents who prioritize your specific interests. 
Here at Goldcrest, we have a team of experts who can assist you at every step of the property-buying process. From finding your ideal property to finalizing contracts and exchanging ownership, our team can provide comprehensive and reliable support in all stages of the buying process.
Compared to Lisbon, Porto, and Cascais, property prices in Braga are more affordable and you'll find a lot of cheap and mid range properties. In fact, Cascais is nearly 70 percent more expensive than Braga when it comes to real estate. 
Nevertheless, the cost of buying real estate in Braga will vary depending on several factors, such as the location, whether the property is in or outside the city center, and of course, the condition of the property you're interested in.
Our article Living in Braga: A Guide for Foreigners is a great resource for learning more about Braga and its neighborhoods, amenities, and facilities. 
On average, property prices in Braga's center are between €1350* and €2,600* per square meter. As mentioned above, this depends on the property's size, condition, and location. Prices for property outside Braga's center range between €900* and €1,000* per square meter. 
*The above costs are from Numbeo as of March 2023.
The following article may also be helpful for more in-depth information on buying real estate in Braga: Braga Portugal: Real Estate Luxury in the North.
Renting a property in Braga
If you're staying in Braga temporarily or want to explore the city before making a permanent commitment to living there, renting an apartment or house is a good option. The city has lots of rental options, and rental prices are significantly more reasonable in northern Portugal compared to Lisbon or the south of Portugal. 
Braga is also a lot cheaper than other European cities. For example, it is nearly 80 percent more expensive to rent property in London, UK, and up to 44 percent more expensive to rent in Madrid, Spain. Of course, rent prices in Braga depend on the size, location, and quality of the property you are interested in, and you may save money by committing to a longer rental contract.
If you're only staying for a few days or weeks at a time, then Airbnb is your best option for finding a variety of apartments and houses. Once you know you want to stay longer, check out the websites Kyero and Idealista, which are great for finding long-term rentals. Don't dismiss local Facebook groups, which can be a good way to find some of Braga's landlords and a good place to rent.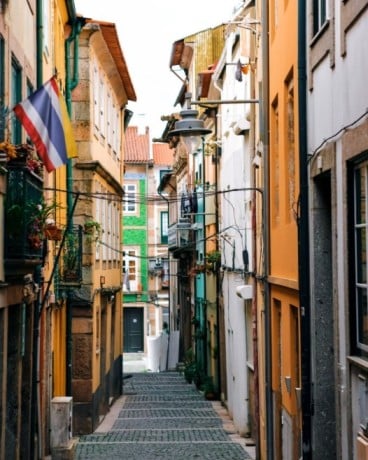 Generally speaking, prices for a one-bedroom apartment in Braga's city center cost between €500* and €680*, and for a three-bedroom apartment, you pay between €800* and €1,300*. Outside the center, you pay between €350* and €700* for a one-bedroom apartment and between €650* and €1,100* for a three-bedroom accommodation.
*The above costs are from Numbeo as of March 2023.
Cost of Living in Braga: Taxes and Bills
Taxes
Portugal is an attractive choice for many foreigners looking to settle abroad, thanks to its enticing tax benefits. The non-habitual tax regime (NHR tax regime) in Portugal offers exclusive tax benefits to expats in certain professions or those earning income from other countries.
Moreover, Portugal's D7 Visa, also known as the Passive Income Visa, allows individuals with a monthly income of at least €760 from passive income, such as a pension, to settle in the country. Portugal also has lower thresholds for monthly income compared to other European countries, making it a popular choice for expats worldwide.
It's advisable to seek professional advice before relocating to Portugal to ensure you pay the right amount of tax and avoid unexpected tax liabilities. You can find more information about tax laws for expats in Portugal, including its Double Taxation Agreements (DTAs), in our comprehensive guide on the Portugal NHR Program.
Utility costs
Portugal has not been immune to global price increases of gas and electricity, which has resulted in an overall cost of living increase in the country, including utilities' cost.
Nonetheless, utility prices in Portugal are still comparatively affordable, and the pleasant weather during spring and summer, coupled with milder winter months, implies that most households do not require heating for the majority of the year, leading to lower annual utility bills.
However, make sure that your home is well insulated, as winters can still get quite cold at times, especially in the north of the country, including Braga.
The overall estimated monthly costs spent on utility bills will be influenced by factors such as the size of the residence, the number of occupants, and the level of gas, electricity, and water consumption, as well as how well your property is insulated.
Other utility costs, such as Internet and mobile phone bills, will depend on the service provider, new customer offers, and the user's personal needs. For the best and most cost-effective deals, we recommend that you do some research and shop around. 
In addition, consider whether a prepaid mobile tariff is more suitable and cost-effective for your needs than an unlimited data plan.
The table below provides an estimate of utility costs for a small household of two people:
| Utility | Monthly Fee |
| --- | --- |
| Gas, electricity, water, garbage (for an 85 ㎡ apartment) | €97 |
| Internet  (60 Mbps or more, unlimited data, cable/ADSL) | €32 |
| Mobile phone (contract, unlimited data) | €30 - €40 per person |
*The above costs are from Numbeo as of March 2023.
Cost of Living in Braga: Other Costs to Consider
Although Braga is a vibrant and stunning city with a lot going on, its cost of living is lower in comparison to other cities, and expats certainly won't have to lower their quality of life. On the contrary: Living in the heart of the city, and even on the outskirts, means that you have access to everything you need.
What's more, this charming city offers a balance between its rich cultural heritage and modern society, and you can enjoy that on an average salary without paying a premium price.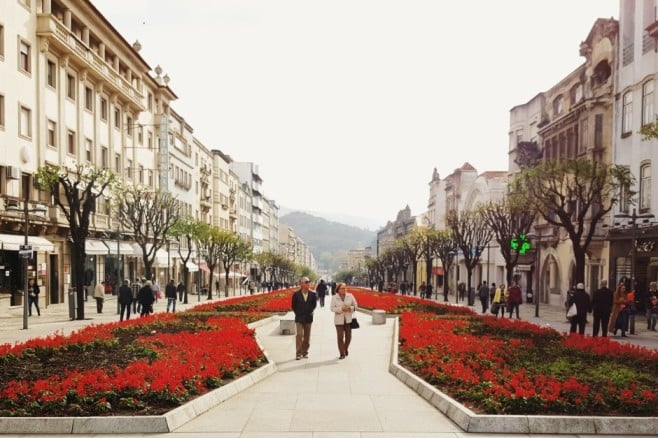 Restaurants
Braga boasts an exceptional gastronomy and hospitality scene with lots of inexpensive restaurants and plenty of mid range restaurants, too. Braga also has a wide range of cafes, bars, and restaurants catering to all tastes, requirements, and preferences. Portugal is renowned for its excellent fresh produce, particularly its fish and seafood dishes, and Braga is no different. 
Expats who enjoy dining out regularly or indulge in occasional treats need not worry about overspending, as eating in one of Braga's restaurants is good quality and won't break the bank, as prices are generally lower in Portugal's north, too.
You can enjoy a substantial meal at an inexpensive restaurant, paying between €6* and €20 per person. In a mid-range restaurant, you can expect to pay between €30 and €60 for a three-course meal for two people. 
Drinks are also reasonably priced, depending on where you go. A regular cappuccino costs between  €0.60* and €3, and a half liter of beer between €1* and €3. 
*The above costs are from Numbeo as of March 2023.
Household essentials and the cost of food in Braga
The ongoing cost of living crisis has resulted in an inflation of prices for daily necessities, such as food and toiletries. Despite this, Portugal remains one of the most cost-effective countries in Europe, with Braga's prices for essential goods also being lower than those in Lisbon and Porto. The table below offers an overview of some everyday food items:
| Item | Price |
| --- | --- |
| Milk (1 liter) | €0.72 |
| Fresh white bread (500 g) | €1.05 |
| Rice (1 kg) | €1.11 |
| Eggs (12) | €2.20 |
| Chicken (1 kg) | €5.05 |
| Apples (1 kg) | €1.56 |
| Tomatoes (1 kg) | €1.86 |
| Potatoes (1 kg) | €0.96 |
| Water (1.5 liters) | €0.63 |
*The above costs are from Numbeo as of March 2023.
Prices for toiletries will depend on where you go shopping. Supermarkets and chain stores will have regular special offers and may be cheaper, and you'll also be able to buy items in bulk. Overall, prices for toiletries are roughly the same cost across Portugal, and the table below lists a few of the basic items for personal hygiene.
| Item | Price |
| --- | --- |
| Shampoo | €3.41 |
| Toothpaste | €2.05 |
| Deodorant | €3.54 |
| Toilet paper (4 rolls) | €1.22 |
| Tampons (32 piece box) | €3.74 |
*The above costs are from Expatistan as of March 2023.
Childcare and schooling
Portugal is a fantastic country for families with children of all ages. Not only is Portugal one of the safest countries in the world, but it also has a comprehensive and first-class education system. Its public schools are free of charge to attend for all youngsters. However, a certain level of language proficiency in Portuguese is expected to ensure your child or children are getting the best out of their education.
Therefore, it may be better to explore the option of sending your children to Braga's outstanding international school, which is located in Braga's Gualtar neighborhood. This private school follows a British curriculum and caters to the needs of children from the ages of three to 18. For further information, you may want to read our article on Braga Neighborhoods close to International Schools.
If Braga International School is not quite right for you, around 45 minutes by car is Porto, which has a variety of international schools that also teach in languages other than English, such as French and German. For a list of Porto's international schools, consult our guide on Porto Neighborhoods Close to International Schools.
The fees for each of those schools vary, as do additional fees for enrollment, insurance, and school maintenance fees. If you enroll more than one child, you may be eligible for sibling discounts, but that is dependent on the individual school. 
For those who have completed secondary school and want to explore higher education, Braga is also home to a fantastic university that offers a variety of courses and qualifications. Braga is a popular university city with Portuguese and international students and has many opportunities and amenities for those who study here. If Braga university can't cater to the needs of your child, then Porto and its own university are not too far away.
The following school fees are an average and may vary from institution to institution and from year to year:
| Type of educational institution | Monthly/ Annual fees per child |
| --- | --- |
| Preschool/ Kindergarten, full day | €250 to €300 per month |
| International primary school | €5,000 to €6,480 per year |
| International secondary school | €9,200 to €13,000 per year (fee depending on year group and school) |
Healthcare
Regardless of whether you are eligible for Portugal's Serviço Nacional de Saúde (SNS), its public healthcare system, or choose to have private health insurance, you'll be in good hands and well cared for. The country is known to have one of the best healthcare systems in the world, and this makes it an attractive place for expats from all walks of life.
Portugal's SNS is comparable to that of the UK and Canada. It's either free or subject to small charges (between  €5 to €20). However, be mindful that dental care and plastic surgery are not included in the public health service and come at an additional cost.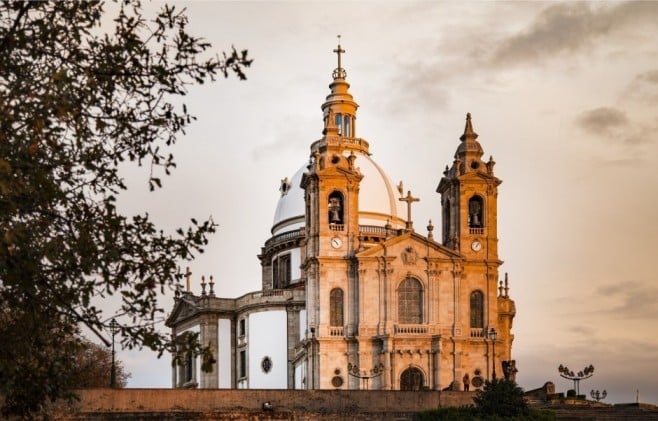 To be eligible for the SNS, you must be a legal resident and have registered with your local council, for which you need proof of address, your residency card, and any work visas before you can get your healthcare number. This number is important as you need to present it every time you use the SNS.
A lot of expats choose to pay for private health insurance in Portugal, as it's less expensive than in many other countries in western Europe. Through private health insurance, you have access to Portugal's fantastic private hospitals and general practitioners, and you may also avoid potentially longer waiting times for treatments. 
The cost of private health insurance depends on your age, overall health, any prior conditions, and medical history. Expect to pay between €400 and €1,000 per person per year for your personal private healthcare.
Transportation costs
Portugal's public transportation is well-known for being efficient, reliable, and low-cost. This means that getting around Portugal's major cities is easy and won't break the bank, often eliminating the need for your own means of transport altogether. Braga is no different and has a variety of transport on offer. 
It has plenty of bus routes and a funicular, the latter of which connects the city center to Bom Jesus do Monte, one of Braga's popular neighborhoods. The buses operate on multiple routes throughout the city and its surrounding areas, and the funicular is a scenic and novel way to reach the pilgrimage site on top of the hill.
You can buy individual tickets and fares, but frequent public transport users may want to invest in a monthly pass. One-way tickets on public transportation cost between €1.55* and €1.65*, and a monthly fee for busses costs between €16* and €30*. 
Taxis and Ubers are also quite reasonably priced, with starting fares from €3. A taxi ride from Porto airport to Braga city center costs around €50, but this depends on traffic and whether you are traveling in a standard car or a minibus.
*The above costs are from Numbeo as of March 2023.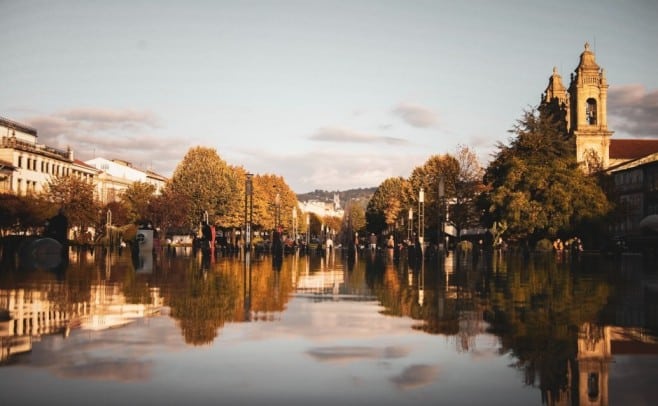 Sports and leisure
Braga is a great place to live, and rest assured that you will have plenty of things to choose from in your free time. A lot of those activities are reasonably priced or even free of charge.
Sports enthusiasts will be pleased to hear that Braga has its own stadium, the Estádio Municipal de Braga, which can seat over 30,000 people and hosts a variety of events, such as soccer games and concerts. 
In addition to the stadium, there are several indoor and outdoor sports centers, including the Pavilhão Flávio Sá Leite, which has multiple courts for basketball, volleyball, and other sports, and the Complexo de Piscinas da Rodovia, a swimming complex with multiple pools and diving platforms. Other facilities include tennis courts, fitness centers, and outdoor parks for jogging and cycling or leisurely walks.
Braga's rich history and culture mean that expats, locals, and visitors alike can explore the historic city center, which is home to many beautiful churches, plazas, and gardens. The city is known for its religious heritage, and visitors can climb the hill of Bom Jesus do Monte (or take the funicular) to see the famous sanctuary and enjoy panoramic views of the city. 
For nature lovers, there are several parks and nature reserves, such as the Parque da Ponte and the Parque Natural do Litoral Norte. Braga also has a vibrant cultural scene, with plenty of museums, theaters, and art galleries. Additionally, visitors can enjoy shopping, dining, and Braga's vibrant nightlife in the city center.
Although a lot of activities won't add hugely to the cost of living, you may want to consider the following leisure costs to add to your monthly budget: 
A monthly pass for a fitness center costs between €20* and €55*, depending on the establishment you choose, and to rent a tennis court for an hour can cost between €5* and €8.50*. To go to the cinema is also cheaper than in most other European cities, and tickets are between €6* and €8* for an international release, which is a regular price across most of Portugal.
Shopping
Braga offers a variety of shopping facilities and options, from traditional markets to modern shopping centers. In Braga's historic center, you will find many boutique shops and independent retailers selling handmade crafts, souvenirs, and local specialties, like olive oil and the famous Portuguese wine, which is definitely amongst the very best in the world.
Mercado Municipal is a bustling and fantastic market you won't want to miss. There you find fresh produce, meat, fish, and other local specialties, and it's a great place to experience and sample the city's food culture. 
Those who prefer shopping for familiar high-street brands and love modern shops will like Braga Parque, the city's largest shopping mall, which has over 200 stores, a food court, and a cinema. Other popular shopping destinations include Liberdade Street and the shopping center Nova Arcada.
The prices below are an average of high street or branded shops and give an overview of what you can expect to pay for clothing and shoes.
| Item | Price |
| --- | --- |
| Jeans (1 pair, Levis 501 or similar) | €25 - €100 |
| Summer dress (highstreet brand) | €12 - €40 |
| Running shoes/ trainers (branded) | €40 - €70 |
| Leather shoes | €40 - €70 |
*The above costs are from Numbeo as of March 2023.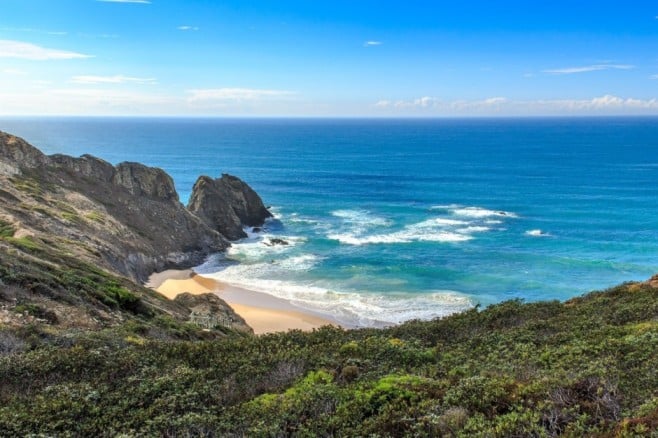 In Summary: The Cost of Living in Braga
Compared to other European cities, Braga offers a very affordable cost of living, making it an excellent choice for those seeking a high quality of life without the premium price tag. Of course, the amount of money needed every month will vary depending on individual circumstances, expectations, and lifestyle, but those looking for value for money will find plenty of options in Braga.
The healthcare facilities are great, and local transport is affordable and reliable, with easy access to most places in the city.
Property prices are reasonable, and rental costs are lower than in other western European cities like London or even other Portuguese cities like Lisbon and Porto. Additionally, everyday necessities are of high quality and reasonably priced, and there are many free activities available for expats living in Braga.
As a result, prices in Braga are low, whether you're a single person or a whole family on an average salary. If you're interested in buying a property in Braga or elsewhere in Portugal, schedule a no-obligation call with one of our experts, and we'll be happy to help.
Frequently Asked Questions about the Cost of Living in Braga
Is it expensive to live in Braga, Portugal?
Living in Braga is comparatively affordable compared to other European cities, with reasonable property prices and lower rental costs. The cost of living is low for Portuguese and EU citizens, digital nomads, and legal residents, offering city life at excellent value for money.
Is Braga, Portugal, a good place to live?
Braga is a fantastic place to live for expats from all walks of life. The city has something on offer for everyone and is rich in culture, history, and facilities for young and old.
Is Braga cheaper than Porto?
Braga is, on average, around 14 to 18 percent cheaper than Porto. Of course, monthly budgets depend on a person's or family's habits, requirements, and expectations, but it is easy to live a comfortable life in Braga without spending a lot of money.