Updated: September 29, 2023
Braga Portugal Real Estate
Nestled in the northwestern corner of Portugal, close to the Spanish border, lies Braga, a city famous for its historic monuments, adorning landscapes, and quiet charm. In the past years, the historic city has been ranked highly as one of the best cities to live in, not only in Portugal but in the whole of Europe. With this increased exposure and popularity, what does this mean for Braga Portugal real estate?
With over 2000 years of history, Braga is one of the oldest cities in Portugal. Today, you have cute coffee shops, cobbled streets, and top eateries, and there is a relaxed calm to the city that does not seem to be fazed by much. Take time for a café and some delicious Portuguese pastries, perhaps with the chime of the church bells ringing close by.
Braga Portugal real estate will likely become more sought-after in the coming years. At the moment, properties here remain affordable and, therefore, attractive for investors. As such, property purchases are likely to increase in the future. 
In this article, we'll provide you with all you need to know about this charming little city in the north. From Braga's history and cultural significance to information on prices and property types available, you'll learn everything about this gem in the north. After this, we'll determine why this part of the country- as opposed to the multitude of other beautiful locations – could be the perfect place for you.
For an overview of everything that you will need to know before you buy, you can see our article: Portugal Real Estate: Everything You Should Know Before You Buy. Also, our guide to finding a property in Portugal may come in handy.
The History of Braga
Civilizations in Braga date back to the Megalithic. Here, the region was part of Castro culture and became the domain of the Celtic tribe Callaici Bracarii. Following this, Roman rule came to the area, pacifying the northern regions. Founded in 20BC, the civitas of Bracara Augusta grew over the first and second centuries and was promoted to the capital of the administrative area in the third century. What is now Braga became known as the "Portuguese Rome " because of its many churches, chapels, and squares. 
Later, the Suebi, a Germanic people from Central Europe, invaded the Iberian Peninsula, ultimately creating a kingdom that spanned the north of Portugal, Galicia, and Asturias. Bracara was made the capital of the region, which would be under their control for 150 years. The Visigoths later took over the region, with Braga as its capital.
Braga and Religion
Braga would go on to be a very important piece for the Christianization of the Iberian Peninsula. Indeed, the first known bishop of the city, Paternus, lived in Braga in the fourth century. 
The Moorish conquest, with the brief capture of Braga in the early eighth century, led to a period of decline for the city. However, under the lead of Alfonso III of Asturias and his Christian forces, the Moors were repelled. There continued to be a series of attacks by the Moors until 1040, when Ferdinand I of Léon and Castile and his forces would defeat the invaders.
Up until 1147, Braga developed around the cathedral and became the residential seat of the Portuguese court. The Archbishop remained the most authoritative figure in the city. As the centerpiece of Christianity in Iberia, the city held a prominent role in medieval politics. For example, in assisting in the Independence of Portugal in 1143. 
16th Century to the Present
Given its distance from the coast, Braga did not share in the wealth that Portugal garnered from the Age of Discovery. In this, newer seats such as Lisbon, Coimbra, and Évora were favored. 
Nonetheless, Archbishop Diogo de Sousa sponsored several city developments. Larger streets, public squares, hospital foundations, and new churches kept the city center modern. The cathedral was remodeled and expanded, with a new chapel in the Manueline style. From these changes, Braga evolved from a Medieval town to a Renaissance city. 
Similar developments were made in the 18th Century, with architectural transformations in the Baroque style. This included churches, the municipal hall, the public library, and the Sanctuary of Bom Jesus do Monte (a must-see if you are in the area). These renovations provide Braga with a taste of different architectural styles that make up present-day Braga. 
The Battle of Braga took place in March 1809, when French troops took the town. During the subsequent Peninsular Wars, the city was relegated to its provincial status. The second half of the 18th Century saw new money and tastes instigating improvements in the city's architecture and infrastructure. The 20th Century saw similar bouts of growth and decline, changing demographics and infrastructure to cater for increased demand.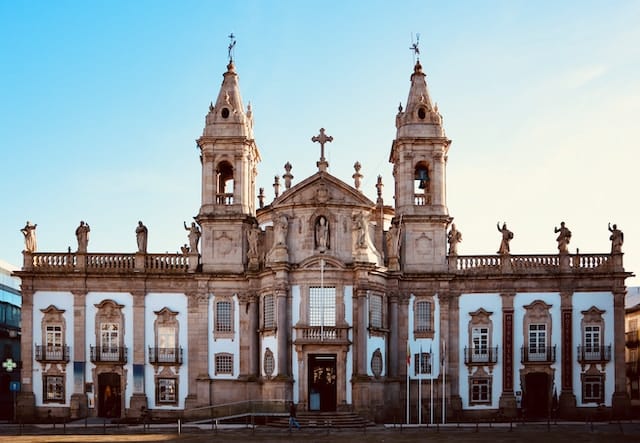 Culture in Braga
These days, Braga still delights in its historical monuments but also in its food and culture. Try the Francesinha (a meat-stuffed sandwich with a truly spectacular sauce), typical from northern Portugal, or dip into any of the local cafés for a sweet treat. 
The city center retains its local feel and, strangely still has the vibe of a small village. Indeed, the absence of large supermarkets has allowed local stores to flourish. After a few visits, you feel very much a part of the community, something that is missing in many other cities of its size.
As in any part of Portugal, art, music, and history are important aspects of life. You will regularly see art exhibitions and music concerts, and there are many museums to dip into depending on your interests. In addition, the cathedral offers spectacular views of the city and the surrounding landscapes.
Note that Braga does not have the thriving music and culture scene you will find in Lisbon and Porto. You will, however, find more localized and small-scale art exhibitions and museums that are just as enjoyable. 
In Braga, you are close to the Sanctuary of Bom Jesus do Monte, located on the slopes of Mount Espinho. As a UNESCO World Heritage site, it is well worth visiting this baroque-style sanctuary with surrounding gardens that were curated 600 years ago. 
Braga Portugal Real Estate: Why Buy in the North?
A hidden gem
The North of Portugal is not as well-trodden as other parts of the country. Look past the hotspots- Lisbon, the Algarve, Porto – and you have beautiful properties, spectacular landscapes, and quieter cities. Indeed, the Algarve is expat-heavy, Lisbon is an international hub, and Porto is fast becoming an investor's dream. 
If you would like a taste of the true Portugal, which is quieter and more relaxed than its larger counterparts, cities such as Braga offer this. 
Additionally, Braga was named the best European destination for 2021, Portugal's happiest city, and the fifth best European city to live in 2020, indicating its increased popularity and international recognition as a beautiful city.
A tech hub
For entrepreneurs, start-ups, and digital nomads, Braga has become somewhat of a tech hub in recent years, attracting international companies due to its affordability, the talent and skillsets of the Portuguese, widespread English proficiency, and strong expat networks. If you are interested in working as a digital nomad in Portugal, Braga could be the place for you, as the city follows in the footsteps of Lisbon and Porto.
Practicalities of Braga Portugal Real Estate
If you are looking to buy property in Portugal, the process is pretty straightforward for foreigners. However, it helps to have a simple guide that you can refer to in order to make buying a property as hassle-free as possible. Goldcrest, your real estate professionals based in Portugal, are here to help you secure your dream home, working with you every step of the way to ensure your exact requirements are met and that you have a guaranteed accurate price for the property. Buyer's agents that are deemed reliable will also have access to more properties on the market, including luxury homes. They will also be able to help with the negotiation stages, ensuring the price you receive is guaranteed accurate. Get in touch with us today; it can be as easy as sending us a text message.  
Braga Portugal real estate: Property types
Braga has many different house types of properties, including luxury homes, modern apartments, family houses, villas, estates, and equestrian properties. The list goes on and on, and you will find many property types in and around Braga that suit your needs. There are many types of luxury properties in and around Braga, where you will be able to find your dream home.
If you are on the hunt for luxury homes, check out our article: What Are the Main Types of Luxury Properties in Portugal?
Braga Portugal real estate: Prices
To provide you with an indication of the prices of properties in and around Braga, here are some averages from Numbeo.
An apartment in the city center will cost you

€2,300 per square meter

An apartment outside the city center will cost you

€1,217 per square meter
Prices will vary depending on the size of the property, the location, whether the property is new or old, and whether the property has had renovations. Additional facilities and perks, such as a pool, a gym, parking, air conditioning, or a garden, will also boost the price. Luxury homes will obviously come with a higher price tag. However, compared with equivalent luxury homes in other Western European cities, you should find luxury homes here to be on the more affordable side.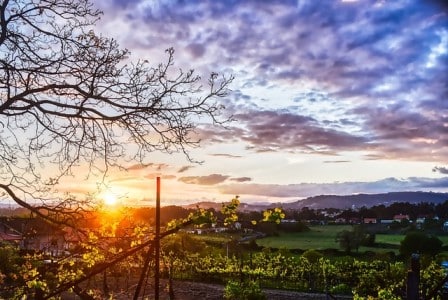 Foreigners Living in Braga: Residence Permits and Visas
If you are an EU citizen and you plan to stay in Portugal for a period of time longer than three months, you must request a registration certificate to secure Portugal residency. The registration certificate can be requested once you have arrived in Portugal, and it is valid for up to five years.
If you are a non-EU citizen who wants to live in Portugal, you apply for a visa in your home country and then a residence permit once the visa expires. The residence permit granted through the D7 Visa can then be renewed after one year for two successive periods of two years and can be converted into a permanent residence permit after five years. In addition, after five years of holding a residence permit under the D7 visa regime, you'll also be able to request Portuguese nationality, provided you fulfill the other requirements foreseen in the Portuguese nationality law.
Portugal Golden Visa
Golden Visas are an easy way to secure residency in another country in return for an investment in the country. The Portugal Golden Visa is for people who want to invest in the country, whether it is through the establishment of a firm, an investment fund, the transfer of cash, or the support of the arts, science, or the preservation of the natural heritage. Visa requirements and investment costs will vary depending on which investment route you opt for. After five years of applying for the Portugal Golden Visa program and maintaining your investment, you can apply for a permanent residency permit and Portuguese citizenship, provided you meet the requirements under Portuguese nationality law. With a Portuguese passport, you can enjoy benefits such as increased visa free travel around the world, greater financial freedoms, and the ability to live and work in any EU member country. 
D7 Visa
The D7 Visa is the best choice for you if you have a reliable passive income. This is a popular choice for retirees who want to escape the high expense of living in their home country and take advantage of Portugal's sunshine and high standard of living.
The Cost of Living in Braga, Portugal
The good news is that living in Braga, Portugal, is fairly affordable, especially when compared to the cost of living in other Western European cities.
Accommodation
Braga, Portugal, real estate for rent is more affordable when compared to Lisbon and Porto. According to the numbers given in Numbeo, the initial monthly rent for a one-bedroom apartment in the city center is approximately €654, and the monthly rent for a three-bedroom apartment is approximately €1,031. Like in most other cities, rental costs will drop as you move further from the city center.
Transportation
If you live in the city's heart, you can get around more or less wherever you want by foot. The closest airport is in Porto, which is also easily accessible by train, and there are good bus links to move throughout the area and nearby towns.
Food
Grocery shopping in Braga is less expensive than in most other European cities. Continente, Auchan, Pingo Doce, Lidl, and Intermarché are the major grocery chains present in Braga.
If you want to eat out, restaurants are relatively inexpensive in Braga. You can find excellent food and drink across the city. Try the Francesinha, a sandwich with meat inside and a particular sauce that is typical of northern Portugal, or visit a local café for something sweet. You will have plenty to enjoy in the north of Portugal when it comes to gastronomy, which is said to offer some of the best food in the country.
Weather
In Braga, Portugal, the weather is not as warm as it is in other parts of the country since the region is situated in the north of the country. The short, warm, dry, and bright summers contrast with the occasionally chilly, wet, and partly cloudy winters. Throughout the year, the temperature normally ranges from 6 Degrees C (42 Degrees F) to 27 Degrees C (80 Degrees F).
Frequently Asked Questions About Braga Portugal Real Estate:
Is Braga a good place to buy property at the moment?
The area is one of the most beautiful parts of the country, offering the potential for high investments as the region continues to increase in popularity. You will find many house types here, from modern apartments to more traditional townhouses. You will also find luxury homes in this part of Portugal that are reasonably priced. Working with real estate professionals deemed reliable, such as Goldcrest, can make the process of buying hassle and stress-free, ensuring that you get a guaranteed accurate price for the property. Braga homes are generally more affordable than buying property in Lisbon and Porto. When buying real estate in Braga, we highly recommend working with real estate professionals deemed reliable.
Is Braga a good city to retire to?
As Braga was voted the best European destination for 2021, the city itself is extremely beautiful.
From spacious mansions and city apartments to beachfront properties and luxury homes, there are many properties to consider. The surrounding areas offer scenic locations where you can enjoy the peace and quiet of your retirement. With healthcare facilities close at hand, you will have all the services that you will need.  
Is Braga a good place to live?
Braga is perhaps one of the safest cities in all of Europe because of its low crime rate. According to the 2023 Global Peace Index, Portugal is the seventh-safest nation in the world. Braga is also affordable, from checking out Braga homes to eating out in a charming restaurant, living in Braga is on the cheaper side compared to other Western European cities. 
Are foreigners allowed to buy property in Portugal?
Yes, and one of Portugal's most attractive characteristics is that there are no restrictions for foreigners looking to buy a dream home in the country. You should consider opening a Portuguese bank account to save on potentially costly foreign exchange rates. 
Whether you are looking at luxury homes or quaint townhouses, you'll find many property types available. We recommend working with real estate professionals deemed reliable.  Goldcrest, an independent buyer's agent in Portugal, can assist you in buying a home in Portugal from start to finish. We will also be able to help with the negotiation stages, ensuring the price you receive is guaranteed accurate.
When looking for property, a good place to start to get an overview of the real estate market is by checking out real estate websites. You will be able to determine the kind of prices you can expect for properties. You can also add more filters as per your search criteria. 
Is Braga expensive?
A family of four is predicted to spend €2,038 per month in Braga, not including rent. Without rent, the projected monthly expenses for a single person are €589. Compared to New York, Braga is 57 percent less expensive (without rent).
The property price will vary depending on the house type. Working with a buyer's agent will ensure you get a guaranteed accurate price, as they will work solely on behalf of the buyer. You will also come across stunning luxury homes in and around Braga. Although they come with a higher price tag compared with equivalent luxury homes in other Western European cities, you should find them to be on the more affordable side.
What is Braga like to live in?
The slower pace of life in Braga, as opposed to Porto and Lisbon, is undoubtedly one of its charms, even though Portuguese culture, in general, is usually pretty relaxed. Many foreigners who want to reside in Portugal have expressed interest in living in Braga due to the high standard of living and affordable housing. With many different property types, you should be able to find the home of your dreams in Braga. 
How can I find property in Braga?
Braga homes come in all different shapes and sizes, and it is the diversity of the types of Braga homes that is an attraction to expats. Whether you are looking for a modern apartment, villa, or country home, you should be able to find what you are after in the region. A good way to start is through real estate listing websites, adding in your search criteria, and then clicking "save search." By clicking "save search" and adding in your search criteria, you can also receive email notifications and get a property alert on properties that meet your criteria. You can set up more filters as per your requirements, such as if you would like to have a swimming pool, balcony, etc.
Note that there is no Zillow Portugal, and the real estate market is fragmented, making it difficult to find Braga homes just using online resources. As such, it can be a smart move to work with a buyer's agent, such as Goldcrest, who will work with you every step of the way to secure your dream home. While creating email notifications through the "save search" tip mentioned above is good for setting up a property alert straight to your inbox, nothing compares with working with real estate professionals who are deemed reliable in Portugal and who will also have access to more properties on the market, including luxury homes, plus new listings.