Updated: August 11, 2023
The Algarve is one of the most developed regions in Portugal, with strong cultural factors and great lifestyle standards. This region is located in the southernmost part of continental Portugal and is full of serene beaches, natural scenic beauty, rich Portuguese heritage, and contemporary modernity. It's no wonder that the region attracts many tourists in the peak holiday seasons. Mainly because of the affordable cost of living in the Algarve, Portugal, many foreigners consider this region as a second home.
Foreign nationals from the United Kingdom, the United States of America, and many other countries choose to retire to the Algarve or purchase real estate properties here to access the vast array of benefits the region offers. You can start living in the Algarve if you have a Portugal Golden Visa or through one of the country's other residency programs. 
If you are considering buying a property in Portugal, the Algarve should be on your list of preferred locations. In this article, you can find all the necessary details about the various lifestyle costs in the region. This article will help you compare the Algarve to other European destinations.
In this article, you will find:
Reasons to live in the Algarve region

Long-term rental costs

Short-term rentals costs

Cost of food

Grocery costs

Restaurant costs

Utility costs

Transport costs

Other costs (medical insurance, shopping, Portuguese bank account, activities, etc.)

Cost of co-working spaces

Conclusion
Reasons to Live in the Algarve, Portugal
In the last few years, the Algarve has become a top choice for foreign nationals and expats looking for a place to settle down. The Atlantic Ocean encircles this region in southern Portugal on both the southern and western sides. On the east, it has the Guadiana River flowing down the border with Spain. 
The main administrative city center is located in Faro, one of the finest districts in the region. But there are many other areas, such as Albufeira, Lagos, Monchique, Quinta do Lago, Tavira, and Silves, where you can buy or rent a property.
 Some of the highlights of living in the Algarve are
Great cost of living 

Amazing healthcare system

Affordable rental costs

Cost-effective property buying costs

Pocket-friendly food, internet, and utility costs

Inclusive local culture, incredible beaches, and historical value

A plethora of recreational activities
For more information, you can check out our article on How to Buy Algarve Real Estate to understand the property prices, property transfer tax, etc., in the Algarve region. You can also check out our article on the Celebrity Hotspots in Algarve to know why the Algarve region is so popular for tourists and celebrities. 
Rental Costs in the Algarve
When it comes to the cost of living in the Algarve, house rentals are quite affordable. You can easily live in the Algarve without first buying a property, which gives you time to determine which neighborhood could be the perfect spot to purchase a house. The minimum cost of monthly rental prices starts from €600, for which you can find a decent one-bedroom apartment. While inside the city center, the average rent of a one-bedroom apartment is €900. 
It is easier to find long-term rental properties in the winter months as it is not the peak tourist season in the region. During summertime, the Algarve attracts many visitors, often making it difficult to find suitable places at a lower price. 
You can contact a real estate agent or browse online house rental websites in Portugal to look for all kinds of properties, such as T0, T1, T2, etc. For your reference, T0 apartments in Portugal mean a studio apartment, T1 is a one-bedroom apartment, T2 is a double-bedroom apartment, and so on.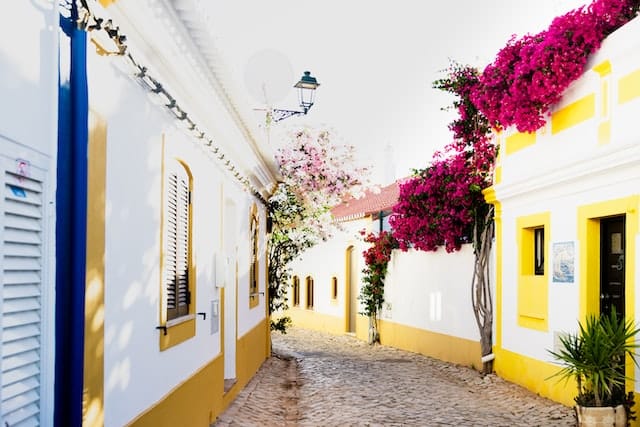 Short-Term Rental Prices in the Algarve
Before deciding on a permanent or long-term living arrangement in the Algarve, you can start by living for short periods in a particular place to get a feel for the different areas. Apart from hotels and resorts, there are many Airbnb properties available for tourists. Plus, you can book a rental property for one or two weeks as well, as per your spending habits.
As we previously mentioned, winter is usually more convenient for finding short-term rentals as the property prices are comparatively lower. For only a few hundred euros, you can rent a traditional Portuguese house or a furnished two-bedroom apartment in the off-season.
Cost of Food in the Algarve
In comparison with other European countries, Portugal is quite an affordable place in terms of food. The Algarve is home to several famous Portuguese eateries and many other versatile restaurants serving a variety of cuisines. By spending only €8-€15 at any standard Portuguese mid-range restaurant in the Algarve, you can satiate your hunger to your heart's content. For more expensive restaurants, the average price may go up to €25-€35 per person. If you plan on cooking meals for yourself, you can buy food items at an affordable price. 
Grocery Shopping Costs in the Algarve
There are multiple supermarkets and local markets where you can find all kinds of food and grocery items. The monthly grocery expenses for a family of two comes to around €80 – €160.
You can opt for Portuguese supermarkets, such as Pingo Doce, Jumbo, or Continente, to buy your monthly groceries regularly. You can also find many food items, minced meat, canned fish, and rare spices in these places. It is best to rely on local markets for fruits and vegetables, and they also sell fresh seafood and organic produce. 
The following items are each prices at €1.5 each: liter of milk, a kilogram each of rice, potatoes, onions, bananas, tomatoes, and apples. A kilogram of chicken is usually available at an average price of €4-€5, while a block of cheese will cost you €7-€8. 
Restaurant Costs in the Algarve
If you live in a non-touristic place, many restaurants serve a complete menu that includes a starter, a main course, and dessert for between €10 to €20. If you want to eat on an a-la-carte basis, you can find signature Portuguese dishes like Piri Piri chicken, Bifana (pork sandwich), or a seafood main course for around €10. One of the favorite food items in Portugal, the pastel de nata, is available for only €2 in many places. 
There are a wide range of luxury and multi-Michelin star restaurants spread all over Albufeira, Lagos, and other regions. These kinds of eateries are obviously more costly,  but you can get some world-class dishes for special occasions. 
Electricity, Internet, and Utility Costs in the Algarve
For a standard apartment for two people, basic utilities, including electricity, gas, heating, cooling, garbage, and water, will cost you around €100-€150. Depending on yourthe usage, this cost may increase or decrease. For example, during the summer, you may need air-conditioning as it can get very warm. Most apartments are well equipped with air-conditioning systems that can provide heating and cooling. If you need a separate heater or fireplace during winter, it will add more to your living costs.
Internet costs may vary depending on the service provider. On average, you can expect to pay a monthly average price of €40-€50 for internet at home. There are multiple mobile network service providers in Portugal that can provide you with internet packages along with a prepaid mobile tariff. 
Alcohol Costs in the Algarve
Alcohol is relatively cheap all over Portugal. For example, you can buy a regular household bottle of wine for as little as €2-€3. If you want to try out a little fancier wine, it will cost you €8-€10. If you visit a pub or a brewery, you can get a glass of beer or wine starting from €1.5-€3. Just to note, Portuguese wines are amongst the best in the world, and you can buy top-quality bottles at very affordable prices.
Transportation Costs in the Algarve
The Algarve is well connected by public transportation, such as trains and buses. Public buses connect most of the important stoppages around the region. A bus ticket from Faro Airport to Albufeira or vice versa will typically cost you between €4-€6. By spending only €2-€8, you can get bus tickets to and from popular places, such as Faro, Lagos, Albufeira, Praia da Rocha, Monte Gordo, Silves, etc.
Trains are also relatively cost-effective, especially if you are traveling long distances. If you can book your rail tickets at least a week before your journey, you can get good discounts as well. For example, a train journey between Faro and Lisbon usually costs €38-€41 on the day of the journey, but if you can book the tickets earlier, you can buy a ticket for only €19-€28. 
Buses are a great way to get around the Algarve, although, if you are living in the countryside, they may run less frequently. If you want to get around the Algarve region more conveniently, it is better to have access to a private car. 
There are a lot of options available for car rentals in the Algarve. You can rent a car long-term from your nearest local rental company. There are lots of car rental options available per day as well. Usually, car rentals in the Algarve cost €25-€35 per day, but you can get lower prices during off-seasons.
Cycling and biking are also becoming popular in the region recently, and you should find many rental places dotted around the Algarve. 
Other Costs to Consider
Health insurance costs
Portugal has an excellent public health service called the Servico Nacional de Saude (SNS) or the National Healthcare System of Portugal, which any citizen or resident can access. There are also certain health insurance plans available monthly or yearly in the Algarve for both EU and non-EU citizens. 
If you are living in the region for a short time, you should get insurance coverage before heading to Portugal. EU citizens can benefit from the European Health Insurance Card (EHIC) scheme. 
Language classes
Many Portuguese language training sessions are available in the Algarve for groups and individuals. A group class usually costs €60-€75 per month, while the average cost of individual sessions is come at the cost may be €15 per hour. 
You can also enroll in an official certificate Portuguese language course in an international school such as the University of Algarve. Generally, the language courses is for adults in such institutions and costs €280-€300 per semester. 
The cost of fun activities in the Algarve
The Algarve is a vibrant place when it comes to recreational and fun activities. On average, a two-hour surfing lesson in the Algarve costs €25-€35. A boat trip around the fantastic beaches and caves of the Algarve will cost you €20-€50. There are also many wine-tasting tours available in the region. Private wine-tasting tours start as low as €55, but the price can increase for more luxury tours. 
Shopping costs
There are many shopping malls and stores in the Algarve to satisfy every shopper's tastes. You can visit the Forum Algarve and Algarve Mar in Faro, Algarve Shopping near Guia, or Aqua in Portimão. 
You will find international brands as well as local sellers at these shopping centers. 
Bank accounts and currency transfers
If you plan on living in the Algarve for an extended period of time, it is wise to set up a Portuguese bank account in the region for your convenience. Most banks usually charge certain legal fees of €5-€10 for a single account. If you're looking to move funds from your home bank account to your Portuguese bank account, it's worth consulting a finance professional who can help you avoid unnecessary fees when transferring your funds.
The Cost of Co-working Spaces 
Even if you are not employed in the Algarve yet long to live there while keeping your job, there are certain co-working spaces available. Please keep in mind that the Algarve is not as advanced as Lisbon or Porto regarding shared working spaces for digital nomads and remote workers. Most of these co-working spaces cost €8-€20 per day, depending on the amenities they offer. Depending on the place you choose, there may be a separate security deposit.
Summary
Since Portugal has flexible regulations regarding buying property for foreigners, you can easily purchase your dream house without many problems. Being one of the most popular regions in the country, the Algarve is a top choice for living in Portugal. 
You will be able to enjoy living in this stunning part of Portugal because of the captivating scenic beauty, modern lifestyle standards, and affordable cost of living. 
If you need more insights on purchasing real estate in Algarve, you can check out our Algarve Real Estate guide. Here at Goldcrest, we offer practical real estate advice for buying properties all over Portugal that is completely tailored towards each individual client. 
Our team works towards providing practical guidance to our clients, ensuring maximum benefits and safety coverage. Our professionals can help you with all the paperwork while buying property in the Algarve region, working with you from sourcing properties through to signing the title deed.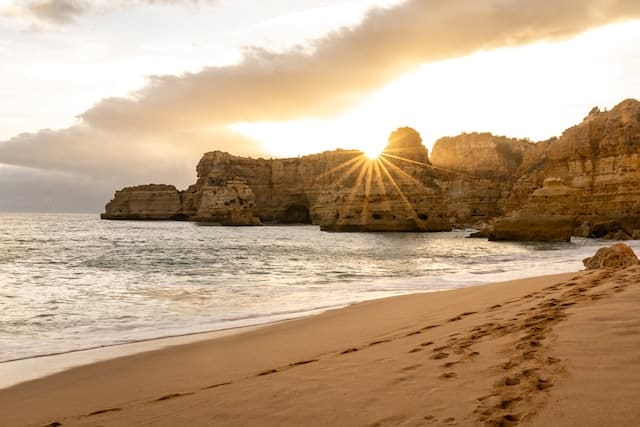 Additionally, you can refer to our residency and citizenship division, Global Citizens Solutions, to check their article on Portugal Golden Visa and learn more about acquiring residency in Portugal through this residency-by-investment program. 
You'll also find land for sale in the Algarve, which could be a cost-effective route to building your dream home from scratch.
Also, because of the cost-effective benefits of the Algarve, it can be a wise retirement choice for foreigners. You can find all the details in this article on Retirement in the Algarve.
Finally, you can also check out the benefits of living in other parts of Portugal, including Lisbon, Porto, etc. 
Frequently Asked Questions about the Cost of Living in the Algarve
How much is the rent in the Algarve, Portugal?
In the Algarve, the monthly rental price of a one-bedroom apartment in the city center ranges from €600 to  €1200, while outside the city center, the price falls between €450 to €800. For three-bedroom apartments, the rental price usually varies between €800 and €1700 depending on the location and the property.
Where is the cheapest place to live in the Algarve, Portugal?
You'll be able to find affordable properties in Tavira and the eastern Algarve. You can also choose Portimão, which has a lot of scenic beauty.
Explain the cost of living in the Algarve compared to the UK.
Compared to the UK or any other EU country, Portugal has quite an affordable cost of living. For the Algarve region, with a monthly budget of €1,200-€1,500, you can live quite comfortably.
Is it expensive to live in the Algarve, Portugal?
The cost of living in the Algarve depends a lot on your lifestyle. While the region is more costly than some of the interior villages of Portugal, living in the Algarve is comparatively cheaper than in Lisbon or some Western European countries. You will need to secure residency to live in the Algarve if you are a non-EU citizen. A popular way to do this is through the Portugal Golden Visa program. Although for much of the Algarve, purchasing residential real estate does not qualify for the program, commercial property is a viable option. Plus, there are a few places, such as Aljezur, where you can find eligible residential properties.
Note that the Golden Visa program is coming to an end. If you are interested in applying, we highly recommend that you do so now.  
How much money do you need to live comfortably in the Algarve?
Depending on your spending habits and preferences, you can live on an average budget of €1,200-€1,500 in the Algarve.