Updated: August 14, 2023
With staggering cliffs, hidden sea caves, and pristine beaches, there is nowhere else quite like the Algarve. Whether you are looking for a taste of luxury or for a more authentic Portugal, the Algarve will welcome you with open arms. This, in essence, is what makes the region so spectacular – it can cater to your needs, whatever they may be. The Algarve real estate market has moved from strength to strength and it's easy to see why this region of Portugal will continue to thrive in the coming years.
In this article, we'll provide you with an overview of Algarve real estate in Portugal and the investment opportunities you'll find in the region before delving into the different areas to buy a property. After this, we'll run over practical information and some cultural aspects of buying in the sunny south of the country.
Our article, Portugal Real Estate: Everything You Should Know Before You Buy, provides you with everything that you will need to know about buying property in Portugal.
Why invest in Algarve real estate in Portugal?
With the possible exception of Lisbon, the Algarve is the most well-known region in Portugal. And you only need a short visit to see why. With a long coastline, the southern region of Portugal attracts millions of visitors each year – whether it is the sublime climate, the delicious culinary delights, or the vast stretches of sandy beaches. Many celebrities have even been enticed by properties for sale in the Algarve, Portugal, and now call this stunning area home.
These are just some of the qualities that have made the south of the country a staple in Portuguese tourism and the reason why expats and investors have consistently set the Algarve in their sights. Whether you are looking for a private condominium, an investment property, or a waterfront home, you'll find several property types in the Algarve to discover your dream home. 
Algarve Real Estate in Portugal: Rental Yields
The golden coast of the Algarve is a great place to buy an investment property in Portugal. This is particularly the case if you are considering beach real estate or luxury homes. In 2022, homes for sale in the western Algarve saw great demand from foreign buyers. To highlight the region's consistent rise in popularity, the Algarve has registered a growth rate of almost 88 percent from 2017 to 2022, with foreign buyers paying an average of €3,660 per square meter in 2022. 
The Algarve is a good location to find investment property for buyers. Looking at rental yields in the Algarve, you'll find ranges of between 3.56 percent to 5.03 percent, depending on the location. In areas such as Vila Real de Santo António and Portimão, yields are amongst the highest, at 5.03 percent and 4.95 percent, respectively.
In terms of property types, the Algarve has it all. You can find villas for sale with a private pool or houses for sale near the beach. If you're in the market for something more affordable, set up email alerts for bargain properties for sale in Algarve, Portugal. Banks often list repossessed properties on websites like Idealista at bargain prices. You'll be pleasantly surprised by what you are able to find without paying the maximum price, with property types from luxury Algarve homes to apartments.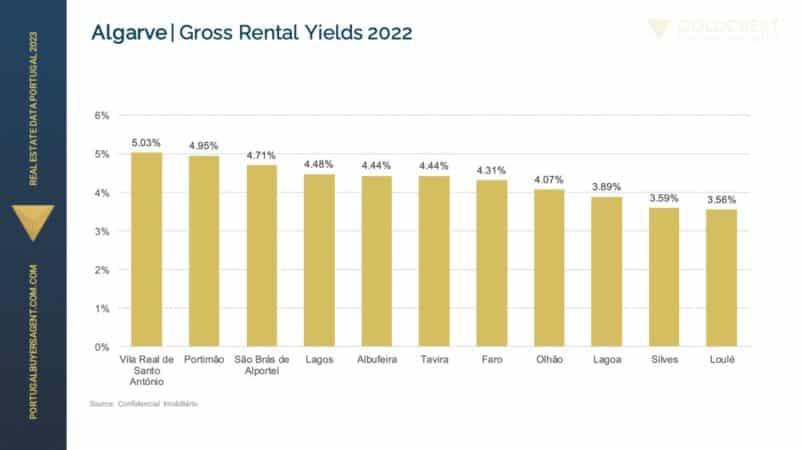 Homes for Sale in Algarve, Portugal: Prices
There are many areas to find homes for sale in the Algarve, Portugal, and you'll find that Algarve real estate prices vary from place to place. The Algarve is split into specific regions, each with its own price range. For example, in the central Algarve, you will find luxury homes with private pools and high levels of comfort. You can even find properties in the "Golden Triangle" of Quinta do Lago, Vale do Lobo, and Vilamoura that can cost as much as €14 million, although this is on the highest end of the spectrum. You'll find several property types at much more affordable rates. 
In the west, you have Lagos, which is also an in-demand location. Further west still, Sagres (Vila Do Bispo municipality) tends to be more affordable. In the eastern Algarve, you can find more affordable properties and a more "authentic" side of the Algarve. It is worth noting that, in general, as you move further north from the Algarve, property prices will start to decrease. 
Prices in the Algarve will also be reflected by the type of property you are looking for and the additional facilities that you want, such as a pool, gym, sea view, proximity to the city center, etc. The Algarve offers many different property types – modern apartments, beach houses, villas, luxury homes – so it's best to first determine which property types you are interested in, alongside the region.
Expats in the Algarve
The results of the 2021 Census, released by the National Statistics Institute (INE), showed that foreigners made up 14.7 percent of the population residing in the Algarve, Portugal. The British have long held a very special place in their hearts for the Algarve. Their presence has not changed, with British retirees continuing to grace the southern coast. Indeed, the British accounted for 33 percent of foreign property purchases in the Algarve in 2019.
However, the British are not alone in the South. There is now a strong European expat community, with the French, German, Dutch, and Swedes all setting up shop in the Algarve.
While the climate, beaches, and relaxed way of life are all major pull factors for expats in Portugal, there are also significant tax benefits on offer. The non-habitual residence (NHR) scheme can allow expats to live with certain tax exemptions for ten years – an attractive scheme for retirees and families alike. It's no wonder that the Algarve is one of the most popular searches for expats looking to find their dream home. With such attractive benefits of living here, properties for sale and new listings are guaranteed to be snapped up by eager investors.
Where to buy Algarve real estate in Portugal?
The Algarve is split into 16 different municipalities, and each municipality offers something slightly different for buyers. In each region, you will find attractive homes for sale in the Algarve – luxury homes, villas, and many properties with a sea view. Perfect property types for your dream home or even as an investment property. You'll find a variety of property types across the region. You'll even come across vineyards for sale in the Algarve if this is something that you would be interested in. Here we provide you with a brief rundown of what to expect from buying property for sale in Algarve, Portugal – divided neatly into three main areas to find stunning Algarve homes.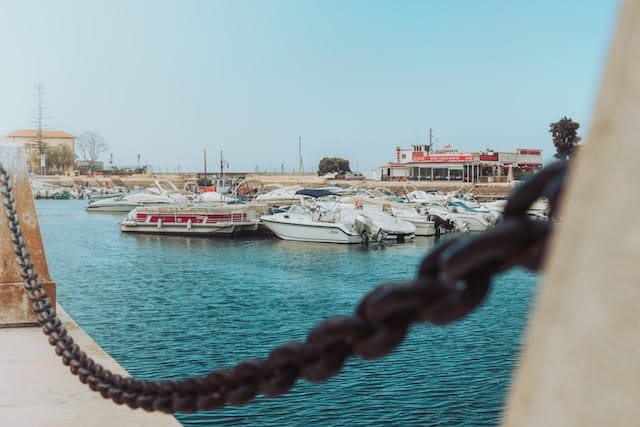 Central Algarve
The central Algarve is very popular with retirees. Vilamoura (in the Loulé municipality) was built as a resort town and provides luxury property types, beach clubs, a golf course, and a casino, plus a large marina. Portugal's "Golden Triangle," close to Quinta do Lago and Vale do Lobo, offers a picture of true luxury where many would like to find their dream home. Here you have stunning luxury homes with a sea view, private pools, and fine dining. 
Nearby Almancil has the same vibe as these resorts, with a smaller price tag. There is also a greater historic flair here, with the graceful 18th-Century white Church of São Lourenco. Algarve homes here are perfect for history buffs.
Albufeira, not far east of Vilamoura, is arguably the liveliest city in the Algarve. With many tourist attractions, such as boat trips in the day, and a buzzing nightlife scene, the city is pretty much built to cater to its expat population. 
Portimão is also a viable option, with a heavy expat population, watersports, and a buzzing scene. Here, there are plenty of places for evening dining and partying. For those wanting a quieter place, it is recommended to look elsewhere. The eastern Algarve is an appealing area for a more tranquil lifestyle.  
All these locations are very close to Faro Airport, so travelers looking to get around easily should have no problem.
Western Algarve
The western Algarve is characterized by stunning rock formations, beach houses, and spectacular views. Those who enjoy water sports will also be happy to know that this is the place to be in the Algarve. With this area being so popular, it's not uncommon for people to search here for a dream home.
Lagos has a strong expat community and a rich history. There is a good nightlife scene here, although the area is also attractive to families – there are two very good international schools close at hand, the Nobel International School and the Vale Verde international school. It has a very relaxed vibe, and if you simply visit for a few days, you will no doubt want to stay much longer. If you are thinking of buying here, a real estate agent in Lagos can help you. with the buy. 
On the tip of the country, you have Sagres, a town considered quieter in terms of expats, but haunted by the beautiful power of nature. The westerly point retains its Portuguese essence, with delicious eateries and a laid-back ambiance that doesn't seem to have changed much over the years.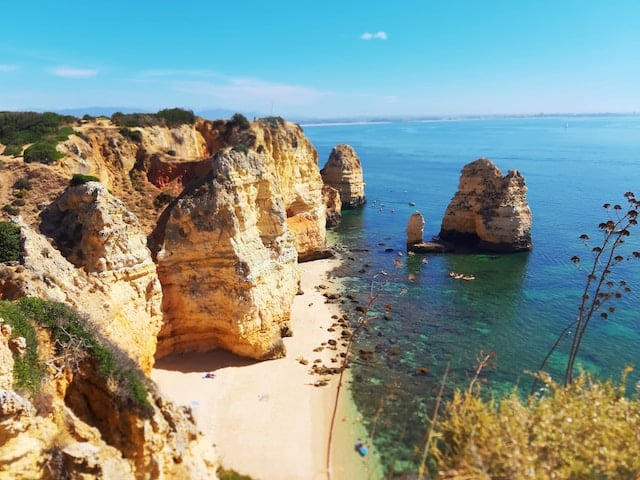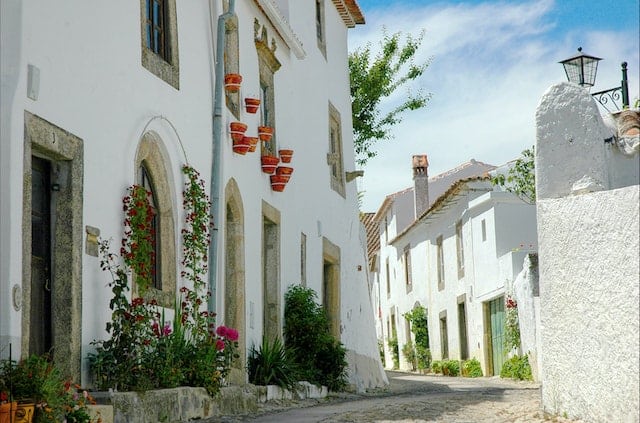 Eastern Algarve
In comparison to the central and western Algarve, properties in the east tend to be cheaper. This is partially due to the eastern Algarve real estate market being relatively underdeveloped. 
The eastern Algarve is perhaps the most authentic, and its natural beauty is well-known across Portugal. Take the Ria Formosa Natural Park, a coastal lagoon located between Faro and Tavira. This is one of the standout locations in the country and well worth a visit (and to find an investment property). 
The beautiful calm of Tavira provides you with the perfect mix of beach and town, with beautiful beaches just a short trip away. You definitely won't have to sacrifice a sea view to find your dream home here. And the city itself is a gem, with blue and white houses, the Gilão River running through, and hip new restaurants cropping up next to traditional seafood eateries. The seven-arched bridge, constructed by the Romans, and the Moorish flair across the city will keep history lovers happy. 
For those looking for a more undiscovered corner of Southern Portugal, Castro Marim could be an excellent option. This is a historic recluse close to nature with whitewashed houses that have distinct blue linings. Alcoutim is the least densely populated part of the Algarve. Without the many expats that constantly head to the Algarve, this could be a peaceful retreat for you. An added bonus of these two areas is that real estate here is much more affordable than elsewhere, meaning you can still find luxury homes without paying the maximum price imaginable. You'll also find land for sale in the Algarve, which is the perfect way to build your dream home from scratch. 
A great way to stay on top of new listings and homes for sale is to set up email alerts. Get notified about the property types you are looking for, as well as the areas you are interested in.
 Dream Locations to Find Real Estate in the Algarve
Below, you'll find a selection of articles where you can browse through some of the best locations to find real estate in the Algarve. Each is wonderful in its own right, so you can decide which area is right for you. 
Practical Information on Algarve Real Estate in Portugal
The climate of the Algarve
You are no doubt aware that the climate of the Algarve is extremely favorable, and is one of the key reasons why so many expats head to this part of the country. The region has more than 300 days of sunshine each day, perfect summers, and mild winters. The daily average highs are 33 degrees C in July, and the average temperatures in January, the coldest month, are 12 degrees C. It also tends to rain very little in the Algarve, with most rainfall between November and March. Even in the winter months, you should be able to head to the beach and the great outdoors. 
Beaches of the Algarve
It is common for people to look for houses for sale in Algarve near the beach. In fact, the beaches here are one of the main selling points of the region. With white sandy beaches, top surf spots, and stunning rock formations, you will be spoilt for choice. Take the Bengali Caves, the striking sea caves accessible by boat, or the seemingly endless beach of Praia do Barril in the east. With the beaches in the Algarve, we are certain that you will find no complaints on this front.
Lifestyle and culture of the Algarve
With most of the year brimming with sunshine, it's easy to stay active in the Algarve. Whether you are into hiking, golfing, pilates, yoga, or other sports and activities, you should be able to find a viable place for you to enjoy yourself. These are also great ways to meet fellow expats.
There are also perfect waves, so if you're a keen surfer, you will be able to get your fix. Sagres is a particular favorite among surfers. If you would simply like to try out surfing, or a wide range of other water sports, there are plenty of options for you. 
Keen golfers will be happy to know that they are in one of the best possible locations. There are an impressive 31 golf courses across the region. 
For those into fine dining, there are six Michelin-starred restaurants in the Algarve. However, if you move to the Algarve, you'll quickly come to realize that food is excellent, from international restaurants to family-owned Portuguese eateries. Indeed, you will eat well, with fish specialties across the region mixed with fresh produce and robust wines. 
There always seems to be something going on in the Algarve. With many historical, musical, and food festivals throughout the year and across the region, there is something for everyone.
Transport in the Algarve
The most practical way to get around the Algarve is probably by car, but public transport is not out of the question. In fact, the region has a very good rail system. You should be able to get from one place to another relatively easily. Bus routes are also widely spread out across the region to get from A to B. 
When it comes to traveling to the Algarve by plane, Faro Airport is in the center. This is very handy if you are living in the central Algarve. Nonetheless, the Algarve is not so big, and you can easily get around the region in a relatively short amount of time. Portugal's train network is reliable and is handy for travel between major towns like Faro and Tavira. With good transport links in Faro, you should not have too many difficulties. From Faro, you can easily get to Lisbon by train, which takes between three to four hours. 
The beauty of Portugal is that you don't have to pay the absolute maximum price to live a good-quality life in a place as beautiful as the Algarve. Homes for sale here range from luxury and modern to traditional and rustic, catering to the needs of its diverse population. With the opportunity to have a breathtaking sea view, reliable public transport, and an excellent standard of living, the Algarve, Portugal, is certainly the place the find your dream home.
If you have your eye on a home for sale in Algarve, Portugal, visit our guide on How to Buy Algarve Real Estate.
Schools in the Algarve
The Algarve is not just a great place to live with family because it is possible to be outdoors for most of the year and make the most of enjoying watersport activities, hikes, and spending quality time together. There are also 12 excellent international schools in the Algarve region, providing a variety of curricula and teaching styles. 
If you are considering moving to the Algarve with your family, you should be able to find the perfect school to suit your needs. You can find out more in the International Schools in Portugal Guide, put together by our Residency and Citizenship division, Global Citizen Solutions.  
Read More
Here are some articles you may be interested in:
Other locations in Portugal to consider buying property include the following: 
Why choose Goldcrest?
At Goldcrest, our team will be delighted to help you find the perfect property for your investment. We offer expert and impartial advice, working with you to find the perfect home or substantial real estate investment in Portugal's most desirable locations and at the best possible terms.
Our team works diligently to ensure the correct steps have been carried out, safeguarding you from poor property investments. For the past decade, we've been building our inside knowledge of the local property market and have established extensive connections across Portugal, enabling access to an exclusive list of properties and investment routes, as well as new listings.
Local knowledge:

With offices located across Portugal, our presence nationwide allows us to assist you personally across the country.

Independent service:

As an independent buying agent, we do not represent any development or project. Our service is entirely tailored toward each individual client, providing you with everything you need to secure the perfect property at the best possible price.

As an impartial advisor on the market, we work solely on behalf of our client and provide a service tailored to your needs and requirements. 

Streamlined process:

Our real estate agents speak English and Portuguese, and our service is completely focused on providing you with a hassle-free buying experience, saving you time. 

Experienced team:

Our expert real estate team has a vast local knowledge of the Portuguese property market. We have cutting-edge technology and metasearch tools at your disposal to provide full market coverage, ensuring the best investment choices and negotiated prices.

Network of partners:

Lawyers, property management services, builders, architects, designers, and landscape gardeners, again saving you time and hassle by providing you with trusted experts in their field of work. 
Frequently Asked Questions about Algarve Real Estate in Portugal:
Where is the best place to buy Algarve Portugal real estate?
This will depend on what you are looking for. The "Golden Triangle" in the central Algarve, with Quinta do Lago, Vale do Lobo, and Vilamoura, offer a taste of true luxury. Elsewhere Albufeira and Portimão are both solid options for those looking for a lively place to call home. Those opting for something quieter should look to the eastern Algarve. For those who love watersports and a friendly expat community, Lagos in the western Algarve should be on your hit list. You'll find many different property types across the country, whether you are looking for a private condominium, modern apartment, or a beachfront home in a quiet fishing town, you should be able to find your dream property. 
Is real estate in the Algarve a good investment?
Yes, real estate in the Algarve, Portugal, is a good investment. As a hot tourist destination, you should not have problems renting out your property, particularly in the summer months.
Is the Algarve a good place for retirees?
The Algarve, Portugal, is a very good place for retirees. There are a variety of property types available, good healthcare facilities where English is widely spoken, many activities to keep busy, and an attractive NHR scheme. This provides significant tax benefits if structured correctly.
Can foreigners own property in the Algarve?
Yes, foreigners can own property in the Algarve region. Portugal has no restrictions for foreigners who want to buy property in the country. From the quiet north of the country to the sunny Algarve region in the south, you'll be able to purchase property as a foreigner in Portugal. In addition to this, the Portuguese government offers foreigners incentives to invest in the country's real estate through the Golden Visa program. Note that there are location restrictions in place, and there are only some parts of the Algarve that are eligible for the scheme, such as Sagres. What's more, the Golden Visa program may be coming to an end soon. You can check out this article for more information: Portugal is Ending Its Golden Visa Program.
Where is the best place to live in the Algarve?
The Algarve has long been a popular location in Portugal for purchasing property, and it looks set to continue to be a hotspot for buyers in the future. While prices have been increasing rapidly over the years, you should still be able to find properties at affordable rates, particularly when compared with property prices in other Western European countries.
How to search for property in the Algarve?
Whether you're searching for luxury Algarve homes or modern apartments, email alerts are a great way to stay up-to-date with the real estate available and new listings. You can also enlist the help of a buyer's agent, such as Goldcrest, who can help you secure your dream home without having to pay the maximum price. With many different properties for sale in the Algarve, a buyer's agent can also discuss your needs to help you on your buying journey.