Updated: February 15, 2023
Portugal has cemented itself as one of the best destinations for expats seeking a good quality of life in a thriving Mediterranean country. Retirees, digital nomads, young professionals, and families are all discovering the many perks that moving to Portugal brings. However, a significant concern many parents with children may face when moving abroad is: What about education in the country?
As an expat parent, there's no need to worry about your child's/children's education in Portugal, least of all when it comes to schools in Lisbon. Many of the best international schools in the country are situated in the Portuguese capital and the Greater Lisbon Area, where children can receive an excellent international education. What's more, Portugal's educational system is very well regarded and ranks in 24th position in the 2022 Best Countries for Education Report, produced by the US News and World Report, BAV Group, and the Wharton School of the University of Pennsylvania. Finding the ideal school is crucial to further your child's personal and professional development. You'll find plenty of choices in Lisbon, the second oldest capital in Europe.
In this article, we'll delve into Lisbon neighborhoods close to international schools so that you are best positioned to move to the country. We'll also touch upon the Portuguese education system, the types of international schools in Lisbon, and how to choose from the many international schools in and around Lisbon. The Portuguese capital has many diverse neighborhoods, and the Greater Lisbon area also has much to offer. 
Alongside this, our residency and citizenship division, Global Citizen Solutions, has developed an international school guide for Portugal. Their international school guide provides you with everything you'll need to know about the education system in Portugal, including a complete list of the international schools in the country.
Which Lisbon neighborhoods are close to international schools?
There are 30 international schools in the Greater Lisbon area out of the 51 international schools in the country. And, if you move to the Portuguese capital or the surrounding area, you should find that many Lisbon neighborhoods are close to international schools. You can see in the maps below the locations of the international schools in and around Lisbon.
Central Lisbon – A breakdown of the locations of international schools in Lisbon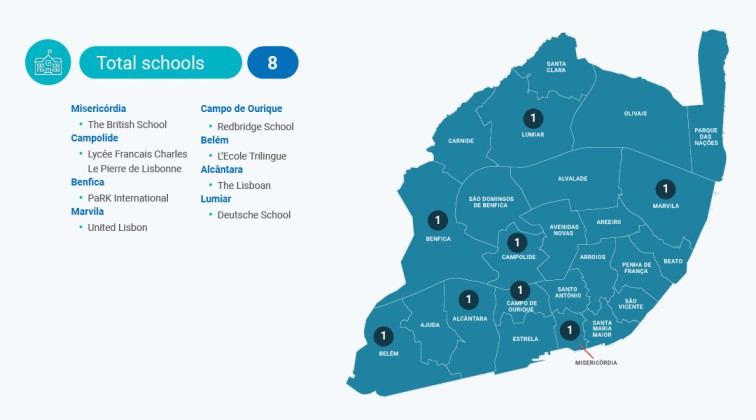 International schools in the Greater Lisbon Area