Updated: March 15, 2023
Whether it's because of the relaxed pace of life, pristine beaches, or the comparatively low cost of living and attractive tax benefits, there are many Americans heading to Portugal's shores. Living in Portugal has an array of perks, and US citizens are increasing in number, finding the country to be the perfect place to call home. If you're looking to visit Portugal, are thinking of relocating, or are curious about why Portugal is so popular among American expats, keep reading to find out about living in Portugal as an American.
Why are Americans living in Portugal?
While the cost of living in Portugal is relatively low for Americans, expats aren't pulled in by financial reasons alone. With over 300 days of sunshine each year, beautiful landscapes, and friendly people, Americans come to love the vibrant culture of this western European country.
Factor in a very special cuisine, beautiful beaches, and a relaxed pace of life, plus the fact that English is widely spoken, and Portugal becomes a firm favorite – indeed living in Portugal as an American is, for many, as good as it gets. 
Living in Portugal as an American: Top locations
From affordable cities or luxury living to historic towns and breathtaking beach houses, Portugal will step up to provide you with what you are looking for. American expats tend to favor urban areas – Lisbon and Porto – although the Algarve is also increasing in popularity. 
Easy access to transportation links, ease to do business, and work opportunities are the primary reasons why Americans like to live in cities, plus the fact that if you are moving with your family, the urban areas are where you will find the best international schools. However, the countryside is also becoming an excellent option for American expats looking to unwind in the beautiful Portuguese countryside. Here are some of the popular places to live in Portugal amongst Americans. 
Lisbon
The cosmopolitan capital of Lisbon is a city of contrasts. With cultural traditions on one side, and youthful innovation and urban flair on the other, the city is constantly pushing boundaries, while keeping its historic essence alive. Indeed, many international startups are relocating to make the most of the business opportunities here. 
The capital is forever welcoming Americans, regardless of whether they have moved to work, study, live, or retire. 
The cost of living in Lisbon is higher than in the rest of Portugal – especially when it comes to buying property – although it remains affordable when compared to other European countries and major US cities. Each neighborhood has its own quirks and choosing the right one for you will depend on your interests and what you are looking for. Are you looking for a place to move to with your family, set up a business, work as a digital nomad, or retire in a stunning European capital?
You can see our guide to the best neighborhoods in Lisbon here. 
You can read about Lisbon neighborhoods close to international schools here.
Cascais
Very close to Lisbon (just a short 30-minute drive away) you will come across the former fishing village of Cascais. Despite having more than 200,000 inhabitants, Cascais still retains a village feel, with traditional architecture, excellent seafood restaurants, and nine golf courses close by, making it a very attractive option for Americans relocating to Portugal. For families, there are spacious properties and waterfront villas on offer and excellent international schools within a twenty-minute drive. 
Porto
The dynamic city of Porto has really come into its own over the last years – now on par with Lisbon's own reputation as the most beautiful city in Portugal, and with good reason. The historic city is stunning, with gorgeous beaches and activities on offer, and delicious Portuguese wine to drink. There are also many excellent waterfront properties – check out the Foz Do Douro neighborhood (other excellent locations for waterfront properties in Portugal can be found here).
The Algarve
The beautiful Algarve is renowned for its pristine beaches, stunning landscapes, and sunshine-filled days, even in the depths of winter. A firm favorite with tourists and expats, and well-known amongst the British – many Americans have now discovered the region and come to call the Algarve home. 
In the Central Algarve, Vilamoura is popular amongst expats. As a resort town, with a 1,000-berth marina, golf courses galore, luxury hotels, and beach clubs, it is an excellent location to consider. It is also worth researching Albufeira, characterized by its cobblestone streets lined with restaurants, and where something is always going on in the evenings. Both Vilamoura and Albufeira are conveniently close to Faro airport for avid travelers, which is an added bonus. 
Living in Portugal as an American – why move to Portugal
There are several reasons why Americans are seeking to relocate to Portugal. Here we delve into some of the most prevalent reasons why Portugal is becoming a haven for US expats. 
Cost of living

: compared to the US, the cost of living in Portugal is relatively cheap, even if prices are rising in Lisbon in particular. Portugal is also affordable compared to other European countries.

Welcoming people

: the Portuguese are renowned for their friendliness and in general, they speak very good English. This is important for expats looking to navigate a new country. Also, as there is a big American expat community, there is a supportive network for newcomers. 

Good healthcare system

: Portugal has a very good healthcare system, both public and private, and is very affordable when compared with healthcare in the US.

A safe and stable country

: Portugal ranked as the

fourth safest country in the world

in 2021 and has very low crime rates.

Climate

: Many expats move to Portugal for its excellent climate, stunning landscapes, and pristine beaches. Temperatures rarely drop below freezing and even in the winter months, the sun will welcome you outside. 
American schools in Portugal
American families living in Portugal may want to enroll their children in a school that teaches in English and that offers Portuguese in addition. When looking into American schools in Portugal, you should know that there are many excellent international schools in the country, particularly in Lisbon and Porto. 
Two very good options to consider in the Lisbon area are the Carlucci American International School of Lisbon and the International Schools of Cascais.
The American Embassy in Portugal
The American Embassy can be found in Lisbon for US citizens who need consular services. Note that if you are coming to the embassy for a routine matter, then you should schedule an appointment ahead of time online on the US Embassy website. For a more urgent situation, you can go directly to US Citizen Services, then you can go to the US Embassy, located at Avenida das Forças in Sete-Rios. Take the blue line on Lisbon's Metro to get there. 
For the full list of services and more information for US citizens, you can consult the website or email [email protected].
Living in Portugal: Pros and Cons
There are numerous advantages to living in Portugal: warm weather, golden beaches, breathtaking scenery, a low crime rate, a relatively low cost of living, and a great quality of life. The healthcare and education systems are well-developed, and Portuguese residents can benefit from tax exemptions. Some disadvantages include the need to learn a new language (Portuguese) and carry cash on you.
Advantages of living in Portugal
Outlined above are just a few of the advantages of moving to Portugal. Here, we'll discuss the main advantages that attract expats from all over the world.
Warm climate: While the climate does vary from region to region, Portugal's overall climate is quite warm. The northeast is known for long, warm summers, while the northwest is known for having more rain. Southern Portugal is known to be drier.
The warmest season in Portugal lasts from around mid-June to late September, with daily average temperatures exceeding 25 degrees C (78 degrees F). These months are also the sunniest. In Lisbon, the average daily temperature during winter is around 14 degrees C (57.2 degrees F). If you're looking for a snowy winter, the mountainous areas are sure to deliver.
Entertainment and recreation: Portugal is host to endless sights and activities to keep you entertained during your time there. You can swim in the Atlantic Ocean, explore the mountain ranges, visit castles and fortresses, and go hiking. You could even take your lead from the locals who enjoy fishing, surfing, and diving.
In 2020, Portugal received 26 World Travel Awards for its attractions, beaches, and resorts. The Algarve region was selected by Portuguese citizens and tourists alike as the ideal location to relax along the coast. Of all the European countries, Portugal received the title of Europe's best tourism destination.
Safety: In 2022, Portugal was ranked 6th on the Global Peace Index. The country also has a low crime rate and is home to friendly, welcoming Portuguese people who are open and kind to tourists and expats choosing to make Portugal their home.
Low cost of living: As with any country, the cost of living in Portugal varies depending on the area you live in and the lifestyle you lead. In general, however, the cost of living in Portugal is relatively low compared to other countries in western Europe. The table below will give you an idea of the average prices that make Portugal an affordable country.
| | |
| --- | --- |
| Dinner for two at a good restaurant | €30 |
| Bread | €1.09 |
| A dozen eggs | €2.19 |
| Local cheese (1kg) | €7.12 |
| 1L of milk | €0.69 |
| Apples 1 kg | €1.52 |
| Cappuccino | €1.30-2 |
| 1L of petrol | €1.52 |
| Electricity bill | €50 |
| Unlimited internet bill | €35 |
| Water bill | €20 |
*Numbers are estimates and can differ from city to city.
Quality education: In terms of education, Portugal offers high-quality secondary and higher education systems. In fact, degrees from Portuguese universities are recognized in the European Union (EU), making it easier for graduates looking to work in other EU countries.
Many university courses are taught in both Portuguese and English, although English courses are not available at every institution. They are also more expensive. Portugal applies the standards of the European Bologna System in its higher education system. You can read more about universities in Portugal here.
Quality medicine: The Global Health Expenditure 2023 states that Portugal spends about 9.53 percent of its GDP per annum on healthcare.
Medical care is free at public hospitals and is available to both Portuguese citizens and residents. In private clinics, you can benefit from a higher level of service and the ability to get appointments faster than in public hospitals. You can also have consultations with your doctor over the phone.
There are different health insurance policies available in Portugal offering different packages at different prices. Most of the cover a good portion of the full cost of treatment.
Tax benefits for residents: In Portugal, foreigners who have a residence permit can benefit from the Non-Habitual Resident (NHR) tax program. It provides foreign residents and investors residing in Portugal with lower tax rates and exemptions on certain taxes.
To achieve NHR status, you must become a tax resident of Portugal and reside in the country for a minimum of 183 days. You must also not have been a tax resident in Portugal in the past five years. Benefits of the program include tax exemption on almost all foreign source income and free remittance of funds to Portugal.
Language: English is widely spoken among Portuguese people, making it easy to communicate even if you are not fluent in the Portuguese language.
Way of life: Portugal is a country that offers much in the way of the pace of life. With a generally slow pace present in the country, you can get your fix of the hustle and bustle in cities like Lisbon, or enjoy a more laidback lifestyle in places like the Algarve.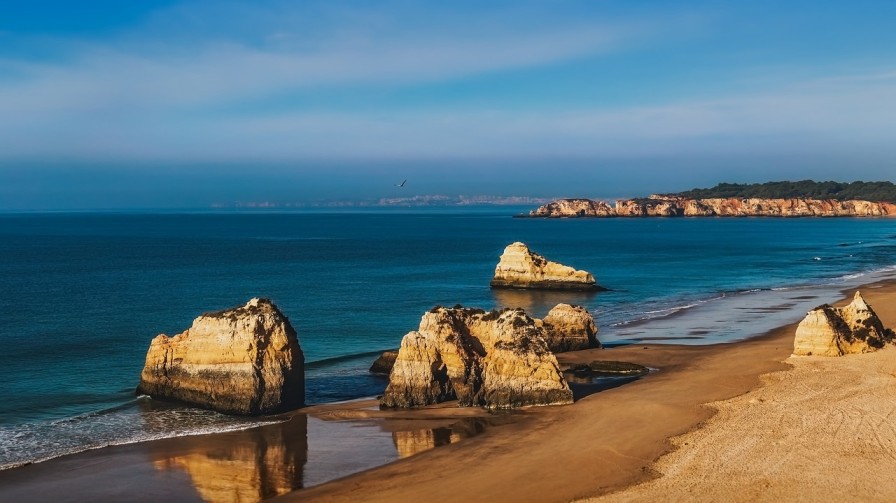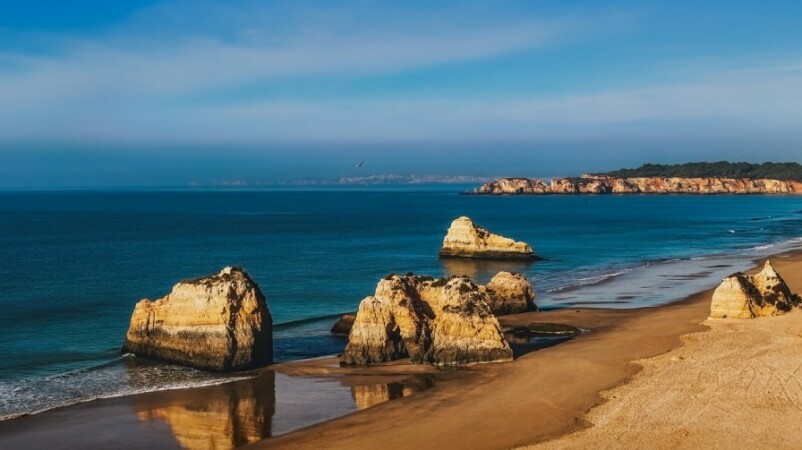 Disadvantages of living in Portugal
As with any country in the world, the advantages of living there are accompanied by some disadvantages. Below are some points that may make your move to Portugal a little difficult.
Language: While English is widely spoken in Portugal, you will need to learn Portuguese as an expat living there. Most people in government offices speak Portuguese and are not familiar with English, making it slightly harder to get things done if you or someone with you does not speak a basic level of the Portuguese language. While this can be daunting, it's never a bad idea to learn the official language of the country you live in.
Cards vs cash: The Multibanco system issues bank cards in Portugal and Visa and MasterCards are not accepted everywhere. It is advisable to therefore carry cash with you and check whether an international bank card is accepted.
The weather: The Portuguese climate does not have extreme changes from one season to the next. It also varies between regions. Generally, winters are rainy with little snow and in summer, temperatures can rise to 40 degrees C (104 degrees F).
Lack of central heating: Apartments are generally cold inside during the winter, as there is no central heating. In order to stay warm, you will need to purchase heaters.
Bureaucracy and pace of life: Portuguese bureaucracy is a point of concern whether you're a Portuguese citizen, a Portuguese resident, or a foreigner. Appointments can be difficult to get, applications can move slowly, and paperwork takes time. This is important to remember if you are used to a faster pace in your home country.
Portugal offers a slow pace of life that may not appeal to everyone. Local residents do not hurry and so can often be unpunctual. In keeping with the country's culture of taking lunchtime off, shops and restaurants often close for a couple of hours in the middle of the day. In addition to this, almost all of them close on Sundays.
The Portugal Golden Visa
The Portugal Golden Visa is one of the most sought-after residency-by-investment programs in the world. To be eligible, you will need to buy a property worth at least €500,000 in an interior area of Portugal or you will need to invest in a residential rehabilitation project located in an interior area of Portugal, worth €350,000. These changes have come into effect recently, meaning that you cannot invest in residential real estate in areas that are not deemed as "interior" – ruling out Lisbon, Porto, and most coastal towns (although there are some exceptions). Note that many interior areas in Portugal are exceptionally beautiful, undiscovered, and have excellent investment opportunities. 
The full changes can be found here. 
The advantages of the Golden Visa for Americans in Portugal include the following:
The right to family reunification.

Access to the EU and Schengen area.

Temporary residence in Portugal, to which you can apply for permanent residence and citizenship after five years, as long as you meet the requirements. 

Permission to live and work in Portugal, given that you spend at least one week in Portugal during the first year, and at least two weeks during the years after that. 
Living in Portugal as an American: How to find property in Portugal?
Moving to any country is difficult and for Americans there are many potential difficulties – whether it is the language barrier, navigating taxes and fees in a new country, or getting to grips with the bureaucratic system, which can be slow in Portugal. 
Firstly, the Portuguese are a very welcoming people and speak very good English, so the process of buying property should not be as daunting as you may assume. Secondly, it is worth having an experienced lawyer on your side, alongside a trusted financial advisor, and estate agent. 
A buyer's agent is also highly recommended. At Goldcrest, we work solely for the client and provide tailored advice based on what the buyer is looking for – whether it is to retire, relocate, or invest in the country. Our network of experts in the Portuguese real estate market includes estate agents, law firms, and tax and financial advisory firms. We are an established player in the market, so please get in touch to discuss how we can work with you to secure your dream property in Portugal. You can book a call here. 
To supplement this, our new book, Your Expert Guide to Buying Property in Portugal is your go-to companion, from an easy step-by-step guide to buying property to navigating bureaucracy, we have you covered. You can buy your copy here.