Updated: October 31, 2023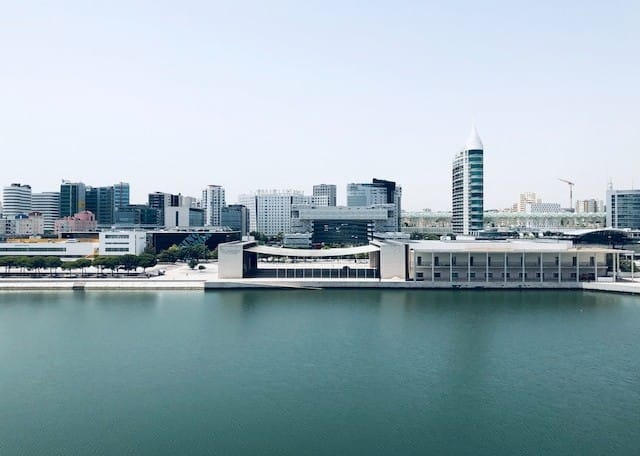 For many foreign buyers, Parque das Nações represents an ideal investment frontier, with its stylish new buildings fostering a contemporary atmosphere. This area is perfect if you seek a locale abundant with comprehensive facilities and amenities.  
A departure from the traditional Portuguese townhouses that pepper the rest of the city, this district offers a vivid and refreshing contrast, evoking the feel of a modern, urban US landscape. It's so distinct, that one might easily forget they're in Lisbon at all. 
However, these attributes only scratch the surface of what Parque das Nações has in store. 
In this article, we'll delve deeper into the complexities of the Parque das Nações real estate market. We'll discuss aspects such as pricing, rental yields, the array of property types, and why investing in this vibrant district is a move worth considering. 
Why choose Parque das Nações?
Parque das Nações is the perfect neighborhood for international buyers looking for brand-new properties near all the necessary amenities. Here are six benefits of investing here. 
Excellent investment opportunity
Real estate in Parque das Nações is highly sought after, presenting an excellent investment opportunity due to its strategic location, robust infrastructure, and high demand for properties.  
It's located close to both the airport and one of Lisbon's main transport hubs, Oriente, which makes the area appealing for frequent travelers. Parque das Nações' constant evolution also ensures a dynamic market with promising capital appreciation and rental yields. 
Best sun exposure
The architectural ingenuity of properties in Parque das Nações emphasizes natural lighting, promising the best sun exposure. Residents enjoy sunlit properties that contribute to wellbeing, energy-saving, and aesthetic appeal, making each day brighter. 
Easy access to amenities
Parque das Nações provides easy access to various amenities, enriching residents' lifestyles. From the  Vasco da Gama shopping mall in Oriente  and exquisite cuisines to be explored in the array of restaurants lining the river, to quality healthcare and educational institutions, everything is within reach. The excellent connectivity to the wider city via road and public transport adds to the convenience. 
Stunning views
Properties in this area offer residents stunning views of various landmarks, the River Tagus, and the iconic Vasco da Gama Bridge. Living here means indulging in the picturesque scenery that changes beautifully with each season. 
Highest quality standards
Real estate here meets premium standards, featuring state-of-the-art construction, innovative designs, and luxurious finishes. Developments exemplify the commitment to luxury and comfort, ensuring residents enjoy top-tier living conditions. 
Public transport
The area is served by a comprehensive network of public transport, including buses, trains, and metros, facilitating easy and quick commutes to and from Lisbon's key points. This accessibility is especially beneficial for working professionals and families. 
Rich history
Parque das Nações has a transformative history, evolving from an industrial wasteland to a symbol of urban renewal post the 1998 Lisbon World Exposition (Expo '98). The Expo's success left a lasting legacy, with the government repurposing the infrastructure for cultural, residential, and commercial use. This metamorphosis sparked significant development, positioning it as a modern, cosmopolitan neighborhood in Lisbon. 
The Real Estate Market in Parque das Nações
Unlike the rest of Lisbon, which is under tight building regulation from the city's authorities, the area is home to some of Lisbon's most modern and ambitious architectural projects. The Parque das Nações area is much newer and more modern and is one of the only areas in Lisbon where you can find many new-build projects to invest in. 
Property prices
The average asking price is €7,914 per square meter. It indicates that the Parque das Naçõe neighborhood is potentially one of the more affluent or desirable areas in the city.  
The price suggests a strong market value for properties, possibly driven by factors such as its modern amenities, proximity to key locations, cultural or historical significance, or even recent urban development projects enhancing the neighborhood's appeal. 
For existing residents, the surge in property value could present a profitable opportunity should they decide to sell. There is the potential for high captial appreciation for buyers looking to buy in Parque das Nações.  
For potential investors or property buyers, these prices signify a hefty investment, pointing towards a need for careful financial planning and understanding of the real estate market dynamics in Lisbon. The prices might also show expectations of continued property value appreciation, suggesting confidence in the area's long-term economic stability and growth. 
Rental yield
The average rental yield is 3.77 percent. While property prices are high, the returns on renting out these properties are relatively moderate. For investors, this yield rate might be considered low, especially when factoring in costs such as maintenance, taxes, and potential periods when the property might be unoccupied. 
This yield rate can also mean that the area is more suited for long-term capital appreciation rather than generating immediate, significant rental income. Therefore, investors in this area might be more focused on the potential for their property's value to increase over time rather than relying on rental income. On the other hand, long term rentals could also be an option for investors.  
Investment potential and landmarks
Parque das Nações is a commercial and residential magnet, making it a hotbed for investment.

 

Iconic landmarks like the Vasco da Gama Bridge, Pavilion of Knowledge, and Na Expo Centro are popular locations, indirectly benefiting property values.

 

Luxury developments contribute to the area's upscale reputation.

 

Waterfront properties or those with a river view are particularly lucrative, attracting premium renters and buyers.

 
Living in Parque das Nações property
Parque das Nações real estate investments have a number of benefits. Located around 10 km from the center of Lisbon, the neighborhood is removed from the chaotic energy of the city center. This doesn't mean that the area is lacking, it has its own large shopping center – the Vasco da Gama shopping center –  as well as plenty of restaurants and bars considerred by many to be amongst the best in the city.  
The neighborhood is also close to attractions such as Lisbon's Oceanário, Europe's largest indoor aquarium, as well as the Pavilhão do Conhecimento, a museum of science and technology designed specifically for children. It is also the location of the Altice Arena, Lisbon's biggest indoor concert space, as well as being the favored area for conferences taking place in the city, including Web Summit, which takes place in Parque das Nações every year. 
Property Types in Parque das Nações
Open space studios
Ideal for the modern city dweller, these studios combine functionality and style, offering a contemporary, minimalist approach to living, with easy maintenance and access to neighborhood amenities. 
Luxury condominiums
Offering more than just a home, these provide a lifestyle complete with guest bathrooms, in-house fitness centers, security, and sometimes even concierge services, enveloping residents in comfort and luxury. 
Family houses
These properties, often with multiple rooms and gardens, are ideal for families seeking proximity to schools, parks, and healthcare facilities. Their walking distance advantage to daily necessities makes them highly desirable. 
Duplexes
Modern duplexes in the area offer expansive open space, multiple rooms, and are often designed with the concept of a large living room and dining room, perfect for families needing additional space and comfort. 
Conclusion
Whether you're exploring the historic Distrikt, the tranquil São Rafael neighborhood, or any other part of the city, Lisbon is teeming with different residential options. From luxury apartments that promise comfort and style, the city offers diverse choices for every preference. 
For those unfamiliar with Lisbon's layout, pinpointing a particular Lisbon address can be daunting. That's where a property finder in Lisbon steps in, simplifying the search by identifying exact locations of properties tailored to your criteria, ensuring you're always looking in the right neighborhoods. 
Building on this, the Distrikt Lisboa is rapidly becoming a hotspot, known for its modern architecture melded with a strong sense of community. If you're specifically looking for new homes, the Martinhal Residences should be on your radar. These luxury apartments, equipped with top-tier amenities like a swimming pool, are perfect for those seeking an urban oasis. 
At Goldcrest, we guide you through the entire property journey — from the initial search to post-purchase support — ensuring you receive the best deals available. 
Frequently Asked Questions about Parque das Nações Real Estate
What makes Parque das Nações a unique investment?
Real estate in Parque das Nações is a standout due to its combination of modern luxury, stunning views, and strategic location, making it an ideal dream home or investment property. 
Are there real estate agencies that specialize in Parque das Nações?
Absolutely, there are numerous real estate agencies well-versed in the local market, offering extensive listings and services tailored to international and domestic clients. However, engaging with a buyer's agent like Goldcrest, dedicated exclusively to the buyer's interests, can be even more advantageous. Traditional real estate agents often represent property sellers, which might not always result in the best deal for you. 
Can I find spacious properties with open space designs in Parque das Nações?
Certainly, the area is known for its modern architectural designs that prioritize open space, providing a sense of expansiveness and freedom within the home environment. 
Are there properties for sale in Parque das Nações with unique features?
Yes, you can find a diverse range of properties for sale in Parque das Nações, offering various unique features catering to different tastes and needs. 
Do properties in Parque das Nações adhere to high construction standards?
Absolutely, properties here are developed with carefully thought-out planning and adherence to the highest quality standards, ensuring long-term value and satisfaction for investors and residents alike. 
What are the expected rental yields and property prices in Parque das Nações?
Property prices and rental yields in Parque das Nações can vary significantly based on factors such as location, property type, and amenities. The average listing price currently stands at €7,419, with a rental yield of approximately 3.77 percent. This competitive rental yield is often the result of the high demand for contemporary living spaces, particularly those properties offering river views or situated near business hubs. 
Can foreigners purchase property in Parque das Nações?
Yes, foreigners are permitted to buy property in Parque das Nações and Portugal in general. The country has very open policies regarding property ownership by non-residents, and there are no restrictions specific to Parque das Nações. However, it's always recommended to work with a legal advisor or a real estate agency familiar with transactions involving foreign buyers to navigate the process smoothly. 
How do I find property in Parque das Nações
You can search online with specific keywords like "sale Parque das Nações" to see property listings in distinct areas. But we would recommend getting in touch with a local real estate agent or the development's sales office for the most up-to-date information on availability.