Updated: August 25, 2023
The captivating Portuguese capital city, Lisbon, has cemented itself as one of the most sought-after cities for real estate investments in the world. With a range of property types, diverse neighborhoods to suit the needs of any buyer, and attractive returns on investments, there are many reasons why you should consider Lisbon as a lucrative investment opportunity. In this article, Real Estate Investment Lisbon: Your Complete Guide, we'll provide you with essential information on the topic, from exploring rental yields through to top neighborhoods to consider.
Why Lisbon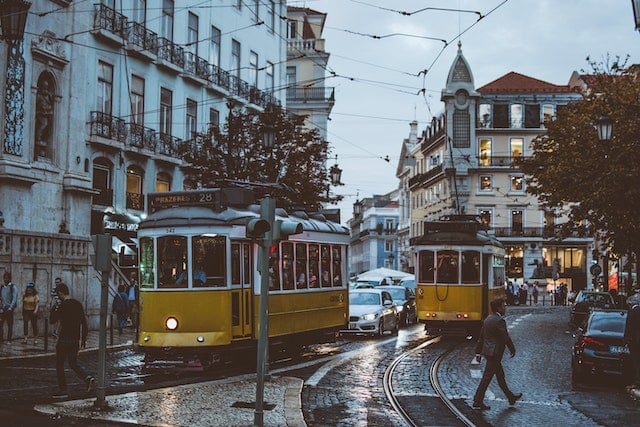 Whether you are looking to relocate to Portugal, buy-to-rent, or have a nice holiday home in a stunning European capital, Lisbon is an excellent investment destination.
The city boasts a high quality of life, excellent healthcare and education opportunities, and is  the sixth safest country in the world, according to the Global Peace Index in 2022.
If you are looking to invest in Lisbon, you'll find options to get a high return on your investment. As a favorite with tourists and digital nomads, you'll find it very easy to buy property to rent it out, with both long and short-term options on the table.  
While Lisbon property prices have been increasing in recent years, you should still be able to find property to be relatively affordable when compared with other Western European countries. Plus, if you buy a little outside the city center, you should find that Lisbon property prices decrease.
An Overview of Lisbon's Real Estate Market
The simple fact is that Lisbon has something for everyone, whether you are looking for a modern apartment, waterfront property, or spacious family home. With a high quality of life and great potential for high returns on investment, Lisbon is a favorite with both investors and expats. There are also no restrictions to buying real estate in Portugal, making it easy for foreign buyers to snap up property.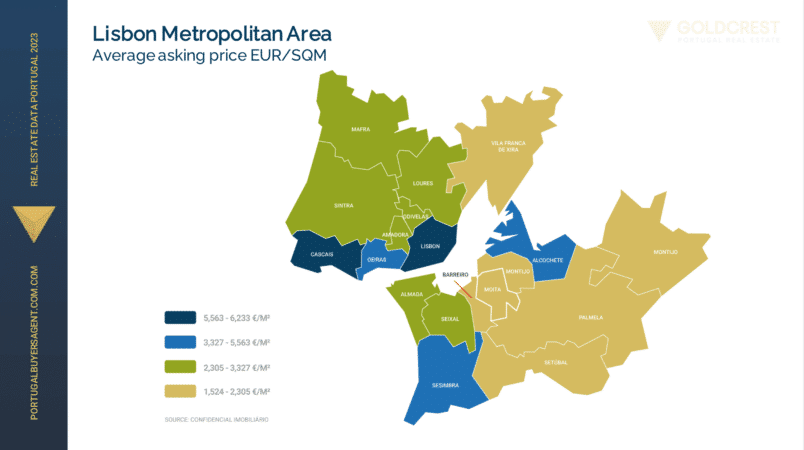 History of Lisbon's Real Estate Market
Property prices in Portugal have been increasing gradually since 2013 and more steeply in the last six years or so (as shown below). This is the result of a combination of factors, for example, the Portugal Golden Visa was launched in 2012 and put Portugal on the map amongst investors, and, if we look specifically at Lisbon, Web Summit relocated to the Portuguese capital in 2016, underlining that Lisbon was the place to be for start up and tech companies.  
Since 2017, Lisbon Metropolitan has experienced a growth of almost 85 percent, while Lisbon City has experienced a 50 percent growth. Prices only dropped very slightly in 2022, highlighting the resilience of the property market in the face of the COVID-19 pandemic.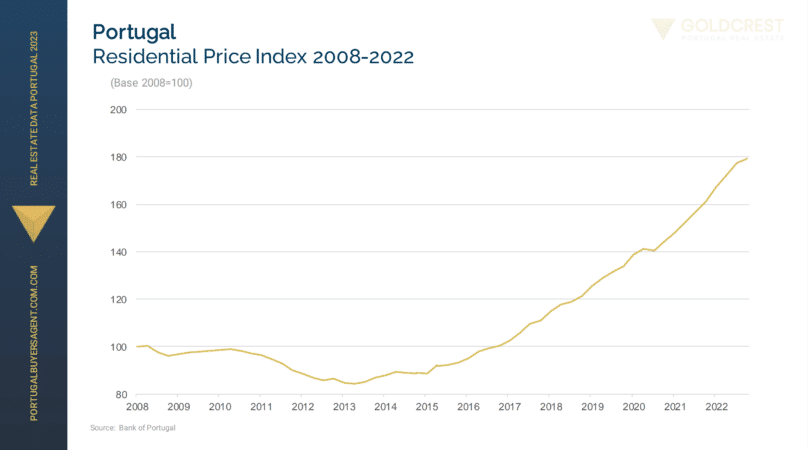 The current state of the real estate market
The property market in Lisbon is strong at the moment, with continued high demand over the past few years, which is reflected in property prices. If we take a look at the most recent data, in 2022, the average asking price for Lisbon City stood at €6,223 per square meter, while prices for the Lisbon Metropolitan area were €4,250 per square meter. This indicates that if you move a little outside the city itself, you should find property prices drop accordingly, plus more spacious properties.
Predictions for the market
While the future is obviously uncertain, leading data and analytic forecasting companies have forecasted that house prices in Portugal will decrease by 4.4 percent in 2023, while Moody's, another analytics company, has provided a more conservative estimate of 3 percent. Note, however, that this leveling off will not be consistent across the whole country – some locations may see a continued increase while others may level off and experience price stabilization.
Property prices in Lisbon are expected to keep increasing in 2023 as a result of strong demand and a limited supply of housing. In addition to this, foreign property ownership will likely continue to increase. Nevertheless, it should be emphasized that various factors, including the property's location, type, and amenities, contribute to the property price.
Is now the time to buy property in Lisbon?
Over the past few years, Lisbon's property market has moved from strength to strength. Purchasing property in Lisbon is an outstanding decision due to several compelling factors, including the exceptional quality of life, the potential for a favorable return on investment, and promising prospects for future growth. Looking back over the first six months of the year, we've seen the property market growing. With demand still outweighing supply, we can safely say that now is a prime time to buy.
Please keep in mind that the asking price can differ from the sales price. In reality, property sales prices can often be significantly lower. Sellers frequently aim to sell their properties by a specific deadline and may be influenced by various factors that can help buyers in getting a better price for the property. Additionally, it's important to note that there is a possibility that the sales price could be higher than the asking price, although, as you can see below, this is not so common.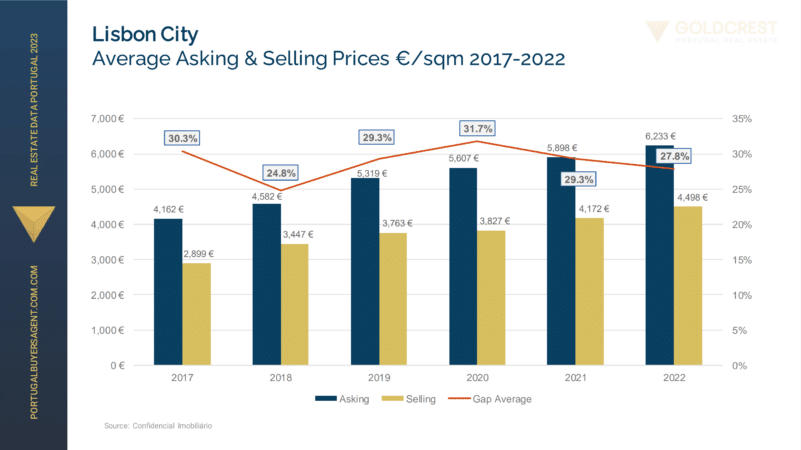 Buy to Rent
If you are looking into buying real estate as an investment opportunity, it can be a very lucrative venture. While short-term rentals typically provide a better income, there is often less hassle with long-term rentals. For example , you have more consistent tenants, in comparison with short-term renters, who are usually only in Lisbon for a few days.
You can check out our article, Buy-to-Let, for information on how to buy property with the intention to rent it out.  
Yields in Lisbon City
While the Lisbon City average for rental yields is 4.1 percent, some neighborhoods will prove to be a better investment option than others. Take Ajuda, for example, which has relatively cheap properties for sale and high rental yield potential (5.82 percent).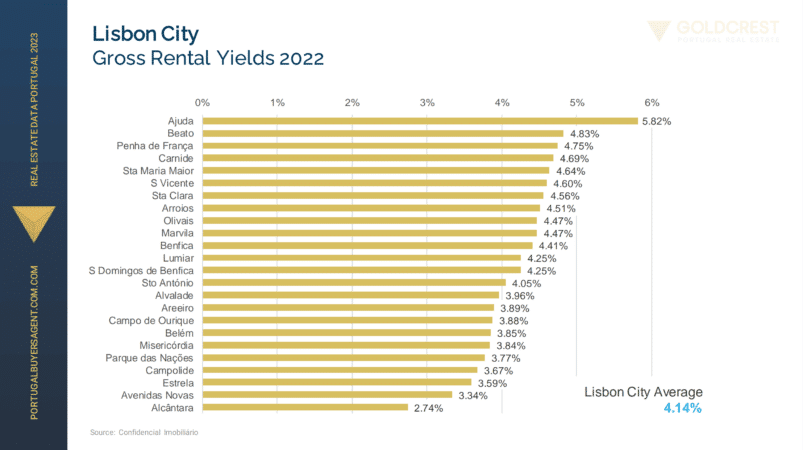 Tips for buying property as an investment
If you are considering buying property to rent it out and secure passive income, you should ensure that you fully understand the real estate market in the Portuguese capital city.
Research: Thoroughly research the real estate market, rental demand, and potential rental income in different neighborhoods.
Choose location wisely: Select a location that offers amenities, transportation, and attractions that appeal to potential tenants.
Get professional help: Seek guidance from a real estate agent or property management company familiar with the local market.
Think long term: Consider the property's long-term rental potential and its ability to attract tenants in the future.
Be prepared for challenges: Anticipate and plan for potential challenges such as maintenance, tenant turnover, and legal requirements.
Understand local regulations: Familiarize yourself with local rental laws and regulations to ensure compliance and avoid legal issues.
Calculate expected return on investment: Evaluate the potential return on investment based on property costs and projected rental income.
Consider property management services: Assess whether hiring a property management company would be beneficial to handle tenant relations and maintenance.
Assess profitability: Calculate potential expenses, including taxes, maintenance, and mortgage, against expected rental income.
What types of property are available to buyers?
One of the key advantages to buying Lisbon property is the range of property types available to buyers, alongside the diversity of neighborhoods – there is something to suit the needs of any buyer.
In Lisbon, there are both residential and commercial properties to invest in. In this section, we'll provide you with more information on some of the most common types of each.
Residential properties
When it comes to residential properties, you'll find everything from modern apartments to luxurious waterfront properties. Some of the most common are listed below.
Apartments
If you're looking for a modern apartment with a pool and riverside views, or a smaller property in an up-and-coming area, you'll find several options to consider.
Villas
Particularly on the Lisbon Coast stretching to Cascais, you'll find many modern villas on the market. You'll be able to enjoy the best of both worlds, the stunning beaches that hug the coast and the bright lights of the capital city.
Country homes
You'll find spacious homes a little out the city, whilst still being within striking distance of Lisbon. Locations such as Santarém, just over an hour's drive away, could be an excellent option to consider.
Luxury properties
From beautiful waterfront properties to modern apartments with stunning views of the city, Lisbon definitely delivers for luxury buyers. Many properties come with private pools, gyms, and other features.
Commercial properties
Some of the most popular investment opportunities for commercial property are listed below.
Offices
Officers provide stable rental income and potential long-term capital appreciation.
Retail Spaces
Investing in retail spaces offers steady income from established businesses and potential growth in prime locations.
Warehouses
Warehouses provide lucrative opportunities and construction costs are generally much lower. In certain areas in Lisbon, such as Marvila, many warehouses are being renovated into boutique craft beer bars and hip restaurants, for example.
Tourism real estate
Given the booming tourism sector in Lisbon, which just seems to be going from strength to strength, there areas offer options to invest in tourism real estate. From hotel projects to serviced apartments, there are several investment options on the table.
Other projects
Aside from investments in residential, commercial, and touristic real estate, there are other options on the table. Lisbon has seen a rise in digital nomads and tech companies relocating to the Portuguese capital city in recent years. This has paved the way for investment opportunities in co-working, or even co-living spaces. This will likely be a continued growing trend in the future.
Alongside this, there has been increased interest, from developers to investors, in investing in green real estate investment opportunities. This is another segment of the market that will likely continue to take off in the coming years.
Key Locations for Real Estate Investment in Lisbon
If you're looking to purchase real estate in Lisbon, you will be pleased to know that there is something for any buyer, whether you are looking for a second home, are looking to move with family, or are looking for a good investment opportunity.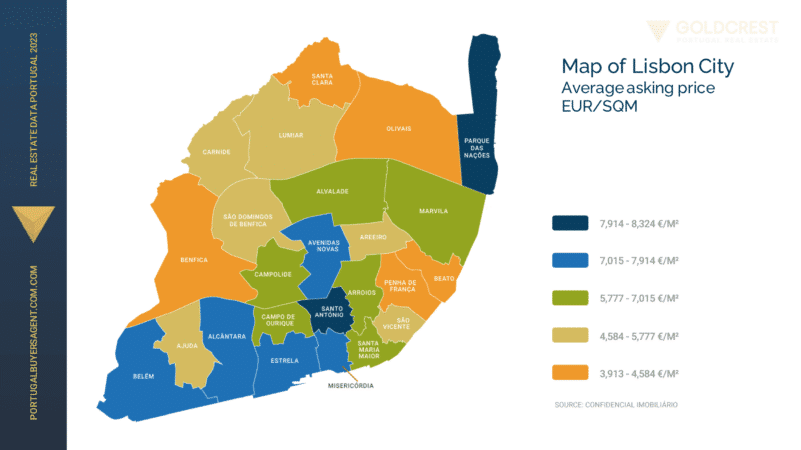 Here are some of the best Lisbon real estate investment options.
Baixa
Baixa is Lisbon's historic downtown area, located in the civil parish of Santa Maria Maior. Baixa is well known for its vibrant streets, historic buildings, and bustling atmosphere. Investing in Baixa offers the advantage of a prime location with high tourist footfall. The neighborhood attracts both tourists and locals, making it a favorable area for businesses like retail shops, restaurants, and accommodations.
Alfama and Graça
Alfama and Graça are charming and traditional neighborhoods characterized by narrow streets, Fado music, and stunning views of the city. These areas have seen increased interest from tourists and property buyers, making them attractive for short-term rentals and vacation homes. The unique ambiance and cultural heritage of Alfama and Graça contribute to their investment potential. Alfama is situated in the Santa Maria Maior neighborhood, while Graça is located in the São Vicente parish, providing slightly more affordable housing.
Príncipe Real
Príncipe Real (Santo António parish) is an upscale neighborhood known for its elegant architecture, trendy shops, and pleasant gardens. It has become a hub for boutique stores, design shops, and upscale dining establishments. Investing in Príncipe Real offers the opportunity to target a more affluent market and benefit from the neighborhood's evolving reputation as a fashionable and desirable location.
Avenidas Novas
Avenidas Novas is a residential and commercial district characterized by wide avenues, a mix of modern and historic buildings, and various amenities. This neighborhood is popular among young professionals and families due to its central location, good transportation connections, and proximity to educational institutions and services. Investing in Avenidas Novas can provide stable rental income and potential property value appreciation.
Parque das Nações
Parque das Nações is a modern waterfront district developed for the 1998 World Expo. It features contemporary architecture, a marina, gardens, and a range of leisure facilities. The area has experienced significant urban regeneration and attracts tourists, business travelers, and residents alike.
Lapa and Santos
Lapa and Santos are adjacent neighborhoods known for their elegant mansions, art galleries, and a vibrant nightlife scene. These areas attract a mix of young professionals, artists, and expatriates. Investing in Lapa and Santos can involve renovating historic properties into luxury apartments or boutique hotels, capitalizing on the neighborhoods' upscale image and cultural appeal. If you are looking to buy property to rent out long-term, then Lapa and Santos could be good options. Both Lapa and Santos are located in the parish of Estrela.
Campo de Ourique
Campo de Ourique is a residential neighborhood with a village-like atmosphere. It offers a range of amenities, including local markets, charming cafes, and tranquil streets. Investing in Campo de Ourique can be advantageous for residential real estate and small businesses targeting the local community. The neighborhood's authenticity and quality of life attract residents seeking a more peaceful and family-friendly environment. There are also many green parks here, adding to its appeal to families.
Marvila
Marvila is an emerging neighborhood with a thriving creative scene and a growing number of art studios, galleries, and trendy venues. The area is undergoing urban revitalization, attracting young entrepreneurs and artists. Investing in Marvila can involve converting industrial spaces into artistic or commercial ventures, taking advantage of the neighborhood's evolving reputation and potential for future growth.
Ajuda
Ajuda is a neighborhood located near Belém and known for its historic sites, including the Ajuda National Palace and the Botanical Garden. It offers a mix of residential areas and tourist attractions. Investing in Ajuda can involve short-term rentals, guesthouses, or small businesses catering to tourists visiting nearby landmarks, benefiting from the neighborhood's historical and cultural significance.
Outside Lisbon: Belem, Sintra, Cascais, Oeiras
Investing outside Lisbon provides investors with an array of benefits. Some of the most lucrative options include Belém, Sintra, Cascais, and Oeiras. Belem boasts historical landmarks and a high footfall of tourists, while Sintra is a UNESCO World Heritage site, attracting tourists and offering investment potential in hospitality. On the Lisbon Coast, Cascais offers luxury properties and a thriving international community, while Oeiras is a well-connected business hub with tech companies and a desirable residential area near Lisbon.
How to Buy a Property in Portugal: Key Considerations
If you are looking to purchase property in Portugal, there are certain aspects that you should be aware of.
Legal considerations
Understanding the legal implications of buying property is crucial when buying property. We recommend working with an experienced lawyer who will be able to guide you through the process. They will help you check, double check, and triple check both the property and the seller to ensure that you do not face legal issues down the line.
It can also be beneficial to enlist the help of a property surveyor, who will be able to ensure that there are no problems with either the interior or exterior of the property. 
Financial considerations
As with buying property in any country, it is best to consider your budget as soon as possible. This will help you shortlist potential properties. Plus, there are many banks in Portugal that provide mortgages for foreigners and you will want to spend some time determining which one suits your needs. The mortgage process itself can also take longer than expected, so it is best to get the ball rolling as soon as possible.  
Key steps in the buying process
The buying process in Portugal can be broken down into the following five steps.
Step 1: Decide whether you'd like to take out a mortgage to finance your property.
Step 2: Find the perfect property
Step 3: Negotiation
Step 4: Promissory Contract (CPCV)
Step 5: Sign the Escritura (Final Deed)
Golden Visa Portugal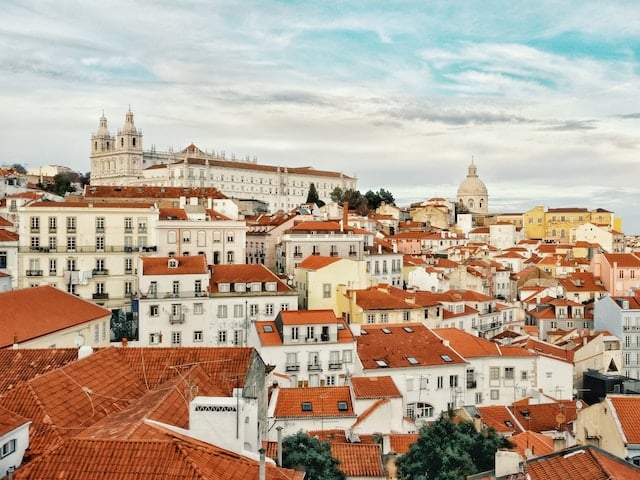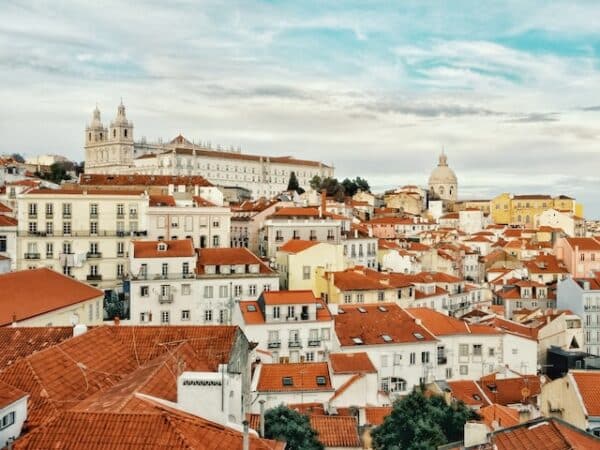 Portugal's Golden Visa, one of the most popular residency by investment schemes in the world, has helped boost the Portuguese economy through foreign investment since it was launched in 2012.
While it is no longer possible to invest in residential property in Lisbon under the scheme, you can still invest in commercial real estate. However, bear in mind that a new law is likely to come into place in the next 30-45 days that will rule out real estate investments in their entirety.
You should begin your application now if you would like to invest in this pathway.
Our residency and citizenship division, Global Citizen Solutions, are more than happy to help you kickstart your application today.
You can read more about the Golden Visa real estate option ending in our article: Portugal Ending Its Golden Visa Program. 
Real Estate Investment Lisbon: Risks and Challenges to Consider
Understanding the market
One of the initial challenges when investing in the Portuguese real estate market is gaining a comprehensive understanding of the market dynamics. It is crucial to conduct thorough research and analysis to grasp factors such as property prices, demand-supply dynamics, local regulations, and market trends. To mitigate this risk, working with experts in the field can provide valuable insights and guidance.
Market volatility and economic influences
Investing in any real estate market involves considering market volatility and economic influences. When it comes to Portuguese real estate, make sure you understand the return on investment potential alongside macroeconomic factors, such as inflation rates.
Due dilligence
Due diligence can never be understated. This includes carefully evaluating he property's legal aspects, including title deeds, permits, licenses, and potential encumbrances. Engaging a lawyer that specializes in real estate transactions can help navigate through the legal complexities and identify any potential risks or issues. Additionally, verifying the credibility and financial stability of the seller is crucial to avoid potential fraudulent transactions or disputes.
How does buying property in Portugal compare with buying property in Spain?
In general, the property market in Portugal is less expensive than the property market in Spain.
While both will have areas where you can secure a high return on your investment, the range of options in Lisbon, such as short-term rentals, long-term rentals, touristic properties, and co-living spaces, make it one of the best European cities to buy property and invest in.
Goldcrest: Who We Are and How We Can Help You
Goldcrest is a buyer's agent that is based in Lisbon and the Algarve. We provide expert, impartial advice on real estate investments and how to buy property in Portugal. From scouting out the perfect property through to property acquisition, we have you covered throughout the process.
If you are looking to purchase property in Portugal, don't hesitate to get in touch. Our team of skilled experts is available to solve all your real estate doubts, offering insightful expertise and strategic advice.
The following articles may also be of interest to you:
Why choose Goldcrest?
Local knowledge: With offices located across Portugal, our presence nationwide allows us to assist you personally across the country.
Independent service: As an independent buying agent, we do not represent any development or project. Our service is entirely tailored toward each individual client, providing you with everything you need to secure the perfect property at the best possible price. As an impartial advisor on the market, we work solely on behalf of our client and provide a service tailored to your needs and requirements.
Streamlined process: Our real estate agents speak English and Portuguese, and our service is completely focused on providing you with a hassle-free buying experience, saving you time.
Experienced team: Our expert real estate team has a vast local knowledge of the Portuguese property market. We have cutting-edge technology and metasearch tools at your disposal to provide full market coverage, ensuring the best investment choices and negotiated prices.
Network of partners: Lawyers, property management services, builders, architects, designers, and landscape gardeners, again saving you time and hassle by providing you with trusted experts in their field of work.
Frequently Asked Questions about Real Estate Investment Lisbon
Why is Lisbon an attractive location for real estate investment?
What sets Lisbon apart as an attractive market for investors is its booming tourism industry, competitive property prices, and government incentives, such as the highly successful Golden Visa program, in addition to the potential to secure a solid return on your property investment. Lisbon is one of the best European cities to invest in at the moment.
What types of properties are available for investment in Lisbon?
There is a wide range of properties available in Lisbon, including apartments, villas, and houses. You will also find a selection of waterfront properties. The diverse range of properties available is one of the key advantages of buying in Lisbon.
Is now a good time to invest in Lisbon?
Looking back over the first six months of 2023, we've seen the property market growing, and with demand still outweighing supply, we can safely say that now is a prime time to buy. As there are no restrictions on foreign property ownership, investing in Portugal is more straightforward than it would be in some other countries. Compared with other European cities, Lisbon real estate provides an array of opportunities.
What are the key areas in Lisbon for real estate investment?
The best area will depend on what you are looking for. Baixa, Alfama, and Principe Real are good options, as are up-and-coming areas such as Beato and Marvila.
How does the property buying process work in Lisbon?
The buying process in Lisbon can be broken down into the following steps:
Step 1. Decide whether you'd like to take out a mortgage to finance your property.
Step 2. Find the perfect Portugal property
Step 3. Negotiation
Step 4. Reservation Agreement
Step 5. Promissory Contract (CPCV)
Step 6. Sign the Escritura (Final Deed)
Can I invest in property and be eligible for the Golden Visa program?
You can invest in commercial property for the Portugal Golden Visa program in Lisbon. However, investing in residential real estate is no longer an option. Bear in mind that a new law is likely to come into place in the next 30-45 days that will rule out real estate investments in their entirety. If you are interested in investing in commercial real estate for the Golden Visa, we recommend you begin your application now.
What are the legal considerations when investing in real estate in Lisbon?
When investing in Lisbon real estate, it's important to consider legal aspects such as property ownership regulations, tax obligations, and hiring a reputable lawyer for guidance.
What are the risks and challenges involved in real estate investment in Lisbon?
Risks and challenges in Lisbon's real estate market include market fluctuations, potential oversupply in certain areas, and the need for thorough market research before investing.
How is the resale market for properties in Lisbon? Can I expect a good return on my investment?
The resale market for properties in Lisbon is generally strong, driven by high demand, tourism, and a vibrant rental market, offering good potential for a return on your property investment. Compared with other European cities, Lisbon has a thriving real estate market.
What are the tax implications of real estate investment in Lisbon for international investors?
When foreigners buy property, they will need to be aware of property taxes to pay both at the time of purchase and on an annual basis. Taxes during the process include Property Purchase Tax/ Property Transfer Tax (IMT) and Stamp Duty, while taxes that you will be required to pay on an annual basis include Municipal Property Tax (IMI). You should also bear in mind the Capital Gains Tax if you are thinking about selling your property. You can find out more in our article: Property Taxes in Portugal 2023: An Overview.
How is the real estate market in Lisbon affected by economic fluctuations?
The property market in Lisbon can be influenced by economic fluctuations, but overall, it has shown resilience and steady growth, attracting investors even during challenging times. The market responded well following the COVID-19 pandemic, for example, showing only a slight decrease in prices.
Are there sustainable or green real estate investment opportunities in Lisbon?
Lisbon offers sustainable and green property investment opportunities, with an increasing focus on eco-friendly developments, energy efficiency, and sustainable urban planning initiatives.