Updated: November 9, 2023
Vale do Lobo, located in Portugal's scenic Algarve region, is a top choice for property buyers due to its beautiful beaches, premier golf courses, and luxury resorts. Both local and international investors are drawn to it, thanks to Portugal real estate market's stability and investor-friendly policies.
The Algarve's sunny climate, rich heritage, and relaxed atmosphere further enhance Vale do Lobo's appeal. If you're thinking of investing here, our guide offers insights into the property market, living benefits, and tips for securing your ideal home.
Portugal Property Vale do Lobo: Location and Overview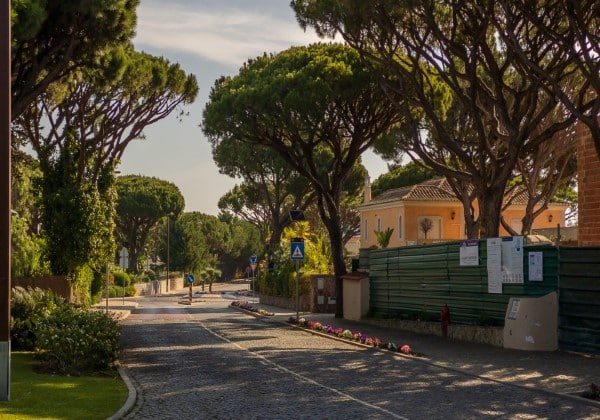 Vale do Lobo is a jewel situated in the heart of the Algarve region, Portugal's southernmost region, renowned for its undeniable natural beauty and its golden coastline. This unspoilt oasis seamlessly marries the rugged charm of the Algarve coastline with the sophistication of modern-day amenities, blending traditional architecture with contemporary lines.
Renowned for its breathtaking natural beauty, Vale do Lobo boasts some of the Algarve's most pristine beaches, like Praia de Vale do Lobo, Praia do Garrao Nascente, and Praia do Garrao Poente.
Their golden sands stretch for miles, kissed by the azure waves of the Atlantic, offering both tranquillity and a hub for water-based activities. Complementing the coastal allure, the area, including the newer Vale real development, is home to world-class golf courses. Each course, designed with traditional architecture in mind, aims to challenge and delight golf enthusiasts while offering panoramic views of the surrounding landscapes.
Accessibility is another feather in Vale do Lobo's cap. Located a short drive away from Faro International Airport, it serves as a gateway for international visitors. Furthermore, its proximity to major cities like Faro and Albufeira ensures that residents and visitors are never too far from urban conveniences, cultural attractions, and vibrant nightlife, making Vale do Lobo a perfect blend of serene retreat and accessible luxury.
Property Market in Vale do Lobo
Property types
Diversity in property offerings is one of Vale do Lobo's strongest suits. Potential buyers are spoiled for choice, from lavish beachfront villas that offer unrivaled views of the Atlantic to modern apartments nestled amidst the area's scenic golf courses. Whether you seek a sprawling estate with a private pool and a landscaped garden or a cozy apartment with state-of-the-art amenities, Vale do Lobo caters to every preference and budget.
Real estate prices and rental yield
Considering it's part of the Algarve, we can apply the region's average rental yield of 3.56 percent to 5.03 percent as a reliable benchmark.  As a popular location in the Algarve, certain areas or property types within Vale do Lobo can offer investors a healthy return on their investment, due to robust demand and potentially higher rental rates.
The substantial range in the average asking price ranges from €4,503 to a much lower €1,211 per square meter. [NS6] It might be reflective of the variety of properties available, from premium, high-end villas or apartments with ocean views or golf course mfrontages to more modest homes or older properties that might need renovation. The actual location within Vale do Lobo, proximity to amenities, the age of the property, and specific features (like private pools, garden size, or architectural design) will play significant roles in determining these prices.
Living in Vale do Lobo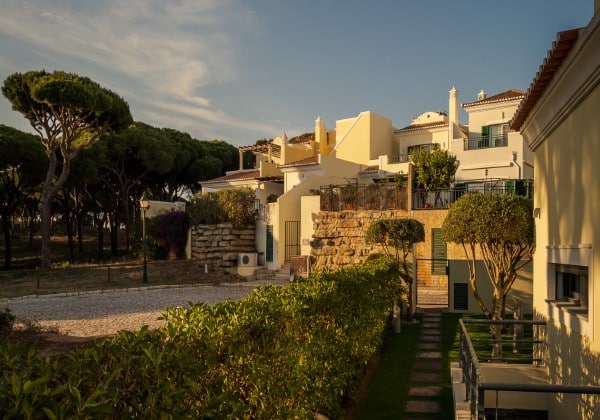 Sustainable building and green features are becoming more popular, mirroring a larger change in what consumers desire. As this trend grows, the Vale do Lobo in Portugal's Algarve region distinguishes itself in the property scene. This unbelievable location is known not just for its luxury and variety but also for its constant expansion. In Vale do Lobo, luxury awaits every visitor and potential homeowner.

Located right in the heart of the Algarve, Vale do Lobo epitomizes the opulence that beckons, offering an unmatched lifestyle with its blend of pristine natural scenery and state-of-the-art facilities. This makes it the ultimate destination for expats from all walks of life seeking an exclusive luxury retreat.
The meticulously designed golf course is a highlight, catering to all abilities and set against the region's picturesque coastal backdrop. Beyond golf, the Lobo resort boasts freshly renovated tennis courts suited for all players, complemented by regular competitions and coaching. Water sports enthusiasts aren't left out, with activities ranging from serene paddleboarding sessions to adrenaline-pumping jet skiing adventures.
The allure of Vale do Lobo extends beyond sports. Gastronomes will appreciate the diverse eateries, from intimate spots serving Portuguese classics to upscale dining establishments. Shoppers can indulge in a mix of contemporary stores, traditional local markets, and modern shopping centers. As the sun sets, the nightlife comes alive, offering everything from laid-back beach bars to vibrant clubs where dancing continues until the early hours.
Investment opportunities
Vale do Lobo is more than a luxury destination; it's also a wise investment. Its property type market is thriving, and its constant appeal to tourists and expatriates means property values are consistently growing.
With various properties for sale in Vale, it's particularly profitable for those interested in rental income, thanks to its status as a top vacation spot. For those considering rental income, the resort's reputation as a premier vacation spot is a boon.
The persistent demand for short-term rentals, from lavish beachfront villas to apartments adjacent to golf courses, promises lucrative rental returns, especially during the peak tourist season.
Finding a Trusted Real Estate Agent in Vale do Lobo
Starting your property search in Vale do Lobo means first finding a reliable real estate agent familiar with this area's specific market details. Here's how to do it. 
Search online: Begin with internet searches. There are websites focused on Algarve properties that list agents and agencies, often with specific sections for Vale do Lobo. 

 

Visit local agencies: Many real estate agencies specialize in the Algarve's luxury market, including Vale do Lobo. Check out their websites or visit their offices to understand their services and market footprint.

 

Check reviews and get referrals: Look at social media, forums, and real estate sites for reviews or post a query asking for referrals. Feedback from others who've bought or sold properties can be extremely helpful. Online expat communities are also great for recommendations.

 

Attend open houses and networking events: Agents often use open houses as a way to find new clients, not just sell the current property. Real estate networking events are also places where you can meet agents and talk about your needs.

 

Ask advisors for recommendations: If you're buying from abroad, your legal or financial advisors in Portugal might suggest real estate agents. They know your financial and legal status and can point you to suitable agents.

 

Ensure language compatibility: Pick an agent who speaks your language, as clear communication is vital in property deals.

 
To choose the best real estate agent, search for these qualities: 
Local expertise: Ensure the agent has in-depth knowledge of Vale do Lobo and its surroundings. They should be familiar with market trends, property values, and local amenities.

 

Track record: Look into the agent's past transactions, client reviews, and overall reputation in the industry.

 

Communication: Choose an agent who communicates transparently and promptly, ensuring you're always in the loop.

 

Network: A well-connected agent can provide access to off-market deals or properties that have just come on the market.

 

Services offered: Some agencies offer additional services like property management, legal assistance, or renovation consultancy. Depending on your needs, these can be valuable add-ons.

 
Taxes and Fees
If you're thinking about buying property here, it's crucial to understand Portugal's associated taxes, costs, and perks of property ownership. Let's explore some of these. 
IMT (Municipal Property Transfer Tax)
This is a progressive tax applied to the purchase price or the tax value of the property, whichever is higher. The rate varies depending on the type of property (urban or rural) and its intended use (primary residence, secondary residence, or rental). 
Stamp Duty
This is levied on the acquisition of the property at a rate of 0.8 percent of the property's purchase price or value. 
Annual Property Tax (IMI)
This is an annual municipal tax based on the property's tax value. Rates range from 0.3 percent to 0.45 percent for urban properties and can be lower for rural properties. 
Wealth Tax (AIMI)
Introduced in 2017, it's an additional tax on the overall value of an individual's or company's real estate holdings in Portugal, excluding properties classified as "agricultural" or "rustic". 
Beyond taxes, it's also important to understand the potential expenses involved in new property deals. 
Notary and registration fees: These are required to validate and register the property transfer. Notary fees wil

l typically cost

you around €1,200, so factor this into your budget..

 

Lawyer's fees: It's advisable to hire a lawyer for property transactions, especially for non-residents unfamiliar with Portuguese property laws. A lawyer will cost you approximately €2000-€5000, depending on the type of property, the price, and the complexities of the purchase. 

 

Mortgage costs: If you're financing your purchase, there might be associated fees, valuation costs, and potential stamp duty on the mortgage amount.

 
Get in touch
Goldcrest are property experts and can assist you to find luxury real estate near a yacht mooring. We have deep expertise in the Portuguese real estate market and will always act diligently on your behalf to negotiate the best possible deal for you.
Tips for Property Buyers
Understand the Market
Before deciding, get to know Vale do Lobo's property scene. Visit open houses, check recent sales, and grasp pricing patterns. 
Get legal help
Hire a reputable local attorney for guidance through Portugal's property buying legalities. 
Conduct a professional inspection
Always get the property professionally checked to spot issues that may be costly to repair later. 
Find out about potential financing options
If you need a mortgage, look at what Portuguese banks offer. They might have appealing rates, especially for Vale do Lobo properties. 
Key factors in choosing a property:
Location: Within Vale do Lobo, your property's exact spot can greatly influence its worth. Think about how close it is to facilities, beaches, golf courses, and other sites.

 

Property's purpose: Clarify the main use of this property — holiday retreat, permanent home, or rental income source?

 

Upcoming area developments: Research planned developments nearby. They can increase property values but also cause short-term disturbance.

 

Ongoing maintenance: Don't forget to factor in continual maintenance expenses, particularly for properties with gardens, pools, or other features needing regular care.

 
Conclusion
Vale do Lobo, situated in the picturesque Algarve region of Portugal, stands out as a symbol of luxury, natural beauty, and lucrative investment potential. Known locally as do Lobo Vale, this destination is renowned for its captivating beaches, meticulously designed golf courses, and the premium Royal Golf development. It attracts both local and international investors, thanks to Portugal's stable economy and attractive property yields. The diverse property landscape, ranging from lavish beachfront villas to a one-bedroom golf residence or a bedroom apartment, all within walking distance of amenities, makes Do Lobo a hotspot for real estate.
However, potential investors should know the various taxes and fees associated with property ownership. With future plans emphasizing sustainability and ongoing development, Lobo Vale promises a bright future for property appreciation. For anyone contemplating property investment in do Lobo Vale, now is the opportunity to immerse oneself in the resort's offerings and seize the array of opportunities available.
At Goldcrest, we streamline the purchasing process for our clients, guiding them from the initial property search to post-purchase support. Setting ourselves apart from conventional real estate agents, our dedication as a buyer's agent centers on ensuring potential homeowners secure the most advantageous deals available.
Frequently Asked Questions about Real Estate in Vale do Lobo, Portugal
Is Vale do Lobo a good investment?
Yes, Vale do Lobo is considered a good investment. Its reputation as one of the Algarve's premier luxury resorts, combined with consistent demand for properties and a positive trajectory for property values, makes it a promising location for both short-term and long-term investment. 
How do I buy property in Vale do Lobo?
To buy property in Vale do Lobo, start by researching the market, perhaps visiting the area or consulting with local real estate agents. Once you've identified a property, you'll need to secure legal representation to guide you through the purchase process, ensuring all paperwork and checks are correctly handled. After agreeing on a price, you'll sign a preliminary contract, make a deposit, and later finalize the sale with a notary.
What types of properties are available in Vale do Lobo?
Vale do Lobo offers a diverse range of properties, including luxury villas, townhouses, and apartments. Many properties boast features like private pools, sea views, and proximity to golf courses. 
What is the average cost of property in Vale do Lobo?
As part of the Algarve region, Vale do Lobo's typical asking price per square meter ranges from €4,503 to €1,211. 
Are there any restrictions on foreigners buying property in Vale do Lobo?
Portugal, including Vale do Lobo, is generally open to foreign property investors. There are no specific restrictions on foreigners buying property, but international buyers should ensure they are familiar with the local purchase process and legal requirements.
What are the ongoing property taxes in Vale do Lobo?
Property owners in Vale do Lobo are subject to annual property taxes (IMI), which vary based on the property's tax value. Rates typically range from 0.3 percent  to 0.45 percent  for urban properties. There might also be a wealth tax (AIMI) on higher-value properties. 
Are there any homeowner association fees in Vale do Lobo?
Yes, if your property is part of a condominium or gated community in Vale do Lobo, there will likely be homeowner association fees. These fees cover shared amenities, community maintenance, and other communal services. The exact amount will vary based on the specific community and the services they offer. 
Can I rent out my property in Vale do Lobo when I'm not using it?
Absolutely! Many property owners in Vale do Lobo choose to rent out their homes when they're not in use, especially during the peak tourist seasons. The resort's popularity as a holiday destination ensures a steady demand for rental properties. However, ensure you're compliant with local rental regulations and tax obligations.