Updated: August 11, 2023
In recent years, Portugal has become an increasingly popular destination for retirees looking to buy property in a sunny and peaceful country. Portugal happens to be one of the best retirement destinations for expats due to its high standards of living, affordable living costs, and tranquil lifestyle by the Ocean. A hot topic for many expats is retiring in Algarve, Portugal. In this guide, we walk you through everything you need to know about retirement in the Algarve.
Algarve, a top destination for retirement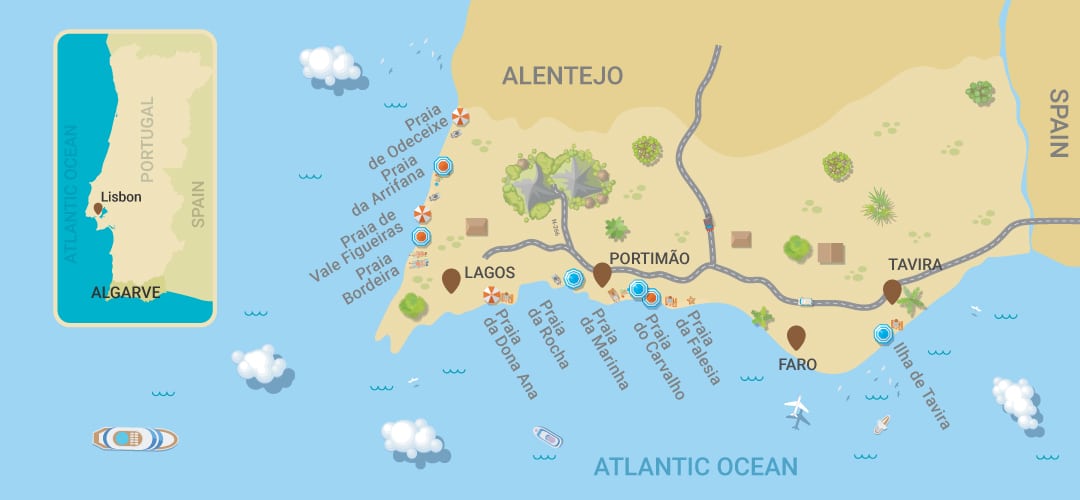 Portugal landed in first place in the Global Retirement Index for 2020 (International Living, 2020). It's no surprise as to why.
Located in southern Portugal, the Algarve is known for its:
A year-round warm, mild climate
Low cost of living
Excellent beaches
Special tax status afforded to expats under Portugal's NHR Scheme
Weather
With an average of 300 days of sunshine per year, the Algarve is suitable as a year-round leisure destination. During the winter months bathing is not advisable, but you can still enjoy mild temperatures of 10°-15
°
C
degrees (50-59
°
F). Swimming is possible from May to October. 
The main tourist season is from June to September when sun-hungry holidaymakers try to secure a spot on the beaches of the Algarve and the maximum temperatures reach 30
°
C (86
°
F) and above.
Beaches

The Algarve is home to some of the most beautiful beaches in the world and has been named the best beach area in Europe several times – 85 of the region's breathtaking beaches have been awarded Blue Flags this year.
What makes the Algarve so special is its great variety of beaches, from the bays accessible by sea only to expansive miles of white sandy beaches of the islands off the Algarve coast. A great way to discover Algarve's beaches in just one day is to take a boat trip along the coast. Boat tours are available year-round from the marinas in Vilamoura, Albufeira, Portimão, Faro, Alvor, Ferragudo, and Lagos. 
Activities
Most visitors are drawn to the Algarve for bathing and beach holidays, but active holidaymakers also get their money's worth. A high concentration of golf courses ensures that golf has developed into an important tourism activity in the region. The scenic region with its imposing cliffs is also ideal for long hiking tours. Algarve is a place for many sights, museums, chic restaurants, cafes, and bars. 
Cost of living
Many retirees are drawn to Portugal because they appreciate the local cost of living. Overall, the cost of living in the Algarve is well below the values found in the rest of Europe (around 20% lower). It's possible to eat in a restaurant for around €9 per person. A liter of milk costs just €0.65. This makes it possible to confidently face everyday life even with an average pension.
Transportation and connection
Using public transport during your stay in the Algarve is an option you may wish to explore. It is inexpensive and fairly punctual but does require a little research before you set off. The trains in Portugal are run by
Caminhos de Ferro Portugueses
www.cp.pt
. They are clean, cheap, and punctual. You can travel right across the Algarve, from Lagos to Vila Real de Santo António on the Spanish border by local train. 
Although it's not the fastest way to cover ground, the train routes often offer much better scenery than the highways, and the pace is more relaxed. Faro airport is located just 4 km from the town of Faro. It serves the entire Algarve region and southern Spain. From Faro airport, you can travel across the region by taxi, airport transfer, car hire or public transport – or arrive in a few hours to the main European capitals.
Why retire in the Algarve?
Another ranking that confirms the high quality of life in Portugal is the Global Peace Index, which distinguished Portugal as the third safest country in the world in 2019. 
 The country also enjoys a very good healthcare system. Last but not least, Portugal offers special tax advantages for pensions for up to ten years. 
Algarve's sporty side

The Algarve offers great conditions for sports and outdoor activities. Popular recreational opportunities include hiking, golf, and water sports. Windsurf and surf enthusiasts are drawn to the Portuguese coast in droves. Algarve invites you to go hiking in the nature parks and the rural countryside. The region is also ideal for mountain climbing, cycling, sailing, diving, and playing tennis, among other wellness specialties.
Check out our article:
Mountain Houses for Sale
.
Algarve's many sights and tastes

The Algarve has so many great cities and villages to offer that it's easy to be undecided. 
So that you can invest in exactly the right place, we have put together a list of the most beautiful destinations in the region.
Faro
Faro is a welcoming and peaceful city with an attractive port, well-kept parks, squares, and an old part (Vila-Adentro) full of pedestrian paths and cafés with pleasant terraces. 
Portimão
Portimão has developed more as a tourist destination, largely due to the success of its famous Praia da Rocha, one of the most beautiful in Portugal; and its sporting port. The heart of the city is filled with modern buildings.
Lagos
Lagos, a port city in the Algarve, has various beautiful beaches, such as Praia do Camilo, Praia do Porto de Mós, and Praia Dona Ana. 
Tavira
Tavira is a small town that many consider to be the most beautiful city in the Algarve. If you wander through the city, you can admire many Moorish remains, cobbled streets, and delightful tiled houses. 
According to the American website
Live and Invest Overseas
, the Algarve has been named "The Best Place in the World to Retire" for the fourth time in a row. This is because of its impressive location, sense of security, a warm and friendly expatriate community, and a high-quality healthcare system. 
How to legally retire in the Algarve?

To legally retire in Algarve, one must go through the Portugal Retirement Residency Law. Under the rules and regulations of the country, if you are a European Union (EU) Citizen, then applying for retirement is easy and straightforward.
All you must do is simply apply for a residence permit, and after that is granted to you; you can simply go on and live like a resident. For EU citizens, applications for a residency permit can be submitted through any of the regional offices of the Portuguese Immigration Service,
SEF
. In European law, all European countries agree on uniform regulations on social security.
How to retire in the Algarve as a non-EU citizen
There are two ways to retire in Portugal if you are a non-EU citizen: 
The non-EU citizen must apply for a residency permit by submitting the application and forms at the Portuguese Consulate office in their homeland before relocating to Portugal. A valid passport, proof of income, and health insurance along with a criminal background check are prerequisites for this application. Once through, a temporary residency permit lasting up to five years is given; after which one can apply for a permanent residency permit like EU nationals.

The other simpler way is to fall under the eligibility criteria for the

Golden Visa Scheme

. 
For British citizens who want to retire in Portugal, it's hard to know exactly what effect Brexit will have. Our best advice is to stay up to date with
Brexit developments on Portugal's Portal Diplomático (Diplomatic Portal)
.
It's important to note that American investors can see an additional advantage in their strengthening currency. "Portugal's real estate market remains nicely undervalued, and when you buy with dollars you have supercharged purchasing power," the Live and Invest Overseas report said.
In 2009, a special status for new pensioners was introduced in Portugal. The "Residente Não-Habitual" status roughly translates as "not an ordinary tax resident" and ensures that people who move to Portugal do not have to pay any taxes on retirement benefits in the first ten years.
Where to search for the best real estate deals

Online, through friends or specialized agents, it's certainly not hard to find great real estate deals for expats in Portugal, especially in the Algarve.
Check out our article:
Cheap Houses with Pool: Affordable Property in Portugal
.
Due diligence checks when buying  real estate
The best approach is to hire specially trained agents, such as Goldcrest, who help buyers make sure they're getting the best and safest deal from their property purchase. 
Making an offer and the process of procuring contracts
When buying a property in the Algarve or elsewhere in Portugal, it can be time-consuming to negotiate the right price for a property and procure all the documentation needed for the purchase. 
The following steps are recommended:
Carefully select which seller to buy from;

Make your offer;

Make sure the funding is in place;

Take another look at the property or get a second opinion from a local buyers agency like Goldcrest;

Sign the pre-sale contract;

Sign the deed of purchase.
If you are looking for
land for sale in the Algarve
, then this is also an option. In general, land is much more affordable than buying a new build. However, construction can take some time, so if you want to move into the property in the near future, this may not be the best option for you. Nonetheless, there is nothing like building your dream from scratch, whereby you can create the house based on your exact requirements.
Get in touch
Have you found your dream property and can't stop thinking of retiring in Algarve, Portugal? Seek help from a specialized property investment firm such as Goldcrest. As an independent local buyer's agent, Goldcrest helps international families acquire sound property investments in their desired locations in Portugal. 
[sc name="get-in-touch"]
Frequently Asked Questions
[sc_fs_multi_faq headline-0="h3" question-0="How much does it cost to retire in the Algarve?" answer-0="The amount to retire in the Algarve depends on your pension allowance and passive income situation. Generally speaking, the cost of living is affordable in Portugal. In the main cities of the Algarve like Lagos or Faro. A couple will need at least €2.400 a month to get by comfortably. But in smaller villages, a couple could get by on as little as €1.400 per month." image-0="" headline-1="h3" question-1="Where do expats live in the Algarve, Portugal?" answer-1="A few places that are popular with expats in the Algarve include areas like Faro or Lagos in the south." image-1="" headline-2="h3" question-2="Can I retire in the Algarve?" answer-2="Sure, you can retire in the Algarve. The process is very simple if you're an EU citizen, or if you're non-EU, we strongly suggest that you apply for the Portugal D7 Visa scheme or the Golden Visa Program." image-2="" count="3" html="true" css_class=""]