Updated: September 19, 2023
Portugal has long been renowned as one of the best-golfing hubs in Europe. Investors describe vacations spent golfing, playing tennis, winning, dining, and enjoying well-designed championship courses, surrounded by breathtaking landscapes. Portugal's bright weather, ocean proximity, and tax conditions make the country even more inviting. In this guide, we take a look at the best luxury golf villas in Portugal.
Portugal was voted the world's best golf destination but the World Golf Awards for five years straight, from 2014 to 2018, in addition to being Europe's best golf destination in 2019. With a wide range of golf courses up and down the country – there are more than 90 – the country is the perfect place for golfers of all abilities.
Which are the best luxury golf villas in Portugal?

The best luxury golf villa resorts in Portugal combine natural landscapes, luxury property, and some of the best golf courses in the world.
Some of the best, award-winning, luxury golf resorts in Portugal are:
Monte Rei Golf & Country Club
Located in Sotavento, Algarve, Monte Rei Country Club's roads wind through the golf courses and lead to different areas. There are spaces reserved for mixed-style villas, with aesthetics that mix Iberian elements. There are also available plots to create your own style villa.
The main, central building, hides a treasure: the Vistas restaurant, which since 2019 has been the first Michelin star on this side of the Algarve, led by chef Rui Silvestre. The price of villas here start at €1.25 million. Monte Rei's villas are in high demand and expansion is now under development, which includes a 5-star hotel, unique in this Algarvian area.
West Cliffs
Extending over 80 hectares in the Azores, West Cliffs offers breathtaking views over the Atlantic from its exclusive golf courses.
West Cliffs is a 5-star tourist complex, whose architectural concept was conceived by Sua Kay. Occupying an area of ​​230 hectares, it's harmoniously integrated with the natural landscape.
Between the Atlantic and the Óbidos Lagoon, this luxury complex has 268 properties that translate into 659 accommodation units and 2,906 beds.
The project involved a total investment of €21.5M, of which €7M relates to the golf area and €14.5M relates to the general infrastructure of the enterprise. Of the €7M in the golf area, € 3.5M corresponds to financing under the scope of PT2020 – Incentive System for Business Innovation.
Oitavos Dunes
Established in 2001 by Arthur Hills, it is also recognized for the preservation of the fragile ecosystem in which it is located in Quinta da Marinha, Cascais. Oitavos' exclusive private villas are set among the greens of Oitavos Dunes. Its 360º views allow you to enjoy the Atlantic Ocean, Cabo da Roca (Continental Europe's westernmost point), and the hills of Sintra.
Their popular 120 sq.m. villas feature both living rooms with fully equipped kitchens and king size suites with whirlpool baths. The main features are the private outdoor swimming pools and sun decks.
Tróia Golf Resort
Tróia Peninsula is a hedonistic place with views of Tróia Beach and the Sado Estuary. Located on the Alentejo coast, only 10 minutes away from Comporta, the Tróia Península is a paradise that combines charm and nature preservation in a sustainable balance and offers a range of activities for the whole family.
Arranged in one of the most spectacular golf courses in the Lisbon area, villas here are part of an eco-resort with full security. A few minutes walk leads you onto a stunning sandy beach with a transparent azure ocean and views of the Arrábida mountains.
San Lorenzo
San Lourenzo is a par 72 golf course located in Quinta do Lago, in the Algarve. It's considered one of the best and most beautiful golf courses in Europe.
Bordering the breathtaking Ria Formosa Natural Park, some of its golf holes are blessed with what can only be described as exquisite beauty.
San Lourenzo Group invites you to build the home of your dreams on an untouched plot in the Algarve's most desired residential development, "Surrounded by nature and with very little traffic, a bespoke, luxury smart home can be designed around your family's personality and preferences and built for you in the secure and natural environment of Portugal's southern coast."
Dom Pedro Victoria Golf Course
The Dom Pedro Victoria Golf Course is a must-visit for golfers and was designed by the golfing legend Arnold Palmer.  One of five golf courses in Vilamoura and played host to the World Cup of Gold in 2005.  Measuring 7,191 yards, the course plays to a par of 71. Surrounded by natural vegetation, including almond and olive trees, it's difficult to think of a better place for golfing.
Onyria Palmares Golf & Beach Resort
The Onyria Golf Resort real estate projects are renowned for offering comfort, luxury, and exclusivity. They strive to maintain comfortable levels of construction so singularity may be felt in landscaping, surroundings, and, of course, inside your own property.
The Onyria Palmares Beach & Golf Resort in Lagos and Quinta da Marinha Resort in Cascais are examples of this harmony. High-quality projects, pointing to a luxury segment, are set in a golf resort environment.
Quinta do Lago Resort – Golf
Nestled within the Algarve in the privacy and security of the Ria Formosa nature reserve, this unique Mediterranean resort offers many activities. Sublime restaurants, a premier sports hub, a boutique hotel, and golden sand beaches, all surrounded by three award-winning golf courses, to be enjoyed year-round.
The high-end villas in Quinta do Lago are spacious 5-star properties with private pools located within and around the resort. The villas are fully equipped, with air conditioning, Wi-Fi, a lounge, BBQ areas, and games rooms.
Praia D'El Rey Golf Resort
Overlooking the Atlantic, this resort with a golf course is one of the most beautiful and complete in Europe. The nine fronts are tucked away amongst  large pine trees, while the nine rears offer breathtaking views of the coast and the Atlantic Ocean in sharp contrast to the sand dunes that surround them.
You can see why guests adore this fantastic resort when you pair these two top-notch courses with lodging options that range from one-bedroom apartments to four-bedroom villas. The 'Golf Digest' magazine highlighted its natural beauty and the quality of the hotel with 177 rooms, all with a balcony or terrace, and many with views of the golf holes.
The resort has several villas with private pools, located next to the entrance or in the center of the project, ideal for families and groups of friends.
Amendoeira Golf Resort
The demand for homes at the Amendoeira Golf Resort, located in the Algarve, increased in 2020 and has already exceeded last year's total sales by 80%.
In high demand are the villas with a private pool and garden, reveal the Spanish property developers Kronos Homes, adding that the development has been renovated. "Increasingly recognized in this new paradigm that we live in, whether for privacy, with low construction density throughout 270 hectares surrounded by nature," comments Rui Meneses Ferreira, partner of Kronos Homes in Portugal.
The Amendoeira Golf resort has fully furnished and equipped properties for sale, namely T2 and T2+1 apartments, detached villas with three bedrooms with private pools, and superior villas with four bedrooms, extensive gardens, and private pools. All of the villas at the Amendoeira Golf Resort are self-catering, however there are a variety of dining alternatives for those who want to spend as much time as possible on the course. A welcome food package is also provided when requested upon arrival.
Why buy a luxury golf villa in Portugal?
Portugal managed to position itself as one of the best countries to live and reform, competing directly with the major European cities. The country has an above-average quality of life, full of 'simple pleasures'. This trend led many luxury real estate investors to see Portugal as an opportunity to develop their activity.
Structural factors make Portugal a "safe haven":
Heritage security provided mainly by the RNH regime (non-habitual residents)
The Golden Visa scheme
Portugal's security indices
Portugal's positive response to the pandemic
According to Miguel Poisson, Portugal Sotheby's CEO, "the real estate market maintains its solidity and low risk. And when we associate real estate investment with solid brands, it becomes irresistible."
The expert has no doubts that luxury villas, "are in great demand and will be a success," in the coming years. He is also sure that they will attract many investors seeking a Golden Visa.
What are golf villa prices like in Portugal?
At Monte Rei, the price of golf villas start at €1.25 million. For €1.495,000 you can buy a 350 sq.m. villa in Vilamoura. For €3.850,000 you can purchase a 1100 sq.m. golf villa in Almancil. For around €8.500.000 you can invest in a Quinta da Marinha 1.892 sq.m. golf villa.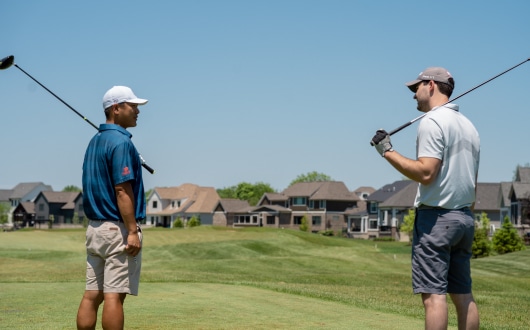 How to find luxury golf villas in Portugal for sale
Some of the best websites to find luxury golf villa deals in Portugal include Idealista, Sotheby's, Christie's, Engels & Volkers, and Imovirtual.
Yet, since buying a luxury property requires expertise, we suggest that you use an independent buyers agency. Portugal has a competitive luxury real estate market that requires an expert's guidance.
Get in touch
Ready to invest in a luxury golf villa? We suggest that you collaborate with a specialized property investment firm such as Goldcrest. As an independent local buyer's buyers agent, Goldcrest helps international individuals get sound property investments in their desired locations in Portugal.
Frequently asked questions about the best luxury golf villas in Portugal
What are the best luxury golf villas in portugal?
Golf Digest magazine has compiled a list of the best places in Europe that combine luxury accommodation with the best golf courses. In this list, Portugal has two top locations, both in the country's coastal center: Praia D'El Rey and Oitavos Dunes.
Where can I find luxury golf villas in Portugal for sale?
Some of the best websites to find luxury golf villas in Portugal include Idealista, Sotheby's, Christie's, Engels&Volkers, and Imovirtual. Yet, since buying a luxury property requires expertise, we suggest that you use an independent buyers agency. The luxury segment is a competitive market that requires an expert's guidance.
What are luxury villa prices like in Portugal?
Luxury villa prices like in Portugal are still lower than in main golf luxury resorts in Europe.
What villas on golf courses in Algarve are for sale?
So, where is the best area in Portugal for golf? Algarve and its golf courses are repeatedly praised by international media devoted to the sport, and by international associations of specialist tour operators. In the Algarve you can find some of the best golfing destinations in the world. There are villas on golf courses for sale in the Algarve in areas such as Vilamoura and Oceanico, Quinta do Lago, Carvoeiro Pestana and Vale do Lobo. These are some of the most popular golfing destinations.