What are the main types of luxury properties in Portugal?
The Portugal real estate market is as diverse as it is dynamic, with a broad variety of types of luxury properties on offer. From beach houses to luxury resorts to historic townhouses, there are many options. There are vineyards, farms, palaces, and even castles in the mix when it comes to investment opportunities and luxury properties on offer. 
In this article, we'll provide you with an overview of the luxury property market in Portugal. After this, we'll provide you with an overview of the main types of luxury properties in Portugal that are available to buyers and real estate investors. 
The luxury property market and types of luxury properties in Portugal 
Portugal has often been regarded as a relatively cheap market for second-home buyers looking for a place to bask in the Mediterranean sun. Now, however, Portugal has evolved to become a serious player in the luxury real estate market. Nonetheless, the market remains relatively more affordable than many of its European neighbors.
The luxury market has significantly grown in recent years, with the high-end market in Portugal outperforming many of its fellow European countries. In Avenida da Liberdade, prices can reach the dizzying heights of  €11, 200/m2. 
Elsewhere, the Algarve, Porto, and Comporta real estate are amongst some of the other popular investment options. Indeed, Portugal has grown in terms of luxury properties, with celebrities amongst those snapping up properties here. With a vibrant array of locations, it is not difficult to see why. 
What's more, there are many different types of luxury properties for sale in Portugal, and with this broad spectrum of properties, the country has a lot to offer investors.
The main types of luxury properties in Portugal
Luxury properties in Portugal come in all shapes and sizes. The choice of which type of property will depend on your criteria and what you are looking for. From apartments to villas, from luxurious mansions to the ample space of a country home, there are many options available. Here, we'll provide you with an overview of some of the types of luxury properties in Portugal. 
Types of luxury properties in Portugal:
Historic townhouses
Portugal has a very rich history, with Roman influences, Moorish designs, and touches from the "Age of Discovery" in the late Middle Ages. The rich history can be seen across the country, with restored or renovated luxury historic townhouses. You will be able to revel in the architectural features and embrace the old history of the country. This glamorous corner of the luxury Portugal real estate market reflects the vibrant culture of the nation.
Where to find luxury townhouses for sale in Portugal
The north of Portugal is a good place to start when looking for historic townhouses. Ponte de Lima is the oldest city in Portugal and one of the most charismatic. The town sits on the rolling banks of the Lima River.  A bridge built by the Romans remains the main crossing point, constructed in 1AD. Guimarães is also a very attractive location, with its historic town center now a UNESCO Heritage site. Here, the 10th-Century Guimarães Castle provides city views to savor.
And then there is Braga, with its quiet charm, cobbled streets, and the splendid cathedral centerpiece. Indeed, Braga was voted as the best European destination in 2021. If you are interested in Braga real estate, our article on Braga provides you with everything you will need to know about buying here. 
Elsewhere in the country, Coimbra, Évora, and even Porto could also provide you with very good options. Tavira, in the Algarve, could also prove to be the perfect location. 
Luxury villas
A luxury villa, with a pool, private gym, added security and, most importantly, a place to unwind, relax and soak up the atmosphere, is an attractive option. There are several locations where you can find modern luxury villas in Portugal. Villas are not just one of the best investment opportunities. They also allow you to realize your lifelong ambition of creating your dream home, exactly to your tastes. 
Where to find luxury villas for sale in Portugal
The first port of call is definitely the "Golden Triangle" in the Algarve. Near the resorts of Quinta do Lago and Vale do Lobo and in Vilamoura, you'll see real luxury prices. Here, you have exclusive properties, famous golf courses, a yacht marina, and plenty of time to bask in the wonderful climate of the south. 
Comporta real estate is also thriving, where you will be able to find stunning villas, with sea views. Close to Lisbon, the seaside town of Cascais also has beautiful villas for you to call home. Close to the buzzing capital -a short 30-minute drive – your location could not be better placed. 
Modern apartments
Whether you are looking for a modern city apartment in Portugal or a sleek apartment with sea views, you'll be well catered for. With all the space you need, additional facilities should you wish, verandas to sit back and relax with a cold glass of vinho verde (green wine), and impressive views, there are many apartments in Portugal that are very special indeed.
Where to find modern apartments for sale in Portugal
Lisbon and Porto both have modern apartments where you can have spectacular river views. The River Tejo in Lisbon, with the Ponte de Abril 25 bridge, is reminiscent of the San Francisco bridge in America. For Porto real estate, the Douro river, with the views of the wine houses on the opposite side of the river, provides killer sunsets. 
Lisbon has long been known as one of the best investment opportunities, with high yields and increasing demand. However, Porto is also a perfect investment opportunity that has really come into its own in the last five years or so, offering cheaper properties. The real estate market in Porto is a hot place to buy at the moment. 
You will also be able to find luxury apartments in the Algarve, the Silver Coast, Comporta, and the Tróia Peninsula. Setúbal also offers beautiful modern apartments, where you have the incredible National Park of Arrábida on your doorstep.
Beach houses
Now, beach houses and Portugal go hand in hand. Indeed, with a coastline stretching 1974 km, it is no surprise that some of the most beautiful types of luxury properties in Portugal are beach houses. 
Where to find beach houses in Portugal
From the very south of the country, the Algarve has an array of luxury beach houses for sale. From the more authentic Tavira in the east to Lagos and Sagres, in the west, where you should definitely consider if you are a fan of water sports and unique rock formations. The center, close to Vilamoura, also has many sleek beach houses, where you can have an early morning swim and then cool off in the shade of your home. 
Further up the country, you have potential locations stretching up from Costa Vicentina to the exclusive postcodes in Comporta, right up to the dramatic Silver Coast. These areas are each beautiful in their own right. In the north, Porto real estate and the increasingly popular Vila Nova de Gaia each have some stunning properties. With some of the best schools here, this is a great option for families.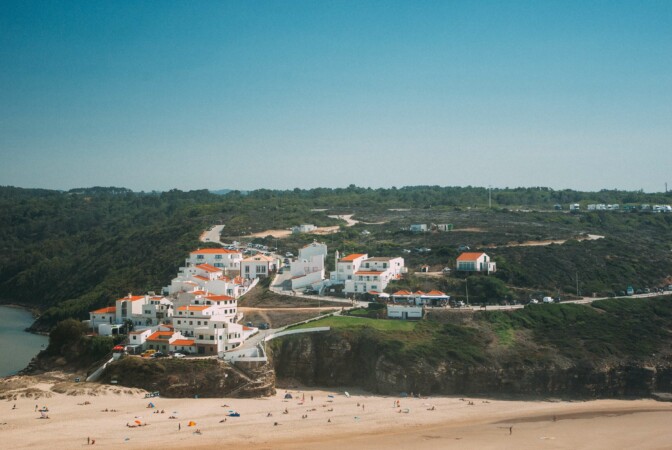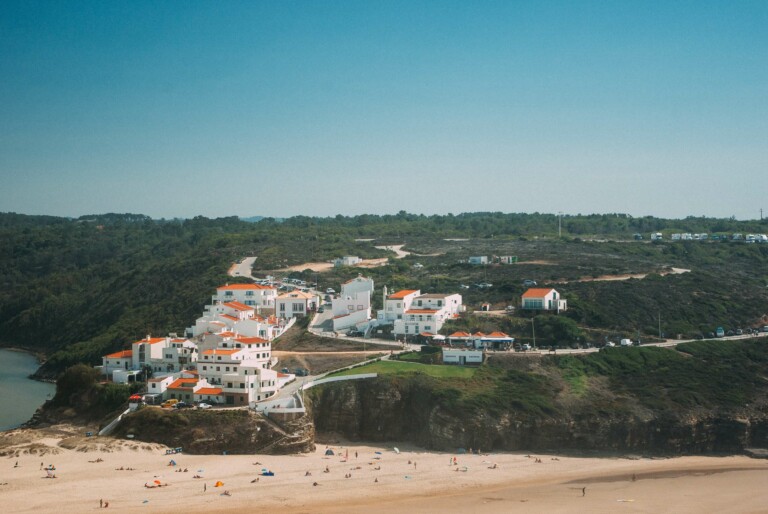 Mansions
For many, owning a mansion is the ultimate type of luxury property. Whether it is a stately home in the city, or in the depth of the countryside, there are many locations to live out your dream of walking through your large grounds. Whether you are a nature lover or enjoy the faster pace of city life, you should be able to find something for you.
Where to find mansions for sale in Portugal
For a mansion in a bustling city, consider Lisbon and Porto. For something quieter, perhaps Coimbra or Guimarães could be for you. Also, a mansion in Foz do Douo, provides a blend of city and beach life. This area is also ideal for families. 
For mansions with views of the ocean consider the Algarve or Cascais. For detailed information on the best areas to find mansions for sale in Portugal, you can see our article here. 
Castles and palaces
The rich history of Portugal has already been touched upon – and, yes there are many beautiful historic luxury townhouses for sale in Portugal. However, if you are looking to for something even grander, then Portugal also has castles and palaces for sale. Indeed, your childhood dream of being the King or Queen of the castle may even be able to become a reality.
Palaces likewise are a symbol of the power, status, and wealth of families of the past. They provide a window into the lives of the noble families in Portugal. In general, both palaces and castles are kept in very good conditions. This is the result of detailed restoration works and flawless care. 
Where to find a castle or palace for sale in Portugal
There are castles from the north to the south of Portugal. However, castles for sale are definitely not as common as other property types. You can check various sites to see where to find a castle in Portugal. Speaking with a real estate agent on the ground will be an asset. 
For palaces, there are many viable locations. Lisbon and Porto each have exquisite palaces in the heart of the city. Sintra has beautiful palaces, and in the midst of nature, could provide you with a unique buy. Indeed, pop sensation Madonna owned a property in the Sintra area. Elsewhere, the interior of the country is also a very good option if you are looking for a quieter way of life, more in touch with the real roots of Portugal.
For castles and palaces, check with your lawyer to ensure that you are eligible to buy and our articles on palaces and casltes should provide you with detailed information on the process. 
Luxury farms
Portugal has an incredible cuisine that is somewhat underrated when compared to the likes of Italy and Spain. However, with incredible produce – try the oranges from the Algarve, queijo (cheese) from the Azores, or the porco preto (pork) from the Alentejo and you will be easily convinced. Indeed, owning a farm is something a little different – you can relax in the very heart of the country. Here you will find local produce and tranquility that you do not find in the cities. With the remote way of working firmly in our psyche, why not opt for some luxurious splendor in the midst of nature? 
Where to find luxury farms for sale in Portugal
The breadbasket of Portugal, the "Alentejo" is less populated than other parts of the country. However, the Alentejo is sought after by Portuguese holidaymakers. They favor this area, looking to dodge the tourist-heavy Algarve and relax in some peace and quiet. The old ways of life percolate through the daily life here. If you are looking for the ultimate island of calm, with ample produce on your doorstep, then look no further.
In the north and the center of the country, you will also be able to find renovated farms for sale. Here you can live in luxurious splendor in the countryside.
Penthouses
Perhaps the complete opposite of a luxury farm is a luxury penthouse. Indeed, the types of luxury properties in Portugal that are for you will entirely depend on your tastes. While you may just think of New York, Paris, Singapore, and London when it comes to spectacular city penthouses, few would put Lisbon or Porto real estate into that bracket. Nonetheless, whether its sweeping views of the Atlantic ocean or the sheer wonder of the city spread out before you, Portugal can deliver on this front.
Where to find a penthouse for sale in Portugal
You should be able to find a luxury penthouse in Lisbon with stunning views of the Ponte 25 de Abril bridge and the River Tejo. At night, the Cristo Rei on the opposite side of the river is a welcome sight. Owning a penthouse in Lisbon provides you with dreamy views from morning until night, with colorful houses visible from most high points in the city. 
Porto is also a very secure option. Winding down the day with a glass of Porto wine, and the gleaming wine houses on the opposite side of the river., the views are simply stunning. Or if you are looking for that city/beach mix, Foz do Douro should be able to cater to your desires.
The Algarve and the Tróia peninsula are also very desirable locations, for the best of Portuguese luxury. The islands, Madeira and the Azores are also very viable options. For a full guide to penthouses in Portugal, you can see our article here.
Vineyards
Dreaming of owning a vineyard in the sunny Mediterranean has probably played on your mind at some point in time. Celebrities, such as Cliff Richard have opted for owning a vineyard in Portugal in the Algarve. With a beautiful climate, some of the very best grape varieties, and a rich history of winemaking that dates back to the Romans, it may be possible to have a beautiful vineyard that you can call your very own.
Where to find a vineyard for sale in Portugal
In the north of Portugal, the Douro Valley is the perfect location to own a vineyard. Indeed, this is where some of the most well-known, full-bodied reds originate from. Further north, by the Spanish border, you have the Minho province, where the crisp Vinho Verde is cultivated, another perfect choice. 
The Alentejo boasts some of the fruity wines that are gradually becoming internationally recognized. Further south still, the Algarve also has a very good climate for winemaking. Our article on where to find vineyards for sale provides more information on the long history of winemaking, including more information on the best regions to find vineyards.