Updated: September 11, 2023
Everybody knows Porto – the second largest city in Portugal. Vila Nova de Gaia, however, is often overlooked. Stunning views, outstanding beaches, and the bright lights of the wine sellers are all found in Vila Nova de Gaia, ready to welcome incoming expats. 
Additionally, property prices in Vila Nova de Gaia are affordable, and the area is becoming a vibrant place to live, with ample beaches to visit and top-quality luxury restaurants to sample. An extra perk is that the town is less busy than Porto. Investors are rest assured knowing that this is one of the up-and-coming regions in the country.
In this article, we'll run over the beauty of Vila Nova de Gaia – both for homebuyers, who want to live a top quality of life and for investors, where the area offers several perks. We will run over the Portugal real estate market in Gaia, before running over the history of the city and the lifestyle here. 
If you would like to talk with an experienced buyer's agent to determine why Gaia is an excellent lifestyle and investment choice, or if you would simply like to know more about which area of Portugal is best suited to you, you can book a call here to discuss your options. 
Why Vila Nova de Gaia?
While some locals from Porto joke that the only good thing about Vila Nova de Gaia is its stunning view of Porto, Vila Nova de Gaia is a very attractive location to consider. Vila Nova de Gaia hosts some of the best houses in the region, with a bustling food scene and with long, quiet stretches of beaches where you can unwind and relax. 
Vila Nova de Gaia, or simply referred to as "Gaia" by the locals transports you back to the 17th-century and the first outings of port-wine production. British merchants added a dash of brandy into wine to create a sweet post-dinner beverage. The grand lodges sit on the banks of the Douro River, inviting you for tours, tastings, and dinner with spectacular views of the historic city of Porto on the opposite bank. 
Looking past the famous wine houses, you will find that Gaia is much less touristic and busy than Porto, with perhaps a more authentic Portuguese experience vibe. Plus, with several amazing beaches, top fine dining restaurants, and a reputation as an up-and-coming area, Gaia is an increasingly popular investment opportunity.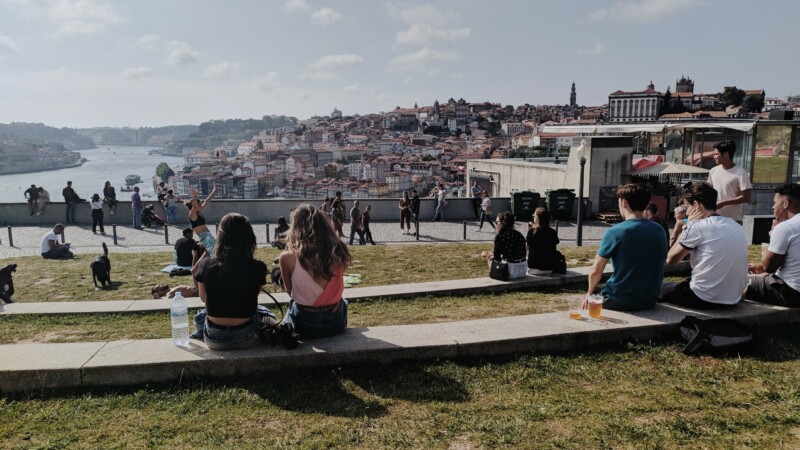 Gaia: an investment opportunity
Property in Vila Gaia is attractive to buyers, as prices are, for the most part, affordable. The average residential price for a property in Vila Nova de Gaia was €1,791/m2 in 2020. For Porto real estate, on the opposite side of the river, the average residential price for a property was €3,328/m2. If you are looking for affordable property in the north of Portugal, Braga Portugal real estate could also be an excellent option. 
Gaia- luxury real estate
Luxury property buyers should be happy to know that when looking for exclusive properties in the region, there are many options to consider. Picture stunning properties with incredible waterfront views of Porto and the Douro River. Failing that, there are many splendid houses with stunning views of the glimmering Atlantic. You will find a range of different properties, from houses by the ocean, to modern apartments, to villas – indeed, you should be able to find the type of property that suits you.
History of Vila Nova de Gaia
Vila Nova de Gaia existed in Roman times – known as the city of Cale. Cale most likely developed from a preexistent Celtic Castro or Neolithic settlement. In Roman times, the majority of the population of Cale lived in the south of the river Douro and, on the north side, there was a smaller settlement, which is now the Ribeira neighborhood of Porto. Indeed, the name of Porto, in medieval times, was called Portus Cale as it stood for the harbor of the city of Cale. 
As an incredibly important city for trade, Porto eventually outgrew Vila Nova de Gaia, becoming the most important part of the town, where the Bishops and Merchants established themselves. 
In the eighth century, following the Moorish invasions, the frontier between the Islamic state and the Christians came to fruition for a long period of time on the Douro River. With constant raiding and counter-raiding, the town of Cale was deserted and most inhabitants sought protection in Porto, on the north of the Douro River.
The Legend of Gaia
In the late Medieval period, the legend of Gaia is set. After the south side of the Douro river was once again at peace in 1035, with the expulsion of the Moors, there remained semi-abandoned fertile lands in Cale. Colonists from the north settled in these lands, hustling for better feudal contracts with the newly appointed lords. These migrants refounded the old city of Cale, renaming the city Vila Nova de Gaia around the old castle and the ruins.
Lifestyle in Gaia
Lifestyle in Vila Nova de Gaia is very similar to how you would live in Porto or other northern Portuguese cities. The north of Portugal is renowned for its rustic and hearty cuisine, something that expats in Portugal revel in. However, in Vila Nova de Gaia, although you can find too many Portuguese tascas (typical Portuguese restaurants), serving Francesinha (a typical Portuguese sandwich with a special sauce) there are also many fine-dining restaurants on the south side of the Douro River.
Gaia will be quieter than Porto, although you will not have to give up any of the perks of not living in Portugal's second-biggest city. Indeed, you are only a short drive across the bridge from Porto, so will be able to thoroughly enjoy the amazing buzz of Porto. As a student town, Porto has a thriving coffee scene, nightlife buzz, and unique cultural charm.
Gaia also has some of the most beautiful beaches in Portugal, many of them much quieter than those closer to Porto. Take Praia da Madalena, Praia de Miramar and Praia de Dunas Mar, each beautiful in their own right. Praia da Madalena is particularly nice to spend a day, popular to head for a swim, and nice bars to sit back and relax in. 
The lifestyle in Gaia is pretty relaxed. The locals in the north of Portugal are noted as being some of the friendliest in the country. And that's really saying something, as the Portuguese, in general, are renowned as being the friendliest in the world. 
Climate in Gaia
In Gaia, the summers are dry, warm, and clear and the winters can be cold and wet. Over the year, the temperatures typically range from 43°F (6°C) to 76°F( 24°C).
Frequently asked questions about Vila Nova de Gaia:
1. What is the average property price in Vila Nova de Gaia?
Portuguese real estate is relatively affordable. For Gaia, the average residential price for a property was  €1,791/m2 in 2020.
2. Is Gaia a good place for expats in Portugal?
Yes, for expats in Portugal, Gaia provides excellent properties with all the amenities that you could want – top restaurants, beaches, and relaxed quality of life. 
3. Is it easy to move to Portugal?
If you are looking to move to Portugal, the process is relatively straightforward. However, we strongly recommend having a buyer's agent on your side to help you with navigating the property market, particularly if you do not speak Portuguese. You can book a call here to speak with a Goldrest advisor to discuss what you are looking for.
Our new book, Your Expert Guide to Buying Property in Portugal provides a simple rundown of everything that will need to consider when buying in Portugal.