Updated: October 6, 2023
Coimbra is one of the most fascinating cities in Portugal, with a rich history and a contrasting charm, both bustling and peaceful in equal measure. A riverfront city and Portugal's former capital, Coimbra manages to mix the old with the new – perhaps why Coimbra Portugal real estate is an attractive option to property buyers. Alongside this, the surrounding countryside provides beautiful properties in the heart of the Portuguese countryside.
With very affordable real estate for sale in Coimbra, the city is an excellent investment opportunity. In this article, we'll delve into what makes Coimbra tick and reveal the ins and outs of the city. Following this, we'll provide you with information on the real estate market, the history of the city, and an overview of the best places to buy property in and around Coimbra.
Overview of Coimbra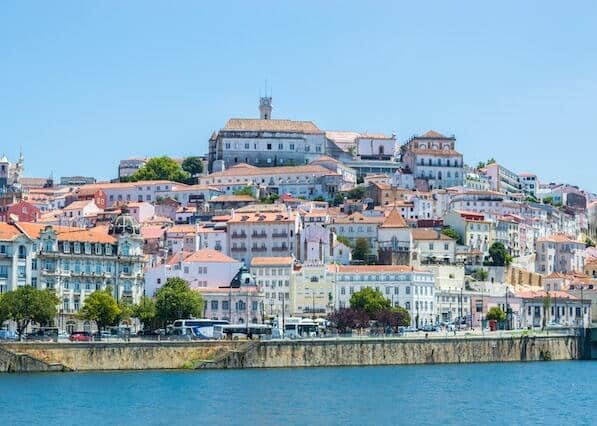 Coimbra is one of Portugal's most culturally rich cities. With many archeological structures dating back to Roman times, and as the home of the oldest university in Portugal, the city retains its rich heritage. Indeed, Coimbra's historic buildings were classified as a World Heritage site in 2013, as its,"ceremonial and cultural traditions have been kept alive through the ages."
Coimbra is a vibrant paradise for lovers of historical flair and landmarks — from the banks of the Mondego River, the largest in Portugal, to the Barbican Gate, an impressive Roman Arch. You'll find a multitude of towers and churches to visit on either side of the walls. From the Monastery of Santa Cruz, which is home to the remains of Portugal's first king, to the grand old cathedral from the 1100s, Coimbra has a unique history.
Alongside the city's cultural heritage, the multitude of riverside restaurants and bars signal a modern city. This contrast between tradition and modernity is how the city offers a unique lifestyle. While you can find traditional "tascas" (casual Portuguese eateries) serving typical Portuguese foods, such as "bacalhau" (salt cod) or "caldo verde" (a comforting cabbage soup), you also have many trendy bars and restaurants setting up shop in the city.
Coimbra Portugal Real Estate
Coimbra is not as well known as some other locations in Portugal, such as the Algarve, Lisbon, and Porto. However, investors and homebuyers will be pleased to know that Coimbra Portugal real estate has several benefits, not least the affordability and beauty of the region. You'll find many properties for sale in Coimbra at very reasonable prices.
In this section, we'll provide you with some details on the real estate market in Coimbra.
Why invest in Coimbra Portugal real estate?
Coimbra is a very attractive city to invest in because real estate in and around the city is very reasonably priced. Investors will find affordable properties on the market and many different property types to choose from.
As Coimbra is a university town and has many residents living in the city, investors should find that their investment in real estate provides a stable fixed income. Although properties in Coimbra cannot be rented out for the same prices as properties in Lisbon, investors will still find attractive investment potential.
Also, investors looking into the Portugal Golden Visa scheme will be happy to know that, after the changes to the scheme that unfolded on 1 January 2022 – whereby investors were only able to invest in interior areas – many rural areas to the east of Coimbra remained eligible. See our article on the interior areas that qualify for additional information.
Portugal is also one of the safest countries to invest in. The country ranks in sixth position in the 2022 Global Peace Index, a significant pull factor for investors.
Coimbra Portugal real estate: Types of property
There are several different property types available in and around Coimbra. If you are looking for a historic townhouse, a modern apartment, or a family home, you will be able to find it.
Outside the city of Coimbra itself, you are in a wonderful part of Portugal. With country homes, surrounded by vineyards, farms, and rolling hills, it is the perfect quiet area to relax and unwind.
The luxury market is also thriving here. Those looking for a touch of elegance will be able to come across luxury villas and homes, with all the amenities and creature comforts that you could want.
Coimbra Portugal real estate: Prices of property
Coimbra is one of the cheaper cities in Portugal, both in terms of property prices and cost of living. The following data is from Numbeo.
An apartment in the city center will cost you €2,225 per m2
An apartment outside the city center will cost you €1,462 per m2
Luxury properties will be more expensive and prices will increase depending on the facilities, such as if the property has a pool, gym, or additional security.
When searching for Coimbra property, it is worth setting up a property alert based on your search criteria on the real estate websites that you are checking out, such as Idealista. This will help to ensure that you do not miss houses that could be a perfect match for you, as you'll receive an email alert straight to your inbox.
Whether you are looking for a top-floor apartment, first floor apartment, or ground-floor apartment, you'll find several options when it comes to property for sale in Coimbra. Note that some buildings may not have lifts, so a ground-floor or first floor apartment may be preferable. However, on the higher floors, you'll find balconies with fantastic views of the city, which may make up for having to scale the stairs every time you come home.
You'll find more properties outside the city itself. The rolling countryside around Coimbra provides more spacious homes, farms, and even vineyards if this is what you are looking for.
While purchasing property is a better investment in the long term, renting is a good starting point, so that you can explore the city and decide which is the best neighborhood for you, whether you are scouting out a quiet area in the suburbs or want to live in close proximity to the university.
While prices will vary depending on your search criteria, you will be able to find some cheap houses for sale in Coimbra, so it's usually a better investment to purchase property as opposed to renting.
Coimbra Portugal real estate: Renting property
If you are looking to rent Coimbra property, the monthly rates can be found below. The data is from Numbeo.
A one-bedroom apartment in the city center will cost around €480 per month
A three-bedroom apartment in the city center will cost you around €740 per month
A one-bedroom apartment outside the city center will set you back €345 per month
A three-bedroom apartment outside the city center will cost you approximately €742 per month
A History of Coimbra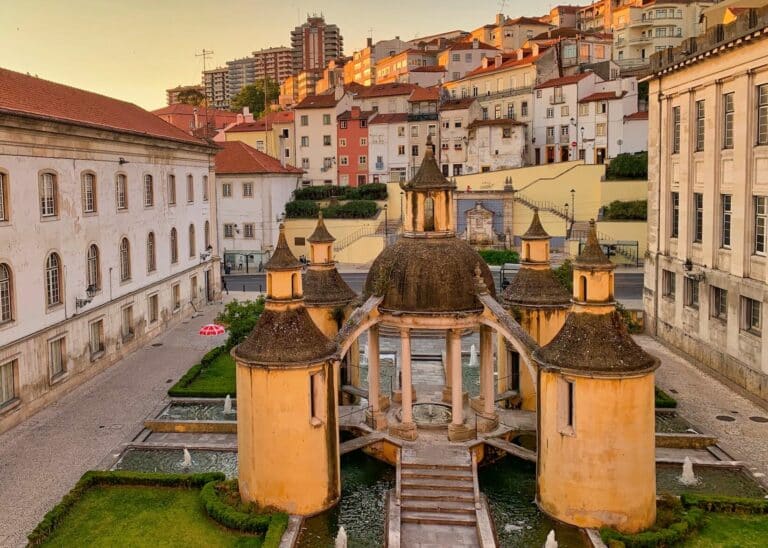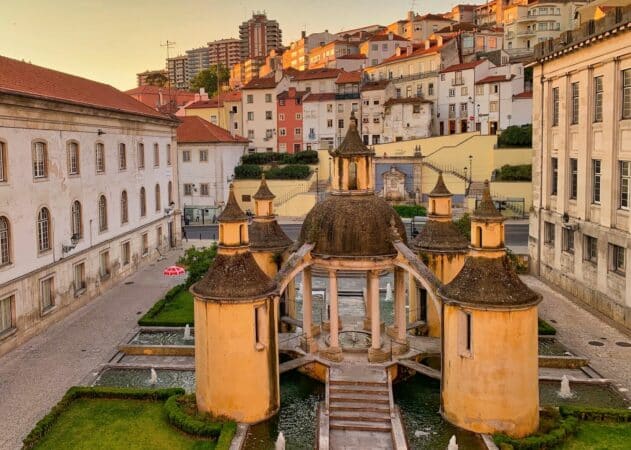 Coimbra has a rich history that dates back to Roman times when the city was coined Aeminium These Roman influences can still be seen across the city today.
After the Romans, following changes of hands from the Suebi, Alans, and Visigoths, the city eventually came under the control of the Moors, until it was eventually relinquished to Christan forces in 1064, under the command of King Ferdinand 1.
The upper city was where the aristocracy and clergy resided, while the merchants and labor centers remained in the lower city. Coimbra was encircled by a fortified wall, which you can still see at the Almedina Gate. During this time, construction and renovation were carried out in the city. Meandering through the city today, you can still see several examples, such as the impressive Old Cathedral of Coimbra and the renovated original Roman bridge.
One aspect that you may not be aware of is that Coimbra served as the Portuguese capital from 1139 to 1385 and, although the city is no longer the capital of Portugal, it retains its importance as a key intellectual hub in the country, with both Portuguese and international students opting to study in the university.
During the Age of Discovery in the 15th-16th centuries, Coimbra was one of the main artistic centers in Portugal. The city grew on different fronts, such as with the construction of the Joanina Library, built in the Baroque style in the 18th century. However, moving into the first half of the 19th century, the city experienced some hard times, as it was invaded by French troops.
The city recovered well with infrastructural improvements, a railway system, and an expansion of the city. Moving towards the present day, Coimbra retains its cultural flair and historic depth, while embracing modern times. The history of the city has shaped one of the most exciting cities in the country.
Where to Buy In and Around Coimbra
From the city itself to the picturesque countryside, and even closer to the sea, there are many prospective locations for buyers. If you head west from Coimbra, you'll find many desirable locations on the Silver Coast to buy stunning properties.
In this section, we'll delve into some of the top locations to consider in and around Coimbra.
City of Coimbra
For history lovers and those looking to live in the heart of a bustling, yet relaxed city, buyers will be able to find a historic townhouse or apartment that tickles their fancy. Investors will be well-placed given the heady flow of students that arrive in the city.
The Mondego River meanders through the city and the cathedral provides a key central reference point. The diverse array of cultural events, restaurants, and trendy bars makes Coimbra a very good choice for lifestyle buyers, who will be able to enjoy a high, yet affordable, quality of life. Indeed, enjoying an "imperial" (small beer) or "copo de vinho verde" (glass of green wine) – perhaps accompanied by an assortment of some delicious Portuguese tapas – in one of the riverside bars should be enough to convince you that you can live a very good life here.
Figueira da Foz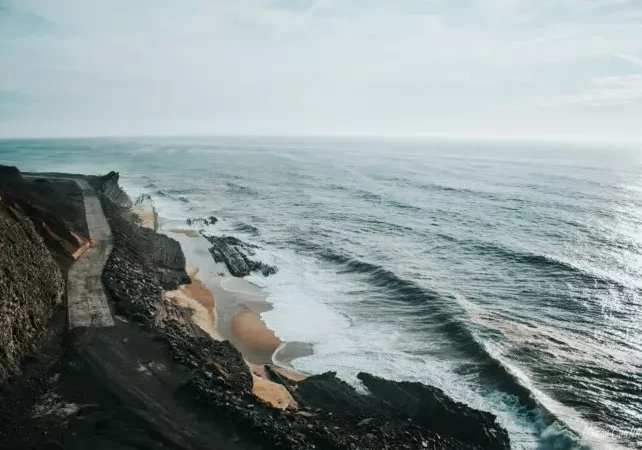 According to some legends, Figueira da Foz is named after a fig tree that stood at the quay of Salmanha. The fishermen used to tie their boats to the tree, which is where the name originated from. Figueira da Foz is a seaside resort in the Coimbra district, practically halfway up the Iberian coastline.
If you are looking for waterfront properties, then here could be the perfect option for you. You will be able to enjoy sweeping views of the Atlantic. In the summer, the main beaches can get busy but you will have all the services that you need. For the active types, there is a vast range of watersport activities, including surfing and kitesurfing. As an expat in Portugal, you can easily live an active life here.
Rural Coimbra
With rolling hills, beautiful landscapes, and picturesque villages, rural Coimbra has much to offer buyers. The countryside surrounding the city offers spacious properties. These could be perfect for buyers looking for peace, tranquility, and a place to stretch their legs. Here, the traditional ways of Portuguese life are still firmly in place. Be prepared for a bounty of local produce, friendly locals, and village festivals, with their cultural traditions. Living in the rural heart of the country, you will be able to get under the skin of the real Portugal.
Indeed, with working from home becoming increasingly possible, this shift is a blessing for those that want to spend more time with their family or with nature – something that rural Portugal is perfect for.
Culture of Coimbra
Coimbra is a cultural hotspot in Portugal. There are several musical events, festivals, museums, and art galleries. The Machado de Castro art museum is located here, named after the sculptor Joaquim Machado de Castro. Here you can admire a selection of paintings and sculptures from across the centuries.
Aside from this, the University Library is especially beautiful, as are the flowers and plants in the 18th-century Botanical Garden of the University of Coimbra.
The food and drink scene in Coimbra is exceptional, mixing traditional dishes with modern restaurants pushing the boundaries. As with everywhere in Portugal, the heritage of the country is of prominent importance and, as one of the top cities of culture, this is certainly true in Coimbra.
Further Information:
Goldcrest is a buyer's agent that works solely on behalf of you as a buyer. Our team works diligently on behalf of our clients to make sure that the correct steps have been taken, providing a high-quality service that safeguards you from poor property investments.
The following articles may be of interest to you:
Our new E-Book, Your Expert Guide to Buying Property in Portugal also provides you with everything that you for a hassle-free property purchasing experience.
Frequently Asked Questions About Coimbra Real Estate
Is Coimbra Portugal real estate a good investment?
For homebuyers and investors, Coimbra is a good city to consider, with beautiful properties in an affordable part of the country.
Will Coimbra remain eligible for the Portugal Golden Visa?
While the city itself will not be eligible as it is a high-density area, much of the surrounding interior areas close to Coimbra in the east may qualify for the Portugal Golden Visa. Speak to a consultant for more information. You can book a call to discuss your options.
Is Coimbra a good place to live in Portugal?
Coimbra is a picturesque city with the River Mondego running through it. There is an abundance of delicious restaurants and a vibrant culture rooted in traditions. Expats in Portugal should definitely consider Coimbra, and the surrounding countryside, as an option.
Is it expensive to live in Coimbra Portugal?
The estimated monthly cost for a family of four in Coimbra is €1,815, without rent, while the estimated monthly costs for a single person are €516, also not including rent. This data is from Numbeo. More properties can be found outside the city center, which will be more affordable. You will also find many affordable properties for sale in Coimbra.
How many expats live in Coimbra Portugal?
As of 2022, Coimbra has a population of around 140,838, of which around 5.8 percent of the city's population are foreigners. Despite this, Coimbra still has a small-town vibe, while also being a key Portuguese urban hub and one of the most significant student cities in the country.