Updated: August 17, 2023
In this article, Homeowner's Association Portugal: An Overview, we'll provide you with some key information that homeowners in Portugal should be aware of. 
In Portugal, the ownership of properties that have shared elements, such as buildings, amenities, or land, is established through a co-ownership system, resembling the ownership of a condominium in the United States, although there is no homeowner's association in Portugal. 
Many community developments in Portugal are situated by the coast and often provide a range of communal facilities such as golf courses, swimming pools, tennis courts, or a gym. Take the Algarve, for example, where you'll come across several of these condominiums with shared facilities.
Here is some information on homeowner rules and general advice if you are contemplating living in a condominium in Portugal.
Rules for Using Community Swimming Pools in Portugal
Many residential communities in Portugal offer community swimming pools as part of their amenities. The building manager and maintenance of the pool should be taken care of.  However, there are rules and guidelines that residents must adhere to for the safety and enjoyment of all. These may include designated swimming hours, the requirement of a pool pass, rules for children's supervision, and regulations regarding proper conduct and hygiene. If living in a condominium, make sure that you are aware of the rules in place. 
What to Do if Your Neighbors Harass
You
Unfortunately, living in close proximity to others can sometimes lead to conflicts or harassment. It is important to address the situation promptly and effectively in such cases. Homeowners in Portugal can seek guidance from the building manager when dealing with neighbor harassment. Maintaining open communication and seeking a peaceful resolution is crucial to maintain a harmonious living environment.
Pet-friendly Portugal: Rules and Laws for Living with Animals
In Portugal, there are rules and laws in place to ensure responsible pet ownership. While it was once common to prohibit pets in condominiums, this is usually no longer the case. Note that the pet is the responsibility of the owner, for example, if their pet is disturbing neighbors and causing noise. There can also be limits on the number of pets allowed, and you must have your pet registered in Portugal.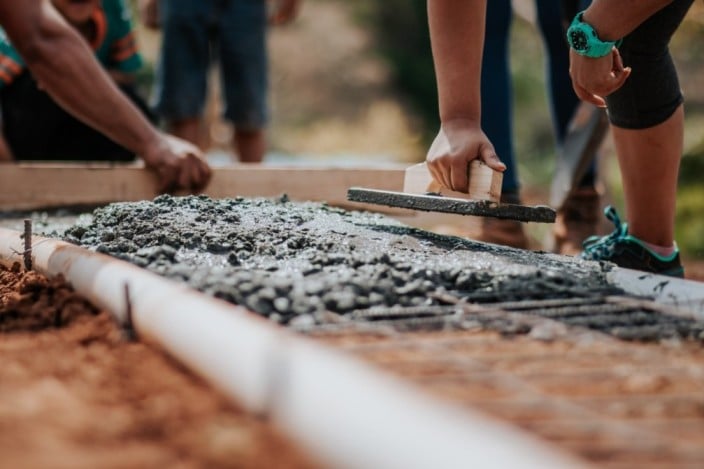 Building Renovation Works in Portugal: Rules and Regulations for Apartment Blocks
Portuguese buildings must undergo conservation works once every eight years or within an eight-year period.

Municipal authorization is not required for works that do not visually alter the building (changing the color) or affect the size of the property (structural changes). If approved by the condominium, building owners can proceed with these works.

The responsibility for preserving the building lies with the condominium, and work can commence only after a condominium owners' meeting where a simple majority (51 percent) decides.

In cases where the reserve fund lacks sufficient capital, homeowners are generally responsible for financing the necessary upkeep of common areas based on property values.

If some apartment owners fail to pay their share, and the condominium as a whole lacks funds for necessary maintenance, it becomes necessary to communicate with those defaulting neighbors, emphasizing the importance of building preservation despite associated costs and challenges.

All apartment owners should understand that regular maintenance work is not only legally required but also beneficial for the optimal upkeep of the condominium. 
How can you watch TV from home while in Portugal?
Moving to a new country doesn't have to mean missing out on your favorite TV programs. Some ways to watch your home TV stations from Portugal are the following:

Probably the best-known option is satellite TV, but also the most expensive. Note that some condominiums do not allow the installation of satellites as this involves making changes to the property. 

Websites such as Sky, BBC, and CNN allow you to watch programs in some cases, although there may be restrictions if you are not in the country.

Apps where you can watch TV content from a tablet or mobile device

You can use a VPN Service to make your internet connection believe that you are browsing from a different country. 

You can often pay for a streaming service from a paid website to watch your favorite programs in Portugal. 
How to get your Portuguese House Ready for Winter
While Portugal is well known for its sublime climate, it can get chilly in the winter months. Here are some top tips to ensure that you are prepared. 
Check windows and insulation for any cracks or holes. Use a silicone product to seal them and prevent heat from escaping and cold air from entering.

Weatherstrip doorways with rubber, silicone, or foam weatherstripping to seal cracks and enhance insulation.

Choose the right heating system for your property and ensure regular servicing.

Properly prepare and use radiators by bleeding them before winter and avoiding obstructions to allow for efficient heat circulation.

Maintain a moderate and constant temperature in your home instead of frequent adjustments.

Hang thick curtains to insulate windows, open them during the day to let sunlight in, and close them at night to retain heat.

Place carpets or rugs on bare floors to prevent heat loss.

If you have a fireplace, use it as an alternative heating source. Clean and inspect the hearth and chimney before use.

Ventilate your home daily for a few minutes to remove stale air and bring in fresh air, even during chilly weather.

To reduce your energy consumption, you can always wear a jumper inside. 
Implementing these strategies will help you improve insulation, reduce heat loss, and create a comfortable environment in your home during winter.
Goldcrest: Who We Are and How We Can Help You
Goldcrest is a buyer's agent that is based in Lisbon. We provide expert, impartial advice on real estate investments and how to buy property in Portugal. From scouting out the perfect property through to property acquisition, we have you covered throughout the process. 
If you are looking to purchase property in Portugal, don't hesitate to get in touch. Our team of skilled experts is available to solve all your real estate doubts, offering insightful expertise and strategic advice. A crucial difference between a real estate developer and a buyers agent is that a buyers agent will work on behalf of the client, ensuring that you get the perfect investment and the best possible price. 
The following articles may also be of interest to you: 
Frequently Asked Questions about Homeowner's Association Portugal:
Are there HOAs (Homeowner's associations) in Portugal?
In Portugal, the ownership of properties with shared elements, such as buildings, amenities, or land, is established through a co-ownership system, resembling the ownership of a condominium or HOA community in the United States, although there is no homeowner's association (HOA) in Portugal. 
Do homeowners associations exist in Europe?
Yes, there are homeowner's associations, community associations, and places where you have shared property values in Europe, depending on the country. For example, they do exist in the Netherlands, but they are not the same as in the USA. Generally, a homeowners association in the Netherlands is for apartment buildings or houses with shared roofs or parking to take care of common spaces. 
What powers does a homeowners association have?
In the USA, the homeowner's association – also referred to as a property owners association – will set HOA rules for the homeowners to ensure the proper upkeep of the area. You will have board members, usually a President, Visa President, Secretary, and Treasurer. The HOA board members will each be responsible for specified duties and for having a reserve fund for future building repairs and maintenance. Typically, alongside setting HOA rules, homeowners associations, with the direction of HOA boards, will have the power to impose fines to ensure compliance. Common HOA rules include noise complaint policies, parking rules and guidelines, and pet size and quantity limits. 
HOA fees, association fees, and HOA monthly fees will vary depending on the HOA community, but the monthly HOA fees usually fall between $100 to $1,000 per month.
Who has jurisdiction over homeowner associations?
In the USA, state law usually has jurisdiction over homeowner associations. In Portugal, although there is no HOA community or homeowner association, you will need to secure municipal authority to make structural or visual changes. 
Although in Portugal, the homeowner association doesn't exist, the ownership of properties with shared elements, such as buildings, amenities, or land, is established through a co-ownership system that resembles the ownership of a condominium in the United States
What is an HOA management company?
HOA management companies fulfil the role of handling financial obligations such as billing and collecting payments from residents. They are responsible for making sure that the HOA fee is paid.