Updated: August 17, 2023
Portugal has an abundance of excellent places and coastal towns to live in, and the versatility of its towns, cities, and coastal areas appeals to many people from all over the world. Living in Lagos, Portugal, which lies on the western side in the south, has become an attractive goal for expats from all walks of life, and in this guide, we'll talk you through everything you need to know about this beautiful city.
Where is Lagos?
Lagos is one of Portugal's most popular coastal towns located in the southern Algarve region of the country. Known for its stunning beaches, historic town center with cobbled streets, and vibrant nightlife, Lagos is consistently recommended by people who both visit and live there. Nestled between Santa Maria and São Sebastião, the city has a rich history, dating back to the 15th century when it was an important center for maritime exploration and trade. 
The town of Lagos is popular with travelers in their 20s and 30s, particularly backpackers and surfers looking to enjoy its natural landscapes, but it truly does attract people from all walks of life. Overall, Lagos is a charming and lively city in southern Portugal that offers visitors and expats a chance to experience the beauty of the west coast of the Algarve region and the rich culture of Portugal.
Top Reasons to Consider Living in Lagos
There are plenty of reasons to live in Lagos, Portugal, from its picturesque streets and white-washed buildings, historical monuments and stunning beaches, to lots of things to do at your leisure. We've listed our top picks in the section below. 
Outstanding business location
The Algarve is not just popular with tourists, but other businesses outside the tourism sphere are also realizing the potential of setting up companies and enterprises. Although Lagos has its closest links to the tourist and hospitality industries, its proximity to other towns and cities with excellent businesses makes it a great destination for expats. 
Its neighboring cities, Faro, Albufeira, and Portimão, made the list of the top 25 business locations in Portugal, and they all benefit from a great influx of economic activity. 
Rich culture and history
The city of Lagos has a rich history dating back to the 15th century and is home to a number of historical monuments, museums, and churches. The Lagos old town is a maze of narrow streets and traditional white-washed buildings that are worth exploring.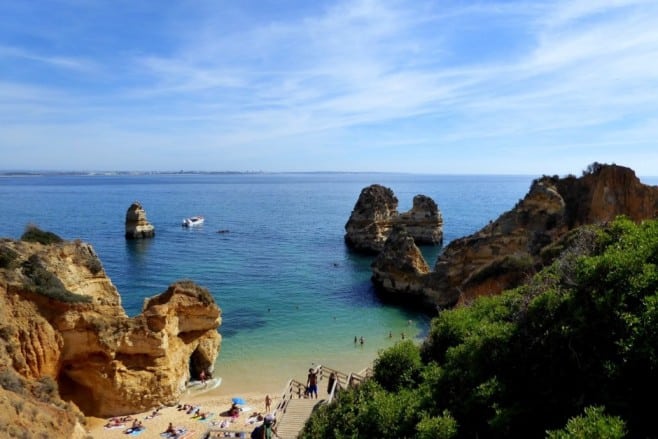 Vibrant nightlife
Those who appreciate a lively nightlife won't be disappointed. Lagos is known for its bustling atmosphere, and the city offers a variety of bars, restaurants, and nightclubs to choose from, making it a great place to live for those who enjoy socializing, live entertainment, and sampling local beer.
Whether you want to go bar hopping on Rua 25 de Abril, enjoy live music, go to a disco, or want to book a sunset cruise to explore the coast and beaches, there is something for every taste to enjoy.
Stunning beaches
Lagos is home to some of the most beautiful beaches in Portugal, such as Praia do Camilo, Praia Dona Ana, and Praia da Batata. Close by are also Meia Praia and a little further afield, Praia da Luz. These beaches offer crystal clear waters and golden sand, perfect for swimming, sunbathing, boat tours, and water sports. 
Meia Praia is the largest beach (4 km long) in the Lagos region. Many expats, digital nomads and locals alike flock to this popular destination in the Algarve region.
Outdoor activities
Lagos, Portugal, offers a wide range of outdoor activities such as boat trips, water sports, hiking, and golf. Lagos' beautiful surroundings, cliffs, grottos, and natural parks are perfect for exploring and experiencing the natural beauty of the Algarve. 
From Lagos, you can also book various trips, such as dolphin watching with a marine biologist, an off-road sunset tour in a Jeep, or, for those seeking adventure, a tandem sky-dive.
Good weather
Lagos, Portugal, has a Mediterranean climate with mild winters and hot summers, making it an ideal place to live for those who want to enjoy warm weather all year round.
Access to healthcare and education
Lagos is home to a number of excellent healthcare facilities and schools, which means that it's also popular with those who are looking to retire or families with children. Some international schools are also close by, should parents wish to have their children educated in an English language curriculum.
The private sector for both facilities is also excellent, but comes at an additional cost. Private healthcare is advisable for expats in the first instance, before residency is obtained.
Children who speak the native language will be fine in the public school sector; private and foreign language schools come with an additional cost, too.
A safe and tolerant place
Portugal is said to be one of the safest countries in the world. Lagos is equally considered a safe place to live in and visit. Compared to other bigger cities and European cities, the crime rate is relatively low. Its neighborhoods are safe and well-maintained, and most areas are considered safe for visitors and residents alike. 
Public transportation is equally safe, but like everywhere else, it's recommended to take care of your belongings and take common-sense precautions.
Buying or Renting a House in Lagos as a Foreigner
Depending on your personal preferences and circumstances, you may want to rent first before you commit to buying property, or you may be ready to invest in real estate immediately. Our overview below will introduce you to Lagos' rental and real estate market.
Renting a house in Lagos
Lagos offers plenty of accommodation for rental, which may be an ideal way to find your feet in new territory. Airbnb is a trusted way to find short-term lettings, but beware that prices may be higher during peak times. You may also want to look at Idealista for long-term rentals or check out local Facebook groups. 
Buying a house in Lagos
Lagos is a desired area for property, not just because of its stunning location near the sea but also because of attractive real estate prices. Although Lagos is pricier than Portuguese cities further north, you'll still be able to find all types of property without a premium price tag. A real estate agent in Lagos will be able to help you with the buy. 
To buy property in Lagos, Portugal, you must follow the same rules for foreigners as in the rest of Portugal. We offer a detailed, free guide with Three Key Essentials To Buying Property in Portugal, should you need more information. 
Additional information about buying property in Lagos can be found in our Portugal Lagos Real Estate guide. If you are considering a property anywhere in the Algarve, check our guide for Algarve Real Estate in Portugal.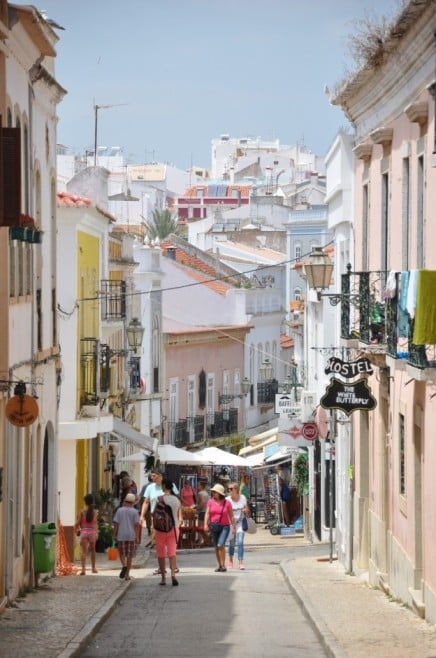 How to Live in Lagos as a Foreign Citizen: Residence Permits and Visas
Living in Lagos as an expat is no longer a pipedream, but with golden visas and a variety of residency permits available, it can be a real possibility for people of all ages, nationalities, and walks of life. 
Before you embark on the relocation process, it's important that you familiarize yourself with which residency or visa option is the best for you and what documents and funds you require. 
Living in Lagos as an EU citizen
As a citizen of the European Union (EU), the freedom to travel, live and work within any member state is at your disposal. Moreover, moving to another member state of the EU is a hassle-free process, and you won't have to worry about lots of paperwork or visas. 
You can stay in any country in the EU as a tourist for three months. After that time, EU citizens will need a residence card to stay longer. You can get a residence permit from any local town hall, and with a valid ID document, this should be a straightforward process.
You will need to prove that your health insurance is up to date, whether that's private or through your work, and you need to register for your national tax identification number (NIF). Being financially independent is also a requirement, although the income does not need to come from work in Portugal.
Living in Lagos as a non-EU citizen
Non-EU and non-EEA citizens will need a visa to live in Portugal. This is a longer process than if you come from the EU, and you can expect a bit more paperwork before a Portuguese residence card is yours. Although the process is a little bit more complicated, experts can help you to ensure everything runs as smoothly as possible.
Our residency and citizenship division, Global Citizen Solutions is at hand with their specialist advice and experience to help eligible applicants to get their residency visas.
Living in Lagos with the Portugal Golden Visa
A popular route to living in Portugal is the Portugal Golden Visa program. It's a great way for suitable candidates to become Portuguese residents, taking advantage of the many benefits of living not only in Portugal but also within the EU. Although Lagos does not qualify for residential real estate investments, commercial real estate is still an investment option for potential Golden Visa applicants. 
The following investment options are available in Lagos:
Commercial real estate investment anywhere in the country of €500,000 or €350,000 if investing in a rehabilitation project 

Investment funds or a capital transfer (from €500,000)

An investment of €250,000 in support of the arts or reconstruction of national heritage

A contribution to scientific research (from €500,000)
The Portugal Golden Visa gives you permission to stay in the country for up to five years. For a full list and more details of Golden Visa options, you can consult our Portugal Golden Visa: Your Ultimate Guide 2023.
Living in Lagos with the D7 Visa
Not everyone can make a substantial investment or has the spare cash to take part in Portugal's Golden Visa program. However, the D7 Visa is a great alternative for non-EU, non-EEA, and non-Swiss citizens. With the D7 Visa, you have access to residency in Portugal as long as you have enough income to sustain yourself here. 
If you can prove that you earn at least €760 per month, you may be eligible to apply. The income does not have to come from current employment; passive income, such as a retirement fund, is also valid. 
Our comprehensive article and guide on Portugal's D7 Visa will give you more details about this option, including the inclusion of dependents and attractive tax benefits. 
Living in Lagos with the Digital Nomad Portugal Visa
In recent years, Portugal has become one of the most popular destinations for digital nomads. Its beautiful weather, relaxed lifestyle, and friendly locals are attractive factors for remote workers from all walks of life. Moreover, Portugal's investment in excellent infrastructure, including high-speed internet in most areas ticks all the boxes a digital nomad needs to get started.
Since its implementation in October 2022, the Digital Nomad Portugal Visa enables remote workers to stay anywhere in Portugal for up to one year, as long as they can prove that their monthly income is at least €2,800 per month. For more detailed information, read our ultimate guide on Portugal for Digital Nomads. 
Cost of Living in Lagos
The south of Portugal, being a popular tourist destination, is more expensive than Portugal's north. Nevertheless, in general, expenses and financial outgoings are lower in Portugal than in most other European countries. Most amenities, goods, and services are still reasonably priced compared to other countries.
Accommodation
Rental prices vary depending on the location and size of the apartment or property you require. A one-bedroom apartment in the center of Lagos costs, on average, between €910* per month and €766* outside the city center.
Prices per square meter for buying real estate start at €3,337* in the center of Lagos and €3274* on the outskirts of Lagos.
*Above costs are from Numbeo as of January 2023.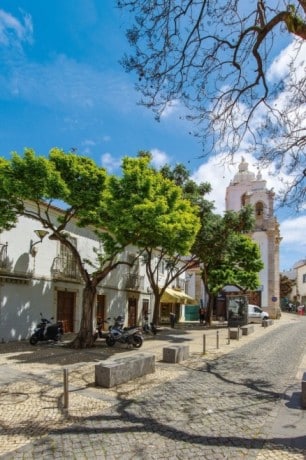 Food
Food and groceries are a lot cheaper in Portugal than in other European countries, but your individual requirements and preferences will determine your weekly food bill. It's also worth noting that food prices in the Algarve are higher than in the north or Portugal's Silver Coast.
The table below gives an overview of prices of basic food items:
| Item | Price |
| --- | --- |
| Milk (1 liter) | €1.15 |
| Bread (500 g) | €1.18 |
| Rice (1 kg) | €1.47 |
| Eggs (12) | €2.17 |
| Chicken (1 kg) | €5.08 |
| Apples (1 kg) | €2.06 |
| Water (1.5 liters) | €1.38 |
Above costs are estimated and from Numbeo as of January 2023.
Eating out
Portugal is famous for its fresh and wholesome cuisine, such as fresh vegetables, fruit, and fish. If you enjoy eating in restaurants, you won't have to pay a premium price for high-quality meals. 
Depending on the restaurant, meals start from €8*, with half a liter of beer costing €2.75* and a soft drink around €1.75*. Alternatively, a three-course meal for two people at a mid-range restaurant will cost around €60*.

*Above costs are from Numbeo as of January 2023
Transportation
Portugal's public transport system is efficient and affordable, making it easy to get around towns and cities. Both monthly passes and one-way tickets are available. Local transport in Lagos is no different. A one-way ticket costs around €1.60, and a monthly pass is ca. €40. Further options for getting around Lagos are discussed in this article below.  
*Above costs are from Numbeo as of January 2023.
Schools
Lagos is home to several schools, both public and private, that cater to the needs of different students and families.

Public schools

Lagos has a number of public schools that provide education to students from kindergarten through to high school. These schools follow the Portuguese curriculum and offer classes in Portuguese, English, and other languages.

Private and international schools

You can also find some private schools in Lagos and towns and cities nearby. Many of the private schools are also international schools, which offer education in different languages such as English, French, and German. These schools typically follow the curriculum of their home country and provide education to school-age children.
You can see this International School Guide, put together by our Residency and Citizenship division, Global Citizen Solutions, for more information on international schools in Portugal. 
Higher education

Although not located directly in Lagos, higher education institutions are not far away. These include the University of Algarve and the Polytechnic Institute of the Algarve, which offer a range of undergraduate and graduate programs in various fields of study.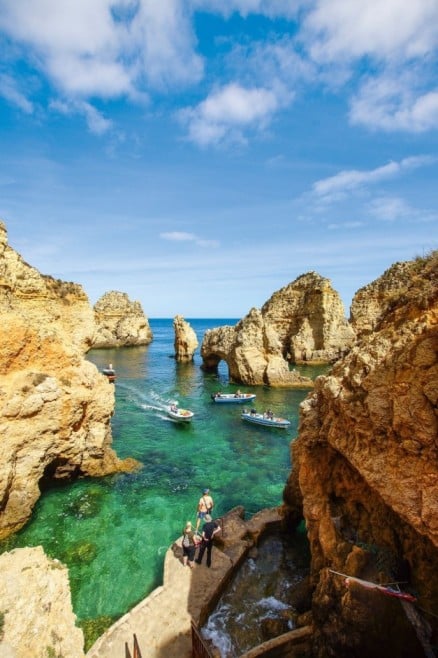 Getting Around
There are several ways to get around Lagos, depending on your preferences and needs.
Walking
Lagos is a relatively small city, and many of the main locations and attractions are within walking distance. It's a great way to explore the city, especially the Old Town, where many of the historical monuments and traditional buildings are.
Cycling
Lagos has a bike-share program for tourists, visitors, and residents to rent bikes and explore the city on two wheels. It's an environmentally friendly and cost-saving alternative if you want to avoid lots of traffic and the difficulties of finding a parking spot.
Buses
Lagos' city bus system is well connected, linking the different neighborhoods and beaches. Buses are affordable and run regularly, making them a convenient transport option.

Trains
Lagos' train station serves the city of Lagos, and the Faro district in the Algarve region, meaning this coastal town has excellent links to other towns and cities in southern Portugal.
Taxi
Taxis are also readily available in Lagos and can be hailed on the street or at a taxi stand. They're also cheaper than in most other European cities.
Car rental
If you prefer to have your own transportation, car rental is available in Lagos, with several companies providing rental cars at reasonable prices. Prices may increase in the summer months when it is tourist season in the Algarve. 
Faro airport
It is also worth noting that Faro airport is close by, meaning that expats have access to an international airport.
Shopping
Lagos is a great coastal town for shopping, and there are a huge variety of different outlets available. There is something for everyone, whether you're looking for traditional arts and crafts, antiques, or modern goods from the high street.
Local markets
You can find several local markets in Lagos, Portugal, such as the Mercado Municipal and Mercado Paseo Maritimo, which offer a variety of fresh produce, local handicrafts, and souvenirs. These markets are also great places to find traditional Portuguese products and explore the local culture.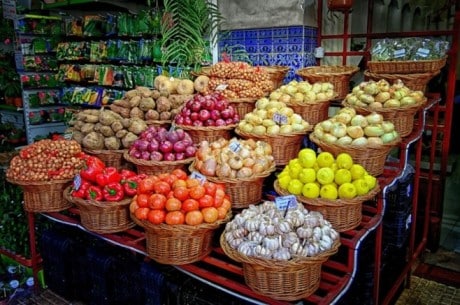 Shopping centers
Lagos and its surrounding cities have several modern shopping centers, such as the Algarve Shopping and the Forum Algarve. There you can find a variety of national and international brands in a variety of shops. If you want to spend the day shopping, there are plenty of cafes and restaurants where you can buy refreshments and take a break.
Boutiques, speciality shops, and antique shops
Those who love to browse boutiques, specialty shops, and antique shops will find plenty in Lagos. If you're looking for unique and high-quality items, you will find them there.  
Street vendors
Street vendors in Lagos offer a range of products, such as clothes, jewelry, arts, and crafts, and can be found throughout the city.
Healthcare
Portugal's healthcare is considered one of the best in the world. It consists of a public health service, similar to the NHS in the UK, that is free or low-cost for citizens and legal residents. It provides a wide range of medical services such as general practitioner care, specialist practitioner care, hospitals, and prescription medication.
Private healthcare is also available and, whilst more expensive than the public system, still cheaper than in many other countries. Some expats choose private healthcare as it's faster and more specific to their needs. Having valid health insurance is imperative when you apply for residency, so initially, private health care may be a good yet still affordable option.
Language
The official language of Lagos, Portugal, and the entire country is Portuguese, and it is spoken by the majority of the population.
However, English is widely spoken in Lagos and other tourist destinations in Portugal, as it is a major language in the tourism industry. Many locals in the service industry, such as hotels, restaurants, and shops, speak English. Other languages, such as Spanish, French, German, and Italian, are also spoken in tourist areas.
Although you may be able to get by with English, it's always recommended to learn some Portuguese to make your integration into Portuguese life easier and to give you the best and most authentic experience of living as an expat in Lagos, Portugal.
Weather in Lagos
Lagos has a Mediterranean climate with hot summers and mild winters. During the summer months, temperatures regularly reach 26 degrees C (80 degrees F), but heat waves should also be expected.
Lagos' winters are never too cold, with average high temperatures of 16 degrees C (60 degrees F) and lows of 10 degrees C (50 degrees F). You can also expect more rainfall during the winter months, although this is not too excessive. 
Overall, Lagos has good weather all year round, with an average of 300 days of sunshine annually, making it a great place for those who prefer a warmer climate. 
Festivals and Attractions
Lagos is a west coast city with a rich cultural heritage and a vibrant, lively, and inviting atmosphere, offering a wide range of festivals and attractions for locals, residents, and visitors alike.
Throughout the year, Lagos is host to many festivals which celebrate music, food, and culture. Some of the most popular festivals are the Lagos International Music Festival, the Lagos Carnival, and the Lagos Food Festival. 
Historical Lagos is home to monuments and buildings, such as Lagos Castle and the Lagos Marina. They offer a great insight into Lagos' rich culture and history.
Lagos' proximity to the sea means there are several marine and sea life centers where you can learn about the marine life in the Algarve, and you can see some of its wonderful sea life, such as dolphins, sharks, and rays.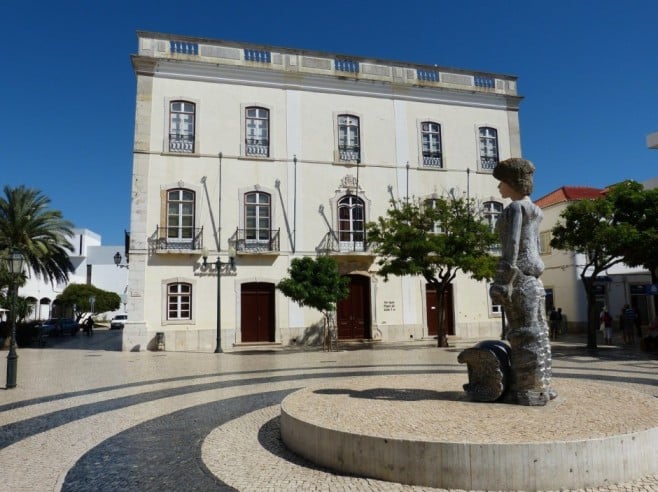 Living in Lagos: Pros and Cons
Every place has got its good sides and some drawbacks, and Lagos is no different.
Advantages
Relaxed lifestyle

Lots of quieter towns nearby

Reasonable property prices

Affordable cost of living

Great job opportunities

Affordable and reliable public transport and infrastructure

Close to

Faro International Airport

Excellent weather

Plenty of things to do all year round

Close to other Algarve hotspots

Great place for digital nomads

Located in a peaceful country
Drawbacks
Lots of tourists during peak season

The bureaucracy obtaining residency and a visa can be a little time-consuming
The Bottom Line on Living in Lagos Portugal
Living in the Lagos, Portugal, as an expat is a great option. With excellent transport links, a mild climate, beautiful beaches, and attractive property prices, Lagos has a lot to offer, whether you're relocating with family, retiring, or setting up as a digital nomad. 
Here at Goldcrest, we can give you advice on real estate, and our residency and citizenship division, Global Citizen Solutions, is on hand to help with anything regarding visa options and citizenship. For further information, schedule a non-binding call with us, and we'll help you discover the options available to you.
If you would like to buy land in the region, you can check out our article: Lagos Portugal Land for Sale.
Frequently Asked Questions about Living in Lagos, Portugal
Is Lagos, Portugal, a good place to live?
Lagos, Portugal, is an excellent place to live for people from all walks of life. Expats relocate with families, look to retire, or explore life as a digital nomad in this beautiful city.
How much does it cost to live in Lagos, Portugal?
Living in Portugal's south is more expensive than living in the north or on Portugal's Silver Coast. Nevertheless, the cost of living and property prices are still more affordable than in other European cities.
How is it living in Lagos, Portugal?
Living in Lagos, Portugal, is perfect if you enjoy a vibrant and lively city full of history and culture. There is always something going on and lots of things to do for everyone of every age.