Updated: March 15, 2023
An island of paradise in the center of the Atlantic, Madeira real estate is becoming an increasingly popular hotspot for homebuyers and investors. With an eternal spring, beautiful views of the ocean pretty much wherever you are standing, and many incredible properties available with bright natural light and all the amenities that you could be seeking, the simple question is Why wouldn't you consider Madeira?
In this article, we'll provide you with everything that you will need to know about the archipelago and the Madeira real estate market here. We'll also get under the skin of what life is really like in Madeira.
Our article Portugal Real Estate: Everything You Should Know Before You Buy will inform you about everything that you will need to know about buying property in Portugal.
Madeira Real Estate: An Overview
The Portuguese word Madeira translates as "wood", given the ample abundance of green vegetation on the islands. The archipelago of Madeira is located 1000 km southwest of Lisbon and 700km from the African Coast. The islands include Madeira island, the spectacularly beautiful Porto Santo Islands, the Desertas Islands (three uninhabited islands), and the Selvagens Islands (three uninhabited islands and sixteen uninhabited inlets). 
The islands of Madeira were discovered by the Portuguese in 1418, and the first Portuguese settled on the islands between 1420-1425. Of the eight islands, only Madeira and Porto Santo are inhabited. On Madeira Island, which has a population of 255,000 inhabitants, 75% of the population lives in the more climate-stable side of the country in the south. This is where the cosmopolitan capital, Funchal, is located. This city is a bag of surprises, with a wide range of diverse restaurants, coffee houses, bars, and modern shopping centers. 
Currently, tourism is the main source of revenue for Madeira and, as such, you will find many luxurious lifestyle amenities, with five-star hotels, Michelin-starred restaurants, and beautiful properties with waterfront views. 
Why invest in Madeira real estate?
There are several pull factors when it comes to investing in real estate in Madeira. Indeed, Madeira Island, alongside the Azores, is deservedly stepping into the limelight as one of the biggest investment opportunities – with a little help from the Portugal Golden Visa changes that kicked off at the start of the year, on 1 January 2022. In the coming years, Madeira is set to be one of the most exciting places to invest. 
From 1 January 2022, the Portugal Golden Visa restricted investors to only be able to invest in residential (non-commercial) real estate in interior areas of the country. This rules out the current hotspots of the country, such as Lisbon, Porto, and much of the Algarve. 
A full overview of the changes is available here: Portugal Golden Visa Changes, Updates, and New Rules for 2022. 
More information about Portugal's interior areas can be found here: Low Density & Interior Eligible Areas for the Portugal Golden Visa 2022.
The implications of these changes will increase development in other parts of the country. This will include the island of Madeira, for investors that are looking to secure residency-by-investment through residential real estate and that are unable to invest in the hotspot locations. The property in Madeira must be worth at least  €500,000 or €350,000 if investing in a rehabilitation project to qualify for the Portugal Golden Visa.
Additionally, Madeira is one of the safest locations in the world. While Portugal itself is the sixth safest country in the world, according to the Global Peace Index 2022, trailing behind only Iceland, New Zealand, Ireland, Denmark, and Austria, Madeira has an even lower crime rate than Continental Portugal– a positive for incoming investors.
At this stage, you may think that this island sounds too good to be true. So, what are the pitfalls of buying property in Madeira? When purchasing property in Madeira, and in general, there are always factors to consider, such as climate, transport, the structural quality of the property you wish to buy, potential legal issues, taxes, and whether all the information you have is reliable. As such, it's important to do your due diligence and make sure that you are confident in the information you have.
Real Estate in Madeira: Prices
Real estate in Madeira tends to be cheaper than in other areas of Portugal and cash buyers are in a very good position to negotiate. What's more, during the first phase of COVID-19 in 2020, house prices increased, indicating that the real estate market is in good health.
Prices vary depending on the parish. Funchal is the most expensive place to buy property on the islands – given its higher demand and abundance of services. The average asking price for an apartment in Funchal stood at €2162/m2 in 2020, while other parts of the island were considerably more affordable. Note that this is the asking price, so properties can be sold for more or less than this price. It is worth having a real estate professional on your side to guide you on whether properties are fairly priced. Their expert real estate services and knowledge will help you find what you want at the best price possible.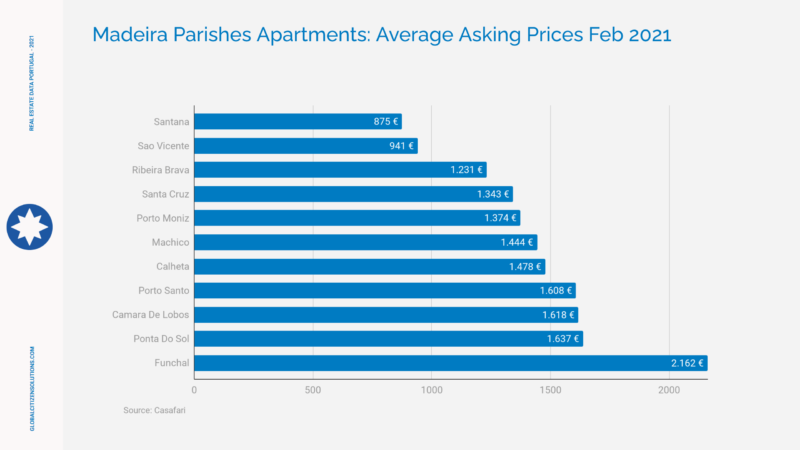 Where to Find Madeira Real Estate
So, where is the best place to buy property in Madeira? 
Funchal is definitely the place to find luxury properties on the island and is the most developed part of the island. Here you will find fine dining, five-star hotels, and a marina. As the weather is more stable here, this is where the bulk of the development and properties are located. Funchal is not only the prime tourist destination but also the political and economic center of the islands. 
Santa Cruz, Câmara de Lobos, and Machico are also good locations, where you will be able to find beautiful villas for sale in Madeira. Regardless of investment options, Madeira is booming in terms of real estate, with a growing number of tourists each year.
The best places to live in Madeira Portugal will largely depend on what you are looking for, as some parts of the island will be much quieter than others. If you would like some more information on real estate listings and where to find houses for sale in Madeira Portugal that fit your criteria, please get in touch with us today. Make sure you have done due diligence checks before buying to ensure everything is deemed reliable. 
Madeira Real Estate: Practical Information
Madeira Island is perfect for expats looking to escape to paradise. The relaxed pace of life, the multitude of activities, and the incredible food scene are just a few of the reasons. For investors, the strong potential for real estate investments is also an exciting opportunity. 
Lifestyle
An active lifestyle is basically synonymous with Madeira. You constantly have an array of things to do around you. From hiking, yoga, diving, and golf, there are many things to keep you occupied. Living in Madeira day-to-day, you will quickly come to pick up a relaxed routine, living completely stress-free. The islands have a rich culture, with museums, music festivals, and art exhibitions. Keen surfers should also know that the island is a great place to live, with great waves at Ponta Pequena, Paul do Mar, and Fajã da Areia, amongst others. 
Alongside the cultural delights and activities, the cuisine of Madeira is very good. It is no surprise that seafood and fish dishes take center stage. However, alongside this, you have very good meat, fruits, and vegetables. Try the espetada (grilled meats or fish on a skewer) that are particularly good. Or the lapas (limpets), which are a specialty of Madeira, and a must-have if you like seafood.
The small size of the islands makes getting around very accessible. In under an hour from Funchal, you can explore the wild north of the island and the picturesque town of Porto Moniz. Or traveling east, you can reach the splendid village of Jardim do Mar, entrapped in the mountains and with the Atlantic Ocean spread out before it. 
The second inhabited island, Porto Santo is a true wonder, with nine kilometers of pristine white beaches. If you are looking to unwind completely, then this is the place for you. The ferry across from Funchal takes around two and a half hours and allows you to see the Atlantic Ocean up close.
There is a booming luxury market in Madeira. You can expect to find all the amenities that you would expect to find in New York, Paris, or London. There are seven Michelin-starred restaurants in Madeira, offering spectacular dishes that are continually pushing the boundaries. 
Retiring in Madeira
For retirees, the islands are perfect. With a strong expat population, you will not be overwhelmed by a completely unfamiliar culture. English is also widely spoken on the islands and there are good healthcare facilities on the islands. If you are a Portuguese resident, you will also have access to the National Health Service (SNS) of Portugal and need only pay small costs for treatment. This is free for over 65-year-olds.
Retirees in Madeira are also able to have access to the advantageous Non-Habitual Residence (NHR) scheme, where you can have significant tax benefits for ten years. 
Healthcare in Madeira
Madeira has good healthcare and there are many health centers located around the island of Madeira and one in Porto Santo. There is also the Dr. Nélio Mendonça Hospital on Madeira island. Some are equipped with emergency service facilities. With the fourth-best doctor-to-patient ratio in Europe, you have one of the best healthcare systems in Europe. 
Education in Madeira
Madeira has a good education system. There are two good international schools – the International School of Madeira and the International Sharing School of Madeira. Fees will vary depending on the school.
Transport in Madeira
Madeira has an extensive public transport system. However, the best way to get around the islands is by car. There is also a ferry that runs between Madeira and Porto Santo.
Climate of Madeira
Madeira has a very unique climate, regularly described as experiencing four seasons in a day. The islands enjoy balmy weather because of their geographical location and mountains – the only flat part of the island is the airplane runway. Madeira has moderate humidity and average temperatures standing at 25 °C (77°F) in summer and 17 °C (63°F) in winter. Indeed, while much of continental Portugal experiences colder winters, those lucky to live on Madeira can be seen in summer attire.
The climate is one of the reasons why most of the development is focused on the south coast of Madeira island. Here the climate is generally more stable. The annual average air temperatures are also higher on the southern coast and fall as you move inland in parallel to altitude. Rainfall is also higher on the northern coast than on the southern coast. 
Goldcrest: How we can help
As an independent local buyers agent, Goldcrest helps international families purchase sound property investments. We are real estate professionals with years of experience with the Portuguese real estate market and access to real estate listings that you will not find elsewhere. 
Contact the team to speak with one of our real estate professionals. We will provide you with tailored advice focused on what you are looking for, including market data relating to the property and whether the selling price can be deemed reliable. 
A significant advantage of using a buyers agent is that they will have access to real estate listings and data relating to the property that you will not find elsewhere. While brokerage firms will gain a commission from the seller, as a buyer's agent, we work solely on behalf of the buyer, which is not the case for brokerage firms.
The following articles may be of interest to you: