Updated: August 17, 2023
As an expat in Portugal can enjoy a very good quality of life, with a pleasant climate, welcoming locals, and a relaxed pace of life. Digital nomads, retirees, and those simply looking for a change of scenery have each moved to Portugal and found out for themselves the delights that the country has to offer. 
In this article, we'll provide you with an essential guide to living as an expat in Portugal. We'll delve into working remotely in Portugal, the work environment in the country, and practical information that you should be aware of if you are considering taking the plunge and moving to the sunny south, embracing the Mediterranean lifestyle. 
If you are looking to move to Portugal, you can also check out our new e-book, Your Expert Guide to Buying Property in Portugal where we provide you with in-depth information on the buying process and what it is like to live in Portugal.
An expat in Portugal – Why Portugal?
In the Expat Insider Survey in 2021 by Internations, Portugal ranked as the best country in Europe for expats (fifth overall in the world and the only top-ten ranked country in Europe), with expats particularly relishing the high quality of life the country has to offer. The Portuguese speak very good English, the cost of living is relatively cheap and there is good healthcare and infrastructure – each a reason as to why the country is a favorite with expats.
Portugal is home to expats from all over the world. It's been reported that out of a population of approximately 10 million, over 900,000 were expats. 
In the hotspot locations, you should be able to meet many fellow expats easily enough. For example, in Lisbon and Porto, there are many meetup groups in the city, Facebook groups, and events. In the Algarve, you similarly have many places to meet expats, for example at a yoga or tennis class. It is good to get involved in activities to meet fellow expats. 
Cost of living as an expat in Portugal
Living in Portugal is relatively cheap compared to other European countries. Note that if you venture into luxury restaurants and the likes, be prepared to pay international prices. 
Living costs will invariably depend on an expat's income. In general, a coffee will cost you less than €1 and a hearty Portuguese meal in a tasca (Portuguese restaurant) will cost you no more than €10. Note that prices in Lisbon can be more expensive than in the rest of the county, but, even so, you should be pleasantly surprised by the prices. 
Household essentials are generally cheaper than in other European countries, particularly if you buy locally. To see a detailed cost of living in Portugal, you can consult our article here. 
House prices in Portugal
House prices in Portugal are very affordable when compared to other countries in Europe. However, Lisbon has its own price range compared to the rest of the country so bear this in mind. Indeed, in the capital, the average asking house price was €5,139/m2 in 2020. In Porto, hot on Lisbon's heels as the coolest city is the county, house prices stood at €3,328/m2.
In the Algarve, you will be able to find some spectacular properties, and prices stood at  €2,674/m2 in 2020. Elsewhere, in the center and the north of Portugal, you will find incredibly affordable properties, at €1,269/m2 and €1,156/m2, respectively. In Alentejo, where the Portuguese locals frequent for their holidays to dodge the more tourist-heavy Algarve, average prices stood at €1,488/m2 in 2020 – a place to consider if you are looking for a quiet escape in the heart of the Portuguese countryside. 
Note that luxury buyers can expect to pay significantly more. Despite this, even luxury property in Portugal tends to be more affordable than in other European countries.  
Check out our article: Cheap Houses with Pool: Affordable Property in Portugal.
Best place to live in Portugal for expats:
Portugal is a diverse country, with many exciting cities and beautiful landscapes. Determining what you are looking for will help you hone in on the area. For example, to be in a bustling city, Lisbon is the place to be, the Algarve is for the sunseekers, and the Silver Coast is for those looking for an "authentic" Portuguese experience. Here, we outline some of the most desirable locations. There are many other potential locations, so it is worth speaking with a Goldcrest advisor who can discuss the best option for you – you can book a call here. 
Lisbon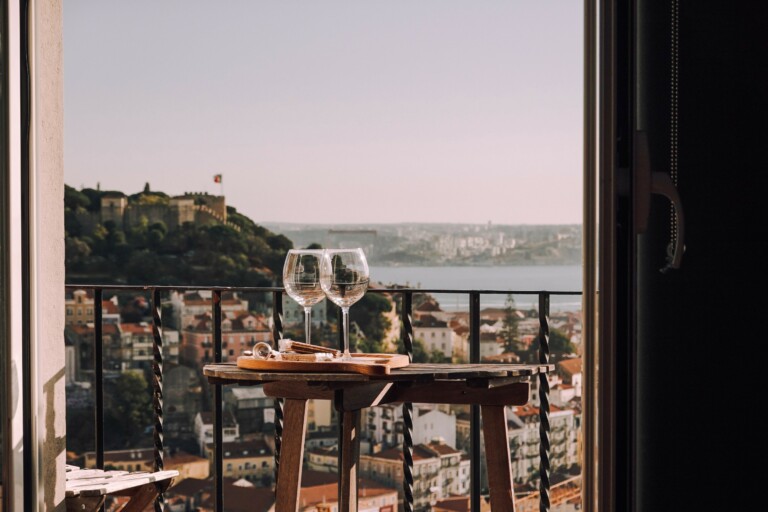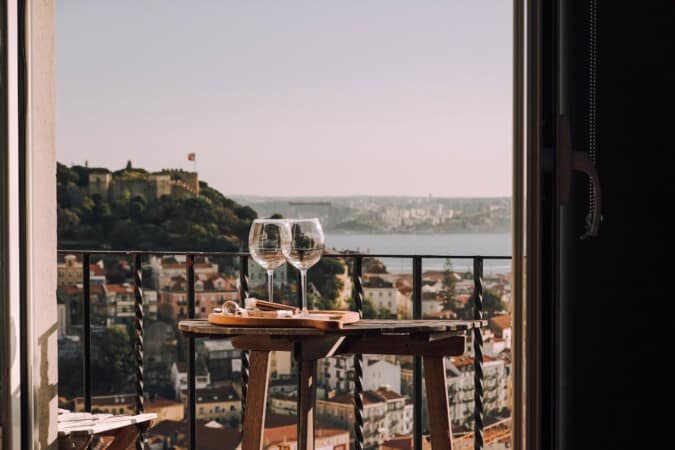 Portugal's cosmopolitan capital, Lisbon, has a diverse population and exciting, vibrant cultural scene that makes it a top choice for expats that are looking to relocate to Portugal. 
Its proximity to beautiful beaches, its claim as the sunniest capital in Europe, and the thriving art scene each create a unique city where something always seems to be going on. The architecture of the city is also very special. These days, there are several trendy coffee shops and brunch spots to work from, so remote workers can mix up their work habits. There are also several co-working spaces in the city to consider – also very good ways to meet fellow expats, from all walks of life. 
There are several neighborhoods in Lisbon to consider – you can see our ultimate guide here.
Consider also Cascais, the bustling seaside town, a short 30-minute drive from the bright lights of Lisbon, which is also an excellent option. You can check out our guide to this charming area here. 
Porto
With the Douro River spread out before you, the colorful, historic city of Porto is continually increasing in popularity. More affordable than Lisbon, over the years Porto has even come to challenge Lisbon as the most beautiful city in the country and is a perfect place to live as an expat in Portugal. 
The historic city has been the inspiration for JK Rowling's Harry Potter novels – see the Livraria Lello Bookshop – and there are many hip coffee shops and trendy bars, given that the city is a buzzing university town. 
When it comes to living in the city, there are several options. If you want the hustle and bustle of the city, you can live in the historic center. Elsewhere, Foz do Douro provides you with the best of both worlds – the sea and the city – and would be an excellent option. Particularly if you are moving with a family, there are spacious houses, and you can take walks along the long promenade with spectacular views of the Atlantic. 
The Algarve
The beautiful Algarve is one of the best places in Portugal for expats to live. With constant sunshine, spectacular scenery, and some of the most stunning beaches, you will be able to enjoy an active lifestyle the entire year. If you are a lover of watersports or golf you can find excellent spots. Indeed, some of the best surf spots and championship golf courses can be found in the south of Portugal. 
If you are undecided on the best areas of the Algarve for you, in the center you will be able to find luxurious properties with all the perks that you could want – a swimming pool, security, and a private gym. For the adventurous, consider the west, where you have excellent water sport locations. The east, close to Tavira is where you will find a more 'authentic' Portugal, which is quieter and less touristy. Each could provide an excellent place to live for an expat in Portugal.
You can see an overview of Algarve real estate, including the different prices, here.
The Silver Coast
For those that are looking for a typical Portuguese region, the Silver Coast may be just the ticket for you. Along the east coast of Portugal, just north of Lisbon and extending 150 kilometers north, beyond Nazaré, is a beautiful stretch of scenery – rugged coastlines, picturesque towns, and pristine beaches.  
The Silver Coast provides affordable investments, close proximity to both Porto and great food – particularly seafood. Indeed, there are incredible properties in the Silver Coast that have sweeping views of the Atlantic. In many towns on the Silver Coast, there remain vibrant traditions. 
Take Nazaré, where the fishermen's wives still wear their colorful traditional skirts, wooden clogs, and black headscarves. Fishing is synonymous with the Silver Coast and in many of the towns you can see the fishermen drying their catch in the sun.
You can see our overview of the Silver Coast here. 
If you'd like to know more, visit our article on the Top Ten Places to Live in Portugal.
An expat in Portugal: Practical information
Moving to a new country can be daunting. Here, we have provided you with some practical information about living in Portugal. 
Working in Portugal
Portugal is notorious for its low salaries, in comparison with other European countries. However, it is worth bearing in mind that the cost of living is also more affordable, particularly if you are not living in Lisbon.
Given its high dependency on foreigners, hospitality and tourism are some of the most popular job types in Portugal. Tech-related jobs in IT are also increasing and customer service is normally sought after. 
If you have the possibility to work as a freelancer, or remotely from Portugal, then there are an array of benefits. You can enjoy the affordable quality of life, on (hopefully) a good salary, allowing you to save money for when you will later need it, say to make a downpayment on a house or for investment opportunities. 
Many international startups and tech companies have relocated to Portugal. Particularly in Lisbon, and increasingly Porto,  you will find numerous startups. Expats looking to set up a startup here are in good company and Portugal's stable economy is an added bonus for those looking to kickstart their own business. 
Taxes in Portugal
In Portugal, expats have significant tax benefits. The Non-Habitual Residence (NHR) allows you to live with certain tax benefits for ten years if structured correctly – another advantage of living in Portugal.
Healthcare as an expat in Portugal
The National Health Service (Serviço Nacional de Saúde) (SNS) in Portugal is free for residents and you will need to only pay a minimum cost for treatment. X-rays, scans, and other treatments and tests will require additional fees. Private healthcare has really come into its own in Portugal, with many practitioners across the country.
English is now widely spoken in the Portuguese healthcare system.
Education in Portugal
The Portuguese education system provides a mixture of private and public schools. The government has recently reinvested in state-of-the-art facilities and education materials for public schools. The private sector generally has a smaller class size, more extra-curricular activities, and more modern facilities. 
There are also many international schools in Portugal, with high standards of education. Take Lisbon, Cascais or Porto and you will find an excellent choice of schools. You can delve further into the education system in Portgual in our article here. 
Getting around as an expat in Portugal
Transport in Portugal is, generally speaking, affordable, convenient, and fast. By far the easiest way to get around is by car, and, as Portugal is a very small country, you can travel from north to south in under eight hours. 
When it comes to public transportation, the train links are fairly well developed and affordable, and buses are even cheaper. When it comes to city transportation, Lisbon and Porto both have excellent metro systems. You can also get monthly tickets which are very cheap.
Cycling is becoming more popular despite the abundance of hills in cities such as Lisbon, with more cycle lanes opening across the cities in the country and electric bikes increasingly becoming a common way to get around the city.
An expat in Portugal: visa options
The first, and most important, factor to consider when moving to a country is to determine how you are legally going to be able to reside in the country. If you are an EU-national, the process of gaining Portuguese residency is straightforward, given that it is free to live, work and travel in the country. For non-EU citizens, however, consider the following options. 
The Portugal Golden Visa
The Portugal Golden Visa, introduced by the government in 2012, has become one of the most popular and successful residency-by-investment programs in the world. The scheme enables investors with an entryway to other EU-member countries. 
Investors must make a qualifying investment to be eligible for the program and there are a number of different pathways of obtaining the Portugal Golden Visa, with the most popular being through real estate. Investment funds are also an attractive option. 
The D7 Visa
If you are considering moving to Portugal with your own funding, the D7 visa is your best option. This allows non-EU citizens to obtain residency in Portugal, as long as they have sufficient means to support themselves during their stay in Portugal. 
The D7 Visa is a great option for retirees and entrepreneurs who would like to live in Portugal, without having to make a major financial investment.
You can also secure residency through marriage and by studying.
For a complete overview of the different visa options, you can see our detailed article here. 
Frequently asked questions about being an expat in Portugal:
1. Is Portugal good for expats?
Yes, Portugal is a very good country for expats, with a low cost of living, affordable houses and a good quality of life. Factor in an incredible cuisine, many beautiful locations, and an array of beaches to choose from – indeed there are many reasons to live in Portugal.
2. What are the property prices in Portugal?
House prices in Portugal are very affordable when compared to other countries in Europe. Lisbon has its own price range compared to the rest of the country with the average asking house price standing at €5,139/m2 in 2020. On a national level, the average house price was €2,514/m2 in 2020 highlighting the affordability of the country. 
Those looking for luxury properties should expect to pay more. However, compared to their equivalents in other countries, the prices are also more affordable.
3. What is the cost of living in Portugal?
The cost of living is generally more affordable than in other European countries, from property prices down to household goods. If you are moving to Portugal, you should still be pleasantly surprised.