Updated: May 16, 2023
This year, the prices of properties for sale in Lisbon are lower in one-fifth of Portuguese municipalities. At the same time, Lisbon is considered the third best city in the world for foreigners to live in. These factors create a very favorable environment for those looking to buy or invest in the best properties for sale in Lisbon. We show you how to develop the best practices when embarking on your property hunt.
What you need to know about Lisbon property for sale
According to a study by Internations, the majority of expats (82%) say they feel at home living in Lisbon. Moreover,  79% say they are happy with living in Lisbon and are satisfied with their social lives, which is more than the average cited in other metropolises (59%).
Expats living in Lisbon are satisfied with their professional situation (79% against 65% on average in other cities), but almost three out of eight respondents (37%) said they had difficulty finding a home, a value higher than that observed in the averages of the other metropolises analyzed (27%). In some cases, this is due to the difficulty in navigating the real estate market as an expat. To get around this factor, and secure your dream property for sale in Lisbon, we suggest that you invest in a professional buyer's agent when going for a property for sale in Lisbon.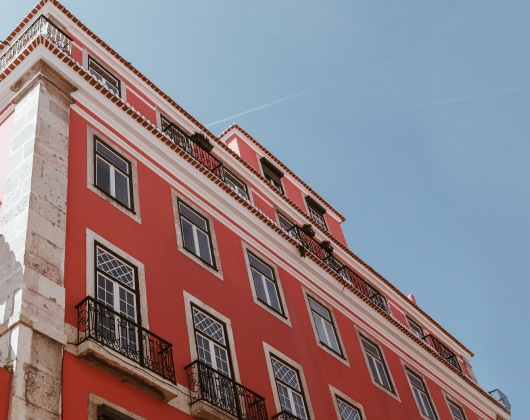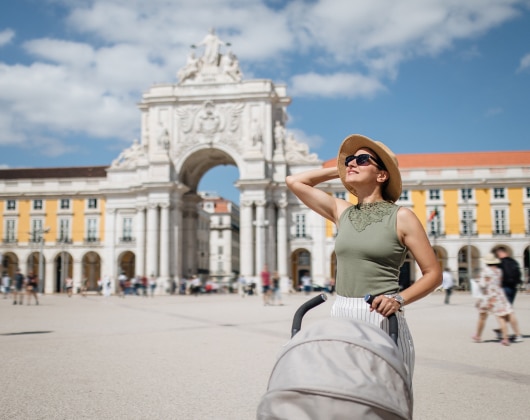 Can expats buy properties for sale in Lisbon?
Absolutely. According to INE (the Portuguese Statistics Institute), non-residents were responsible for 8.5% of the property sold in Portugal in 2019 and, in terms of value, they represented 13.3% of the total amount traded in Portuguese real estate. 
After all, foreigners paid around €176.4oo per property (3.1% more than in 2018), which is 56.8% above the global average market value.
Last year, according to INE, 230,776 properties were transacted in Portugal, for a total value of €25,955 million. Of these, 19,520 properties were purchased by non-residents.
Best areas to find property for sale in Lisbon Portugal
A vibrant city, Lisbon stands out for its security, quality of life, ease of adaptation for expats, and bright and mild climate. But there are many more reasons for living in Portugal.
Some of the best areas to find property for sale in Lisbon are:
Bairro Alto
Bairro Alto is an iconic area of the city, however, there are considerations to be aware of when buying in this area, there are a number of urban, architectural, and regulatory constraints. New developments in the area are characterized by the least intrusive interventions possible. Lisbon's municipal council intends to mobilize municipal heritage, rehabilitate buildings that are abandoned, and integrate them in a qualification strategy.
You can find a 104 sq.m.T2 flat for sale in Bairro Alto for €890,000 (previously priced at €980,000 (a 9% drop)).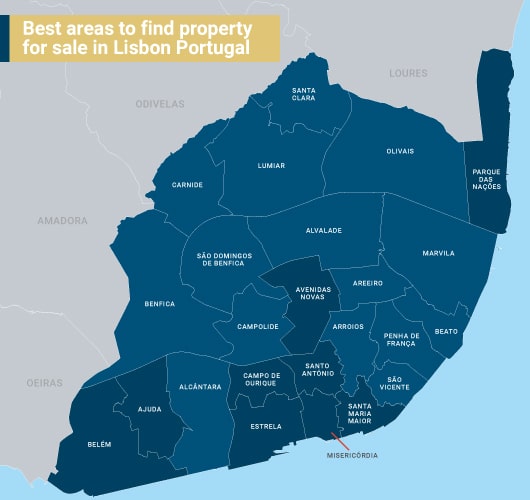 Lapa and Santos
Lapa and Santos are Lisbon's upmarket districts, home to parliament as well as being the residence of the prime minister and numerous embassies. The areas have a pleasant ambiance with an optimal supply of traditional shops, restaurants, schools, public transport, and hospitals.
You can purchase a 9,600 sq.m. historic building in Lapa for around €5,000,000.
On sale, you can find a 40 sq.m.T2 flat in Lapa for €157,500. The previous price was €179,000, constituting a 12% drop.
Avenidas Novas
When Lisbon expanded in the middle of the 20th century, it did so to the north, resulting in residential and business areas on long avenues. This area became known as Avenidas Novas, "the new avenues", where beautiful palaces were originally built. Some original buildings have survived.
The Avenidas Novas area is well served by transport, services, commerce and schools, and it is just five minutes from the airport.
You can purchase a building converted into a student residence here for €6,500,000 (total area 14,600 sq.m.).
On sale, you can find a 130 sq.m. T3 flat in the popular Edifício Tridente — situated in  Entrecampos, Avenidas Novas— for €425,000. The previous price was €439,000, constituting a 3% drop.
Intendente and Mouraria
This is a very central area. A place for the urban professionals, at Intendente you are close to  the metro, train stations, the Teatro Nacional D. Maria II Theater, and Castelo de São Jorge. The Intendente is surrounded by various services such as trade, pharmacies, restaurants, and schools. It's ideal for those who want to live or invest in a central and historical area of Lisbon.
You can purchase a 78 sq.m. T1 flat for sale in Anjos for 525,000. The previous price was €550,000 (a 5% drop).
Campo de Ourique and Estrela
Campo de Ourique is one of the main old neighborhoods of Lisbon. The area has heritage evidence of a great tradition. Campo de Ourique is a relatively quiet area, with green spaces and streets that invite you to take long walks.
On sale, you can find 192 sq.m. T4 flat for sale in Santo Condestável for €1,050,000. The previous price was €1,150,000 (a 9% drop).
Belém, Ajuda, and Restelo
The Restelo neighborhood is located in the westernmost part of the city of Lisbon, next to the Tagus river. Considered the monumental area for excellence and uniqueness in the world, it has two monuments classified  by UNESCO as World Heritage.
Its geographical position is beneficial, providing quick and easy access to central Lisbon, Cascais, and Sintra. It has all the services, shops, schools, hospitals, and transport you may need, and is considered one of Lisbon's most beautiful leisure areas.
You can buy a building in Belém (four fractions, three T2 apartments, and a T1 on the top floor) for around €1,250,000.
On sale, you can find 110 sq.m. T2 flat in Rua da Junqueira for around €600,000. The previous price was €620,000. Needless to say, in this premium area, the prices are very much stable.
You may also want to consider some affordable neighborhoods in Lisbon, such as Lisbon South Bay. For more information, read our up-to-date guide on Lisbon South Bay Real Estate.
Parque das Nações
The riverside area of Parque das Nações is a mix between the old and the new. Its surrounding area offers all the amenities of modern urban life.
The area offers all types of services and transport, such as Vasco da Gama Shopping Center, Gare do Oriente (you can catch a bus and train to the main European capitals), Casino de Lisboa, Marina, several restaurants, pharmacies, hospitals, schools, and banks.
It has become an excellent place to live and work. One of the great advantages of the area is its proximity to the airport and access to the highways.
You can buy a 261 sq.m. detached pool house for sale in Parque das Nações for €3,250,000. The previous price was €3,700,000 (a 12% drop.).
Best property for sale in Lisbon old town

Alfama
Alfama is one of Lisbon's most traditional neighborhoods. It is a meeting point for people from different cultures and, at the same time, a place that keeps its old popular traditions alive. There are several fado houses, bars, taverns, and cultural/sports collectives alongside commercial establishments of Chinese and Indian origin.
You can find a 98 sq.m. T4 flat for sale in Alfama (Sé) for €510,000. Property prices are very stable in this historical area.
Graça
Lisbon's highest hill, Graça, overlooks the city, the Castle and River Tagus. The area has many restaurants and parks, where you can experience the real, traditional, Lisbon. A T2 flat for sale in Graça can cost around €485,000.
A 350 sq.m T5 flat for sale in Graça at the condominium "Villa Graça", one of the most exclusive and private in Lisbon, can cost around €1,700,000. The previous price was €1,790,000 (a 5% drop).
Properties for sale in Lisbon coast, Portugal

If you're looking for the perfect opportunity to close a deal before the end of 2020, we're here to help. Some of the best properties for sale in "Linha de Cascais" areas are:
Algés
In Algés, a nice village located on the border between Lisbon and Oeiras, you can purchase a spacious and bright 350 sq.m. T5 apartment for sale, with a river view for €840,000.
Oeiras
Oeiras is one of Portugal's premium areas. It is calm and safe, has beautiful beaches, and offers all the services you need, including: markets, pharmacies, renowned schools, and the "Linha de Cascais" train.
You can find a 181 sq.m. T4 flat for sale in Alto da Barra, Oeiras, for €590,000. The previous price was €610,000.
As of 2021, property owners who decide to place their properties on the rental market in Oeiras will benefit from a 20% discount on the Municipal Property Tax (IMI) – unlike Lisbon, which recently announced the end of this tax benefit.
Cascais
Some of the most expensive properties in Portugal are located in Cascais. The luxury area Quinta da Marinha maintains fixed prices, but you can find many great properties for sale in the areas close to Lisbon: Cascais center, Estoril, and Carcavelos.
It is possible to find a 259 sq.m. T2 pool flat for sale in Cascais center for €1,190,000. The previous price was €1,290,000 (an 8% drop).
Enlist the help of a professional
Be well organized in your Lisbon property for sale investment.
Understanding the difference between a buyer's agent versus a realtor
A realtor works for the seller of the property as their client, so you would be better represented by using a buyer's agent who would remain neutral, making sure you get the best deal possible.
What Goldcrest can do for you
If you are interested in a Lisbon property that is for sale, you can attain a specialized property investment firm such as Goldcrest. As an independent local buyers agent, Goldcrest helps investors get the best deals in their desired locations in Portugal.
Contact the team to access exclusive information on the property market and the best deals available for  Lisbon's properties for sale and find out how much you can save on your international investments.
How to buy a Lisbon property for sale
Buying a property is as special as it is complex – especially if you are buying abroad. For everything to go smoothly, you should get sufficient information in advance and have a real estate market professional by your side. Ensure you know all the steps needed to buy a  property for sale in Portugal.
Requirements
When you find your desired property, obtain an excerpt from the land register (Certidão do Registo Predial) at the land registry (Registo Predial), which provides information about any encumbrances (mortgages, seizures) on the property. This also provides information about the structure of the property and the legitimacy of the seller.
Property purchasing process
Documents needed to buy a property for sale in Lisbon
Apply for an extract from the Tax Register (Caderneta Predial) at the Tax Office (Repartição de Finanças), which contains information about the tax situation and tax obligations associated with the property.
Obtain a license to use the building (Licença de Utilização) confirming that the building complies with local legislation.
Ask the district council for the Ficha Técnica de Habitação. This document describes the technical properties of the property.
The previous owner must show you the energy performance certificate.
You must be able to prove that you have paid the local real estate transfer tax (Guia comprovativo do pagamento prévio do Imposto Municipal de Transações Onerosas de Imóveis).
Purchasing costs
As can be expected, the agreed sales price is not the only cost factor that has to be taken into account when buying a property.
In Portugal, the buyer is liable for all acquisition costs. To avoid unpleasant surprises, you need to have a good understanding and be able to budget for all the costs of buying and maintaining a Portuguese property. The cost of buying a property varies depending on the price of the property.
Taking out a mortgage loan
If you need financing to buy property in Portugal, you will need to budget for the mortgage agreement fees. Certain costs, such as government-imposed stamp duty vary  concerning the borrowed amount but other costs imposed by the bank, such as real estate appraisal service, management fees, and contract commissions, usually have fixed prices.
You should budget around 1% of the loan amount to cover these costs. Mortgage brokers have several ways to do business, but if you decide to take this route and use someone else's services, some may ask you to pay a commitment fee.
Is it worth buying a property in Lisbon?
Lisbon is a European capital that is still expanding. Portuguese banks are again offering loans for the purchase of real estate, so the time for a purchase could be favorable.
What to consider before buying a property in Portugal

One thing to keep in mind when investing in a property for sale in Lisbon is that, in the event of a future sale, all acquisition costs can be offset against capital gains tax liabilities; so it is important and wise to carefully keep all records and documents.
Check out our article: A Quick Guide to Areeiro, Lisbon, Real Estate.
Frequently asked questions about Lisbon property for sale
Why buy property for sale in Lisbon Portugal?
The price of property for sale in Lisbon, considering the numbers from the last decade, are stable or ascending. There is continuous growth in public and private investment in the city due to its economic potential.
What area has the best property for sale in Lisbon city Portugal?
One of the best areas to find property for sale in Lisbon is in Parque das Nações, where urban expansion projects from renowned architects, such as Renzo Piano, are under development. Another good area to find the best property for sale in Lisbon is the central business area of Avenidas Novas.
What areas have the best properties for sale on the Lisbon coast?
Linha de Cascais has the best properties for sale on the Lisbon coast.
How to purchase property in Lisbon?
To guarantee the best return on investment and an efficient acquisition process, we suggest that you be accompanied by an expert in the market. The value of a professional buyer's agent by your side makes all the difference, whether it's to help you find the best deals in Lisbon property for sale, to access industry contacts as a local or to close deals without fear.
Should I invest in property for sale in Lisbon old town?
Yes, always. The investment made in renovations, especially in properties for sale, is always minimal compared to the guaranteed returns that these projects normally have. Lisbon's old town is a historic area that will never lose its flair.
What is the most expensive property for sale in Lisbon, Portugal?
Palacete in the city's heart, which has 6 bedrooms, 4 bathrooms, and an approved included project, is the most expensive house currently on the market. The asking price is €15,000,000.
Can foreigners buy property in Lisbon?
Yes. There are no limitations for foreigners purchasing real estate in Portugal. The Portugal Golden Visa Program is one of the ways in which the Portuguese government encourages foreigners to invest in Portuguese real estate.
How much does a house cost in Lisbon?
Investing in real estate in Portugal can be beneficial and offers the chance to create a "safe haven" in a calm EU country. Portugal's average price per square meter is €2,950. To be eligible for a Portugal Golden Visa, investors must find Lisbon apartments for sale that cost at least €280,000.