Updated: November 21, 2023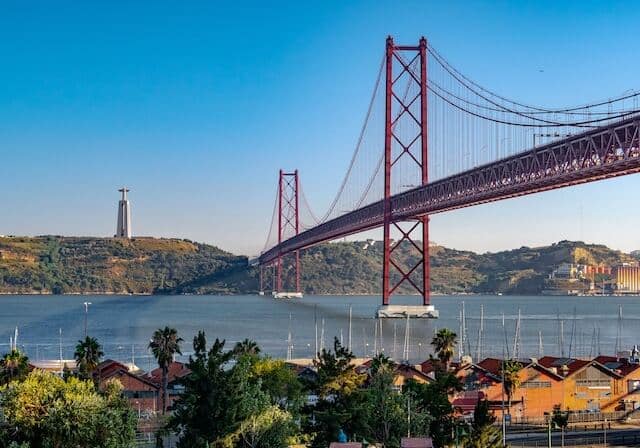 Considering waterfront homes for sale in Lisbon? You're right on trend. UCI (Real Estate Credit Union in Portugal) has singled out Lisbon as a 2023 hotspot, buoyed by continuous foreign investments and property renovations.
Besides being Portugal's capital, Lisbon draws in global investments. Families love it for safety, retirees for tranquility, and solo travelers for its vibrant pulse. With its strategic location, Europe, Africa, and the Americas are just a skip away.
While Portuguese is the predominant language, English is widely used because of the city's international business presence. In fact, most locals can easily get by in English, with Portugal scoring high on the English Proficiency Index.
These perks sound great, but getting your head around Portugal's property market, picking up on its cultural quirks, and figuring out property resale values can be a handful.
This article provides a comprehensive look at recent trends, the best waterfront communities in Lisbon, and a step-by-step guide to buying—from sourcing listings to financing your projects.
Lisbon's Property Market: An Overview
As Europe's emerging real estate magnet, Lisbon has witnessed profound growth. Notably, the last five years have seen property values in Lisbon soar, due to its burgeoning appeal.
Apart from its historic charm and captivating city landscapes, Lisbon's transformation into a business and tech nucleus is noteworthy.
A surge of digital nomads, lured by the city's promise of connectivity, culture, and convenience, now call Lisbon home. The exceptional quality of life, further enhanced by its closeness to renowned centers of learning, adds to its attractiveness.
Property prices in Lisbon
The average asking price for a square meter of housing in Lisbon in 2022 was €6,233. This gives a broad idea of prices and can be used as a benchmark to compare values with other cities. Note that this is the asking price, and property values can be lower than this as sellers often look to sell their properties by a set date and are likely constrained by other variables. Conversely, prices can also be higher than the asking price figure.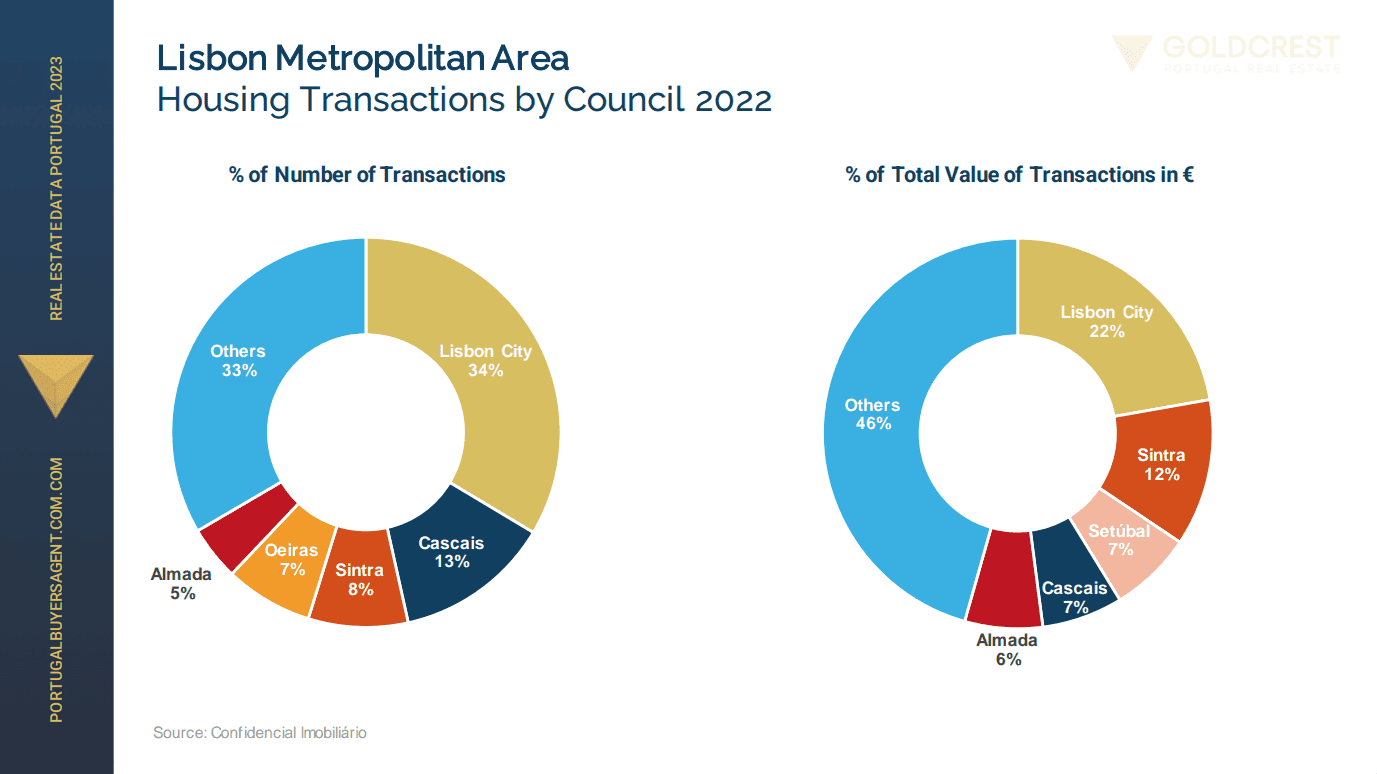 Of all property transactions in Portugal, 32 percent were specifically in Lisbon. While Lisbon had a significant share of the transactions, their combined monetary value was slightly less at 22 percent.
Rental yields
Rental yield measures an asset's annual return on investment about its rental income and market value. A higher yield typically suggests a better return on investment for a landlord.
Ajuda district in Lisbon boasted the highest rental yield at 5.8 percent. This means that homeowners in Ajuda, on average, can expect a return of 5.8 percent on their property's market value from rent annually. This could make Ajuda a particularly attractive area for investors.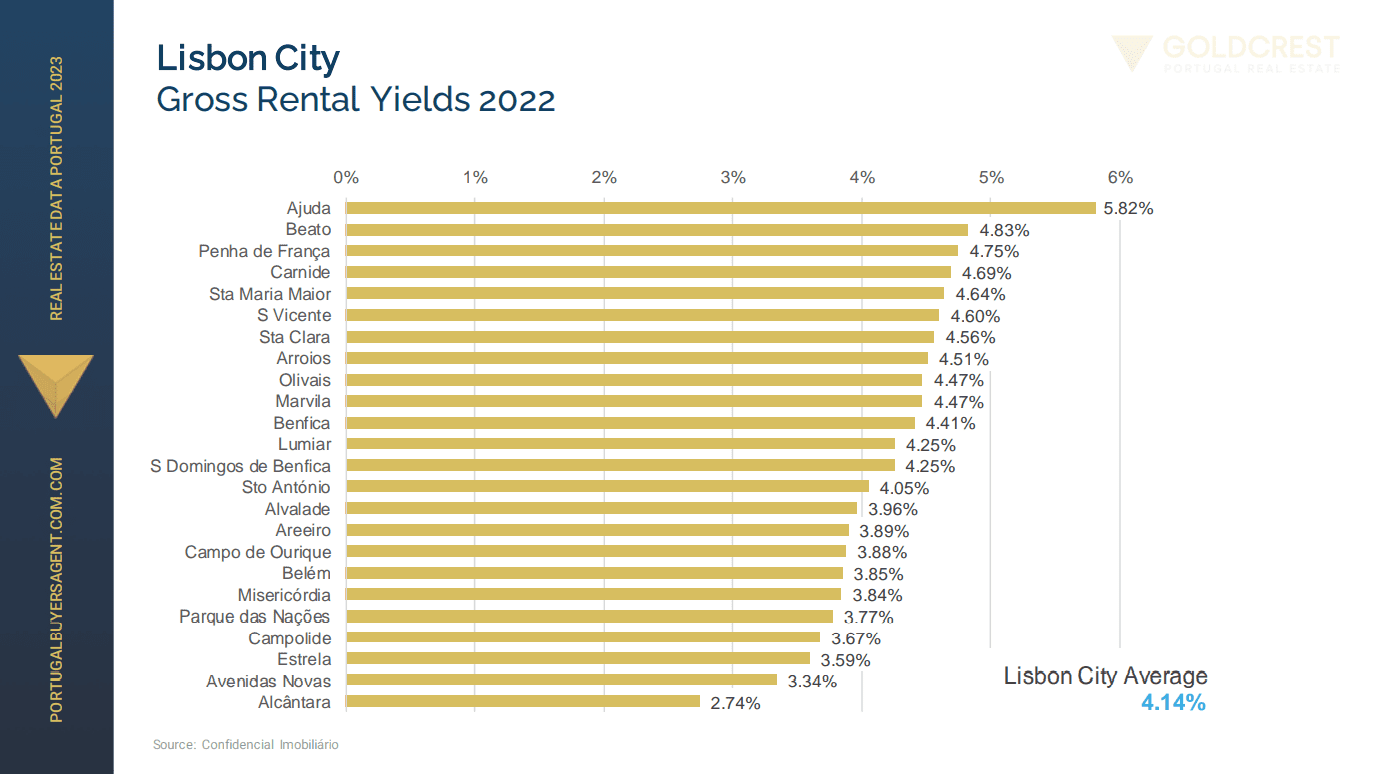 The city's average was a tad lower at 4.1 percent. While still a solid figure, it means that, on average, across the whole city, landlords can expect a return of 4.1 percent on their property's market value each year from renting it out.
In terms of properties picking up steam, waterfront locations have drawn in a lot of interest lately. In the next part, we'll go over the key areas that could prove to be the perfect place to move to or invest in.
Lisbon's Waterfront Neighborhoods: Top Six Areas
Recent developments in Portugal property market show Lisbon has become a highly sought-after destination for expats from all walks of life.
Let's dive into six waterfront spots in Lisbon that might tick your boxes for a dream home.
Belém
Belém, with its cultural richness, can be likened to areas like the French Quarter in New Orleans or perhaps the historic districts of cities like Venice or Istanbul.
Set up west of Lisbon's city center, Belém stands out as an iconic spot by the River Tagus.
It hosts the Jerónimos Monastery, the Belém Tower, and the Monument to the Discoveries. It's also where the famous Portuguese treat, "Pastéis de Belém," came about. You can indulge in unique and authentic local dishes to spice up your food adventures.
The Tropical Botanical Garden and other parks serve up green spots in the city, ideal for relaxing and taking part in outdoor fun, making the neighborhood attractive to families looking to move to Lisbon.
Being a top tourist draw, Belém ties in seamlessly with other areas of Lisbon. Reliable transport connections make commutes quick and hassle-free.
Over the years, Belém has brushed up its infrastructure and is now home to modern museums like the MAAT (Museum of Art, Architecture, and Technology). Living near this major attraction influences real estate values, given its pull for visitors and locals.
Alcântara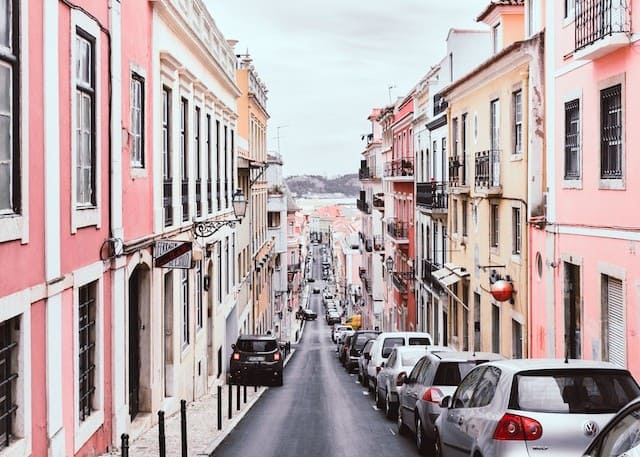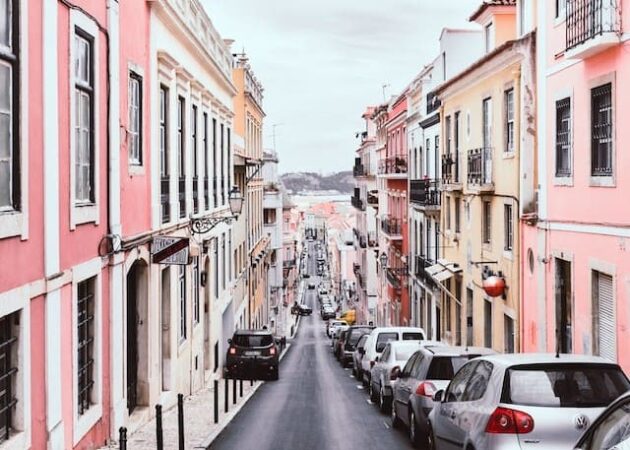 Alcântara is best described as an industrial zone that, over time, has turned into a hub for creatives and business professionals. Situated between Belém and the city center, Alcântara melds old warehouses with contemporary structures, creating a nice mix of modern and traditional architectural styles.
Alcântara can be chalked up as an industrial zone that, over time, has turned into a hub for creatives and business experts. Situated between Belém and the city center, Alcântara melds old warehouses with contemporary structures, creating a nice mix of modern and traditional architectural styles.
LX Factory, which has transformed from a former industrial site into a hip cultural center, is worth a visit. Living close to LX Factory is near many events, boutique stores, eateries, and cultural spaces. Santo Amaro Docks also roll out delightful dining experiences with a sea view.
The area has recently seen a face-lift, with a swarm of startups and enterprises. This hints at economic vigor potentially paving the way for job openings. The innovative flair of these projects also injects a refreshing, novel air into the neighborhood, making it appealing to the young workforce and creatives.
Cais do Sodré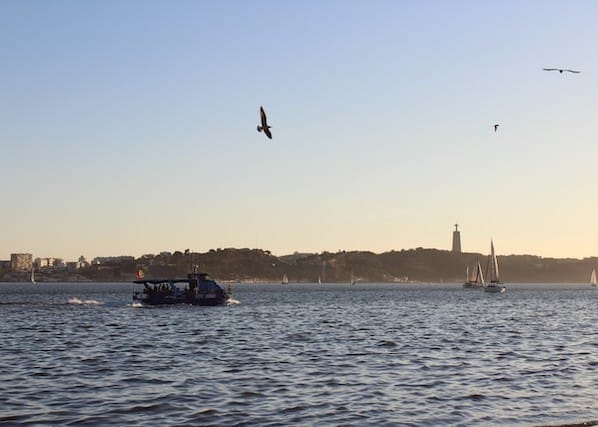 Once a rundown harbor area, Cais do Sodré has spruced into a buzzing place rich in nightlife and cultural scenes. You can mix with a varied crowd and join in diverse activities and events here. The Time Out Market, a curated food hall, is a key lure. Pink Street is famed for its nightlife and offers different entertainment choices close by, which cuts back on the need for extensive commutes after a night out in Lisbon.
Ribeira das Naus is another favored riverside walkway. At its core, the promenade sets aside a space for outdoor events, strolls, and soaking in the beautiful scenery. You can also top up your physical and mental health by giving in to the surrounding charm.
The region underwent a major makeover in the 2010s, transitioning from an overlooked neighborhood to a lively place. This boils down to improved safety and more attractive settings for residents. It also points to climbing property values, making it a good place to spend money.
If you rent out your residence, its location in a tourist magnet could warrant higher rental fees, especially during peak seasons.
Given its popularity with tourists, Cais do Sodré might not be an ideal area for a long-term home, but it surely measures up for buy-to-let houses.
Baixa and Chiado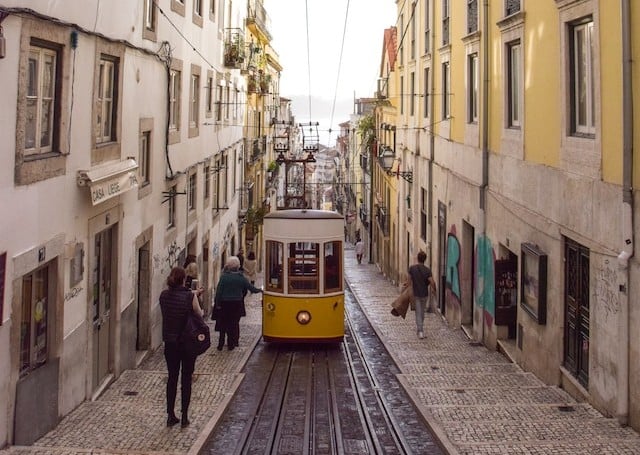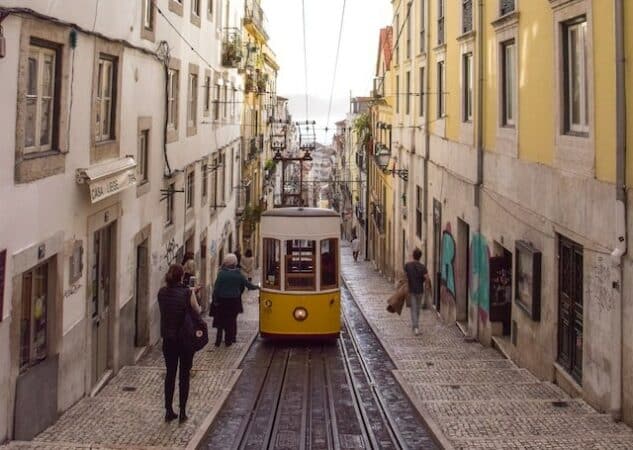 With Baixa as the heartbeat of downtown Lisbon, you'll be right in the thick of things. The city is laid out in grid-like streets, making it easy to get around while showing off a well-organized design.
The Pombaline Lower Town (Baixa Pombalina) wraps you in grand neoclassical patterns. Praça do Comércio square leads straight to the river and sets you up with a serene vibe, perfect for clearing your head from city life's hustle and bustle.
On the flip side, Chiado is where culture comes alive. You can pop into theaters, old-world cafes, and bookshops that bring out the artsy side of Lisbon. Meanwhile, landmarks like Elevador de Santa Justa and the Rua Augusta Arch contribute to the area's cultural depth but might also increase housing values with their crowd-pulling power.
The preserved historic buildings and updated infrastructure give you the best of both worlds – a location deep in history and decked with the newest amenities.
That said, some Baixa properties might have restrictions around renovations, given the heritage weight of the buildings.
Parque das Nações (Nations Park)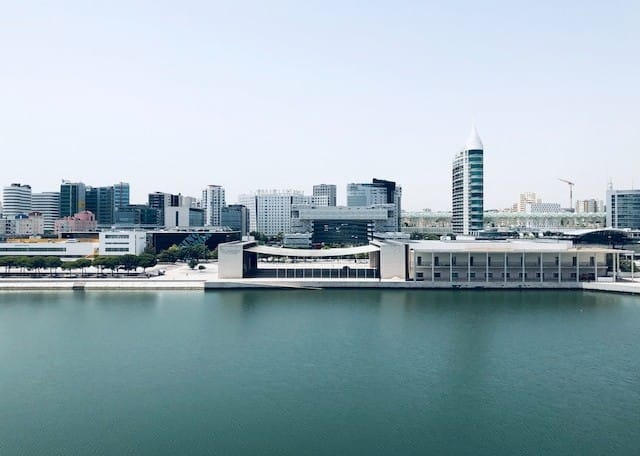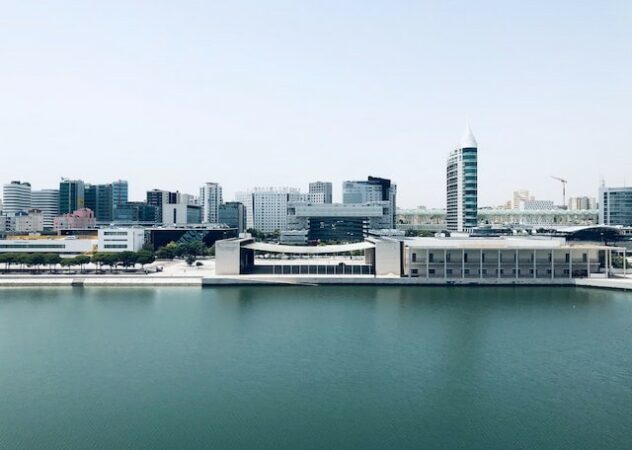 Parque das Nações is a modern district in the northeastern part of the city. It was developed for the 1998 World Exposition.
The neighborhood is characterized by the Oceanário de Lisboa, one of the largest indoor aquariums in Europe, and the Vasco da Gama Tower.
There are also lively eateries and top-notch views over the River Tagus. The promenade alongside the river is perfect for weekend strolls.
The cable cars overhead chip into its futuristic appearance, and you can pop into Lisbon's aquarium for an ideal rainy day hangout. You're also very close to the airport and are well situated to get around the city easily.
Some have likened Parque das Nações' architecture to London's Canary Wharf in London. If you swing by the area, you'll probably pick up on the similarities. On the school front, the modern United Lisbon International School is close to Parque das Nações in Marvila.
Accomodation prices will continue to rise as investments stream into Parque das Nações. With the expansion of living spaces, you'll have more housing options.
The surge in commercial venues could spark an opportunity to set up a business or track down a job in this part of Lisbon.
Alfama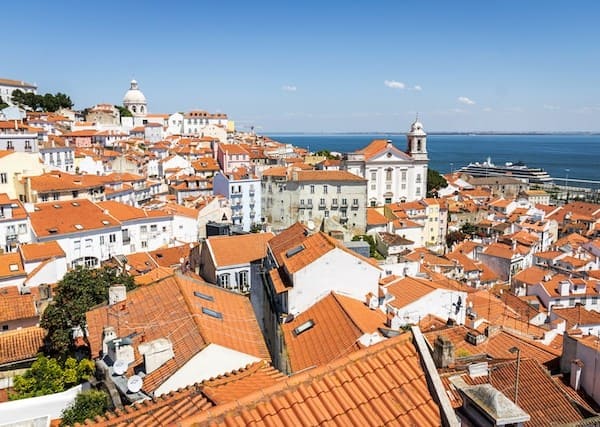 You'll be delving into Lisbon's storied past by putting down roots in Alfama. The narrow streets and alleys give off an age-old allure, throwing in an authentic and reminiscent feel that few other places can dish out.
Owning a home close to the Fado houses means you're just a short walk away from tapping into Portugal's emotive national sounds. With landmarks like the Sé Cathedral and the São Jorge Castle rounding the neighborhood, you also catch breathtaking cityscapes.
Alfama stays true to its historic core, but the springing up of chic lodgings, gourmet hangouts, and crafty storefronts ensures you don't trade off on modern-day comforts. The smooth combination of the timeless and the trendy lines up a harmonious living.
Though Alfama is a favorite among tourists, its narrow streets can get busy, bringing noise and interruptions during popular visiting hours.
Advantages of Owning a Waterfront Home in Lisbon
 If you're considering Portugal property for your overseas real estate investment, Lisbon's waterfronts should be on your radar. Here's why:
Stunning views
Imagine your daily backdrop as the shimmering Tagus River, the Silver Coast, or the vast Atlantic Ocean. With a waterfront home, the sea view is forever yours—no looming buildings on the horizon, just pure, unadulterated scenery. Their natural allure can significantly increase the property's resale value.
Proximity to amenities
In real estate, location is king. Lisbon's coastal abodes benefit from being close to key amenities. Homes along the city's coast are strategically positioned near essential facilities. For families, this closeness simplifies daily logistics.
Quick grocery runs, schools within reach, and a hop from local entertainment
Recreational opportunities
Life by the water feels different. You're a stone's throw from activities like jet-skiing, fishing, or a chilled boat ride. There's a special kind of energy here: Weekends feel like vacations, and even a normal weekday has a hint of adventure.
Potential investment
For investors, homes by the water tend to gain value faster than those tucked away. Lisbon's realty market reinforces this fact.
Since there aren't many of these shore line homes, they're always in high demand. So, they're not just a place to live but a smart move for anyone considering their financial future.
Health and wellbeing
There's something inherently soothing about being surrounded by aquatic landscapes. The crisp air, the rhythmic lull of waves, and the tranquil ambiance all play a part in uplifting one's spirit.
Research indicates that proximity to aquatic environments can diminish stress, bolster mental health, and elevate life quality. A waterfront home serves as a daily sanctuary of renewal.
Types of Waterfront Homes: Matching Your Tastes to Design and Details
You've picked up on an interest in acquiring coastal properties in Portugal; which design, or construction do you lean towards? Explore these property types:
Apartments
Modern condos certainly top the charts for investors and families, where you'll find many sleek apartments with all the necessary facilities.
On the flip side, an apartment mixes modern looks with classic Portuguese touches. Look for big windows stretching from floor to ceiling to take in the full ocean or sea view. A balcony usually tags along, offering residents their slice of the outdoors.
Many apartment pads in Lisbon come with perks like underground parking, shared pools, and security. Inside, open-concept designs take the lead, decked out with high-end touches and cutting-edge kitchens and bathrooms.
Villas
Want a more expansive living space?
Villas are the way to go. They sprawl across bigger plots, creating a more private living vibe.
Their design often nods to traditional Portuguese flair. Picture crisp white walls, earthy-toned roofs, and detailed tiles. However, many have been renovated with modern interiors.
Villas usually throw in a bigger garden, private pools, and sometimes even a straight shot to the waterfront. They're crafted for the high life, boasting roomy insides, several sleeping spaces, and often, detached guesthouses.
Townhouses
Lisbon's townhouses offer a blend of condo and villa perks. They typically give more elbow room than an apartment but sit closer to the action than some villas.
These property types echo classic Portuguese vibes: Tall, slender designs stretching across several floors. Inside, you might run into spaces that feel like a step back in time or have been revamped.
While many townhouses might not boast a sprawling garden as villas do, they make up for it with rooftop spots serving panoramic waterside vistas. Many also have garages, an excellent addition to the city hub.
Mansions
Many historic mansions have been handed down over the years to capture a slice of Lisbon's legacy. They're a jackpot for those looking for a sleek design blended with tradition.
From ornate Baroque to polished Neoclassical designs, the craftsmanship is top-tier. Gear up for wide, stylish staircases, artsy ceilings, and spacious bedrooms.
Traditional manors call for extra care, but there's something unique about them. A fair share has had a modern makeover on the inside to match today's comfort levels.
Smart Ways to Finance a New Home
Deciding on the type and location of your beach home also means figuring out how to pay for it. Whatever you're thinking, easy-to-use financing options are available, so you don't need to rely solely on your initial savings.
Ways to finance buy purchase include:
Mortgages
Many locals turn to mortgages to fund their homes in Portugal, and foreigners aren't left out.
Major Portuguese banks, like Banco Santander Totta, Millennium BCP, and Caixa Geral de Depósitos, are open to lending to locals and foreigners. There's a lot more to pick up on, but for a detailed rundown, you can check out our guide on how to secure a mortgage in Portugal.
Home equity loans
Already own a house? You can cash in on its value to fund another. Think of home equity loans as taking a second mortgage on your place.
Developer financing
Some home developers offer special financing deals for their new projects, often tailored to suit foreign investors.
Private lenders
Private lending options exist if traditional bank loans don't click with your needs or if you seek more flexibility. They might come with steeper interest rates.
As for what you need to qualify:
• Documentation: Banks will ask for paperwork to get a sense of your finances. Typically, this includes pay slips, tax records, and bank statements.
• Creditworthiness: Your financial track record matters. Portuguese banks will assess your credit history, and if you've flown in from another country, be ready to get them credit records from there.
• Debt-to-Income ratio: This balance shows your monthly debts versus what you bring.
• Residency status: While non-residents can secure mortgages, the terms and conditions might vary. Generally, banks in Portugal offer up to 70 percent of the property's value. LTV ratios can also reach 90 percent for fiscal clients, but non-fiscal customers are usually limited to 75 percent.
Waterfront Homes for Sale in Lisbon: How to Spot the Perfect Buy
You've got your funding, but how do you track down the best property for sale in Lisbon? Here's a breakdown to kick you off.
Budgeting strategy
On top of the purchase price, factor in overheads like land duties coverage (especially higher for lakeside homes because of water hazards).
Properties by the sea can run into natural challenges, so set aside money for future maintenance costs.
Location of the Home
Hunting for a quiet getaway in the town center or beside a lively beach? Your preference will point you in the right direction.
Assess the local scene, future neighborhood plans, and potential environmental hiccups.
Pick somewhere close to key amenities, major roads, and public transport links.
Due diligence
With the home's proximity to the sea, look for mold, moisture, and water damage.
Also, inspect the home's foundation for possible erosion problems, especially by the water.
Check the local weather patterns. Does the area frequently flood or face storms?
Reselling prospects
Even if you plan on putting down roots, consider its resale value. Well-maintained beachfront homes in prime locations can fetch a higher price over time.
Local regulations
Waterfront homes come with their own set of building, renovation, and land use regulations. Brush up on these prerequisites before sealing the deal.
And don't skimp on insurance. Such properties demand specialized coverage, especially in flood scenarios. Nail down the costs and know exactly what you're getting for your money.
Engage real estate agents
Juggling all these details can be a headache.
To cut through the noise, enlist the services of a real estate agent in Lisbon with experience in waterfront properties. Local experts make useful contact for reliable inspectors, builders, and others you'll need. Do note that real estate agents work on behalf of the seller and will get a higher commission for a higher sale. A buyer's agent, on the other hand, works solely on behalf of the buyer, ensuring you secure your dream home at the best possible rate.
Goldcrest is a buyer's agent based in Lisbon. We know that no two clients are the same, which is why we offer a service completely tailored to their needs. You can get in touch with us today to see how we can help kickstart your property-buying process in Portugal.
Extensive home survey
Waterfront areas can get packed during the festive seasons. Ensure you're on board with your level of privacy and potential noise.
Beyond standard checks, gauge how the building withstands water, its ground stability, and any local ecological insights. It's smart to rope in a property surveyor in Lisbon for a thorough analysis.
Summary
Waterfront homes in Lisbon, Portugal, have become a buzzing discourse, and it's easy to see why. Lisbon, for its part, has a Mediterranean climate with mild winters and sunny summers. This adds up to constant sun nearly all year round.  If you want to enjoy a luxury lifestyle by the water in a bustling European capital, it doesn't get much better than Lisbon.
The city also boasts historic sites, monuments, and museums. When stacked against other Western European capitals, Lisbon offers lower living expenses which are a draw for expats and retirees.
However, partnering with a reputable local agency is advisable. Portugal property dealings and business norms might throw you off if they're a new terrain for you.
At Goldcrest, we're committed to making your global investment aspirations come to life. We cover the entire buying journey, from scouting out the ideal place to its acquisition and post-purchase care, doing away with intermediaries' problems.
Frequently Asked Questions about Waterfront Homes in Lisbon
What are waterfront homes in Lisbon, Portugal?
Waterfront homes in Lisbon are properties located alongside or overlooking water bodies, offering a scenic sea view.
Where can I find waterfront property for sale in Lisbon?
You can find waterfront home listings on local real estate websites, through local agents, or by visiting showrooms. You can also work with real estate professionals to assist you with sourcing property that meets your requirements.
What is the average cost of waterfront homes in Lisbon?
The prices can vary, with waterfront homes usually at a premium due to their desirable location.
What neighborhoods in Lisbon, Portugal have waterfront homes available for sale?
Belém, Alfama, and Parque das Nações are popular areas with waterfront properties.
Are there any regulations or restrictions when buying waterfront homes in Lisbon?
Yes, there may be zoning laws and environmental regulations in the country. It's best to consult a local real estate lawyer or agent for specifics.
Can I use a waterfront home in Lisbon as a vacation rental property?
Yes, you can rent out a waterfront home in Lisbon for vacations. However, consult with legal counsel to ensure local regulations and license compliance.
What should I look for when inspecting a waterfront home?
Be on the lookout for water damage in bedrooms or bathrooms, the sturdiness of structures, and the state of any barriers against the water, like seawalls.
Is financing available for buying waterfront homes in Lisbon, and what are the mortgage options?
Certainly, many banks offer mortgage options. Terms and interest rates can vary based on your financial profile and sale region.
What is the process for buying waterfront homes for foreigners?
Foreigners can buy houses using the following steps:
Search for waterfront homes on sale in Lisbon.
Get a fiscal number for transactions
Open a Portuguese bank account.
Complete the sale with a notary
Register the house
Consult local experts for advice
What are the taxes associated with Lisbon's waterfront homes?
Foreigners who want to buy property should take into account the following taxes:
At purchase:
IMT (Municipal Property Transfer Tax): Based on the asset's value.
Stamp Duty: On the purchase and possible mortgage amount.
Annually:
IMI (Municipal Property Tax): Based on the taxable asset's value.