Updated: July 21, 2023
Cascais is, for many, the ultimate destination. This quaint seaside town is located just a 30-minute drive away from the bright lights of Lisbon, has the outrageously stunning Sintra-Cascais Natural Park on its doorstep, and waterfront properties that would be the envy of many, plus pleasant weather throughout the year. In this article, Real Estate Investment Cascais: Essential Insights, we're going to provide you with crucial information on the topic, from providing you with an overview of the market to guiding you through some of the best places to invest in the area, plus much more. 
Why invest in Cascais? 
Cascais attracts foreign buyers from all walks of life. Families will find excellent education opportunities close at hand – see this International Schools guide by our Residency and Citizenship division, Global Citizen Solutions, for more information on this – retirees will find a relaxing seaside town to enjoy their well-earned retirement, and investors will be thrilled to find opportunities for a nice return on their investment. 
An Overview of the Cascais Real Estate Market  
Cascais became a renowned seaside resort in the 1870s, thanks to its association with King Luís I of Portugal and the Portuguese royal family. Each September, the royal family chose the charming coastal town as their residence, leading to the influx of the Portuguese nobility, who formed a vibrant summer community in the area.  
In more recent times, Cascais has retained its crown as a top tourist destination but has increasingly attracted foreign expats to its shores, including celebrity royalty. Ian Fleming famously drank martinis in neighboring Estoril and found inspiration for the James Bond novels at Hotel Palacio.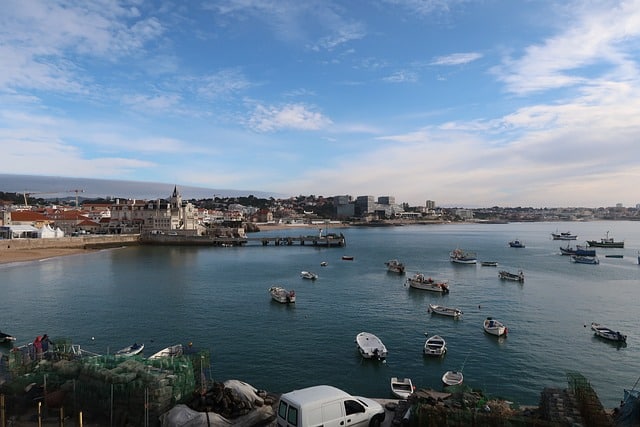 The current state of the real estate market
The real estate market in the Cascais municipality has long been popular with expats, and continues to attract international buyers. Between 2017 and 2022, Cascais experienced more than a 100 percent growth rate, increasing from €2,766 per square meter to €5,563 per square meter.   
Is now the time to invest in Cascais?  
As Cascais continues to grow in popularity, it remains a very good town to invest in. Strategically located close to Lisbon, and with the glorious Sintra Natural Park nearby, plus an array of popular beaches, the area has a lot going for it. While the average price for Cascais property is higher than it once was, it is possible to get a nice return on your investment, making investing in the Cascais area a lucrative venture for international investors – yields stood at 4.44 percent in 2022.
Types of Investment Opportunities in Cascais 
Residential properties 
The Cascais area boasts a wide array of residential properties suitable for investment. These can range from detached houses to luxurious villas, providing potential investors with various options to target different segments of the real estate market. 
Apartments
Investing in apartments in the Cascais municipality can be an attractive option due to the town's growing popularity among locals and tourists alike. Apartments can provide steady passive income or potential capital appreciation.
Waterfront properties
Cascais's stunning coastline and ocean views attract investors to consider waterfront properties. These exclusive properties offer breathtaking views and high demand, making them an enticing investment option.
Luxury properties
For investors seeking high-end opportunities, Cascais offers a selection of luxury homes that come with swimming pools, private security, and price gyms. These elegant estates cater to affluent buyers and can yield substantial returns, especially considering Cascais's status as a luxury destination.
Commercial properties
Investing in commercial real estate can be an appealing option in Cascais, given its growing business and tourist sectors. Commercial properties offer opportunities for steady rental income and the potential for long-term growth.
Offices
With a thriving local economy and an increasing number of businesses setting up shop in Cascais, investing in office spaces can be a profitable venture. This includes spaces within commercial buildings or dedicated office complexes.
Retail spaces
As a popular tourist destination, Cascais presents investment opportunities in retail spaces. These spaces can be utilized for shops, boutiques, restaurants, and other commercial ventures that cater to both locals and visitors.
Touristic real estate
Cascais's charm attracts tourists year-round, making touristic real estate an attractive investment avenue. Touristic properties can include hotels, holiday homes, serviced apartments, or properties within resort-style developments.
Hotel projects
As Cascais experiences a continuous influx of visitors that seems to increase year-on-year,  investing in hotel projects can be lucrative. The hospitality industry in Cascais has the potential for significant returns on investment.
Vacation Rentals and Short-term Lettings
With the rise of platforms like Airbnb, investing in vacation rentals and short-term lettings has become increasingly popular. Cascais's appeal to tourists and its close proximity to Lisbon make it an ideal location for such investments.
Key Locations for Real Estate Investment in Cascais 
Cascais and Estoril 
Cascais is an extremely desirable place to snap up a property, and the historic town has something to tempt any buyer. You'll come across luxury homes, modern apartments, and a yacht marina.  
With several charming beaches, such as Praia da Rainha, conveniently located in the heart of Cascias, Praia do Guincho, situated just north of the city, the famous Cabo da Roca, the most westerly point in Europe, and the outstanding Sintra National Park, there are many attractions to living here.
Further east, you have Estoril, where you'll find spacious properties with waterfront views. The Estoril promenade is a lovely place to spend time with family and offers one of the best sunsets in Portugal. Outside the center, you'll stumble across picturesque mansions just a short walk from the beach.  
Indeed, Cascais and Estoril are, in many ways, the epitome of luxury living. However, with this said, you'll still find many more affordable options. This part of the country is also fantastic for families looking to move to Portugal, with several good international schools, such as Park International School, St António International School, St Julian's School (close to Carcavelos), St Dominic's International School, and St John's International School. 
Carcavelos and Parede 
Carcavelos is a firm favorite with Lisbon residents that are looking to get their beach fix, plus surfers will find some nice waves here.
 Carcavelos has a permanently relaxed vibe and is situated a short distance from both Lisbon and Cascais. With large houses leading the way down to Carcavelos beach, you'll find several spacious properties up for grabs. Parede is home to the Avencas and Parede beaches, where you will also find some of the best restaurants and terrace bars on the waterfront promenade, the perfect place to enjoy the sunset.   
Alcabideche 
Alcabideche is situated to the north of Cascais and Estoril and borders the scenic Sintra National Park, where you can marvel at the colorful Pena Palace and the dramatic Castle of the Moors. For nature lovers, you'll be able to go hiking and cycling to discover this incredible part of the country. Moreover, its proximity to the charming and less crowded beaches of Praia da Ursa and Praia da Adraga adds to its allure. 
If golf is your passion, you're in luck, as excellent golf courses are easily accessible. Among the very best golf courses, the Penha Longa Resort stands out as an exceptional choice for satisfying your weekly golf cravings. 
Families seeking quality education will find convenient options nearby, including IPS-International Preparatory School and St. James' Primary School, both of which are very good international schools. 
Check out our article: Top 10 Natural and National Parks in Portugal. 
São Domingos de Rana
São Domingos de Rana, situated behind Carcavelos and Parede, offers the most affordable homes for sale in Cascais. Being close to the sea and away from the bustling tourist areas, it remains a peaceful option even during summer. Moreover, it's just a 20-minute drive from Lisbon.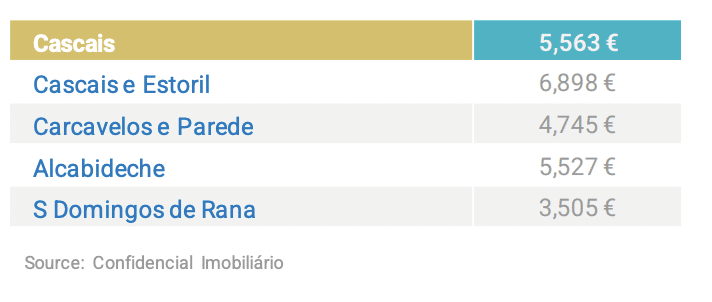 How to Buy a Property in Cascais 
Legal considerations 
Understanding the legal implications of purchasing Cascais property is essential to ensure that the property purchasing process runs smoothly and there are no unexpected surprises down the line. We strongly recommend working with an experienced lawyer who can provide expert guidance throughout the process.  
Enlisting the help of a property surveyor is also beneficial as they can guarantee there are no issues with the property's interior or exterior.  
Financial considerations
You'll find many banks in Portugal that offer mortgages for foreign buyers. It's important to find the one that best suits your requirements. The mortgage application process may take longer than anticipated, so it's best to begin the process as soon as possible.  
Key steps in the buying process  
The buying process in Portugal can be broken down into the following five steps.    
Step 1. Understand property prices in Cascais and decide whether you'd like to take out a mortgage to finance your property

Step 2 – Find the perfect Cascais property 

 

Step 3. Negotiation

Step 4: Promissory Contract (CPCV)  

Step 5:  Sign the

Escritura

(Final Deed) and request the Land Registry Certificate
Risks and Challenges to Consider 
Understanding the market 
Before investing in the real estate market in Portugal, you'll want to have a clear understanding of how the market. Conduct comprehensive research on the average price for property, supply and demand dynamics, local regulations, and market trends. It is worth seeking advice from experts who have an in-depth knowledge of the market, for example, to pinpoint areas with the potential to get a strong return on your investment.   
Due Diligence
Performing due diligence is crucial when you buy any property. You will want to double-check both the property and the seller to ensure that you will not face any legal complications at a later date.  
Market Volatility and Economic Influences
As with any real estate market, the Portuguese market is subject to fluctuations and economic factors that can have an impact on property prices. Consider the potential return on investment and how factors like inflation rates might impact your investment decision and influence house prices. With this said, the Portuguese real estate market demonstrated resilience during the COVID-19 pandemic, with house prices only dipping slightly, indicating its ability to withstand external pressures. 
Goldcrest: Who We Are and How We Can Help You 
Goldcrest is a buyer's agent that is based in Lisbon and the Algarve. We provide impartial, expert advice on real estate investments and how to buy property in Portugal. From scouting out the perfect property through to property acquisition, we have you covered throughout the process.    
If you are looking to buy property in Portugal, don't hesitate to get in touch. Our team of skilled experts is available to solve all your real estate doubts, offering insightful expertise and strategic advice.    
 The following articles may also be of interest to you if you would like to buy property in Cascais: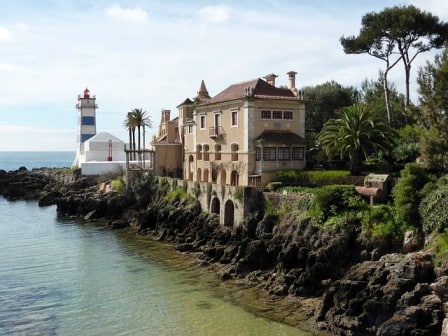 Why choose Goldcrest?  
Local knowledge:

With offices located across Portugal, our presence nationwide allows us to assist you personally across the country.  

 

Independent service:

As an independent buying agent, we do not represent any development or project. Our service is entirely tailored toward each individual client, providing you with everything you need to secure the perfect property at the best possible price. As an impartial advisor on the market, we work solely on behalf of our client and provide a service tailored to your needs and requirements.   

Streamlined process:

Our real estate agents speak English and Portuguese, and our service is completely focused on providing you with a hassle-free buying experience, saving you time.   

 

Experienced team:

Our expert real estate team has a vast local knowledge of the Portuguese property market. We have cutting-edge technology and metasearch tools at your disposal to provide full market coverage, ensuring the best investment choices and negotiated prices.  

Network of partners:

Lawyers, property management services, builders, architects, designers, and landscape gardeners, again saving you time and hassle by providing you with trusted experts in their field of work.   

 
Frequently Asked Questions Related to Real Estate Investment in Cascais  
Why is Cascais an attractive location for purchasing real estate?
Cascais offers a picturesque setting with splendid views of the Atlantic Ocean, a stable economy, golf courses galore, and a thriving tourism industry. Its proximity to Lisbon, the capital city, and good amenities make it an appealing choice for both investors and expats looking for a charming place to call home. Beach lovers also have many different options to unwind and soak up the sunshine. 
The Portugal Golden Visa also proved to be popular, with investors buying real estate in Cascais to qualify for the scheme. However, since January 2022, it has only been possible to invest in commercial real estate through the program.
Why do expats move to Cascais?
Expats are drawn to Cascais for its pleasant climate, beautiful beaches, golf courses, and high-quality luxurious lifestyle. The town provides a safe and welcoming environment, many international schools, and diverse cultural experiences, making it an ideal destination for those seeking a new life abroad and to find their dream home. The hot summers are not insufferable, given the lovely breeze that drifts in from the Atlantic. Whether you are looking for a lovely Cascais villa or quaint townhouse, the Cascais region attracts expats from across the world. 
Beach lovers will also be spoilt for choice by the beautiful beaches close at hand and the mild winters mean that you can head to the great outdoors for much of the year. Plus, you are not far from Lisbon Airport, making Cascais perfect for international travelers. 
What types of real estate properties are available for investment in Cascais?  
The Cascais region offers a wide range of investment opportunities, including luxury villas with swimming pools, detached houses, apartments, townhouses, and charming traditional houses. Additionally, there are modern developments and properties with stunning ocean views to cater to various investor preferences. 
What are the key areas in Cascais for investing in real estate? 
Given the high tourist footfall and the fact that Cascais is considered a luxury destination, you'll find many investment options. Prime investment areas in Cascais include the historic center and waterfront areas. Estoril and Carcavelos are also definitely worth considering. With mild winters, the excellent climate is one of the major reasons why Cascais is such a popular destination. 
How does the property buying process work in Cascais?  
The buying process in Cascais involves engaging a real estate agent, making an offer, and signing a "Promissory Contract." After legal checks and obtaining necessary permits, the final deed is signed, and property ownership is transferred. 
What are the legal considerations when investing in real estate in Cascais?  
Foreign investors must acquire a Portuguese Tax Identification Number (NIF) and follow legal procedures for property acquisition. Hiring a qualified lawyer to conduct due diligence is crucial to ensure a smooth and secure investment process. 
What are the risks and challenges involved in real estate investments in Cascais?  
While Cascais offers an attractive investment environment, potential risks include fluctuating demand, changes in local regulations, and currency exchange rates. Proper research and risk management are essential for successful investment. You should also be aware of the potential language barrier, which is why we recommend working with an experienced real estate professional who can help ensure a hassle-free buying process.  
How is the resale market for properties in Cascais? Can I expect a good return on my investment?  
The resale market in Cascais is generally robust, driven by steady demand and the area's appeal to both locals and international buyers. A well-chosen property in a desirable location can yield a good return on investment. 
What are the tax implications of real estate investments in Cascais for international investors?  
When foreigners buy property, they must be aware of property taxes to pay both at the time of purchase and on an annual basis. During the process, taxes include Property Purchase Tax/ Property Transfer Tax (IMT) and Stamp Duty, while taxes that you will be required to pay annually include Municipal Property Tax (IMI). You should also consider the Capital Gains Tax if you are considering selling your property.  
How is the real estate market in Cascais affected by economic fluctuations?  
Like any market, the Cascais real estate sector can experience impacts from economic fluctuations. However, the real estate market has proved to be resilient in the recent past, as shown be its performance in the wake of the COVID-19 pandemic.  
Are there sustainable or green real estate investment opportunities in Cascais?  
Yes, Cascais has embraced sustainable development, and green real estate opportunities are available. Eco-friendly buildings, energy-efficient features, and environmentally conscious projects cater to investors seeking sustainable options. More and more developers are also looking for sustainable materials and techniques.