Updated: July 26, 2023
Goldcrest has deep expertise in the Portuguese real estate market and has successfully assisted numerous clients in Portugal real estate advisory. Some of our clients have questions about whether to buy a property in Spain or Portugal. If you would like advice on buying property in Spain or in Portugal, you can schedule a short call to discuss the advantages or disadvantages of both countries to determine which is the better option for you.
Global property investors have had an increasing interest in Portugal for the last decade and those wondering whether to buy a property in Spain or Portugal should consider a few factors.
From a perspective of growth and capital gains that can be achieved, Portugal is a country that is constantly watched by real estate moguls. Other than the obvious pull that Portugal's tourism has, it's an attractive option because of the high rental yields, tax breaks, and lack of wealth and gifting taxes. For information on the taxes and fees in Portugal and the potential benefits, you can see our new e-book, Your Expert Guide to Buying Property in Portugal, where we run over everything that you'll need to know about buying in Portugal
Spain has been more popular with retirees and those looking for a family holiday home, rather than those looking to secure a foothold in the EU property ladder.
Should I buy property in Spain or Portugal?
While both Portugal and Spain have perfect climates, it comes down to the numbers for a lot of people looking to purchase a property.
Spain has been popular as a relocation and retirement destination for many years. Despite this, for many investors, it is the less attractive option, from a purely numerical standpoint. If you are looking to buy property in Spain, the rental yields in the popular parts of Spain are comparatively lower than those that can be achieved in the sought-after parts of Portugal. Property for sale in Portugal is also generally cheaper.
The taxation system in Spain is far less favorable to those aiming to maintain and maximize wealth through property purchases too.
Depending on the goal of the individual, there are naturally certain upsides and downsides of both real estate markets.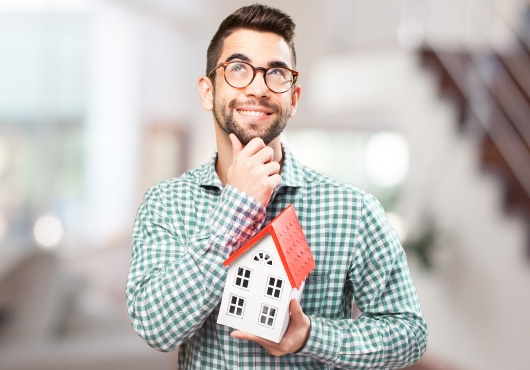 Portugal's real estate market
Lisbon's young but dynamic property market remains strong and healthy despite the pandemic.
Average price of Portugal property 1,162 EUR/sq m according to the Deloitte property index.
Average annual increase of 6.3 percent to property prices.
Rental yields in Lisbon are close to 6 percent.
Visit our guide for a closer look at Portugal's real estate market.
Spain's real estate market
Spain has a mature property market that has not shown signs of being affected by the pandemic yet.
Average price of a property is 2,398 €/sq m according to the Deloitte property index.
Average annual increase12.4 percent to property prices.
Average rental yields in Madrid and Alicante are 3.99 percent and 4.14 percent, respectively.
Is property cheaper in Spain or Portugal?
Property in Portugal is far cheaper than in Spain, and with attractive rental yields in Lisbon and the Algarve, you can understand why Portugal is such a popular choice for investors. You can also find bargain property for sale in Portugal, particularly in the north and center of the country, where current demand is lower, but you may also be pleasantly surprised by property prices in hotspot areas.
When it comes to property prices in Spain versus Portugal, an apartment in Spain, in the city center, will cost you €3,243/m², while in Portugal, this will cost you €3,031/m².
Taxes in Portugal
Income from wages earned in Portugal is taxed at 20 percent.
Income from outside Portugal is exempt and there is no maximum threshold.
Private pensions from foreigners are taxed at a low flat rate of 10 percent.
Income from capital such as dividends, capital gains, and other income is exempt from taxation in Portugal.
Low/ marginal wealth, inheritance, and gifting taxes.
Taxes in Spain
In Spain, wage income has a taxation rate of 24 percent up to a maximum of €600,000, rising to 45 percent past this threshold.
This taxation rate is on income globally, irrespective of where it was received.
Pensions are taxed in Spain at the income tax rate mentioned above.
Dividends, capital gains, and any other forms of income are exempt from taxation in Spain.
Anyone owning assets in Spain is obliged to pay a wealth tax (with the exception of Madrid).
The favorable taxation in Portugal often means wealthy individuals would rather invest money in Portugal over Spain to safeguard their investments.
The best place to buy property in Spain
So, where to buy property in Spain? The best place to buy property in Spain will depend on what you are looking for. From the cities of Barcelona and Madrid to the coastal areas and islands, when it comes to places to buy in Spain, the country has many exciting cities, beautiful landscapes, and stunning beaches – plus a fantastic cuisine. The best place to buy in Spain will vary depending on your needs.
Alicante and Costa Blanca on the east coast are particularly popular, as are the islands of Ibiza and Mallorca. The cheapest place in Spain to buy property is in the province of Toledo, a very historic municipality. In short, the best place to buy in Spain will depend on if you are looking for a historic townhouse, buzzing city, or coastal region, and if you are moving to retire, move with children or simply invest in the real estate market.
The best place to buy property in Portugal
In Portugal, Lisbon, the Algarve and Porto real estate are the most popular locations for foreign buyers. The Silver Coast is also a very beautiful location where many expats live.
Nonetheless, interior areas are becoming increasingly popular, and will likely continue to do so given the changes to the Portugal Golden Visa, that have come into force on 1 January 2022. The full changes can be seen here, and after this date, investors will no longer be able to invest in residential property in popular urban areas, such as Lisbon, Porto, and in many parts of the Algarve.
Do not fear, however, as there is an abundance of beautiful interior locations in Portugal simply waiting to be discovered. The autonomous islands of Madeira and Azores also are attractive options.
Buy property in Spain or Portugal via the Golden Visa: which is better?

Spain and Portugal both have their own version of the golden visa but once again Portugal provides a more attractive offer.
On a Spanish golden visa, citizenship is only possible to apply after ten years, whereas in Portugal it is possible after five. In Spain, golden visa holders also have to commit to moving to the country for the majority of the year unlike in Portugal.
Portugal's flexible stay requirement of just 14 days on average every two years is a big bonus for a lot of people looking to get EU citizenship while not permanently relocating.
In terms of areas to buy property in, Spain has no restrictions on where you can buy property, whereas Portugal does. From January 2021, inventors will no longer be able to invest in property in key urban centers like Lisbon, Porto, and the Algarve. Despite these new real estate restrictions, it's perfectly possible to still acquire excellent value on your property investment in Portugal's interior areas.
Ask the experts: should I buy property in Spain or Portugal?
Is it a good idea to buy property in Spain? Or is Portugal the better option? If you are considering buying property in Spain or Portugal, get in touch with one of our property experts to talk over your individual case.
Goldcrest are real estate advisors with deep knowledge and expertise of the Portuguese property market. We work with individuals to provide tailored portfolios of real estate, ensuring confidence in a serious purchasing decision. We can provide advice on where to find bargain property for sale in Portugal, and the best location suited to your needs.
You can get in touch with a Goldcrest advisor here to discuss your options. 
If you are interested in finding the perfect property in Portugal, you can read our article to simplify the buying process: Portugal Property Finder: Simplify Your Home Search.
Frequently Asked Questions about Buying Property in Spain or Portugal
Should I buy property in Spain or Portugal?
As Spain is a fairly mature market, Portugal offers higher rental yields to investors at this point in time. Portugal is also favorable in taxation matters.
Is property cheaper in Spain or Portugal?
When asking whether property is cheaper in Spain or Portugal, you need only look at the price per square meter between the two countries to see that Portugal real estate is cheaper. For example, an apartment in the city center of Spain and Portugal is €3,243/m² and €3,031/m² respectively. The average cost of living in Spain is 4.3 percent more expensive than in Portugal, while Spain is cheaper on average for public transport and grocery costs.
What's better, buying a property in Portugal or Spain for the Golden Visa?
For the Golden Visa, Portugal offers a quicker route to permanent residency and citizenship after 5 years. Spain offers the opportunity to apply for citizenship after 10 years. With a Portuguese Golden Visa, it's not necessary to permanently relocate as it is with the Spanish Golden Visa.