Updated: February 9, 2023
In recent years, Portugal has become a seriously popular choice for investors and expats looking to purchase property and relocate. Growing numbers are now looking to purchase vacation homes in Portugal too. The main reason being, the cost of buying property here is still relatively good value on a European stage.
Why invest in vacation homes in Portugal?
With endless summers and stunning beaches across most of the country, it's no wonder that people have been buying vacation homes in Portugal. The price per square meter across most of Portugal is relatively low, and the rental yields one can achieve on a vacation home in a touristic area are very high. So for those looking to rent out the vacation property while they aren't there, the outlook for profit is good.
On a more personal level, for many people buying a vacation home in Portugal trumps a lot of other places in Europe because of certain sociocultural factors. With the high level of English language, widely spoken across the whole country, a lot of foreigners and holidaymakers feel welcome. There is a relaxed spirit and nature to Portuguese people that can be a welcome break for many people coming to stay in Portugal too.
From a growth perspective, the capital gains that can be achieved through buying and selling property in Portugal in a number of years can be huge. The trajectory of growth in Portuguese real estate has been a steady upward slope that shows little signs of slowing down.
Where to buy Portugal vacation homes for sale?

When you start searching for Portugal vacation homes for sale, there are numerous options you will be bombarded with in a Google search. It's a good idea to first research which parts of the country you're drawn to and narrow down the top three places you want to buy property. We would advise working alongside a buyer's agent to find your dream vacation home in Portugal.
Where you would want to buy your vacation home will likely differ slightly from one expat to another, however there are  certain areas of Portugal that are very popular for buying vacation homes in Portugal, and for good reason too.
The market for vacation homes is usually affected by proximity to a beach, the weather in the area, the community of people that live in the area, and the availability of good restaurants and bars. This in turn, usually will have a marginal impact on the price.
Albufeira Portugal vacation homes
A top holiday destination in the Algarve, Albufeira has twenty different beaches to choose from. The area is popular with tourists, largely because of the great weather and its natural beauty. Think of shining white houses, Moorish architecture, and orange-hued cliffs.
Lisbon Portugal vacation homes
As the capital of Portugal, Lisbon is busy with tourists most of the year. The charming old city is filled with great restaurants and bars and is not too far from the city, and has its own beautiful beaches in Cascais, Costa da Caparica, and Setubal. Vacation homes in Lisbon are popular because Lisbon strikes the perfect balance between the old and the new and also combines the pleasures of the city and nature.
Vilamoura Portugal vacation homes
Vilamoura is an up-market corner of the Algarve with golf courses, museums, Atlantic beaches, shooting ranges, and horse riding. There is even a port for mooring super yachts. It's no wonder then, that Vilamoura has some beautiful luxury vacation homes and is a popular holiday spot for the rich and famous.
Lagos Portugal vacation homes
Lagos has one of the largest expat communities in all of Portugal and is one of the most popular vacation spots in the Algarve. There is no shortage of restaurants, bars and clubs here and the beaches are both beautiful and lively.
Madeira Portugal vacation homes
In Madeira, vacation homes are likely to stun, with the dramatic cliff edges and panoramic island views. The island by nature is somewhat isolated and secluded which is some holidaymakers' idea of paradise but for others, it could seem too remote and off the beaten track.
Porto Portugal vacation homes
The second-largest city in Portugal, Porto has grown in popularity in recent years. The city has plenty of history as well as a buzzing gastronomy scene. With old boats and winding cobbled streets, Porto feels quaint and reminiscent of the fishing village it once was, many years ago.
What is the absolute best place to buy a vacation home in Portugal?

For many people, the Algarve is the best place to buy a vacation home in Portugal. It comes consistently top of the list for hundreds of holidaymakers and expats alike.
Within the Algarve, the specific area depends on what your interests are. If you prefer to have a lively and buzzing atmosphere with more foreigners than locals, Lagos or Albufeira should be your first port of call.
For a more high-end Algarve experience, Vilamoura would be a great place to look. There are plenty of luxury vacation homes in this part of the country, and an array of leisure activities and sports to get involved in.
For many, Lisbon is the top location to buy a vacation home because it has something to please everyone in the family. Being a buzzing cosmopolitan city there is great shopping and fantastic restaurants and bars. Not too far away are beautiful sandy beaches so Lisbon tends to be a top vacation home spot for this reason too.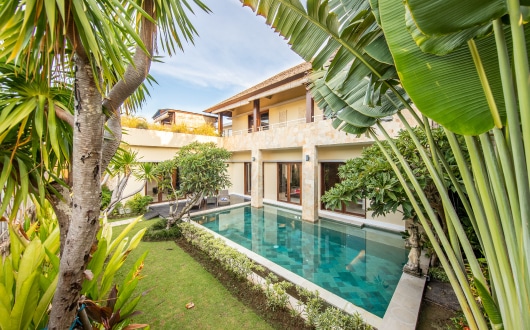 How much to buy a vacation home in Portugal?
Portugal vacation homes tend to be good value, when you consider the price per square meter of property compared to neighboring European countries.
For a 3-bedroom villa with a swimming pool in the Algarve you can expect to pay anything starting from €450,000 up to €1 Million for the more luxury real estate projects.
In Lisbon a high standard family 3-bedroom vacation home is usually priced starting at around €550,000.
Tips to consider before buying a vacation home in Portugal
There are a number of things you should consider carefully before buying a vacation home in Portugal. Some are listed below:
  Realtor vs. buyer's agent (understand the difference as realtors work for the seller of a property and a buyer's agent acts diligently on your behalf only)
  Know your market: do as much research on areas, prices and what is feasible for your budget as possible
  Do your due diligence: if you don't have the assistance of a buyer's agent in the process, make sure you understand all due diligence that needs to be carried out
  Seek professional assistance: in a foreign country enlist the help of trusted professionals to navigate the purchasing process and establish legitimacy of properties
  Buy to relocate or invest: make sure you are searching with a clear goal in mind, is it purely an investment decision or do you intend to relocate? This will determine what area of Portugal you can purchase property in
  Buying a vacation home in Portugal for the Golden Visa: understand whether your investment decision is connected with a golden visa and if so follow all necessary steps to qualify. From January 1 2022, investors will no longer be able to purchase property in key urban areas like Lisbon, Porto and many coastal areas of the Algarve.
  Speak to Goldcrest: Our team of experts have assisted hundreds of clients to purchase vacation homes in Portugal. We have access to the entire scope of on and off market opportunities and always act diligently on your behalf.
Frequently asked questions about vacation homes in Portugal
Where are the best places for vacation homes in Portugal?
The best places for vacation homes in Portugal are Albufeira, Lagos, Vilamoura and Lisbon.
How much are vacation homes in Portugal?
On average, 3-bedroom vacation homes with a swimming pool are around €500,000.
Where to find Lisbon Portugal vacation homes?
If you are looking for a vacation home in Lisbon, Goldcrest has many years of experience in the Lisbon property market to help assist you in finding your dream property.