Updated: September 11, 2023
Is Portugal expensive for Americans? One can safely say no based on the number of American expats living in Portugal. Of course, your cost of living will vary depending on your income and your lifestyle, but Portugal offers a fantastic quality of life at a relatively affordable cost.
How expensive is Portugal for Americans?
According to a 2020 report by the Portuguese Immigration and Borders Service (SEF), the United States of America was the 24th most represented country among foreign residents in Portugal. By the end of 2021, there were around 7,000 Americans living in the country.
Portugal is one of the most affordable countries in Western Europe, with food available at affordable prices, cheap options for accommodation, and reasonable costs for transport. It's not surprising, then, that so many American expats are making this beautiful country their home.
To give you a realistic idea of what this affordable cost of living looks like, here's what you would pay when living in Portugal's capital city of Lisbon in comparison to America's capital city of Washington, DC: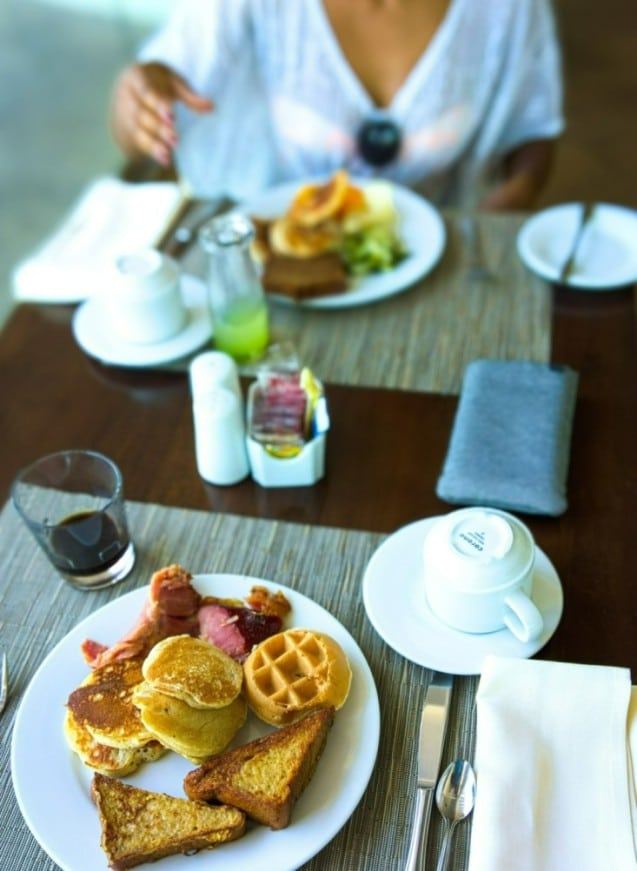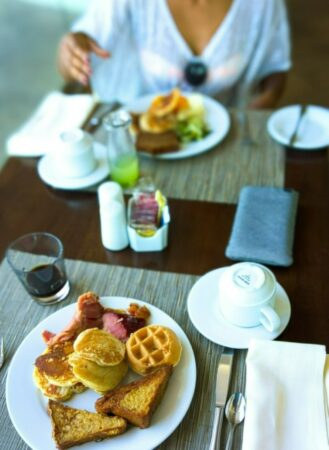 A three-course meal for two at a mid-range restaurant:
€50 ($12.88) in Lisbon

€81.17 ($19.50) in Washington, DC
A monthly transportation pass:
€40 ($42.94) in Lisbon

€95.02 ($102) in Washington, DC
A one-bedroom apartment in the city center:
€1,200.32 ($1,288.52) in Lisbon

€2,196.98 ($2,358.41) in Washington, DC
Basic utilities for an 85-square-meter apartment:
€128.06 ($137.47) in Lisbon

€143.01 ($153.52) in Washington, DC
Cost of Living in Portugal for Americans
The cost of living in Portugal is generally considered about 46 percent cheaper than in the United States. This, coupled with the country's excellent quality of life, beautiful beaches, stunning mountain ranges, reliable public transport, and rich history and culture, make it very easy to fall in love with Portugal. 
Living expenses in Portugal for Americans
The exact amount you spend each month will vary depending on your budget, lifestyle, and location in Portugal. However, the figures below will give you an idea of the average living expenses you can expect when living in Portugal:
€747.91 a month to rent a one-bedroom apartment in the city center

€111.42 a month for utilities (including electricity, heating, cooling, water, garbage)

€150-€200 a month for groceries

€5 for a 'lunch menu' deal at a Portuguese bakery (pastelaria) or €10 for a comprehensive lunch menu

Free public schooling for children

Upwards of €600 a month for private schooling (depending on your child's grade and whether the school is a Portuguese or international private school)

Free or low-cost medical care for citizens and legal residents who have paid into the Portuguese social security system (this typically costs 23.75 percent of your payroll or about five percent of your independent monthly earnings if you are self-employed)
Thanks to this affordable cost of living, many expats and investors are looking to buy property in Portugal. The Portuguese real estate market is dynamic and offers an array of exciting investment opportunities, the most popular of which is the Portugal Golden Visa.
Visit our article for a Closer Look at Portugal's Real Estate Market.
If you're looking to buy your dream home in Portugal, contact Goldcrest. We are a buyer's agent that is based in Lisbon. We provide expert impartial advice on real estate investments and how to buy property in Portugal. From scouting out the perfect property through to property acquisition, we have you covered. Our team of skilled experts is available to solve all your real estate doubts, offering insightful expertise and strategic advice. We are focused on securing the best deal for you.
Cost of food in Portugal for Americans
Food in Portugal is very affordable, particularly if you purchase locally grown food rather than imported food. Local produce like fruit, vegetables, and dairy products are affordable and widely available, while imported goods are sold at a significantly higher cost. The table below gives a general overview of the cost of goods in Portugal:
| Product | Cost in Euros |
| --- | --- |
| Loaf of white bread | €1.16 |
| 12 eggs | €2.16 |
| 1kg bananas | €1.15 |
| 1kg apples | €1.69 |
| 1kg chicken fillets | €5.73 |
| 1L regular milk | €0.76 |
| 1kg tomatoes | €1.70 |
| 1kg potatoes | €1.05 |
| Bottle of mid-range wine | €4.00 |
Is Portugal expensive to eat out?
As with any country, the cost of eating out in Portugal will vary depending on what you like to eat and where. In general, however, dining out in Portugal can be quite affordable. For example, breakfast, including an espresso shot, at a pastelaria will cost around €4. A meal at an inexpensive restaurant will cost about €9. A local beer will cost €1.08 for half a liter, while an imported beer will cost €1.86 for a third of a liter. A three-course meal will cost you €20 a person at a mid-range restaurant or €25-€30 at a trendier restaurant. 
Cost of Living in Lisbon
Lisbon is a popular city with the highest cost of living in Portugal. In comparison to other capital cities in Western Europe, it is still one of the more affordable ones. Compared to Washington, DC, consumer prices are 58.8 percent lower in Portugal, the rent prices are 112.2 percent lower, and the restaurant prices are 64.2 percent lower. So, depending on your income and spending habits, living comfortably and affordably in Lisbon is possible.
Check out our article for more information on the Cost of Living in Lisbon.
How much does it cost to travel to Portugal?
The cost of traveling to Portugal will depend on several factors, including where you're traveling from, how you're traveling, and your budget.
Luxury travel around Portugal
While Portugal may be known for its affordable cost of living, that's not all it has to offer. Those seeking a life of luxury can turn to Portugal, too. The country boasts several world-class hotels, golf courses, private beaches, and luxury properties. You can find week-long guided luxury tours around Portugal starting from around €6,295 per person, or you could book luxury accommodation in places like the Algarve and explore the country at your own pace. If you're looking for luxury dining, Portugal is home to 28 Michelin-starred restaurants.
Traveling on a budget
If you're on a budget, you'll be happy to know that travel around Portugal can be pretty affordable. If you drive a car, petrol will cost about €1.92 per liter. A monthly travel pass costs €40, and a cross-country train ticket from Lisbon to Porto can cost between €29.44-€35.99. Taxis can be relatively affordable, with an average fee of around €3. The fee increases by €0.80 per kilometer. Transport services like Bolt and Uber offer even cheaper fares.
You'll also find that traveling between interior towns is more affordable than traveling to tourist areas like the Algarve.
Frequently Asked Questions about the Cost of Living in Portugal
1. How much is a meal in Portugal?
A meal for one person at an inexpensive restaurant will cost about €9.
2. Are food and drink expensive in Portugal?
Food and drink in Portugal are relatively affordable. A regular cappuccino costs around €1.45, a 0.33-liter bottle of water costs around €1.02, and a meal at an inexpensive restaurant costs €9.
3. Is Portugal cheaper than Spain?
On average, the cost of living in Portugal is 4.3 percent less expensive than in Spain. However, the cost of groceries and transport are generally less expensive in Spain. 
4. How much money do I need per day in Portugal?
On average, you should budget to spend about €109 per person per day on vacation in Portugal. Travelers spend an average of €32 on meals and €21 on transportation per day. Portugal is relatively inexpensive compared with the US because the economy is not as strong and the minimum wage is low.