Updated: June 5, 2023
What Is the Cost of Living in Lisbon?
With beautiful beaches, excellent gastronomy, and welcoming people, Portugal seems to have it all. Indeed, Portugal is one of the most affordable countries in Europe to live in. However, with prices creeping up in the capital, not least due to flourishing startups and tech hubs, what is the Lisbon cost of living 2022?
Whether it's buying a property in Portugal, eating out in restaurants, or daily living costs, the relatively cheap prices make the country an attractive point on the map. Whether you have decided on moving to Portugal or are still exploring your options, in this article, we'll dip into the cost of living in the sunny capital, providing you with all that you will need to know before setting up shop here.  
What is the cost of living in Lisbon: Is it an affordable city?
Compared to many other countries in Europe, Portugal is a very affordable country to live in. Most things, from securing an apartment to eating in your local restaurant, are significantly cheaper when compared to other Western European countries. However, factor this against the salaries and the minimum wage, which are also considerably lower than in many other countries. 
The cost of living, as in any country, is dependent on your income, financial situation, and spending habits. Do you want to frequent that luxurious rooftop with your favorite cocktail? Are you happy to eat at home most nights? Do you want to enjoy the culinary delights of the country? These are the things that you should consider when looking at the cost of living. Yes, one thing that cannot be stated enough is that the costs of living will vary depending on your lifestyle. 
It is important to note that the cost of living in Lisbon, from property to restaurants, is more expensive than in other areas in the country. In the interior, particularly in the parts of the country that do not have high numbers of expats, prices can be very cheap indeed. Even Porto, the second-largest city in the country, is notably more affordable than its southern counterpart. 
Our partner, Global Citizen Solutions, a boutique residency and citizenship by investment consultancy, focused on finding the perfect investment, citizenship, or residency program for individuals across the world, has recently developed a new passport ranking. They take into account not only visa-free access to other countries but also investment opportunities and quality of life. In their Quality of Life Index, Portugal ranks in 12th position. This takes into account the cost of living, alongside levels of freedom, happiness, environmental performance, sustainable development, and migrant acceptance. This highlights that, as countries go, Portugal is one of the best countries to live in for those looking for a high quality of life in an affordable country. 
Cost of living in Lisbon: Property
There are many beautiful neighborhoods in Lisbon, each with its own unique characteristics. Whether you are looking to live in the city center or in the surrounding area, you will find excellent properties to rent or buy. Note that property in the city center will be more expensive and, as you move further away from the city center, prices will decrease. 
Knowing whether to pay rent or buy a property can be difficult. If you consider a longer time scale, then purchasing property in Lisbon is better, as you can receive a steady flow of income if you decide to rent out the property in the future, or sell for a profit, as property prices continue to increase. However, we know that buying a property is a major investment, and renting may be better suited to your short-term or current needs. 
You'll be able to find a range of property types, from modern apartments with air conditioning, to villas in the surrounding area. It will depend fully on what you are looking for. 
In this part of our cost of living in Lisbon article, we'll provide you with some insights into renting or buying property. Note that if you buy or rent in the city center, or in-demand neighborhoods, then the prices will inevitably be higher than in more affordable parts of the city. 
Buying a property in Portugal
Property in Portugal is generally more affordable than in other countries in western Europe. However, for the Lisbon real estate market, prices have been increasing over the past years and you will need to take into account the housing costs.  
In Lisbon city, the average asking house price stood at €5139/m2 in 2020. If you look at Greater Lisbon, this is reduced to €3225/m2. Note that the purchase price can be higher or lower than the asking price, so keep this in mind when negotiating with the seller. 
As you can see, in the capital itself, housing prices are much steeper than in the surrounding area.
A little-known secret about buying real estate in Portugal is to time your search well. In the summer months, you will be able to snap up a cheaper buy in Portugal than in other parts of the year. This is because only 5% of properties are sold between May and August, and the bulk of sales (65%) occur between September-to-December. Given that there are fewer buyers, this means that there is less competition for properties.
Our Expert Guide to Buying Lisbon Real Estate should be able to provide you with all you need to know about buying property in the Portuguese capital. Note that the first step is to obtain a Portuguese Tax Number (NIF) and open a Portuguese bank account, to avoid transaction fees. There are many banks where you can open a bank account in Portugal, and you can even open one online. Some of the banks include Millennium BCP, Novo Banco, Banco BPI, and Banco Santander Totta.
Alongside this, our new e-book, Your Expert Guide to Buying Property in Portugal, will arm you with an easy six-step guide to the buying process, the best options to open bank accounts, where the best places to buy in the country are, plus key information on taxes, fees, and financing your property.  
Renting a property in Portugal
The Lisbon real estate market is still affordable when compared to other cities in Europe although the city is steadily becoming more expensive. To give you an indication of renting a one-bedroom apartment, average rent prices in Lisbon for a one-bedroom apartment will cost you around €650-670/month.
Cost of living in Lisbon: Taxes and bills
Taxes
If you are a tax resident in Portugal, your worldwide income will be subject to taxation at progressive rates from 14.5% to 28% for 2021. Non-residents are taxed only on Portuguese-source income at a flat rate of 25% on their tax remuneration in 2021.
As an expat moving to Portugal, the non-habitual residence scheme (NHR) provides certain tax benefits. The Portuguese government introduced this scheme in 2009 and it is applicable to anybody that has not been a resident in the previous five years. For the first ten years of your residency in the country, you will have beneficial tax treatment. If structured correctly, you can have significant tax exemptions and reduced tax rates. 
You can easily see the attraction for retirees, as they may want to live off their pensions and investment dividends. They may be able to significantly optimize their tax affairs for ten years. The cost of living for retirees will also not set you back much, and you should be able to live a very high quality of life in the city. As mentioned, from grocery shopping to public transport, Portugal is an affordable country to live in.
Utility costs
The cost of electricity, gas, and water will depend on the size of the property and how many people are living there. To provide an indication of the costs, a 45m² studio can cost between €80 and €90 per month. The monthly fee is also dependent on your provider. For two people, in an 85m² apartment, the estimated monthly costs are around €120 and €130. For some apartments for rent, there will be no additional cost as this will be included in the rental price. Be sure to check if your bills are included or not in the rental price. For mobile phones, 1 minute of a prepaid mobile tariff local, without any discount or plan, will cost you €0.15. You should be able to find some good deals for a prepaid mobile tariff, so it can also be cheaper than this. 
Cost of living in Lisbon: Other costs to consider
Restaurants
You'll find a range of restaurants in Lisbon, from extremely affordable eateries to a mid range restaurant, to luxury postcodes. Walking around Portugal's capital, you'll be pleased to see many a tasca (traditional, local inexpensive restaurant) where you can happily eat very good quality food for between €7.50-€10, often with a café and sobremesa (desert) included. This is often typical traditional fare that is very well cooked in family-run restaurants. The price of domestic beer and wine in restaurants is generally very cheap, with workers finishing the day with a €1 euro imperial (small beer) and some traditional tapas. A mid range restaurant will be a little more expensive, and you also find a wide range of cuisines to sample in Lisbon.
Indeed, the restaurant sector is one that has expanded considerably over the years, with cuisines from across the world and many vegetarian and vegan options. Do not worry, for those that eat meat, Portugal is one of the best places to find top-quality meat, cooked incredibly well.
For something a bit more special, a meal in a mid range restaurant will cost you around €45 for a three-course meal, and for luxury restaurants, you can expect to pay international prices.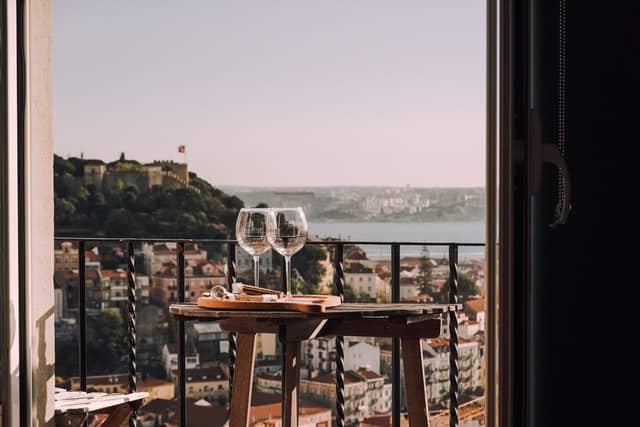 Household essentials and the cost of food in Lisbon
Generally speaking, household essentials are fairly affordable, particularly if you shop for local produce grown in the country.
What's more, the produce in Portugal is incredible, much of which is grown in the green hills of the Alentejo region, where the constant sunshine makes for delicious fruits and vegetables, in addition to the famous Porco Preto. Also, it will be no surprise to you that, because of the long coastline, the fish and seafood available are both cheap and extremely good. 
When it comes to wine – and Portuguese wines are some of the best in the world –  you can find extremely high-quality wines for as little as €3 euros (unheard of in many other countries).
Going grocery shopping is a very good indicator of the affordability of any city. In Lisbon, as mentioned previously, you'll be happy to know that food in supermarkets and local markets is generally very affordable. If you factor into your budget between €300-€400 per month then you should be able to do all your grocery shopping. Meat, fish, fruits, and vegetables are all pretty inexpensive and generally of very good quality.
The produce in the country is also excellent. Oranges from the Algarve, cheese from the Azores, fish straight from the Atlantic, wine from countless regions in the country – yes, you will be able to eat very well indeed.
Here you can see some average prices for common goods:
| | |
| --- | --- |
| Milk (regular), (1 liter) | €0.77 |
| Loaf of Fresh White Bread (500g) | €1.17 |
| Eggs (regular) (12) | €2.16 |
| Local Cheese (1kg) | €7.78 |
| Chicken Fillets (1kg) | €5.26 |
| Oranges (1kg) | €1.29 |
| Domestic Beer (0.5 liter bottle) | €1.03 |
| Bottle of Wine (Mid-Range) | €4.00 |
Childcare and schooling
Public schools are free in Portugal, but remember that the lessons will be taught in Portuguese. If your children are young, they will pick up the language quickly and should even give you a run for your money.
There are many very good quality English-speaking international schools available in Lisbon. For international schools, expect to pay around €7000 per year. You can see more information in our guide to schools in Lisbon. 
Healthcare
Portugal has very good quality healthcare which is relatively cheap. The country has a very good tax-funded public National Health Service (Serviço Nacional de Saúde) (SNS). 
Under this, most essential medical services are free. You will be required to pay additional fees for non-essential services and treatments. Prices will vary depending on the service. For example, a consultation will cost less than Accident & Emergency and X-Rays will require you to pay an additional fee. 
There is also private healthcare, which has become more popular. Private healthcare costs will depend on the consultation and treatment.
Dental treatment does not usually fall under the National Health Service for most residents. You will probably have to pay out of your own pocket unless you have private dental insurance. Elderly people and children may receive free treatment. 
Dental treatment is not as expensive as in other countries. While a filling in the USA can cost you €160 euros and €100 in the UK, in Portugal this would be €75.
You can read more in our article on healthcare in Portugal.
Transportation costs
There is a relaxed vibe to Portugal. The time set aside to appreciate a café or enjoy a nice lunch with a glass of wine is almost sacred. Indeed, there is a saying in Portugal that locals never hurry unless they are behind the wheel of a car. Then, you may see a different side to the relaxed, slow-living pace of your Portuguese friend. 
When it comes to cars, petrol is marginally more expensive than in some other countries, at €2.05 per liter. Cars themselves can be expensive to buy in Portugal, but the price drops down steeply for used cars, so you may be able to find a bargain. However public transport is a very good option. 
In Portugal, public transport is relatively cheap and pretty well connected. It is possible to travel from Lisbon to Porto for just over €30. For travel around the Lisbon Metropolitan area, you can get a monthly pass for €40 euros. For travel just for inside the city, the ticket is reduced to €30. You also have discounts for those over 65's and children under 12 travel free. A monthly pass for families is also available, which costs €80 for the Lisbon Metropolitan. A monthly pass is also available just for Lisbon city and, for families, this will set you back €60. For an individual trip, this will cost you €1.50. With "zapping" you can quickly and easily top up your Viva Viagem card to get around the city. 
Sports and leisure
Portugal is known around the world for its watersport activities. From surfing to kayaking, you have everything here. On dry land, you have swimming, running or hiking, or pretty much whatever you set your mind on. You should find that prices are generally quite reasonable for surfing lessons or even hiring equipment. Hiring a surfboard and wetsuit for a few hours will cost you around  €10-20 euros. Golfing is also hugely popular in the country, with internationally recognized golf courses that see expats from across the world head to the country. While some golfing resorts will be pricier than others, you should find, for the most part, that they are quite affordable. Fitness clubs and gyms can be a little pricey, usually around €40 euros. One of the cheaper options is Fitness Hut and, if you enroll in one, you can access any Fitness Hut in the county. 
If you want to head to the movies for the latest international release, then a ticket will cost you around €7. You should know that the Portuguese value their art galleries, theatres, and cultural hotspots, so you should easily be able to find things to do, particularly in the bigger cities of Lisbon and Porto. 
Shopping
You will find both chain stores and local Portuguese boutique shops in the capital. For spending money on clothes in chain stores, you will find that prices are generally international prices.
Lisbon has many shopping malls and shops for you to get your shopping fix and you should have no problem finding everything that you would find in your local store back homes in terms of clothes and shoes. 
What is the cost of living in Lisbon compared to the US?
To provide you with an idea of Lisbon's cost of living compared with the USA, below we have compared Lisbon with Washington. The data is taken from Numbeo. 
Consumer prices in Lisbon are 37.8% lower than in Washington, DC.

Rent in Lisbon is 46.37% lower than in Washington, DC.

Restaurant prices in Lisbon are 57.21% lower than in Washington, DC.

The cost of living in Lisbon, Portugal, including groceries, is 49.63% lower than in Washington, DC.
As you can see, prices in Lisbon are much cheaper than in the US and you should find many low-cost items that would cost much more in the states. This is one of the many reasons why Portugal is seeing an increasing number of American expats and investors heading to the sunny shores of Portugal. With talk that Lisbon is the new LA, Americans are taking note and looking for a better quality of life, with cheaper healthcare, progressive legislation, pristine beaches, and a wonderful climate. That's without mentioning the fascinating history and rich culture of Portugal, where locals are renowned for their welcoming nature, English is widely spoken, and gastronomy is spectacular. You'll find that with more money you can live incredibly well in Portugal. 
It is not just Americans moving to Portugal as many nationals from Europe, China, and South America, significantly Brazilians because of the language, move to Portugal, alongside nationals from the world over.
Cost of living in Lisbon: The luxury life
Don't be fooled to think that Lisbon is simply about good quality, cheap food. Lisbon also has some internationally recognized restaurants, including Michelin-starred eateries and rooftop bars. With exceptional views of the Tejo, these exclusive areas have their own price ranges. Those opting for a more luxurious quality of living can expect to pay international prices. You will certainly not be disappointed in terms of both the quality and ambiance of the many exclusive locations. 
If you are looking for higher-priced properties and extra facilities, such as a pool or a gym, then the costs will be much higher. However, when compared to other countries in Europe, the costs will still be more affordable.
You can see this article for some further reading: What are the Main Types of Luxury Property in Portugal?
And, for more information on Lisbon, you can see these two articles:
How to Find the Best Properties for Sale in Lisbon
Homes for Sale in Lisbon: Top Ten Neighborhoods
Moving to Lisbon: Here's What you Should Know

Frequently asked questions about the cost of living in Lisbon:
1. What is the cost of living like in Lisbon? 
You should be able to live in Lisbon for €1,200 a month as a single person and  €2000+ as a couple. This will depend on your lifestyle habits and if you enjoy a life of luxury.
Unlike many other European capital cities, Lisbon is quite affordable. It's a great city for travel-lovers as there is much to explore in and around the city. Portugal is a great country if you are traveling on a budget, particularly when compared to other western European countries.
2. Is Portugal an expensive country to live in?
From Lisbon real estate to groceries, the capital is a relatively cheap country to live in when compared to other countries in Europe.
3. What is the cost of living in Lisbon compared to in the US?
Lisbon has a low cost of living and is much cheaper than US cities. For example, rent is 46.37% cheaper than in Washington DC, restaurant prices are 57.21% cheaper and the cost of living is 49.63% lower. 
4. Is Lisbon expensive to live?
While Lisbon is the most expensive city to live in Portugal, it is quite affordable when compared to other countries in western Europe, although, what once was a cheap city has seen its prices creeping up. This said, the cost of living in Lisbon for international students and expats is usually still very affordable.
5. How much money do you need to live comfortably in Lisbon?
A family of four can live a comfortable lifestyle in Lisbon for approximately €2,172 without rent. A single person's estimated monthly cost is €582 without rent. The cost of living in Lisbon for a couple will be something in between. Note that the cost of living in Lisbon per month will vary depending on your lifestyle. Other European capitals, such as London or Paris, are invariably more expensive than Lisbon. Indeed, compared to other European countries, Portugal is very affordable.
6. Can I live in Portugal for 1000 a month?
Yes, an average person should be able to live in Portugal for 1000 euros a month, although it may be difficult. If you live in a cheaper part of the country and depending on your lifestyle, it may be possible. If you live in Lisbon or Porto, however, it may be more difficult because typical prices for rent are increasing and the general cost of living is creeping up. Note that living in the city center is more expensive and you will have very affordable neighborhoods on the outskirts of cities in areas where there is less demand. There are many cities in Portugal, so if you are looking to live well with little money, then Coimbra, Braga, and even Porto are considerably cheaper, particularly when it comes to rent and property prices. 
The average salary in Lisbon is quite low, so many expats work remotely, freelance, for an online business. Despite this, the average salary in Lisbon is more than in the rest of the country. Working remotely has become much easier as a result of the COVID-19 pandemic, which was in many ways the catalyst for this change in working from anywhere with a good wifi connection. Indeed, digital nomads are choosing Lisbon, and Portugal in general, because of the affordability and beauty of the country, as the country features on countless lists of best places for digital nomads to live. You will be able to live comfortably in Portugal and should even be able to save money. The Portuguese government is currently reviewing a visa specifically for digital nomads to make it even easier for them to drop by and call Portugal home for a while. 
7. Is Lisbon a cheap place to live?
While Portugal is one of the most affordable countries in western Europe, Lisbon has its own price range. If you are looking to move to the capital, you should know that property is more expensive, although if you buy away from the city centre you should find more affordable properties. However, you will find that most things are still cheaper than in other western European cities, although prices have been creeping up in the past few years.
8. What is the cost of living in Lisbon for international students?
As European capitals go, Lisbon is very affordable. With this said, you will find Lisbon has its own price range compared to other places in the country. However, given the strong student population, both Portuguese and internationals, you'll find that the city is generally very affordable, particularly when compared with London, Paris, and other Western European capital cities. 
While rents are increasing quite a bit, you should be able to find a room for around €350-500 for a shared apartment and €500+ for a one-bedroom apartment. It will be cheaper if you find a place to live in a part of the city that is not in high demand or is a little on the outskirts. Lisbon has a very good public transport system, made up of buses and the metro, so you should be able to get around easily enough.
In some places you'll be able to grab a beer or coffee for €0.60, so yes, Lisbon is a pretty affordable city to live in for international students.
9. What is the cost of living in Lisbon for a family?
According to Numbeo, a family of four estimated monthly costs is €2,172, not including rent. Monthly costs will no doubt depend on your lifestyle and spending habits. However, you will find living expenses, for most things, more affordable than in most other countries in western Europe.