Updated: November 21, 2023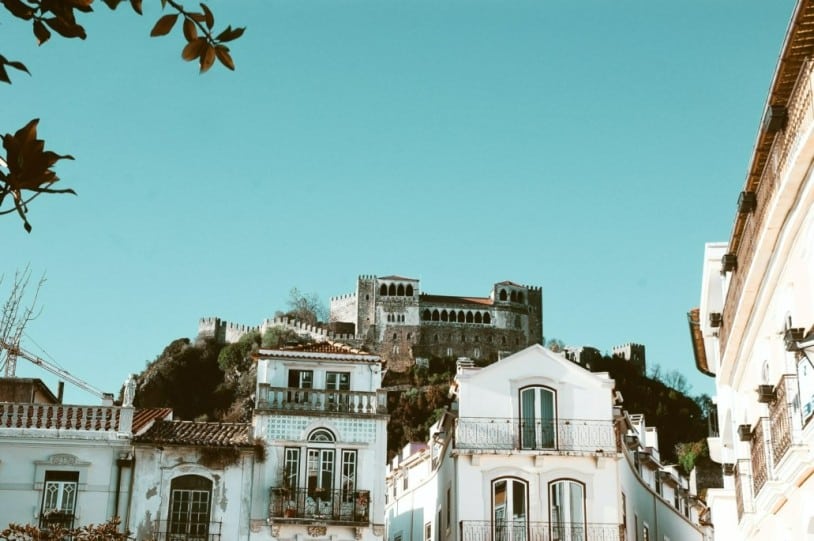 Leiria  is the second-largest city in Central  Portugal. It was one of the first cities to be occupied by the Moors in the tenth century, and with its rich historical heritage, it's undoubtedly one of the lesser-known gems of Portugal. In this article, we're looking at Leiria, Portugal, real estate and giving you a glimpse into the beauty of this Portuguese city.
The Leiria district is characterized by its stunning landscapes, sandy beaches, and historic architecture. Leiria is the largest city in the Leiria district and even boasts a UNESCO World Heritage Site – The Monastery of Batalha, a masterpiece of Gothic art. 
Leiria's strategic location between Porto and Lisbon has allowed the city to develop several industries, such as ceramics and glass. The city is also home to a wealth of music in the form of traditional wind bands and choirs, musical institutions, and music festivals, including Entremuralhas, Música em Leiria, and A Porta. If this sounds like your kind of city, you'll be happy to learn that Leiria offers a variety of property types, all of different shapes, sizes, and prices. 
Why You Should Invest in Leiria
Below are a few reasons to consider investing in Leiria. 
Growing tourist destination: Leiria's rich history, cultural heritage, and proximity to famous sites like the Sanctuary of Fátima make it a growing tourist destination, potentially increasing demand for short-term rental properties.

 

Development potential: As a smaller city not yet overrun by foreign investors, Leiria offers more competitive prices with significant potential for property value appreciation due to ongoing development and infrastructural improvements.

 

Lifestyle quality: Known for its quality of life, beautiful landscapes, and lower cost of living compared to major cities, Leiria presents a comfortable and attractive lifestyle option for those looking to relocate or retire.

 

Stable market: Portugal has a relatively stable real estate market, providing a secure environment for investment. Portugal is also considered one of the safest countries in the world, ranking in 7th position in the

2023 Global Peace Index

. 

 

Diverse real estate options: The Leiria district's commercial and residential real estate market is constantly evolving. With its proximity to the Silver Coast, the city certainly is a favorable place to live. From apartmentsto houses and villas, properties for sale in Leiria cater to various needs.

 

Proximity to major cities: Leiria enjoys a strategic geographical position roughly midway between two of Portugal's largest cities, Lisbon and Porto. This proximity to major urban centers can make it an attractive location for people who want a more peaceful lifestyle without being too far from the comprehensive amenities big cities offer.

 
Leiria sure has great perks; however, there are also considerations to keep in mind: 
Liquidity: Real estate in smaller cities like Leiria may be less liquid than in larger cities. It might take longer to sell your property if you need to, especially if the local market slows down.

 

Regulation changes: Keep an eye on changes in local and national laws, especially those related to property ownership, and taxes, as regulations can change, impacting your investment.

 

Maintenance and management: If you're considering investing in property for rental, especially short-term or vacation rentals, consider the costs and logistics of property management and maintenance, particularly if you don't reside in Portugal.

 
Leiria Portugal Real Estate Market Trends
Resident foreign population
The resident foreign population in Leiria, standing at 26,952, has significantly impacted the Leiria property market, driving demand for Leiria homes for sale and Leiria apartments for rent. This international community enriches the cultural fabric, potentially influencing Leiria's real estate market patterns and boosting demand for both residential and commercial real estate in Leiria. 
Real estate prices 
Leiria's average asking price of €1,219 per square meter is affordable, especially when compared to Lisbon or Porto.. This makes it attractive to buy a house in Leiria as the city appealsto both domestic buyers and foreign investors looking for investment properties in Portugal. 
Investment opportunities 
The investment potential is diverse. The growing foreign resident population and Leiria property values are encouraging signs for investors. Traditional residential properties, Leiria vacation rentals, and commercial properties catering to international residents are all viable investment avenues. Given the region's historical and cultural richness, real estate developments in Leiria are on the rise, further propelled by infrastructural improvements. 
Potential investors and homebuyers should consider engaging with real estate agents in Leiria and consulting Leiria property listings to find suitable properties. Real estate agencies in Leiria can provide valuable insights into local market conditions and assist in Leiria property management for those looking to sell property in Leiria or manage rentals. 
Types of Properties for Sale in Leiria
Perhaps you're looking for a ruin to rehabilitate to reflect the city's historical heritage but with a modern twist? Well, you can find a 1,225 square-meter property like this for around €26,500 in Leiria. Or maybe you would prefer a ready-to-inhabit villa for your family? Not a problem, you'll be able to find a four-bedroom for around €35,000. 
If you're looking for something with more grandeur that offers you much space and privacy, you'll have no trouble finding a luxury 1,380 square-meter detached home for around €2,000,000. You might even be a digital nomad looking to rent a property in Leiria for a couple of months to take in the city's sights and sounds. Whatever your needs, the property options in Leiria are plenty and varied. 
Regarding the variety of property choices, here's what potential investors and residents can anticipate: 
Apartments: These are prevalent in the city center, where there's a variety of modern and traditional Portuguese architectural styles.  
Townhouses: Found in both urban and suburban settings, these properties offer a blend of convenience and privacy. 
Detached houses/villas: More spacious options located in the suburbs, appealing for those searching for luxury homes in Leiria with more amenities like gardens and pools. 
Rural properties/farms: If you're interested in Leiria rural properties, the surrounding countryside offers farmhouses and large plots of land. 
Beachfront homes: Leiria beachfront properties are available near coastal areas like Vieira de Leiria and São Pedro de Moel, ranging from luxurious villas to traditional houses, often in high demand as vacation rentals. 
Goldcrest: Who We Are and How We Can Help You
As you can see, Leiria, Portugal, is a great location to invest in real estate. The city's strategic location, rich cultural heritage, and beautiful scenery make it an attractive destination for tourists and locals. With a stable and growing economy, a diverse range of properties available, and relatively affordable prices, the property market in the Leiria district offers excellent opportunities for all.  
If you're interested in Leiria, Portugal, real estate, contact Goldcrest. Goldcrest is a local buyer's agent situated in Portugal. We provide insightful real estate expertise and strategic advice. From sourcing to property acquisition, we help clients identify outstanding investment opportunities in some of Portugal's finest locations. 

Whether you're a family looking to relocate or invest in land for redevelopment, our team of experts can help you find the right property without the hassle or fuss. Contact us to get the ball rolling on your Portuguese property investment. 
Frequently Asked Questions about Leiria, Portugal, Real Estate
What is the most expensive property in Leiria?
According to online luxury marketplaces, the most expensive home for sale in the Leiria district in Portugal is a farm with a listing price of €4,106,556. The farm is 1,639 square meters in size. 
What is the largest home for sale in Leiria?
According to luxury online marketplaces, the largest home for sale in the Leiria district is a 20,298-square-meter property. The listing price of the property is €1,323,223. 
What is the price range of Leiria properties?
Leiria's real estate reflects an average asking price of €1,219 per square meter, though prices may deviate from this average based on the specific locality within the city you're exploring. 
What are the advantages of investing in Leiria real estate?
Whether you are looking to buy a vacation home, a rental property, or a primary residence, Leiria has something to offer you. With the proper guidance and expertise, investing in property for sale in Leiria can be a sound financial decision. 
Leiria is an industrial and commercial hub that offers an excellent quality of life in Portugal. The city's residential and commercial real estate market is also constantly evolving, and it is a great place to develop a career in the professional sector. 
How is the real estate market in Leiria, currently performing?
As a city in Portugal, Leiria offers a stable economy and a constantly evolving residential and commercial real estate market. With a high demand for housing and insufficient supply, property prices in Portugal have increased recently, and the market has become quite competitive. 
Are there any specific neighborhoods in Leiria that are popular for real estate investment?
In Leiria, neighborhoods like Marrazes, Pousos, and the city center are sought-after for real estate investments due to their proximity to amenities, historical sites, and cultural activities.
Can foreigners buy property in Leiria, Portugal?
Yes, foreigners can buy property in Leiria, Portugal. There are no specific restrictions on property ownership for non-residents, making it an attractive location for international investors. 
What types of properties are available in Leiria (apartments, houses, condos, etc.)?
The Leiria real estate market offers a variety of property types, including apartments, townhouses, detached houses/villas, rural properties/farms, and beachfront homes. Condos are less common in Portugal. 
What is the process of buying real estate in Leiria, including legal requirements?
The process of buying real estate in Leiria involves several steps: 
Property search, typically facilitated by real estate agents.

 

Making an offer and signing a preliminary contract (Contrato de Promessa de Compra e Venda) that outlines the terms of the sale.

 

Paying a deposit.

 

Completing due diligence on the property.

 

Finalizing the sale with a notarial deed (Escritura Publica de Compra e Venda) signed in front of a Portuguese notary.

 

Registering the property in the new owner's name.